Pamukkale in Turkey is a famous thermal spring located in the southwestern part of the country. Its water is extremely high in calcium carbonate, which over the millennia has helped form natural terraces, baths, and stalactites. Near Pamukkale are the ruins of the ancient Greek city of Hierapolis. Together they have long been included in the famous UNESCO list and are a huge tourist center of Turkey, visited by millions of tourists every year.
Here we will tell in detail, what are these thermal springs, why they are useful for the human body? How are the tours in Pamukkale, what you can see and learn, what tips are given to tourists, etc.
Description of the thermal springs of Pamukkale
In this area there are almost two dozen springs with water temperatures ranging from 35C to 100C, they form the white terraces. Water from the springs rises from the ground, passes through man-made channels to the slope and descends along it into the river valley.
During the flow of water, the heavier calcium carbonate gradually settles, it hardens over time, forming pure white terraces. In order not to interfere with this long-standing process, visitor access to many sources is now closed.
Map of Pamukkale in Turkey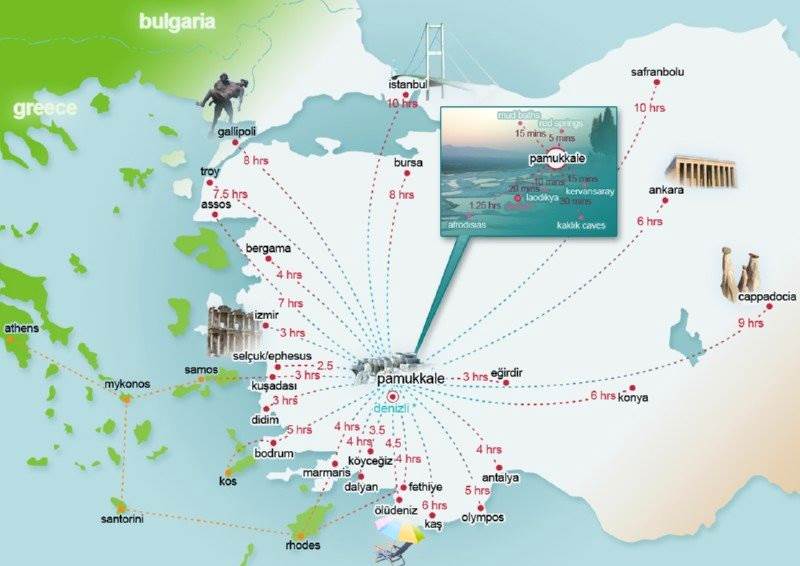 Map of Pamukkale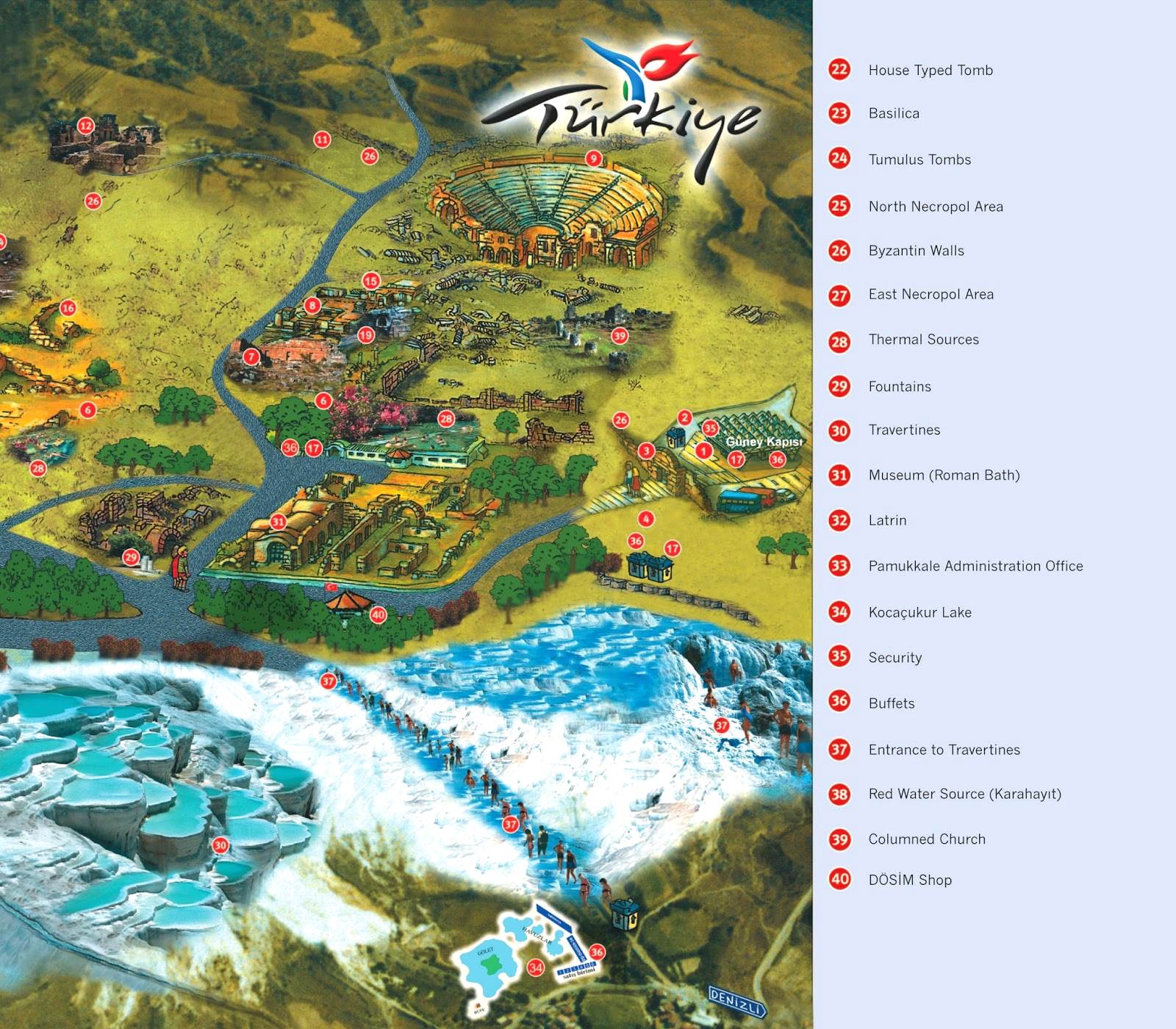 History of Pamukkale in Turkey
These springs were discovered several thousand years ago by the ancient Greeks. In the 2nd century B.C. The city of Hierapolis was built near them, including an amphitheater, temples, baths and other structures.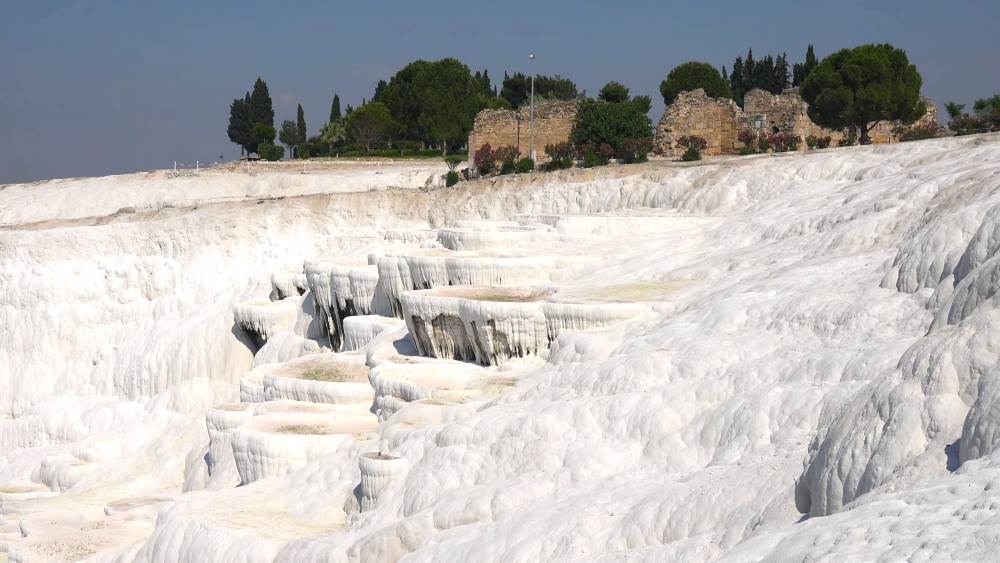 In the 7th century there was a major earthquake in the area, which resulted in a depression, an ancient pool or Cleopatra pool, filled with the purest spring mineral water. Basically, it is heated water from an artesian well.
This water is useful in the treatment of heart and blood vessel diseases, rickets, etc. The water is useful for the treatment of heart and blood vessel diseases, rickets, etc. It is also good for the treatment of heart and blood vessel diseases, rickets and rickets. You have to buy a separate ticket for that.
Today in Turkey, the city of Hierapolis and the terraced hot springs of Pamukkale are a single cultural and natural attraction, where millions of tourists come every year, paying a single ticket.
History of Hierapolis
The first buildings appeared on this site at least 4 millennia ago, but the city was named only in the 2nd century BC. At this time Hierapolis was rebuilt by the Greeks after an earthquake. Half a century later, it became part of ancient Rome.
On the eve of the New Era, an earthquake occurred again near Hierapolis, causing many deaths and destruction. The city was rebuilt again and gained fame as a wonderful mineral water resort.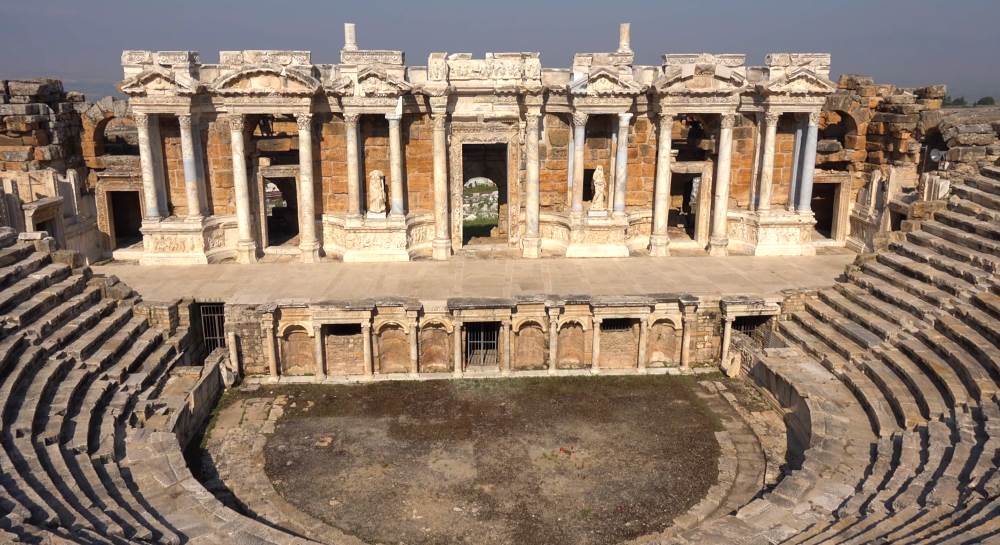 Hierapolis played a significant role in the consolidation and spread of Christianity. Here he was crucified upside down and died in agony. Philip of Bethsaida, one of the 12 apostles of Jesus Christ.
Much later, Emperor Constantine ordered that Hierapolis be made the center of the bishopric. At the end of the 4th century the city came under Byzantine rule, and at the end of the 11th century it was given to the Turkish sultan. Later it changed hands many times.
Only at the beginning of the 13th century did Hierapolis finally become the property of the Turkish sultan. And in the middle of the 14th century there was a terrible earthquake that finally buried this ancient Greek polis.
The first archaeological excavations in Hieraprolis were made by German archaeologists in the late 19th century. It was not until the 1950s that archaeologists from Italy began to study the city again.
How to get to Pamukkale?
The nearest Turkish international airport to Pamukkale is called Denizli. There are three daily flights from Istanbul. From Denizli you can take a bus or cab to Pamukkale in one hour, a distance of 64 km.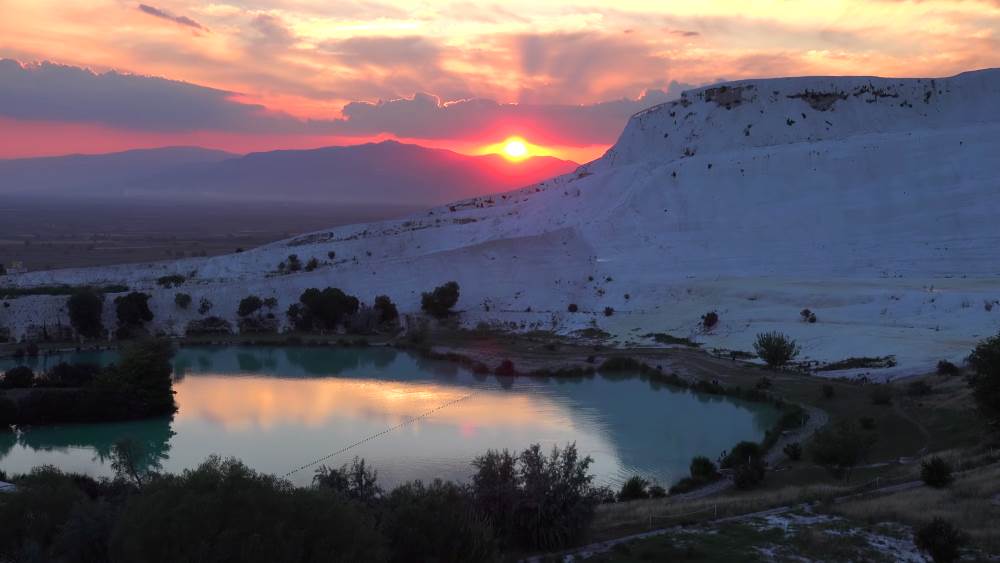 To get from Antalya to Pamukkale, it will take at least 5 hours, so the tour in Pamukkale should be planned for about two days. The roads here are good, buses and cabs are at your service.
You can get from Istanbul to Pamukkale via Izmir Airport. From Ataturk Airport in Istanbul, fly to Izmir, and from there take a train or bus. And you can only take the train to Denizli.
Turkey has a well-developed bus service throughout the country, so it is easy to get to Pamukkale from almost any city in Turkey.
For a schedule and tickets, visit https://www.neredennereye.com/.
Excursions to Pamukkale
Pamukkale is one of the most interesting and popular attractions in Turkey, and excursions to this mineral resort are very popular. In high season there is a daily sea of tourists.
When is the best time to go?
Therefore, it is better to arrive in Pamukkale in the evening, find a hotel room or book it in advance, spend the night, and come to the springs early in the morning before the crowds of tourists from Antalya arrived at 11 o'clock.
You will see untold beauty, you should not spoil it with a crowd of people. Pamukkale has a northerly breeze, so it's better to explore all these terraces in the morning rather than in the midday Turkish heat.
How much is it?
A ticket to see Pamukkale and Hierapolis costs 35 Turkish Liras, or $6.72.
Tickets for children under the age of 12 are 13 liras, or $2.50.
Children's ticket up to 6 years – free.
The ticket for admission to the archaeological museum is 5 liras or $0.96.
The ticket for admission to the Cleopatra Pool is 32 lira or $6.14.
These tickets are considered the best sellers in Turkey, many tourists come here several times, so amazed by this natural wonder. Many do not even consider whether to send again on an excursion to Pamukkale.
These tours are designed for one and two days. And the one-day excursion is taken by those who came to Turkey for only a few days. Those who have more time prefer a two-day excursion to Pamukkale.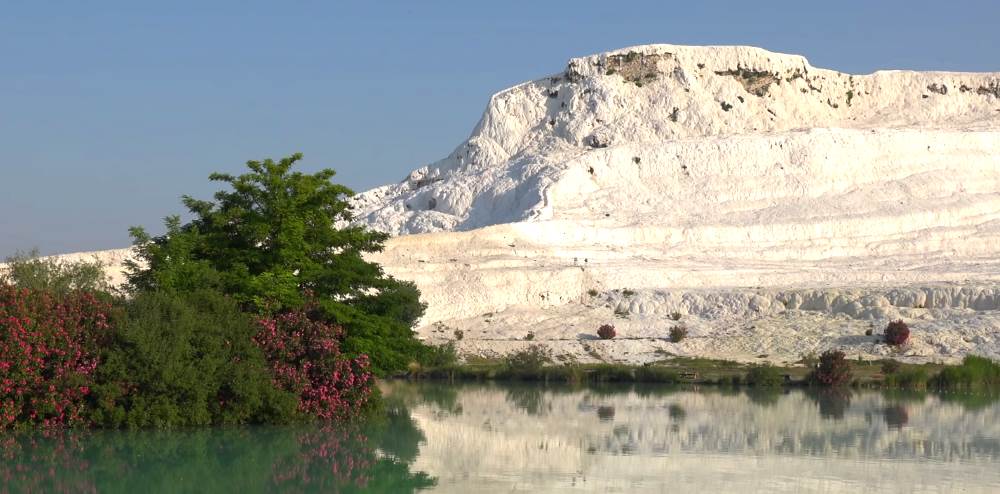 Tourists who have been here prefer a two-day excursion, because. During this time, you can get more useful and interesting information about the object, examine it more carefully and not be in too much of a hurry.
The cost of a one-day excursion to Pamukkale at tour operators is $80 or 416 Turkish Liras, and a two-day tour is $140 or 730 Liras. Tourists are provided with a professional guide and comfortable shuttle.
Often such tours are sold on the streets of resort towns in Turkey by representatives of "street" travel agencies. Here you run the risk of paying in advance for low-quality travel services, but you will save at least $40.
Tips for organizing a tour
The bus will come for tourists early in the morning, as. from the nearest resort on the Aegean Sea at least 150 km. The distance from Antalya to Pamukkale in a straight line is about 170 km. Then you have to go around the hotels and collect all the tourists who paid for the tour.
The one-way trip will take at least three hours, so it is not advisable to take small children on the tour. They just get tired of such a long trip, although quite comfortable and modern buses are provided.
Remember that during the Pamukkale tour you have to walk a considerable distance through the area, including. on slippery terraces, which requires good sportsmanship.
Be sure to take cool water with you, preferably in a thermos, because. The tour peaks in the afternoon heat, and you won't soon find stores or cafes in the reserve where you can cool off.
In Pamukkale in the open space, without greenery, the temperature during the day can reach +50C. Wear comfortable clothing that covers exposed skin so as not to burn, as well as a hat or panama and soft shoes.
What is included in the tour?
For the money you paid, you get a ride from the resort hotel to Pamukkale and back, a guide service and lunch for the whole company. Along the way your guide will tell you about the history and culture of ancient Anatolia.
During the stops you can buy various souvenirs, as well as books and booklets in Russian, telling about the unique nature reserve and mineral resort, which you will visit.
The tour itself begins when you arrive in Pamukkale. First the tour group visits the ruins of the ancient city of Hierapolis, then walks along the mountainside and snow-white terraces, and finally bathes in the Cleopatra pool.
Hierapolis
In the city will be interesting to see the ancient necropolis with the remains of sarcophagi and crypts. Some are well-preserved, while others have undergone restoration. Here you can also see the ancient Roman baths.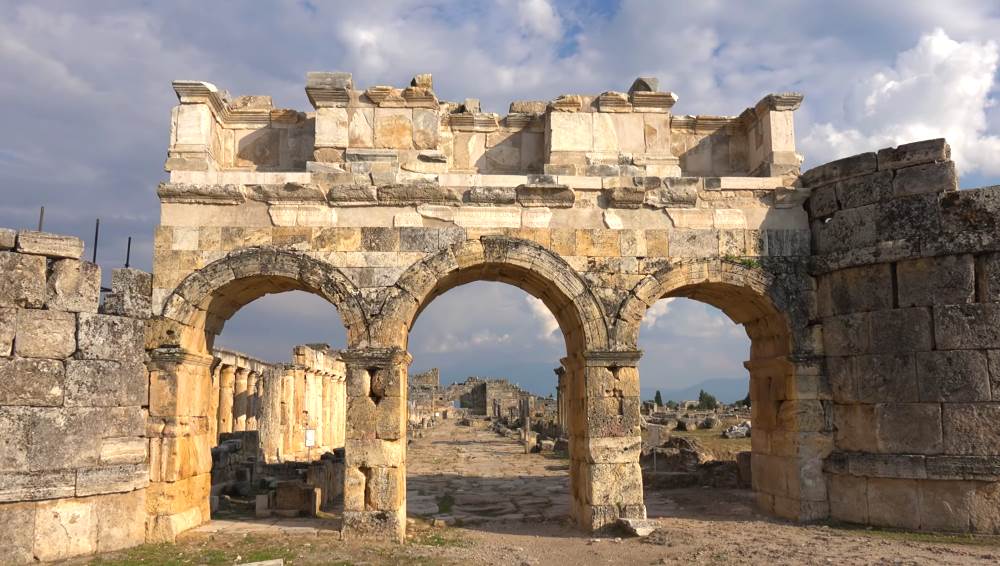 It will be interesting to touch the fortress gates of ancient Rome and Byzantium, to examine the real, but partially destroyed Roman theater, the remains of fountains and restored by archaeologists toilets, etc.
The Theater of Hierapolis is the largest theater built during antiquity and is located on the territory of modern Turkey. It could hold up to 12,000 spectators. Inside the theater is decorated with marble and sculptures.
The slopes of the mountain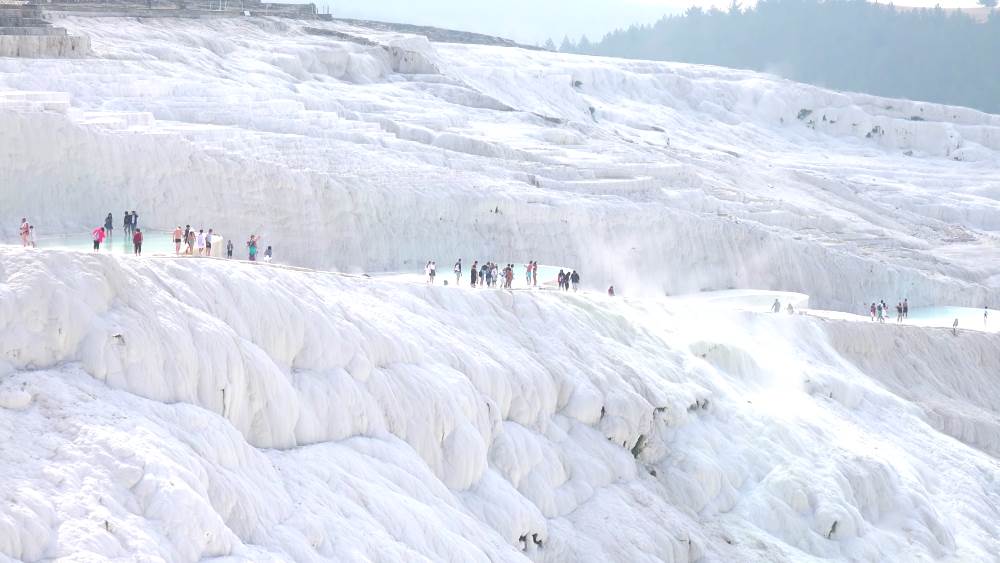 They are all covered with calcium carbonate plaque, so they have a snow-white color. Keep in mind that it's very slippery. Usually tourists take off their shoes and walk barefoot down the mountain about half a kilometer.
You can bathe here only in one spring. Don't try to fall behind the group and swim somewhere else. Tourists are strictly monitored by local police. Their goal: to preserve the reserve and its ecological purity in pristine condition.
Cleopatra Pool
With an hour to go before the end of the tour, most tourists head to this pool to take a dip in its cool mineral waters. It costs $20 and you can buy tickets right there at the box office.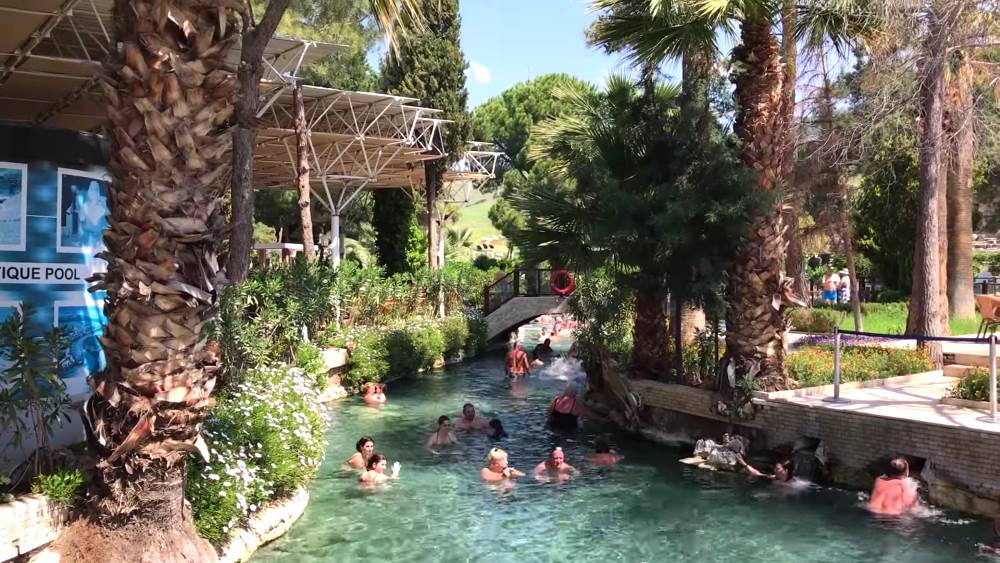 Not far from the pool there is a cafe with air conditioning, where you can take a break from the heat, have a snack, drink lemonade, just to clean up. Men cool themselves with cold beer.
If you do not want to swim in the pool of Cleopatra, you can go back to the ancient city of Hierapolis, it attracts many tourists, climb to the top of the mountain, see the tomb of St.. Apollo, etc.
Video review of Pamukkale tour
The way back
It's even harder to move back after the walk in Hierapolis and Pamukkale, because of the heavy physical workload. But we still need to visit the local onyx factory and a wine cellar.
As a reward at the end of the tour in the evening you will have a delicious dinner and a long-awaited rest. You will return to your Turkish resort only in the late evening, although you can still make it to dinner.
What else can I see near Pamukkale?
Not far from Pamukkale's hot springs and its white terraces you can visit the red terraces of Karahayit. Here, too, there are hot springs, you can also take therapeutic mud baths.
Map of Pamukkale and Karahait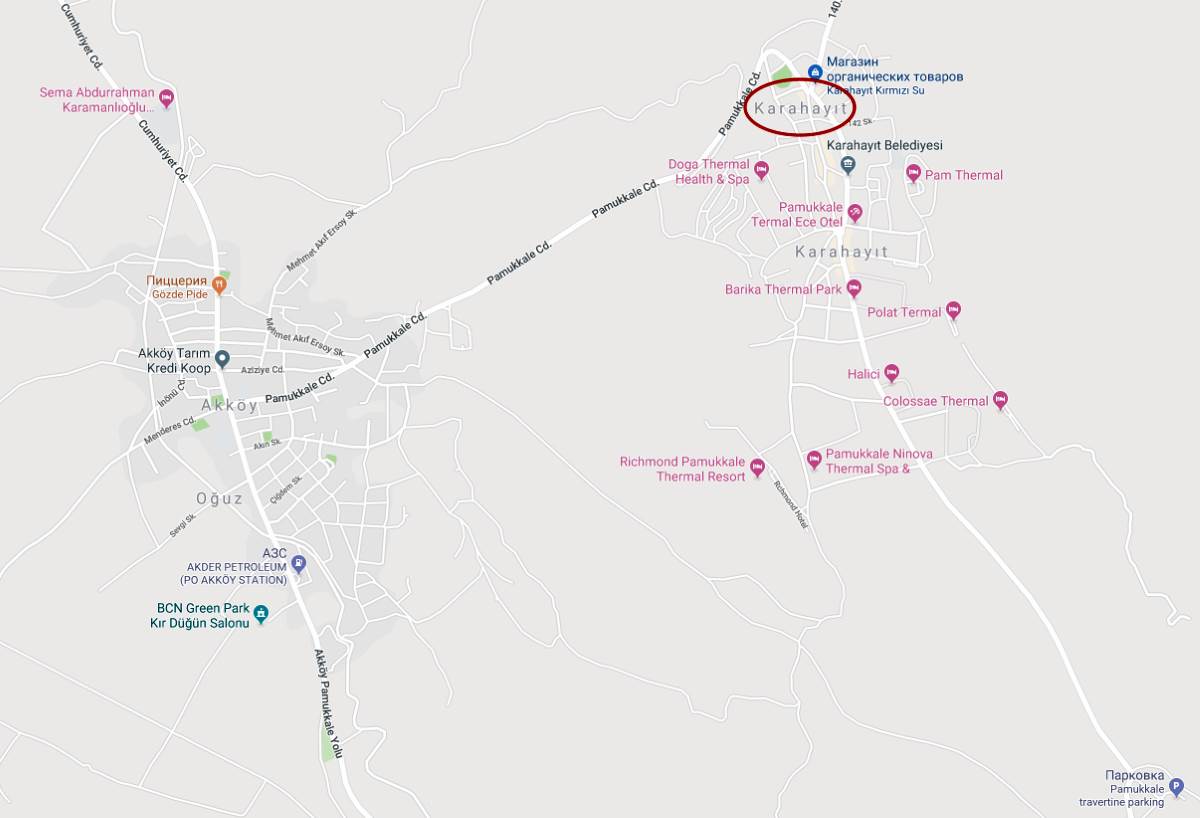 Pamukkale analogues in the world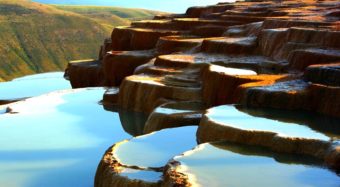 Such white terraces created by nature in Turkey are not the only ones of their kind.
Something extremely similar exists:
in Iran in Badab-e Surt;
in China's Yunnan Province in Sichuan;
Italy, Hungary;
in the United States in Yellowstone;
in Mexico, etc.
Reviews about Pamukkale
Veronica, Lviv:
It's a true wonder of the world. If you find yourself in Turkey, be sure to visit it, you will be stunned. It seems as if you've found yourself on another planet. It is a beautiful, unique and mysterious place.
Anya, Istra, Moscow region:
This excursion is included in the tour package. Thought something tedious, the road was long. But when I got there, I was incredibly delighted. UNESCO was right to include Pamukkale in its list.
Victor, Syktyvkar:
This wonderful place has been treating people since ancient times. This is the first time I've been to such terraces created by Mother Nature, and I'll try to come here again. It's a tough trip for the elderly, though.
Alice, Vorkuta:
Amazing place, amazing tour. It never would have occurred to me that such places existed in the world. I strongly recommend everyone to visit Pamukkale and Hierapolis, you will not regret it.