The island of Phuket is the most popular resort destination in Thailand. Not surprisingly, it even has its own international airport, which means you can come here by direct flight from Moscow. Going on vacation? In just a few minutes, you'll know where to go in Phuket to gain experience and return home well rested.
Where to go in Phuket, what is interesting here?
The island of Phuket – it's paradise beaches, mesmerizing nature and fun until morning. No matter what you like: dancing, sunbathing on the beach, doing sports or sightseeing. It is enough to choose a suitable place and go there, putting all worries for later. Ways to get around the island: tourist transport, cabs and bikes, which can be easily and inexpensively rented.
If you are going to go anywhere in Phuket by bike, make sure beforehand that you are "friendly" with left-hand traffic. Otherwise, it is better to use the services of a cab.
Best beaches
The first place most tourists try to get to when they come to Thailand is the beach. They are countless on the local islands, the most popular being:
Paradise. It is located in the west of the island. Known for its beach parties. There are always a lot of holidaymakers, loud music plays at night, and the local club hosts entertainment events. The beach is especially popular with young people. Because of its geographic location, the water on the Paradise is almost always calm. You have to buy a ticket to enter, and they will check your bags – you can't bring your own drinks or even water here. Opening hours are from 9 a.m. to 6 p.m.
Patong. Located in the southwestern part of the island on the Andaman coast. It is considered the most crowded in Phuket. As in the case of the previous beach, fans of silence will not like it here. Near Patong quite a few bars and restaurants, at night there are noisy parties. For vacationers provided water activities for all tastes: riding a banana and jet-ski, as well as parasailing. The coast is wide enough, so you can play beach volleyball.
Freedom Beach, or Freedom Beach. Located in a small cove near Patong. It is surrounded on both sides by cliffs and jungle, which recently made it considered wild. The sand here is white, very fine, almost no stones. On the territory there are rent chairs, a cafe and a free toilet. It is better to get here by sea, as the road to the shore is quite uncomfortable descent. Admission is paid.
Yanuy. A small beach in the very south of Phuket. Popular because of the amazing underwater world. The variety of fish that live here makes it an ideal place for snorkeling. The bottom is shallow, the sand is fine, grayish-yellow in color. You may come across sharp stones and coral fragments, so walk carefully. Near the beach there is free parking for cars and bikes, you can rent a sun lounger under an umbrella. There is only one cafe nearby, so it is recommended to take your own food.
Mai Kao. Located on the northwest coast of Phuket, this beach is part of Sirinath National Park. It is famous for its pristine nature and relative silence. If you step away from the shore and walk around a bit, you can see rare species of birds. There are almost no entertainment venues and stores, and very few hotels. Most tourists who have decided to visit Mai Khao, rent tents or bungalows.
Most visited places
Here are the places worth visiting in Phuket in the first place.
Bangla Road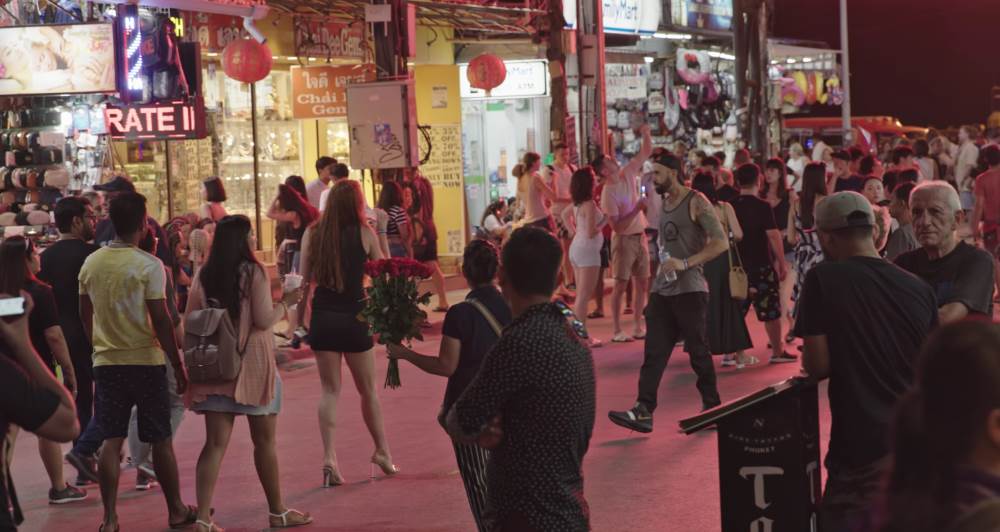 One of the main streets of Patong, becomes especially colorful as darkness falls. By evening, the car traffic closes down, and until morning Bangla Road is filled with tourists, vendors, women of easy virtue and Thai trannies. There are restaurants, clubs, and sports bars on the right side where you can drink, watch soccer, and hang out with friends. The left side is filled with strip clubs and "adult" establishments. Not without reason this street is considered the most depraved in Phuket.
Phuket Zoo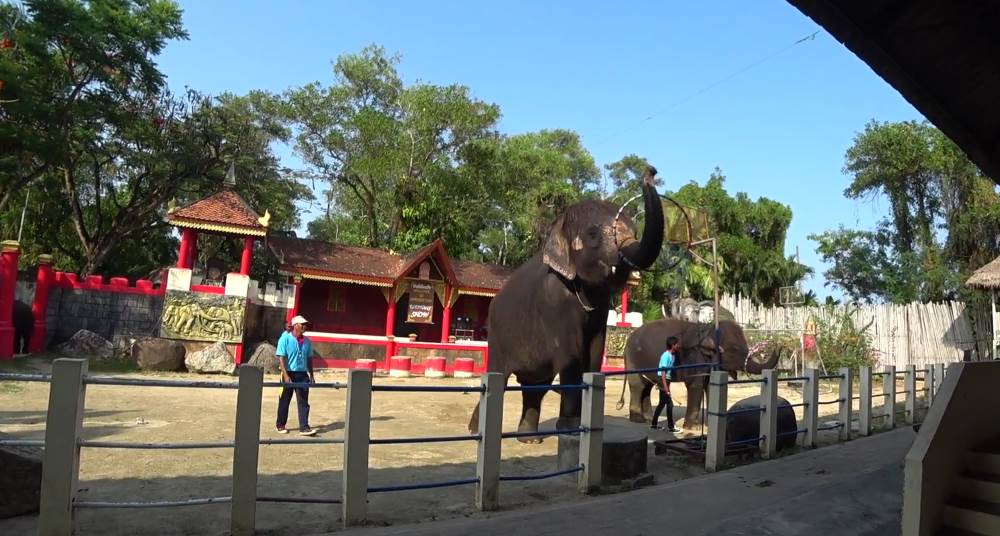 Quite simple in terms of design and more suitable for the entertainment of children. Animals are kept in aviaries, trained in all kinds of tricks. From time to time there are performances and story skits with animals. The show with the elephants can involve the audience – then these giants walk carefully between them without stepping on them. A walk around the zoo takes about half an hour if you don't feed the locals.
Big Buddha Temple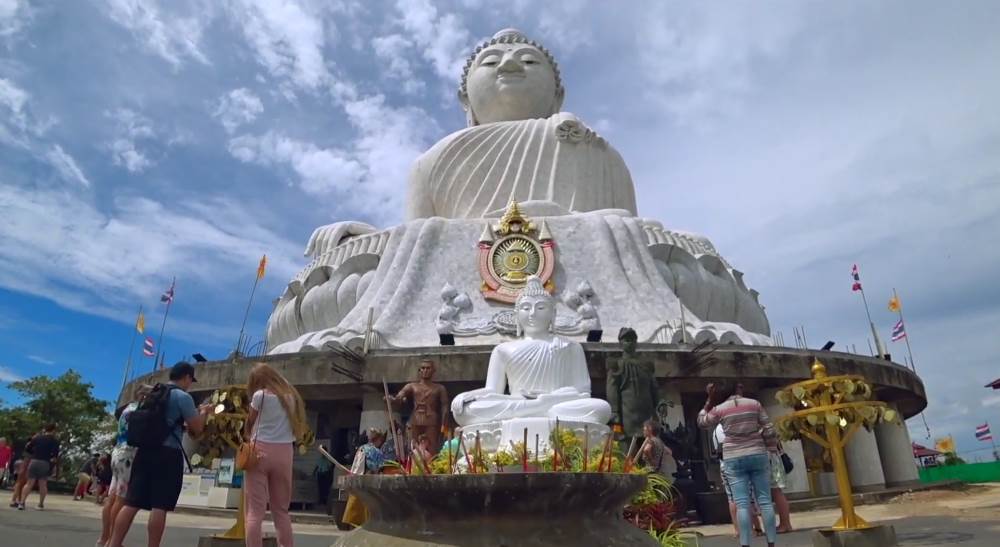 The complex spreads out on the top of Mount Nagacherd. The central part is occupied by a hollow statue of Buddha, visible from all along the south coast. The lower area is occupied by parking, snack and drink tents, souvenir shops, sculptures and shrines. If you go around the statue, you can see the monument to King Rama of Thailand and the magic gong next to it.
It is believed that if you stroke the gong with your hand, it will sing. However, this will only happen if one is pure of heart.
Wat Chalong Temple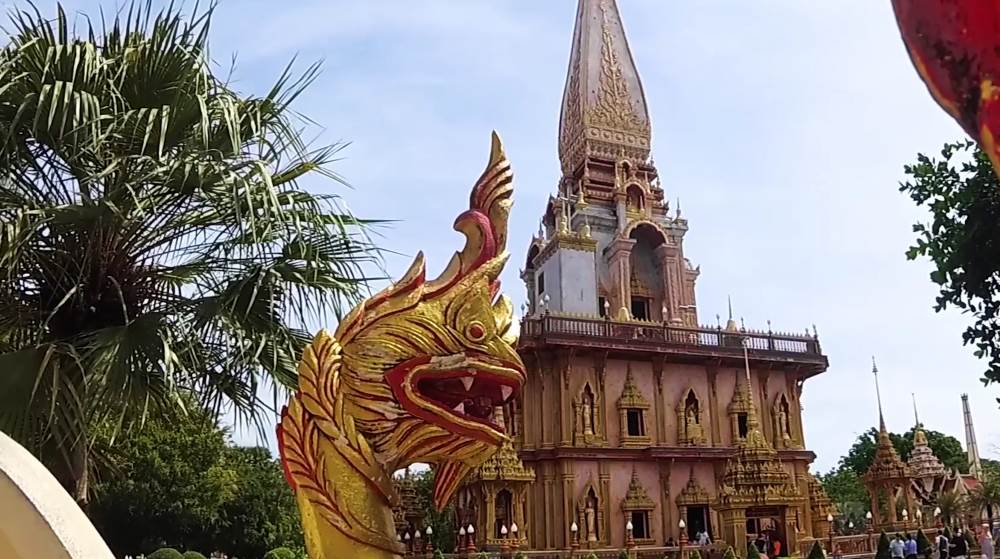 Phuket's largest temple, Wat Chalong, was built in the 19th century. Locals regularly come here to pay their respects to the founding monks of Chalong, who were the healers during their lifetime. There are outbuildings, a garden, various shrines, a small fountain, a bell tower, benches and gazebos. The tallest structure, Chedi Phra Mahathat, is home to a fragment of the Buddha's ashes.
Phuket Botanic Garden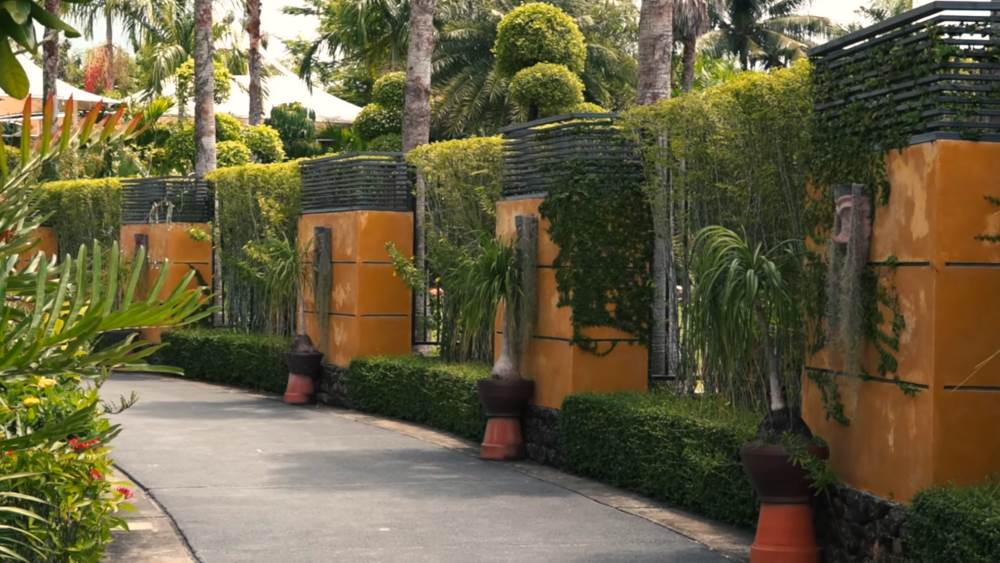 Located a few kilometers from the temple of Wat Chalong. Good for visiting with the whole family. Here you can leisurely stroll around, surrounded by lush vegetation, take pictures against the background of funny figures, and if it was hot and wanted to rest – sit down in the shade of trees. A huge collection of plants, sorted by species, awaits you. The size of the botanical garden is about 1 hectare, so you will need a lot of time to see it.
Places for lovers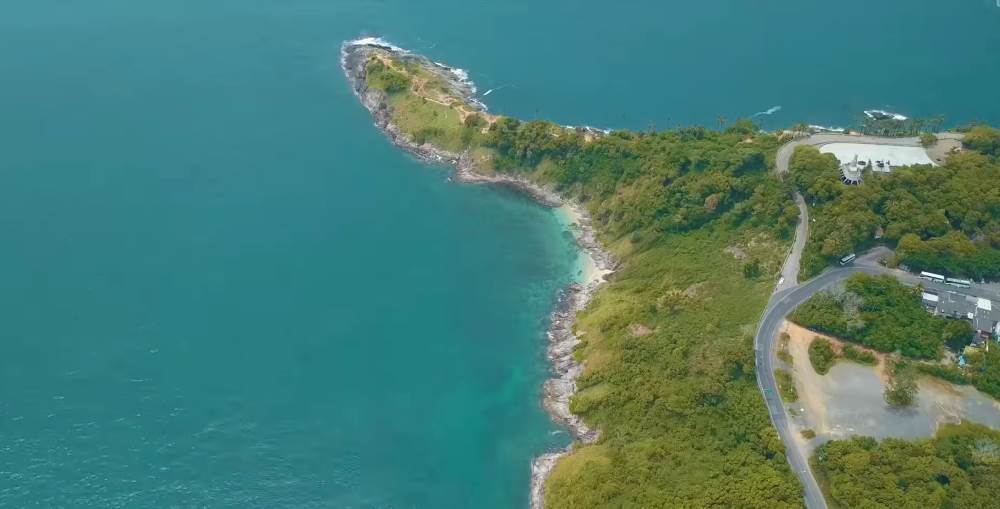 Not only Paris or Venice have much to offer to romantic couples and honeymooners. There are also many places in Thailand for them to spend time together. Speaking of Phuket, it's:
Orchid Garden. These flowers are the most popular flowers on the island. Many different varieties are grown in specialized gardens. It is enough to visit one of them to enjoy this beauty.
Cape Promtep. One of the favorite places for romantics. The exoticism and mesmerizing scenery have done their job and now weddings and romantic evenings are regularly held here. People who have been to Cape Promtep say that the sunsets here are extraordinary.
Pearl Farm. An excursion here will excite most girls. Pearls are grown in their natural environment, so you can only get to the farm by boat. On the way there will be an opportunity to admire the surrounding beauty.
Islands near Phuket
Vacation in Phuket would not be complete without visiting the nearby islands. It is a paradise for lovers of beaches and natural attractions. And the best way to enjoy the views is to take a boat ride nearby.
Phi Phi Don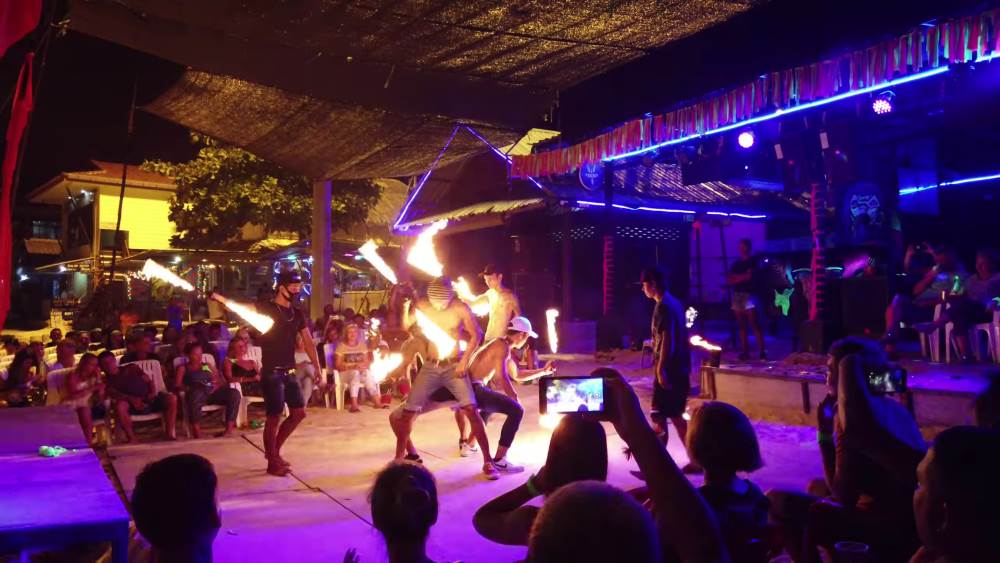 Especially popular among young people from Europe and America. The beaches of this island, many vacationers called paradise. If you want, you can find a small cove where you will sunbathe and swim all alone. In general, compared to Phuket, it is less crowded and much quieter. In the evenings, there are flare shows in which the boys, the sons of flare artists, take part. On the shore villas are rented, there are massage parlors, cafes and restaurants. Also, Phi Phi Don is famous for the large number of cats on the streets.
Phi Phi Le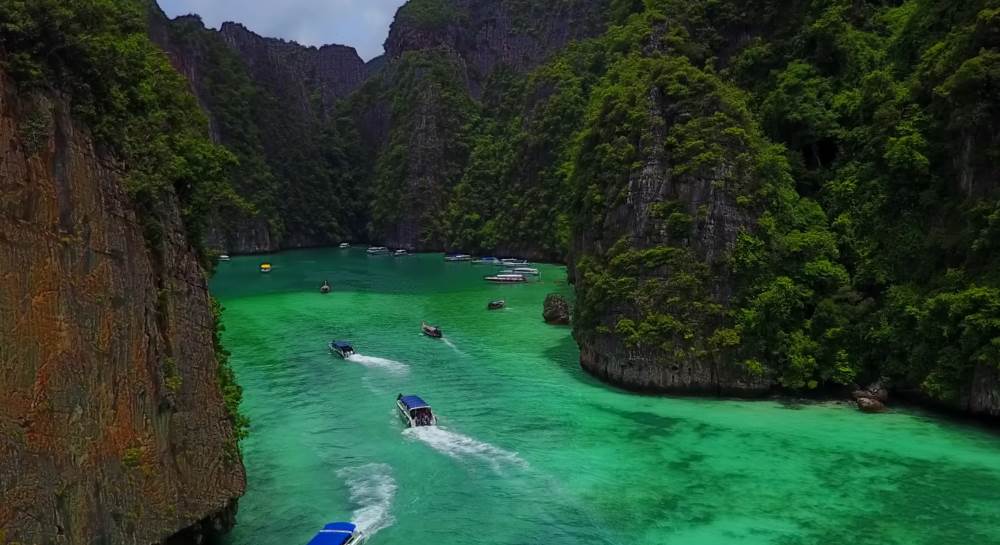 It was here, in Maya Bay, that the movie "The Beach" with Leonardo DiCaprio was filmed. It used to be considered a secluded place, but now, thanks to the past shootings, there is a constant influx of tourists. To be alone in the bay is possible only at sunset. In good weather, it is unusually beautiful because of the steep cliffs, emerald sea and snow-white sand. Most often come here with a day tour.
Panak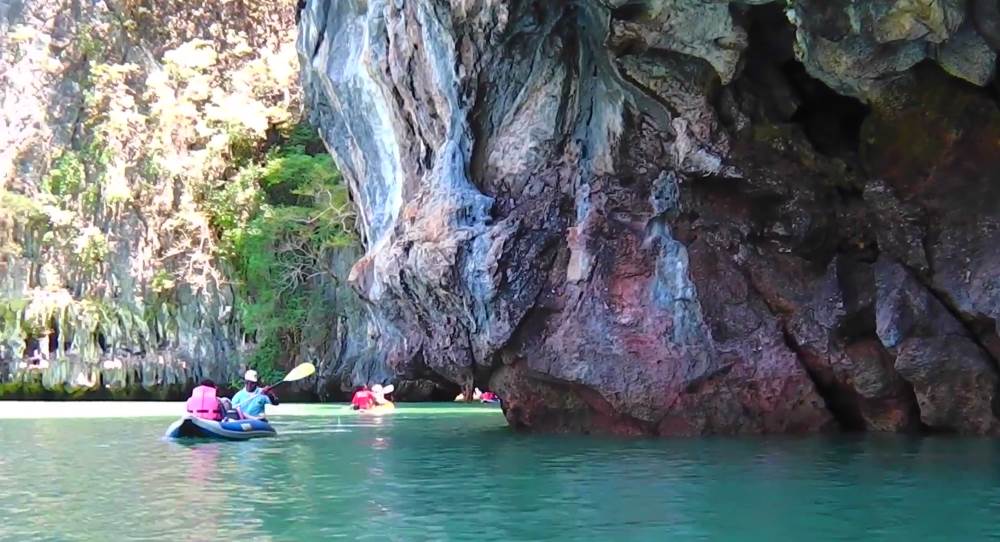 It is very good to kayak here. From the outside the island looks like an impregnable rock, but inside it has hidden lakes and lagoons. The only way to get to them is to swim through a secret cave in the rocks. In some places it gets so low that you have to lie down on the bottom of the boat to be able to squeeze through. For when you swim out of there, you'll find yourself in a lost world, reminiscent of shots from a Tarzan movie.
While riding inside the island, be sure to keep an eye on the time to return in time. When the tide comes in, the caves completely fill with water and it becomes impossible to swim there.
Family vacations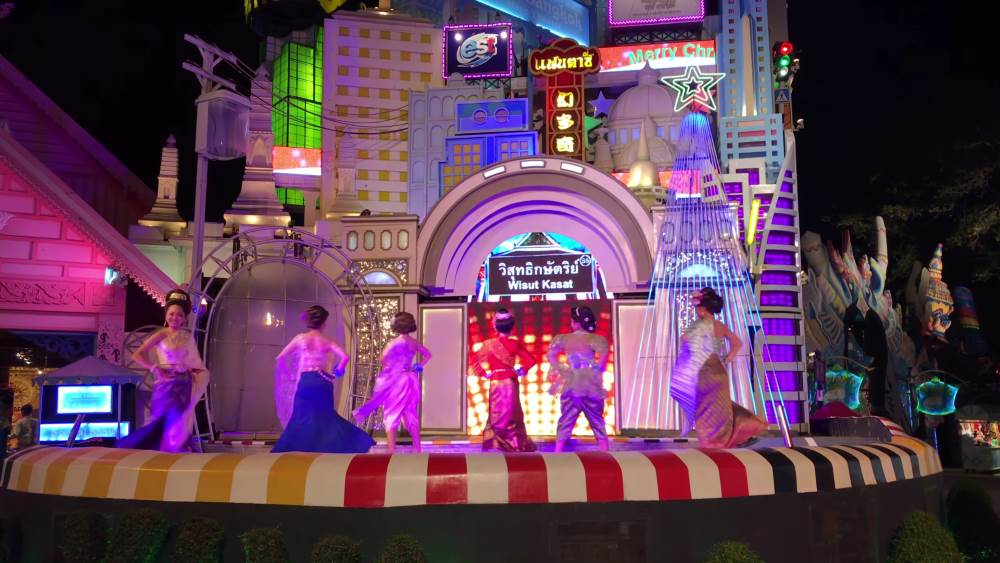 People looking for somewhere to go in Phuket with a child, this island will also please a lot of ways to have fun. The FantaSea theme park regularly receives the most rave reviews. There are active rides and a small zoo, provides elephant riding services, in the evenings there is an opportunity to watch a fascinating show. Artists and animals perform on stage, and sometimes pyrotechnics are used. For an extra fee, you can take a picture with a tiger cub.
Remember that photos and videos are not allowed during the show. They will take such equipment from you at the entrance, and you can return it at the end of the performance.
To feel the atmosphere of the Jurassic period, it is enough to visit "Dino Park". The main local attractions are caves, a waterfall, an artificial reservoir, a volcano with frozen lava and dinosaurs recreated life-size. It's all glistening against a backdrop of tropical vegetation. During the walk through "Dino Park" you can hold photo sessions and play mini golf, and if you want to eat – you can use the restaurant of Thai and European cuisine.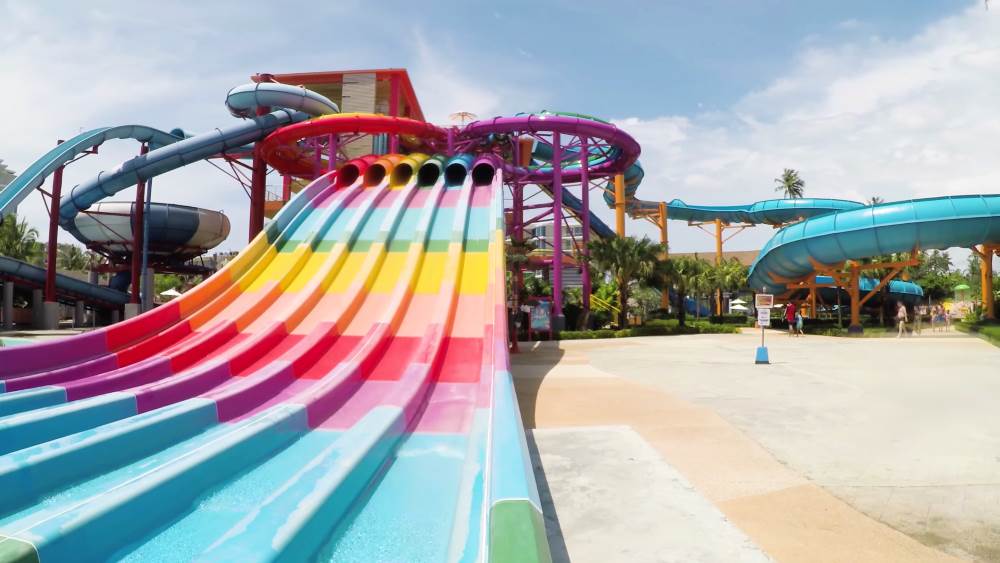 And of course we should mention the Splash Jungle water park. Spiral slides, artificial wave, lazy river, whirlpool and geyser area – this and much more contributes to an unforgettable experience for the whole family. The setting and attractions here are decorated in several stylistic plots dedicated to the culture of different countries and continents, which gives a special atmosphere and a suitable mood. For children in the water park there is a large play complex.
Top 10 Activities in Phuket
If the above recreation options do not seem enough, here are more places in Phuket, where you can go and have a good time:
An upside-down house. There's a living room, a bedroom, a kitchen, and a kid's room, only everything is upside down. At first it is difficult to navigate inside, but when you get used to it – you can arrange a very unusual photo shoot.
Siam Niramit Show. It helps to get better acquainted with the culture and traditions of Thailand. There will be dancing and martial arts demonstrations, as well as a story about life in Thai villages.
Tai Hua Museum. Located in one of Phuket's most beautiful mansions, it also serves as an exhibition hall and event venue. The museum is dedicated to the history of the island, with an emphasis on the contribution of the Chinese to its development. In the courtyard is a picturesque garden.
The observation deck at Mt. Rang Hill. Here you can enjoy the view of the valley with the city of Phuket. The area is landscaped, there are benches and cafes, as well as a "fitness park" – a winding trail that you can climb to the very top. Admission is free.
The observation deck at Cape Promtep. According to the reviews of tourists – one of the most beautiful sites on the island. The place is crowded on any day, so if you want to be alone, it is better to come here early in the morning or near sunset. Nearby, there is a statue of Brahma with hundreds of elephant figurines, a lighthouse museum, and a monument to Admiral Luang Chumphon.
The observation deck on the Khao Khad tower. Climbing on it, you get a full panoramic view. There is a parking lot at the base and vendors selling various sweets.
Hanuman's Flight attraction. For thrill seekers. On strung ropes and cables you move through the jungle like the ancient deity Hanuman. Naturally, you are supervised by professional instructors, so everything is safe.
Snake Farm. There are several in Phuket, the most famous is near the Chalong area. If you want to see a snake show, take a picture with a python or see a serpentarium, come here.
3D painting exhibition museum. This attraction is popular not only with tourists but also with locals. The museum is located in the former capital cinema. The scenes and paintings here create a bizarre deception of vision, allowing visitors to enter an illusory world.
Simon's Cabaret Show. When you come to it, you'll see a dazzling performance by girls who were guys in the past. The only thing is that it is almost impossible to determine. The program is quite decent and suitable for the general public, but it is better to familiarize yourself with it in advance so as not to experience unpleasant feelings.
As you can see, this island has a huge number of attractions and entertainment for all tastes. The main thing is to properly plan the route of travel, and then at the end of the holidays will remain only pleasant impressions. The interactive map with all the marked places helps a lot. Determine with its help, where to go in Phuket and where to rest, it is not difficult for you.