Water parks in Pattaya – a lot, it is one of the favorite attractions for both adults and children. There are many ways to have fun here: swim in the pool, take a ride on the various slides, relax on the slow river, etc.
The most expansive and popular water parks in Pattaya are Cartoon Network Amazone (or Kartoon) and Ramayana Waterpark. In addition, there are many smaller parks, which are always full of visitors.
Cartoon Network Amazone Waterpark
This park is divided into many areas for entertainment and recreation: slides, rides, surfing, etc. It often hosts various festivals for children, actors and contests. The children's area is called Cartoonival.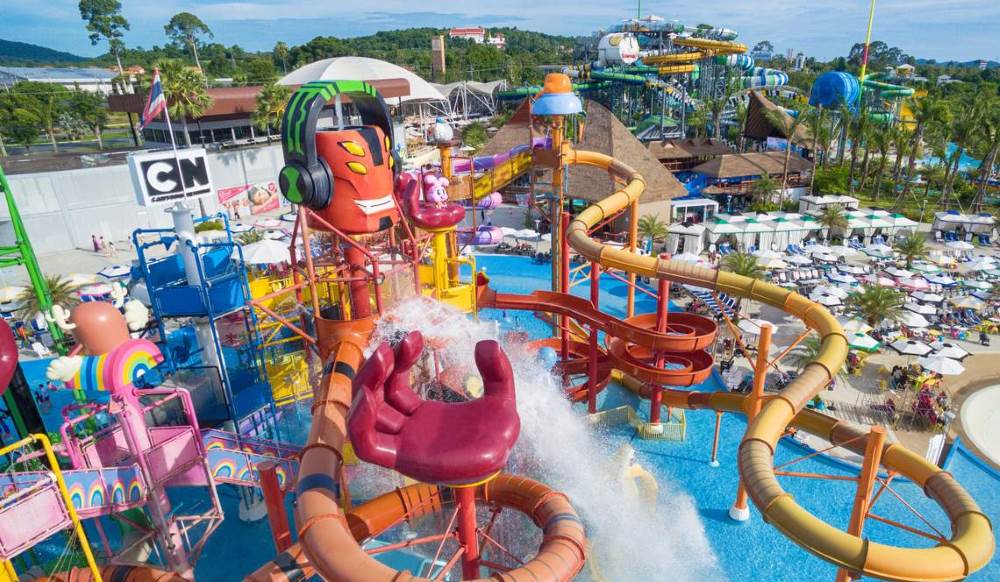 Cartoon Network Amazon Waterpark has a lot of positive feedback from adult tourists and children, it has a huge size that can fit a lot of people. It is considered to be the best place for a family vacation today.
Nutrition
Remember that food can not be brought in this water park, it will be taken away from you at the entrance. There are plenty of cafes, where you can always buy something tasty for yourself and your child and not go hungry during the day.
Prices for the most popular products:
A liter of bottled water is 30 baht or $0.95;
100g of ice cream is 120 baht or $3.8;
A liter of beer is 220 baht or $6.96;
Various cuisines – from 200 baht or $6.36, etc.
Ticket price
An adult ticket costs 1,590 baht or $50.31.
A children's ticket costs 1,190 baht or $37.65.
Children under two years of age are allowed in the park for free.
Buy tickets to this water park can be in any travel agency in Thailand. You can also do this on Kartoon's website: www.cartoonnetworkamazone.com.
Tips for Beginners
When you go to Kartun, be sure to take a camera or camcorder, although a cell phone is enough to capture all the local beauty and uniqueness.
Don't forget about the need to have a hat for yourself and the child, as well as a towel and sunscreen. The water park will swirl you with entertainment, and you forget about time, you can get sunstroke or just get sunburned.
There are plenty of souvenir shops you'll want to look into, so take some money with you. The water park also offers many additional services, they are sure to interest you.
Kartun Water Park is open in High Season from 10-00 to 19-00.
How to get to Kartoon Water Park?
The water park is located next to another famous attraction – Nong Nooch Garden. So local cab drivers know these places, they will take you to your destination. You can get there for 20 baht or $0.63 by sungtao; by cab for 300 baht or $9.49.
Kartun Water Park itself provides its visitors with mini-buses. For 300 baht or $9.49 you can ride comfortably both ways. Minibuses leave from the major hotels in Pattaya in the morning and return tourists to the same place in the evening.
Ramayana Water Park in Pattaya
This park began receiving guests just two years ago, now it is a huge success with tourists, extremely popular with the citizens as the most fashionable and ultra-modern water park in Thailand.
The Aquapark Ramayana was built by the famous company from Canada, which specializes in facilities of this kind and has long won a name in the global construction market.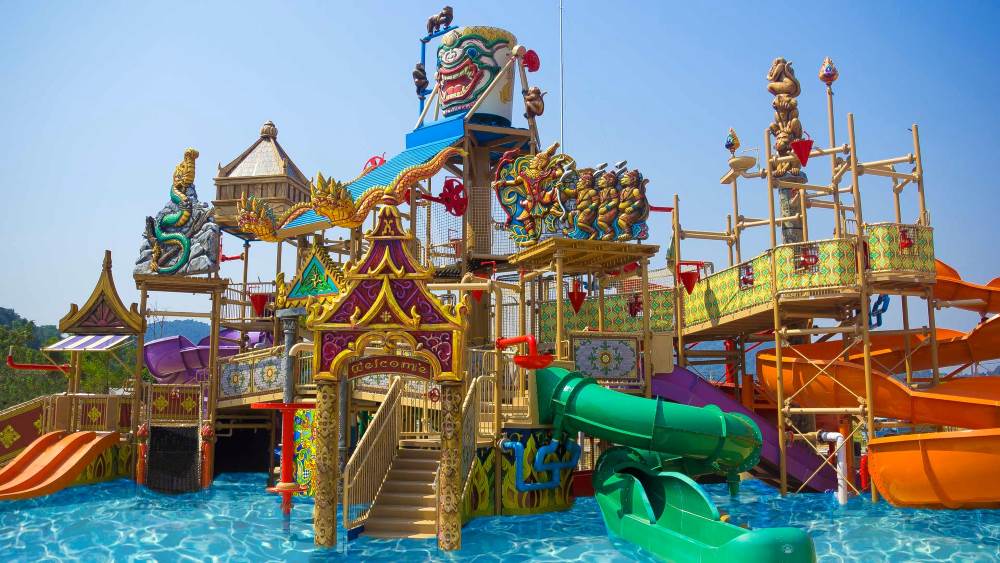 Ramayana Waterpark in Pattaya has great reviews from tourists. They are extremely pleased that only artesian water from their own wells is used here, and the security of tourists ensures several hundred professional security guards.
Ramayana Waterpark is a great place where kids can have fun and adults can relax: go to a spa center or massage parlor, have a delicious meal, sit in local bars, etc.
Attractions
The area of this water park is more than 16 hectares, it is divided into many separate zones, where adults and children can find entertainment to their liking. Each zone can accommodate at least 10,000 people in a day.
The most popular areas are the water attractions, their detailed description can be found on the Internet at the park's website with Russian translation: www.ramayanawaterpark.ru.
What other activities are there?
On the water:
Swimming pool with sea water and artificial waves;
Slow River;
Swimming pool with built-in bar;
Swimming pool for water sports;
Children's pool.
You can see the whole of Thailand in Pattaya, without leaving the water park Ramayana, to see the main attractions of this wonderful country, to make interesting excursions:
to visit a Thai ancient gazebo;
to see the cave paintings of the ancient Thais;
to walk through the labyrinth;
to get to the floating Thai market, etc.
For the convenience of tourists there are rooms for changing, lockers, where you can store things. For a fee you can get a towel, buy a parking space, etc. But access to Wi-Fi is completely free of charge.
Ticket price
The adult ticket is 1,190 baht or $37.68;
Children's ticket is 890 baht or $28.18;
The ticket for the baby is absolutely free.
Carefully read the various promotions on the website of the water park, you can always find current prices, interesting promotions and great deals. Remember that a ticket to the park can always be booked on the website, it will come out even cheaper.
The water park offers everyone who wants to buy an annual pass, it costs 7,999 baht or $253.3. For this price you can come here every day at any time of the year and use all the attractions from 10-00 to 18-00.
How do I get to Ramayana Water Park?
This park is located near Silver Lake, on the outskirts of Pattaya. You can't get here by songeo, but cabs are offered en masse. A cab transfer costs 300 baht or $9.49. You can also rent a bike or a car.
Pattaya Park Water Park
And this park is located near the Pattaya Park Beach Resort, which has three stars and is located on the outskirts of Pattaya. It was built a long time ago, morally and technically already seriously outdated. The park has only a few water slides.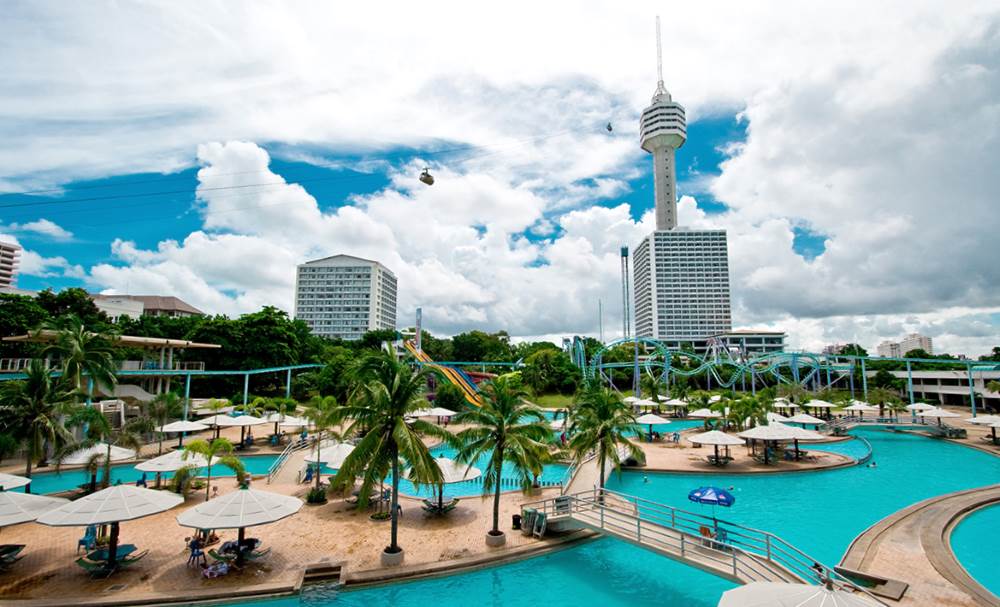 If you stay in the said hotel, you can visit the water park for only 100 baht or $3.16 a day, young children can have fun in the park for free. The plus side of this water park is that you are allowed to bring your own food.
Water Park at Sentara Grand Mirage Beach Resort Pattaya
This water park is open daily from 10-00 to 19-00. Admission is free for hotel guests. If you don't live here, a ticket costs 1,000 baht or $31.64 for adults and 500 baht or $15.82 for a child.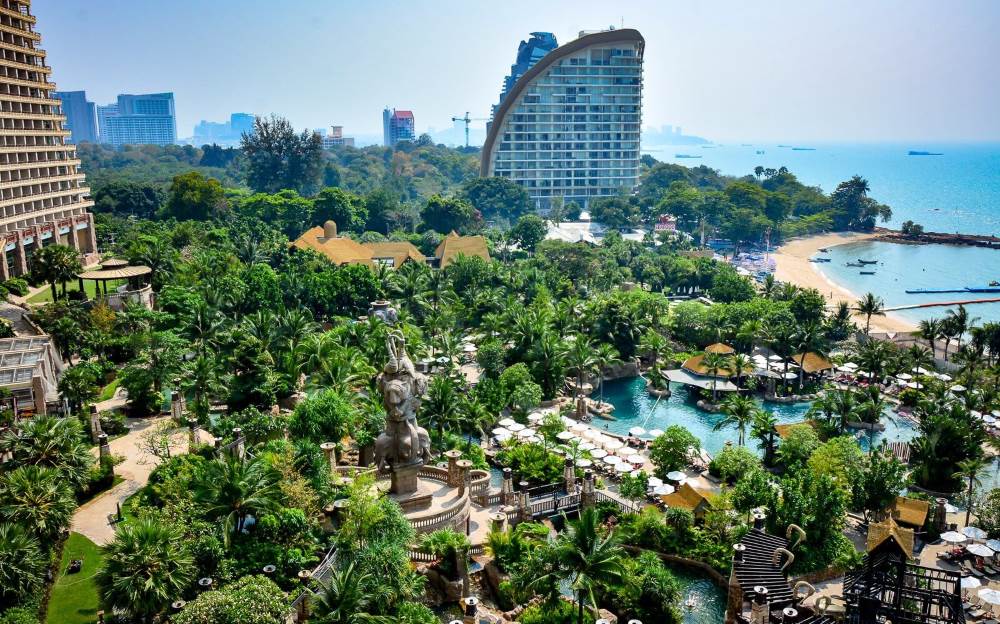 There's noticeably more entertainment: there's a slow river, several pools and lagoons. This is a family hotel for parents with children, so the water park is designed for relaxation, without all drinking alcoholic beverages and other raucous entertainment.
Waterpark at Atlantic Condo Resort
This house is a new building. There are wonderful children's and adult water slides, a slow river and several large pools. The area around it is beautifully manicured.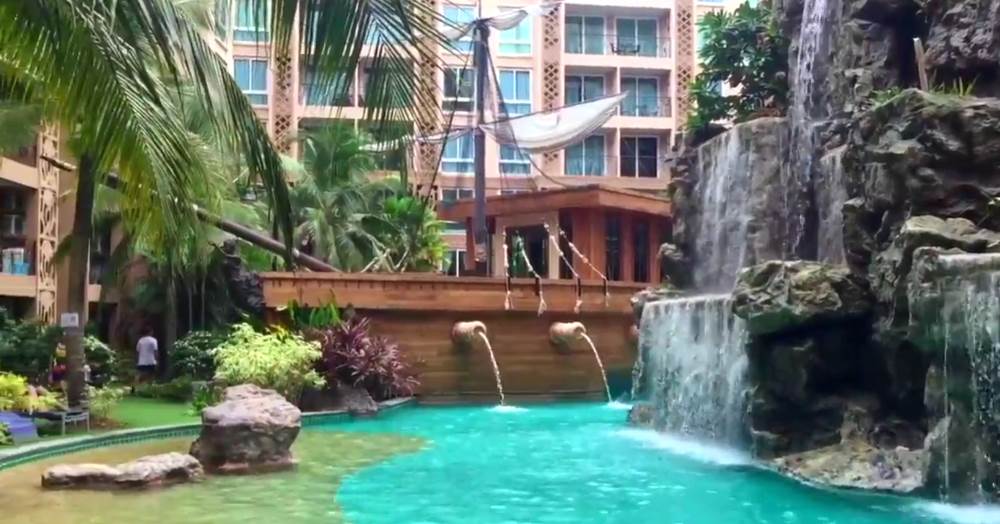 To get to the water park, you should be sure to rent a condominium unit. The cost per room per night is about 2,000 baht or $63.28. If you like the water park and the price, you can safely settle in.
In Pattaya, there are many more hotels or resorts, near which organized a small water park with interesting slides and spacious pools. Thanks to them, the hotel business attracts more guests.
Water parks on the cards
Kartoon Water Park on the map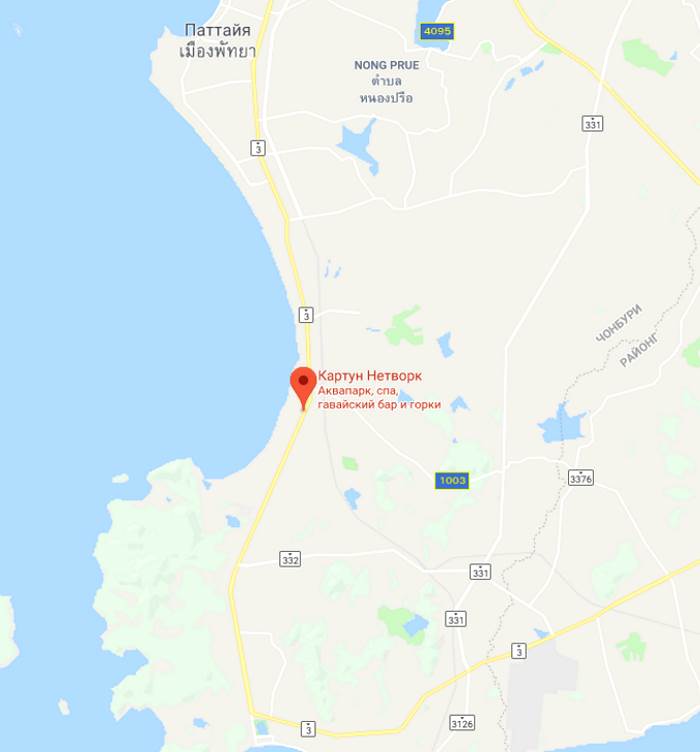 Ramayana Water Park on the map