Water parks have long been an indispensable attribute of beach holidays. Even if the sea is a few meters away, or nearby gently splashing ocean, still want noisy fun, impetuous flight from the slides and a relaxing gentle massage underwater jets in a warm pool. This type of holiday is especially popular with families with children. There is such a water park in Goa, and not even one. You can choose in advance where it is more convenient to get to from the place of rest, at the same time asking about the number of attractions and operating hours.
Popular water parks in Goa
Usually half a day is allotted to visit a water amusement park, but in some you can spend a day without even noticing it. Especially if there is a division into an adult and children's areas, running cafe and provides a cozy corner with sun loungers, hidden under umbrellas, awnings or special decorative awnings.
Splashdown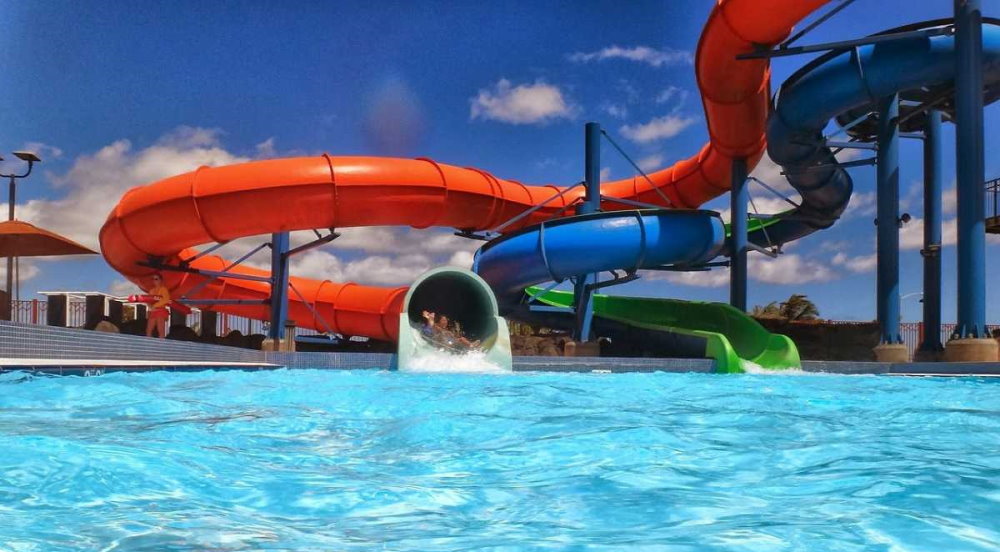 Opened in 2011, it took quite a long time to build by local standards. It is compact, but cozy and comfortable. There are 5 swimming pools of different volume and depth. There are slides for every taste. For competitions with friends there is a three-lane attraction. When you want to ride as a sled, you should pay attention to the "Zoom Flume," for riding which is issued by a single or double trike. Thrill seekers go on a partially enclosed slide, where part of the way you have to fly in a tube.
Equipped with a cozy corner with sun loungers. You can order a cocktail or grab a bite to eat at the cafe. There are always a lot of visitors in the season.
Working time 10:00-18:00. It is more convenient to get there by cab or rented car, because the water park "Splashdown" is located in the north of Goa on the outskirts of Anjuna, next to the road to Knightmarket.
Splashdown Waterpark location on the map
The water park has an interesting pricing policy. The day ticket costs 520 INR for adults, children under 140 cm will be admitted for 420 INR. From 4:30 p.m. the happy hour begins, when there is a discount of 30 rupees. It's funny enough, but that's the amusement park policy.
Froggyland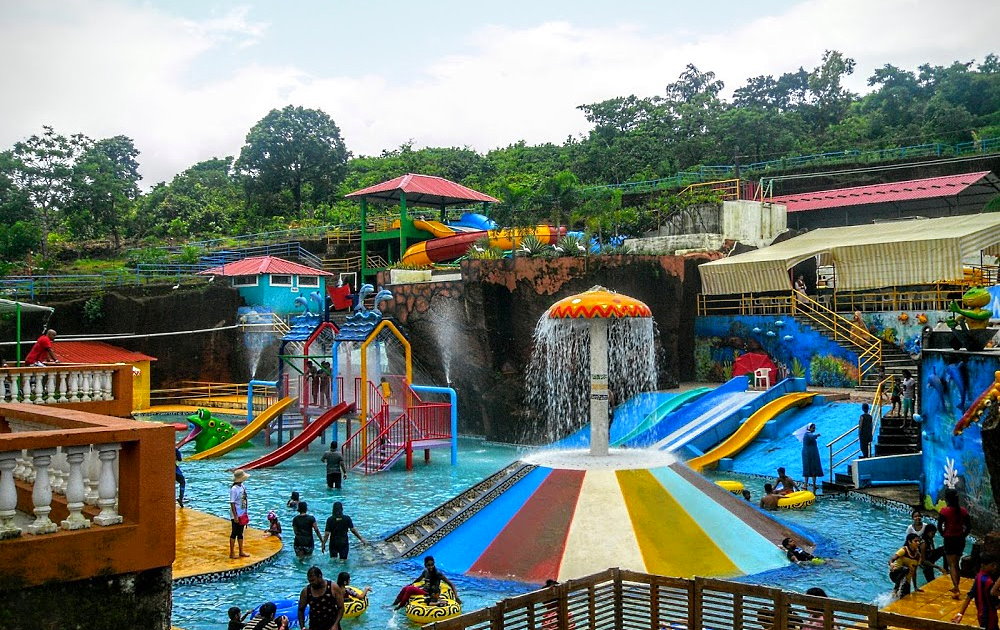 This water park in South Goa is no less popular. It is located in Nuwema and occupies an area of 35 thousand square meters. The range of entertainment here is more diverse. In addition to water rides can go to the disco "dance in the rain," where the drops are falling directly from the ceiling, and the music is organically intertwined with the sounds of nature. It's also worth checking out the bar, where you can sip cocktails leisurely and watch the swimmers.
The rides at Froggyland are not too extreme, but the selection is decent. According to reviews very comfortable feeling leaves a wave pool. Those who like a quick change of scenery will surely like "Multigorks".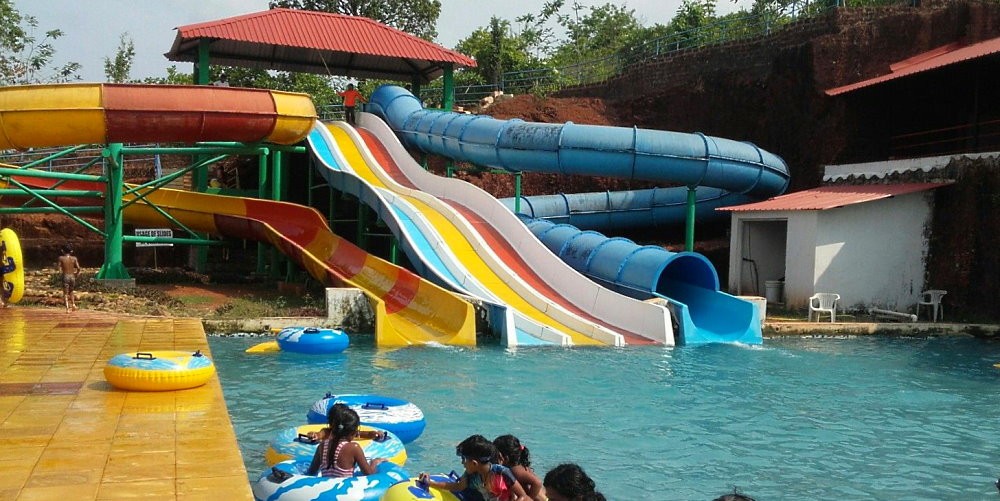 The highlight of the water park – zorbing, where visitors roll down the slope in huge transparent balls. The Lazy River is great for contemplation and relaxation. Little visitors are fun and safe in the children's segment, which features a shallow Kiddie Pool with slides.
Froggyland Waterpark location on the map
Water park operating hours in South Goa standard, from 10.00 to 18 .00. Monday is a technical day. The cost of entry is average, for adults for a day ticket costs 450 rupees and 250 rupees for children under 120 cm. Note that towels and luggage rental are not included in the price and you will have to pay for these services separately. You can get to the water park by cab or motorcycle towards National Highway 17.
Blue Whale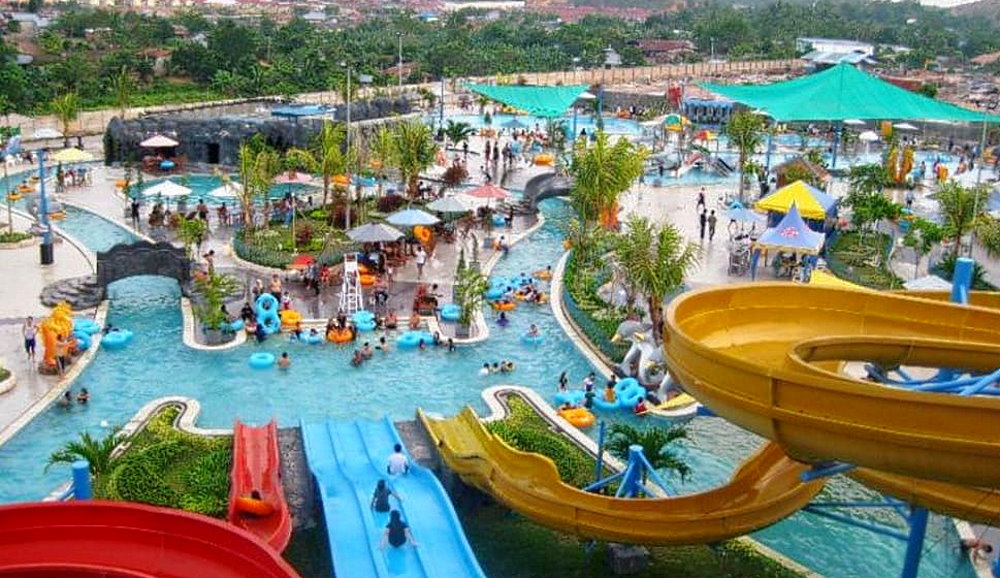 Located in Arpora in northern Goa. Distinguished by a number of the newest attractions. Very popular with children is a castle trampoline "Looking for Nemo. There are terrific slides, pools, and blaster boats. The minimum age for a visit – not younger than 1 year. You can order a holiday for a child with animators, regularly held discos and participation of famous DJs. There is a bar.
Blue Whale Waterpark location on the map
Blue Whale Park is open daily from 09:00 to 19:00. It can be reached by private and public transport from both hotels and from the beaches of North Goa, such as Baga and Calangute.
All water parks in Goa are open all year round. It is best to come here from November to February, setting aside a separate day for entertainment.
Video review of water parks in Goa