The beach Varqa in South Goa like vacationers beautiful scenery, developed tourism infrastructure. According to their reviews it is the most European part of this tourist state of India with good service and a quiet atmosphere.
South Goa attracts tourists who prefer a comfortable stay, it prefers to come here the middle class from Europe and North America: couples with children, pensioners, as well as wealthy Indians.
Description of Varka Beach
Google Maps coordinates: 15.221148,73.929402

GPS coordinates: 15°13'16.13″N, 73°55'45.85″E
From this beach to the state capital of Panaji 40 km, and to get to the local international airport Dabolim, you have to drive 31 km. The nearest railway station, Margao, is only 10 km away.
Varqa Beach in South Goa is a sandy spit that stretches along the state's coast from north to south for 3 kilometers. The village of Varqa is two kilometers from the shore, washed by the Arabian Sea. Varka is bordered on the north by Benaulim beach, on the south by Kavelossim.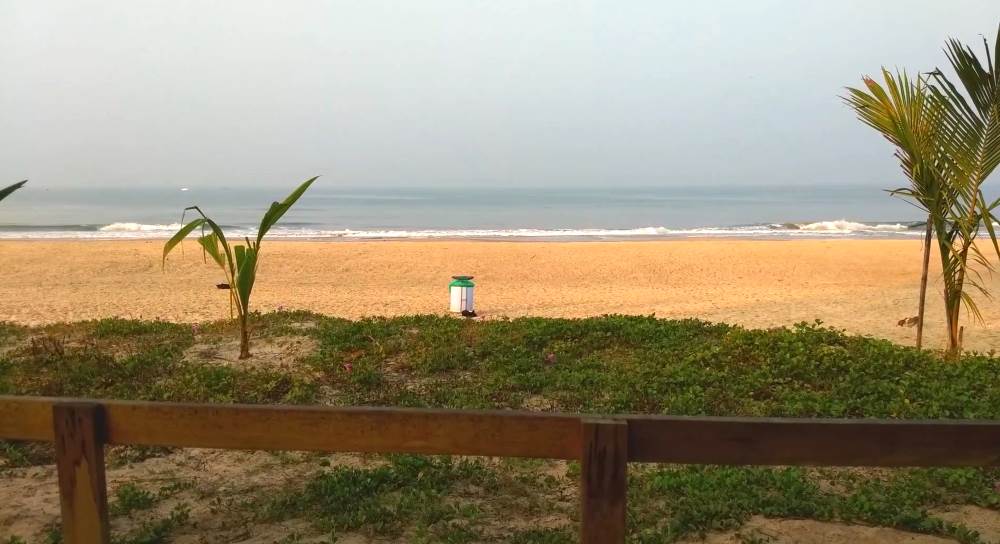 Varka beach is good because there are no stray cows or dogs. Here you will not find intrusive traders and beggars. Many first-class hotels and restaurants have been built on Varca, and there are practically no dilapidated shakes.
The beach is divided into several parts and has a light, golden, fine, soft sand. Another plus of Varka: a beautiful coastline, forming many small bays and coves, where it is very convenient to sunbathe and bathe small children.
This family vacation is not likely to appeal to young people. However, she can safely go to the neighboring beaches of Colva or Palolem. There are plenty of age-appropriate entertainment: discos, live music, clubs, bars, parties, etc.
Varqa Beach and Village on a Map of Goa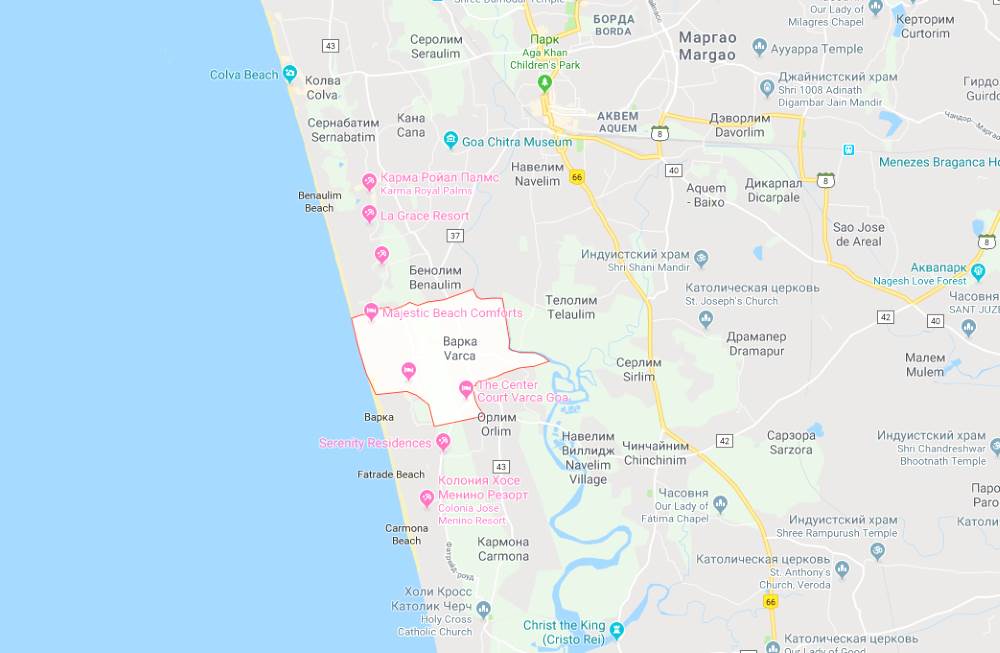 Climate and weather in Warka
Like the rest of Goa, a subequatorial climate reigns here. The best vacation time is from November to March. In summer it rains tropical rain around the clock, it gets stuffy and hot as a bathhouse, so tourists go home.
In winter, during the high season, the air temperature at Varka beach during the day is about +30C – +34C, and the water in the sea warms up to +28C – +32C. Sunny almost every day, no rain at all. The weather is perfect for beach tourism.
How to choose an apartment in Varka?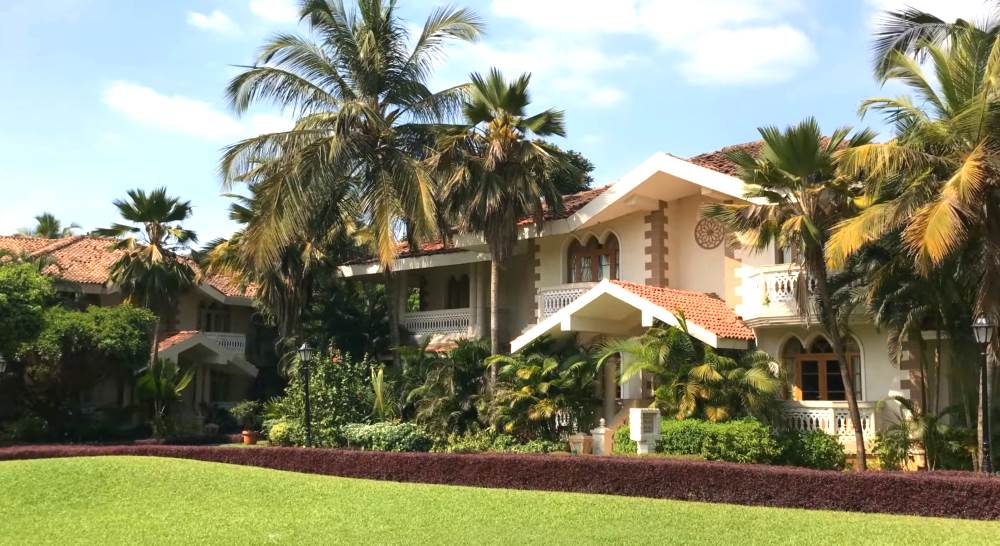 According to reviews of tourists infrastructure in the village of Varka in South Goa is well developed, vacationers are offered accommodations from two to five stars with quality service. The cost of housing is traditionally higher than in North Goa.
It is important to note that there are many hotels, bungalows, guesthouses and villas of all levels on the Warka Beach area as well. You can rent an apartment, located a few meters from the sea. Many hotels offer first-class service, but this is from the point of view of Goans.
Some of the most popular and inexpensive hotels:
Regenta Resort Varca Beach,
Caravela Beach Resort,
Sterling Goa-Varca,
Majestic Beach Comforts,
Colonia Jose' Menino Resort,
Varca Palms Beach Resort, etc.
How to get to Warka?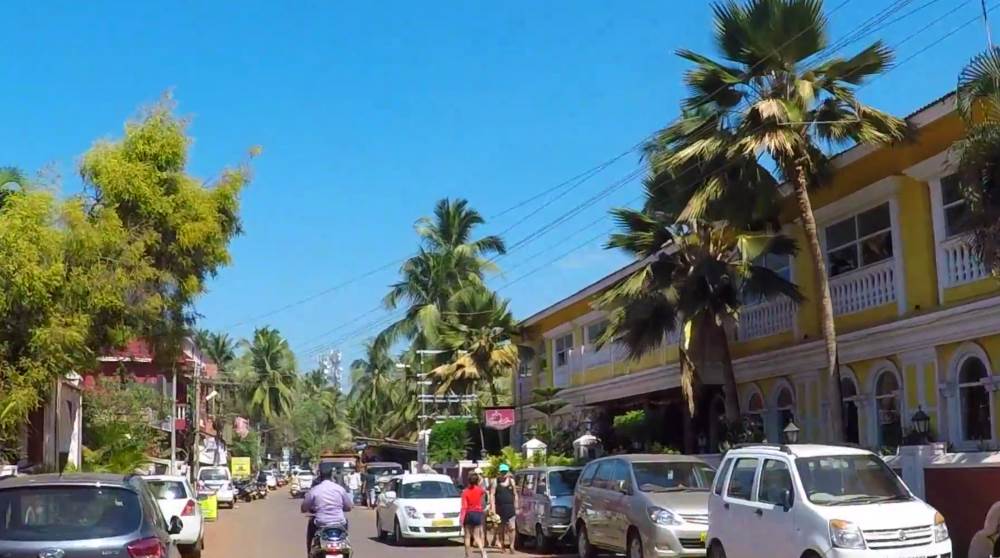 Most Russians arrive in Goa by plane at the local international airport, Dabolim. Many Indians arrive in the state capital, Panaji, at the train station. From there you can go straight to Varka in South Goa by cab, bus, car, bike.
Directly from the airport to Warka – 50 km. By bus, you have to make several transfers with a stop in Panaji, which lengthens the travel time. Many hotels in Warka, where rooms are booked, provide free shuttle service from the airport.
A great option is to rent a bike for the entire vacation at Warka Beach in South Goa. Offices of rental companies can be found at the airport, in Panaji or any other city of Goa, this business is well developed in India.
Where can I eat on the Warka?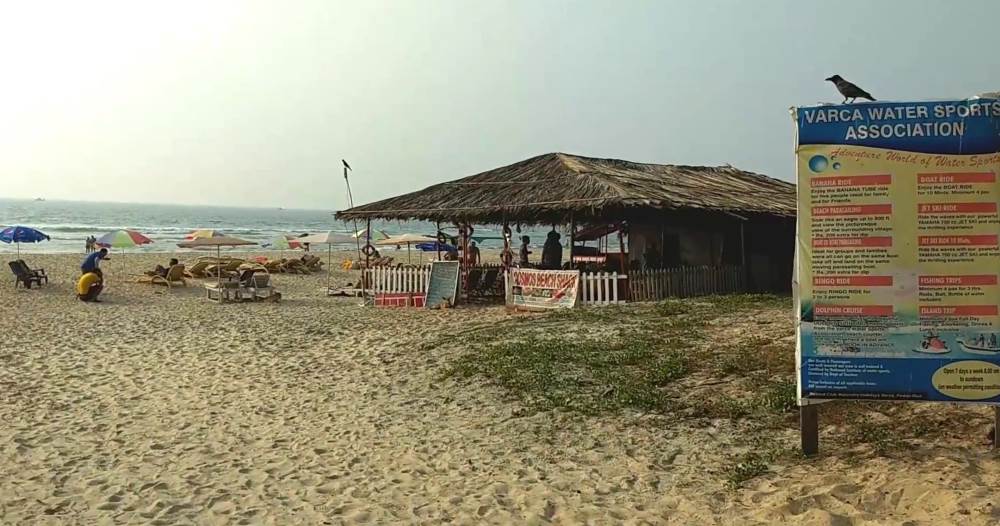 Since this is a beach for the middle class and above, you can find expensive restaurants with great food on Warka. Tables and dishes in restaurants are booked in advance, visitors are offered predominantly European and local cuisine.
There are cafes and shakes with inexpensive food and drinks on the beach and in the village of Varka, where you can taste Indian dishes with less spices and spices, as well as local fish and seafood dishes.
Many tourists living permanently in Varca prepare food for themselves and their family, buying food and drinks at local food and fish markets, as well as in supermarkets. These meals are much cheaper.
Shopping, spa and other activities on the Warka
In the village of Varka there are many stores and souvenir shops, where you can buy fruit and souvenirs, shoes and clothing, fabric and jewelry. But for a real shopping trip, it's better to go to Margao, the capital of South Goa.
A real Oriental bazaar awaits you in Margao, where you will get a lot of impressions and buy a variety of products at democratic prices in memory of the magical India and its European part – the state of Goa.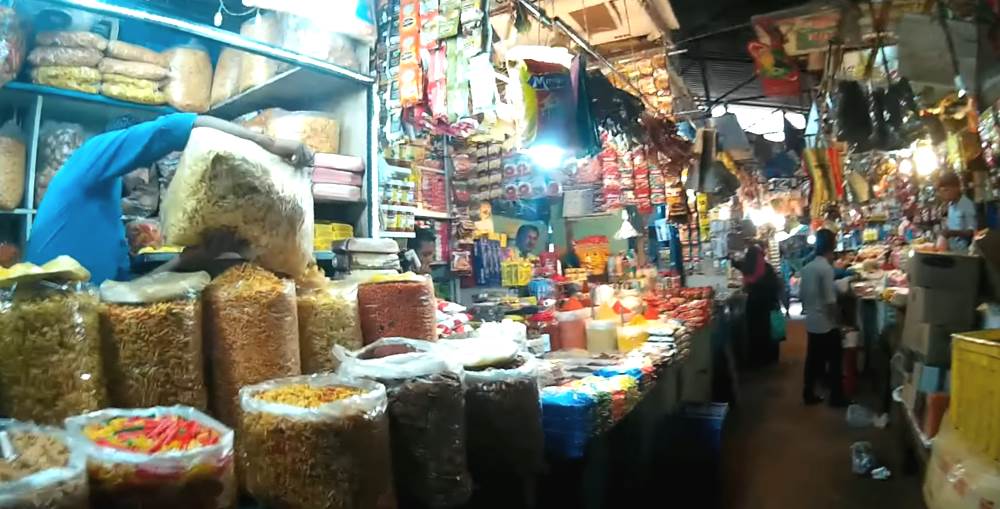 Many tourists going to the bazaar in Margao, be sure to take a camera or camcorder to preserve the memory of the oriental color of its trading rows, the behavior of traders and the delight of first-time buyers in India.
There are also wonderful spas, massage parlors, some water activities, dance floors, and excursions in Warka. But the main attraction at Warka Beach is beach recreation. After 9:00 p.m., it gets quiet and everyone goes to bed.
Video tour of Warka
Tourist reviews of Varca Beach
Elena Simakova, 24, Tver, Russia:
A great place to relax with the whole family. Loved the local little coves where my husband and I taught our baby to swim. There are practically no perpetually drunk students and stray cows. Very decent service.
Evgeny Savenkov, 37, Kemerovo, Russia:
Great rest, it was quiet, not a lot of people resting. Varka looks like a good Eastern European resort, very clean, without pathos and pathetics, but with money. I'll try to come back here again.