Vagator Beach is the calling card of North Goa. This is the most popular beach in the north of the state, where hippies still gather, the traditions of this famous subculture are strong, Goa Trance music sounds.
Because of the popularity of Vagator Beach prices are markedly higher than on the other beaches of North Goa, but it does not stop the audience, which is ready to throw away extra money, just to visit the homeland of the hippies.
Here you will find beautiful subequatorial flora, many tourists sunbathing together and cows sacred in India. Vagator has a decent tourist infrastructure, hotels of all stars and attractions.
Description of Vagator Beach
It is a secluded arc of sand located 22 kilometers north of Goa's capital, Panaji, on the west coast of the state and washed by the Arabian Sea. To the south is Anjuna Beach, and to the north across the Chapora River is Morjim Beach.
It has beautiful scenery and large boulders on the beach. You should go swimming with caution, because. Sea waves in the high season are quite turbulent. Next to the beach is a colorful village of Vagator.
Holidays are best from October to March, the air temperature at this time reaches +30C – +35C, and the water temperature – +28C – +30C, it almost never rains. During the calendar summer it gets very hot here, there are constant tropical downpours.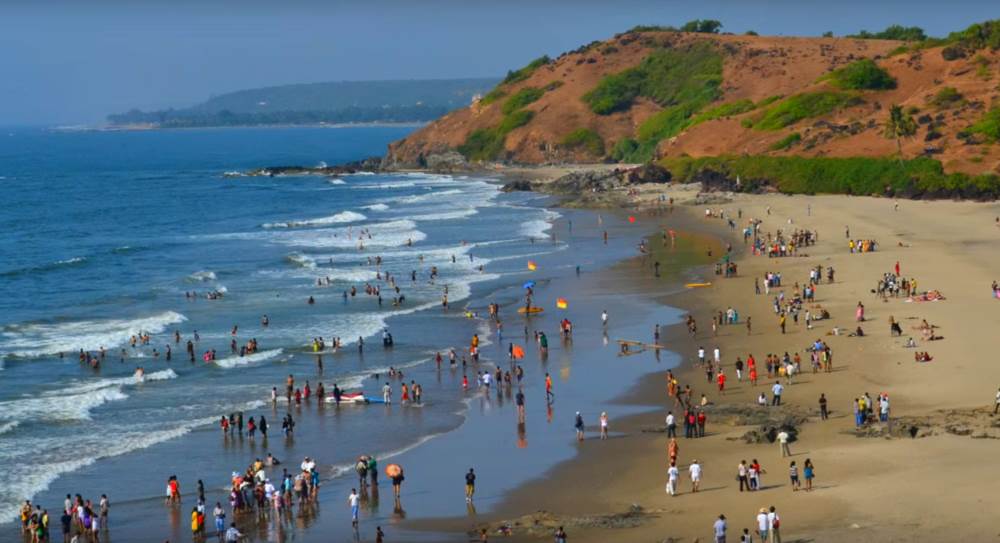 Vagator Beach in North Goa is divided into three parts: large, medium and small Vagator. Each part of the beach has its own unique landscape, suitable for a particular category of vacationers.
During the daytime Vagator – a great place for children's recreation. For children and their parents there are many water rides and other attractions. No one will get bored and go home perfectly happy.
How do I get to Vagator Beach?
Getting to Vagator is not a problem, because. From the local airport of Dabolim it is only 48 km. A cab from Dabolim to Vagator costs about 2,000 rupees, and the Indian rupee is almost equal to the Russian ruble.
You can also get to Vagator by shuttle bus, but tourists do not like this type of transport, because. The bus requires several transfers and is often late, so the transfer time drags on for two hours or more. Buses also run between the beaches.
India's favorite mode of transportation is the railroad trains. This transport is well developed due to the vastness of the country, and tickets are very inexpensive. Also in India there are many rickshaws offering their services for the transportation of passengers and luggage.
Map of Vagator Beach in North Goa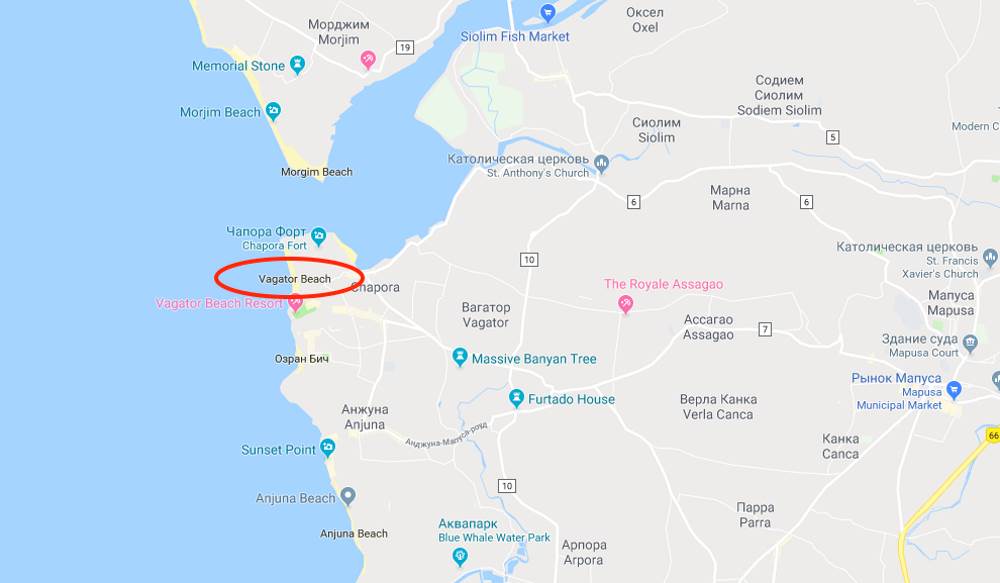 Accommodation on Vagator Beach
Vagator is gradually turning into a solid place, where the European and American middle class holidays with the whole family, with children. Every year a lot of hotels, gesthouses, bungalows and villas are built for every taste and purse.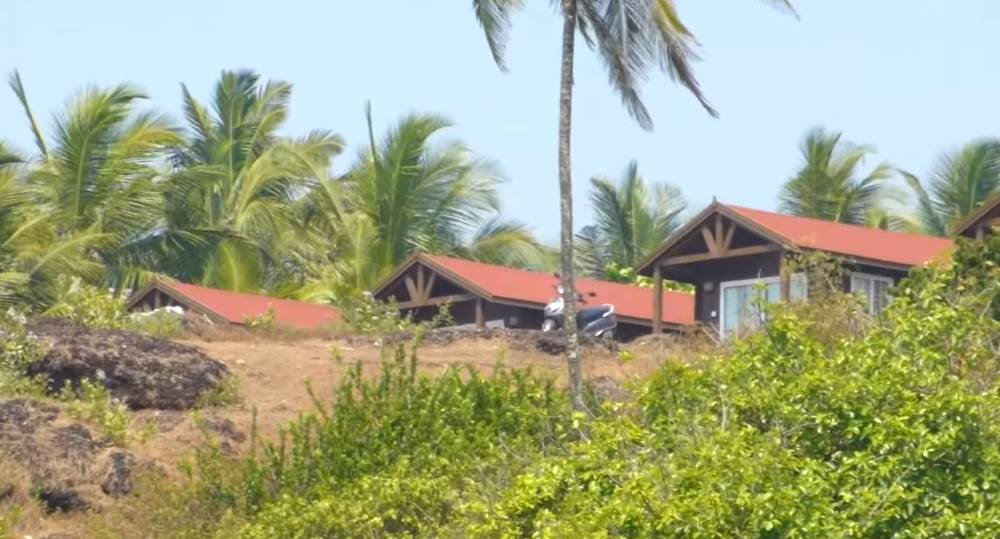 Here in high season you can find a place for a night in a guesthouse for 800 rupees or a simple room for two in a hotel for 2,000 rupees a day. Hotels by the sea with pools, apartments and villas in season are much more expensive.
We recommend that you book a hotel room in advance even in Russia: booking.com, trivago.ru, ostrovok.ru. A reservation will help you save a lot of money, because. In the low season, accommodation on Vagator Beach in North Goa is noticeably cheaper.
The most popular hotels in Vagator among Russians:
Alcove Resor*t;
Aria Beach;
Acasa Vagator;
Larive Beach Resort*;
Leoney Resort*;
Grand Leoney;
Jolly Jolly Roma, etc.
Where to eat in Vagator?
There are hundreds of catering establishments of every cuisine in the world. European cuisine predominates on Vagator Beach, as. Most of the tourists are from Europe. Russian cuisine with its dumplings and meatballs is also sufficient.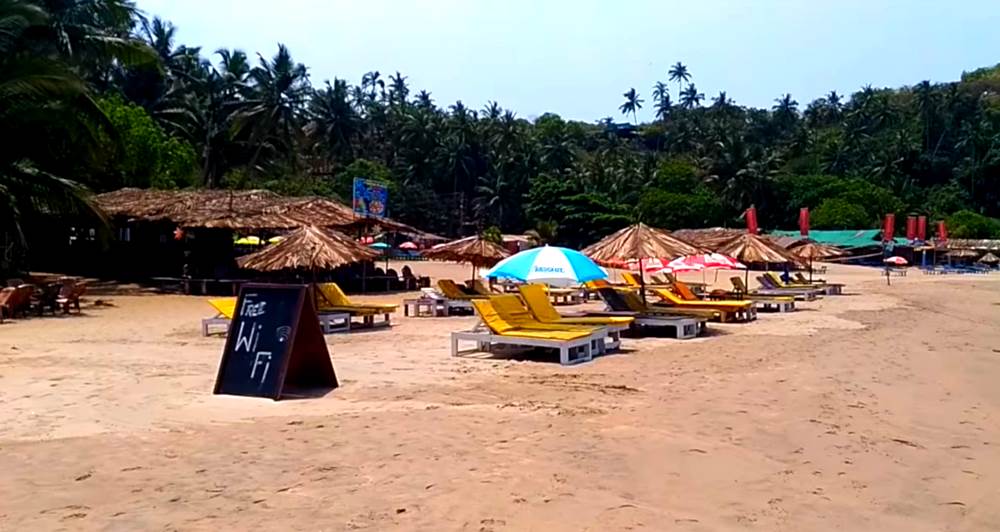 Indian cuisine with its hot spices and flavorings is a huge success. But the most popular dishes are fish and seafood, which can be found here in every shake. Prices for meals are the same or lower than in Russia.
Russians who live permanently on Vagator Beach in North Goa prefer to cook for themselves. It is more economical and familiar, the products can be bought at the local grocery fruit and fish markets. Fresh fish – in the village of Chapora.
Souvenirs and gifts on Vagator
There are many stores and stalls on Vagator Beach, where you can buy interesting things, including. The main features of the city are the handmade clothes, shoes, fabrics, carpets, gold jewelry, souvenirs made of precious wood and ivory, and so on.
You can buy it even cheaper at the local night market. Not only do they sell stones, figurines, utensils, Ayurveda medicines, but they also have fun. At night, fans of hippie ideas gather near the market, you can hear the smell of marijuana.
Attractions in Vagator
The most popular attraction in Vagator is the face of Shiva, which is carved on a huge stone. It was made by a sculptor who came to Goa from Europe in the 1960s and remained here forever.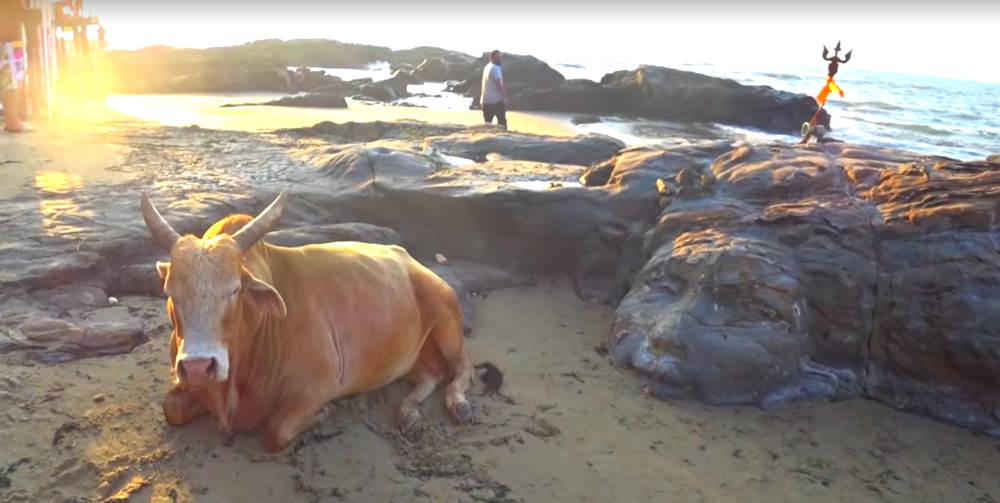 A famous historical landmark of Vagator is Fort Chapora. This fortress was built by the Portuguese more than five hundred ribbons ago to protect the coast of Goa from attacks by the enemy and pirates.
Also Vagator beach in North Goa is famous for its magnificent natural scenery, unusually beautiful flora. Many write rave reviews and come to Vagator every year to once again enjoy the natural beauty of the local sunset.
Important to know:
There are many wild dogs in Vagator, they often attack women and children, so we do not recommend that you walk along the beach in the evening and at night. There are just as many cows begging for food from vacationers.
Also on the beach at night a lot of drunken Indians, who can be extremely intrusive, can make a scandal on nothing, turning into a fight. Hindus are very fond of Vagator beach, as well as the entire North Goa.