For decades, the coast of the state of Goa in India for tourists from around the world has become a true paradise, which should not fail to take a vacation. At the same time, there may be dangers waiting for you there, and you should definitely be warned about them. In this article we will try to summarize all the information about Goa for travelers.
The state of Goa is the smallest in India. It has an area of less than 4,000 square kilometers, and stretches in a narrow strip about 65 kilometers wide along the west coast of the country from north to south; the state is about 100 kilometers long.
Geography of Goa
This narrow strip of land is washed from the west by the Arabian Sea, all riddled with small rivers flowing into the sea and then into the Indian Ocean. The state of Goa is bounded to the east by a plateau, smoothly adjoining the Sahyadri Mountains.
Goa is one of the most sparsely populated states in India. This problem is solved by the tourists, who have taken a fancy to these places since the 60s. Millions of tourists come here every year, so the main source of income in Goa is the tourism business.
The state of Goa on the map of India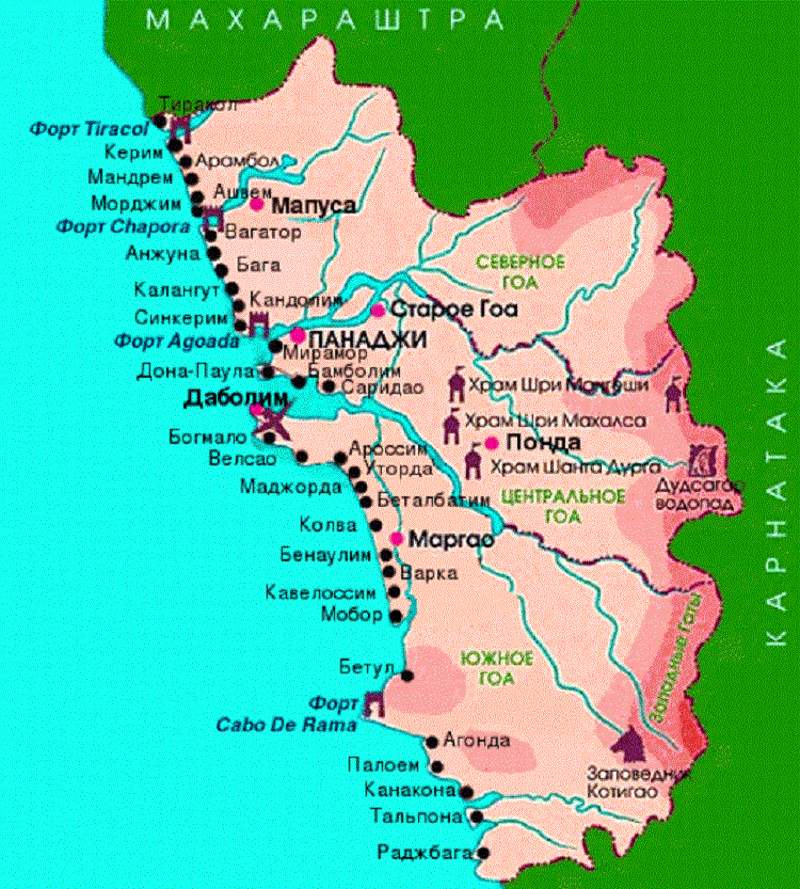 History of Goa
This territory was a Portuguese protectorate for several centuries. The Portuguese first arrived in Goa in the early 16th century and founded the Portuguese India. One of the first governors was Vasco da Gama. Those were the best times for Goa.
The Portuguese authorities encouraged mixed marriages, welcomed the spread of the Portuguese language, and harshly imposed Catholicism with widespread use of the Inquisition. The first capital, Old Goa, had the best Catholic churches in the East.
The Portuguese used Goa as a springboard for further conquest of India. At that time the Great Moguls were advancing on India from the east, so the Indian princes, fearing the unknown, surrendered themselves and their tribes to the Portuguese.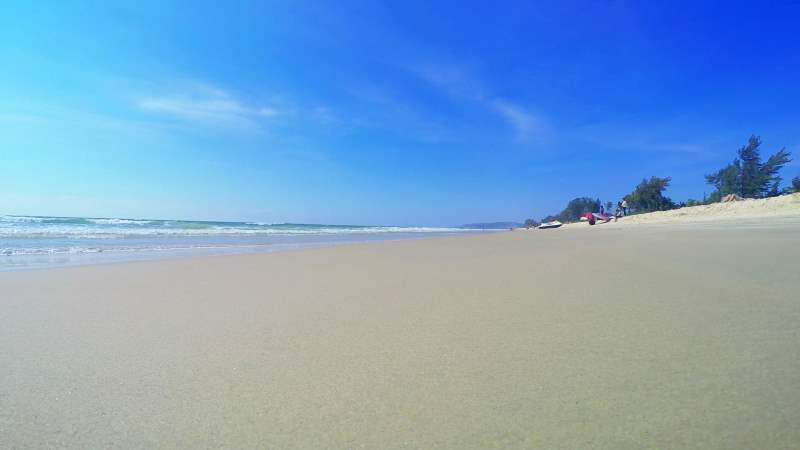 At the end of the 17th century the Golden Age of Goa ended as. The Portuguese were gradually forced out of India by the British. The old Goa, with its magnificent palaces and temples, was destroyed, and the governor moved to the new capital, Panaji.
Today, all the surviving cultural, religious and historical sites and monuments of Old Goa in India are included in the famous UNESCO list, are protected by the state and are periodically restored.
In the early 1960s Indian troops occupied Goa, finally kicking the Portuguese out of there. Only a decade later, Portugal was forced to acknowledge that the territory was under Indian sovereignty.
In the sixties of the 20th century, many members of the hippie movement appeared in the state of Goa. These places were fully consistent with their ideology, their outlook on life. So some hippies stay here for life, while others just make pilgrimages to Goa.
Climate of Goa
A tropical climate prevails here. There are three seasons throughout the year: winter, summer, and rainy season. This means that a period of dryness and warmth is quite abruptly followed by a period of humidity and heat, and then by torrential rains.
Winter lasts from October to May, i.e. the second half of fall, winter, and the first half of spring as we understand it. During this time the temperature ranges from +21C to +31C during the day and at night it can be quite cool.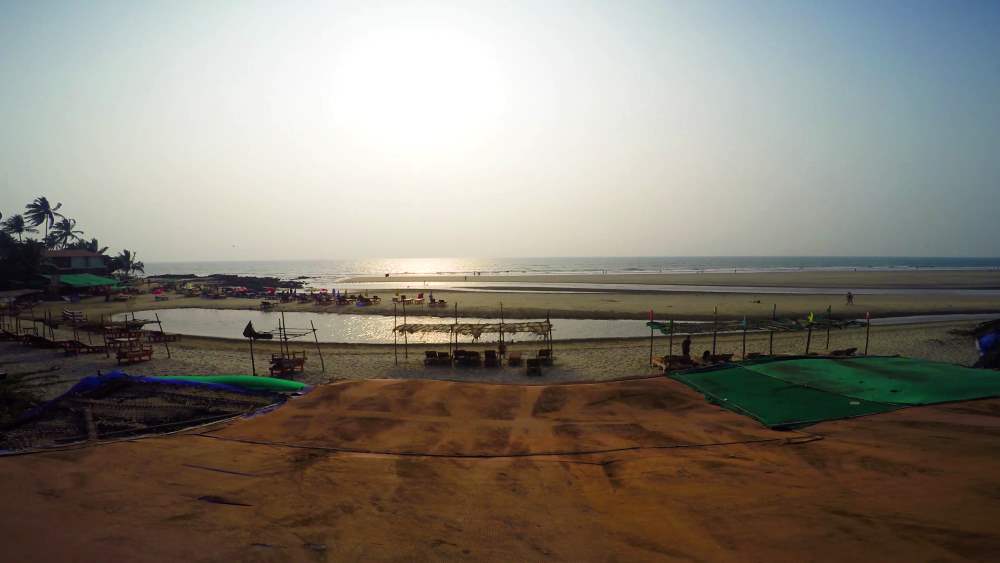 It's High Season for tourists. This is the most comfortable time to vacation in Goa. It gets hotter in May, but it's still dry. The temperature rises to +26C – +35C. The humidity gradually increases.
Russians tend to fly here from September to April, the perfect time for a comfortable beach holiday, until Goa again came terrible heat and the monsoon.
Heavy downpours come to Goa in July. It rains for days until September. Most tourists go away, but some like this weather, the temperature at this time ranges between +25C and +27C.
You can swim in the sea in Goa all year round, the constant water temperature is about +28C – +30C. This is a real paradise for divers, but only in the High Season, as. During the monsoon there are often serious storms at sea.
Attractions in Goa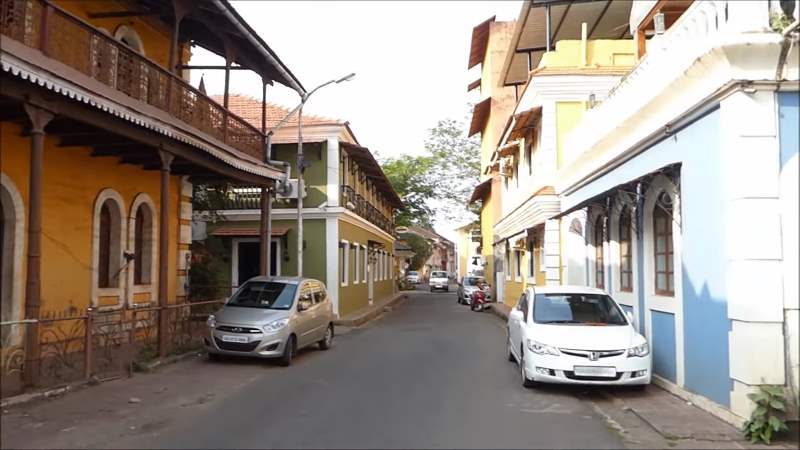 Panaji City. Panaji has been the capital of Goa since the 18th century. At first it was a fishing village, which after gaining metropolitan status began to rapidly develop and expand. Today the city has more than 100 thousand people. Panaji is famous for its ancient Portuguese architecture in the Renaissance, Baroque and Classical styles. Here you can see the beautiful palaces of the colonial nobility and the magnificent Catholic churches.
Fontaines Quarter. It is a historic city quarter built in the mid-19th century, when Panaji was already the capital of Goa. The houses have a very striking architecture, a mixture of India and Southern Europe, and are still inhabited today by descendants of the colonizers of this part of India from Portugal.
Market in Anjuna. This is one of the iconic night markets in the town of Anjuna on the coast of North Goa. It emerged in the 1960s, when the state was flooded with hippies from Europe and America, and quickly became their hangout spot.
Night Market in Arpora. Here you can buy interesting things, unique souvenirs, and all night long sing, dance, have fun, watch fair shows, etc. This market is a unique phenomenon in Goa, created by hippies and still exists today.
Bon Jesús Temple. It is an ancient Catholic church built in the 17th century in Old Goa in the Portuguese Renaissance style. The temple is adorned with jewels in a very Oriental style and is the most famous Catholic architectural landmark in Goa.
The Cathedral of St. John the Baptist. Catherine. It is the largest Catholic temple in India. It was built just after the victory of the Portuguese and their capture of Goa in the early 16th century. The cathedral was built in the Portuguese Renaissance style.
Shantadurga Temple. And this Hindu temple was built in the 18th century in honor of the goddess Parvati. Note that the Portuguese mercilessly destroyed Hindu temples, while the locals carefully preserved them, transporting them from place to place.
The Monastery of Sts. Augustine. Today it is a ruin located near Old Goa. The monastery was erected in the 17th century and operated for over two hundred years, until the 19th century. Then the Portuguese government dissolved the Catholic orders, and the monks abandoned this monastery forever.
Fort Aguada. The fort was built in the early 17th century to protect the Portuguese colonists from the Dutch. Today, half of the fort is a prison, and the other half is where tourists come to tour the fort.
Bhagwan Mahavir. A unique nature reserve with the largest Dudhsagar waterfall on the Indian subcontinent. There are bears, lynxes, panthers, leopards, etc. A fascinating jeep safari is offered.
Salim Ali Bird Sanctuary. The reserve is located in mangrove swamps, and today it is home to at least four hundred species of birds. There are crocodiles and jackals in the swamps. Most birds appear here in winter, i.e. during the High Season, they come here to overwinter.
Dudhsagar Waterfall. Most of the lovers of natural attractions Goa, gathers just near this waterfall. Its name is translated from the local vernacular as "sea of milk," because. The water in Dudhsagar is very foamy. During the monsoon season, the waterfall is enormous.
Entertainment in Goa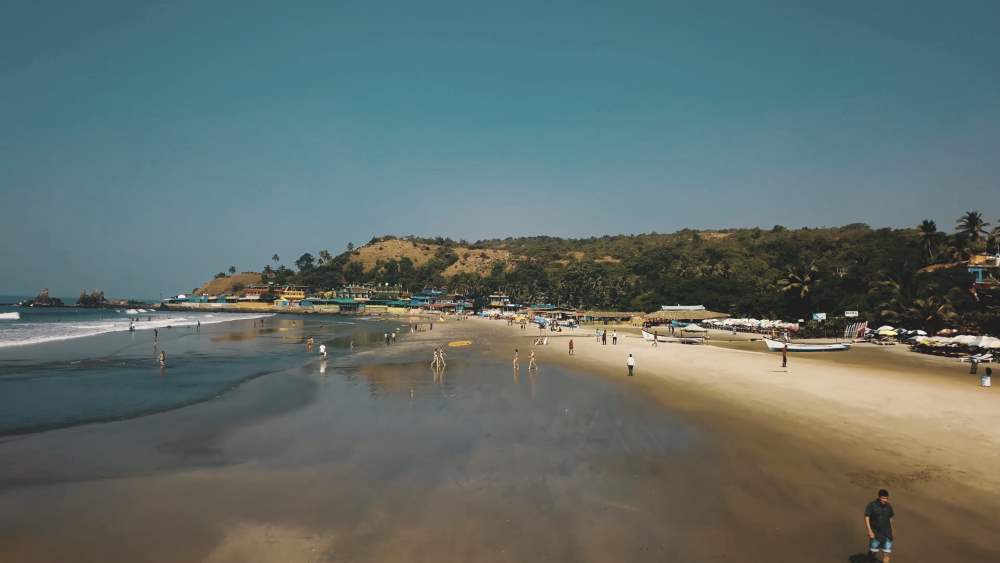 Agonda Beach. Agonda is located in South Goa, where middle-class people with children or respectable elderly burghers often vacation. It is famous for housing and breeding olive ridley sea turtles, an endangered species in India.
Palolem Beach. This beach is the best in South Goa, it is the most popular in the High Season. Great for children because. It is located in the bay and has a gentle descent to the sea. It's relatively clean, and the cows that are sacred in India rarely come in for a swim.
Arambol Beach. This beach is located in North Goa, it is more than 15 km long, the sandy part is surrounded by real tropical jungle and rocky mountains. All night long the hippie spirit reigns here: dancing, songs, marijuana, colorful characters, etc.
Deltin Royale Casino. It is one of the biggest casinos in India. It is on board the ship. There are tables for gambling and machines. At the same time you can take a boat cruise and visit an excellent restaurant.
Kubana Nightclub. The club has everything for intoxicating entertainment: a bar, a dance floor and a spacious pool. Tourists of all ages come here to listen to electronic music and dance to it all night long until morning. "Kuban" is performed by famous DJs.
Flora and Fauna in Goa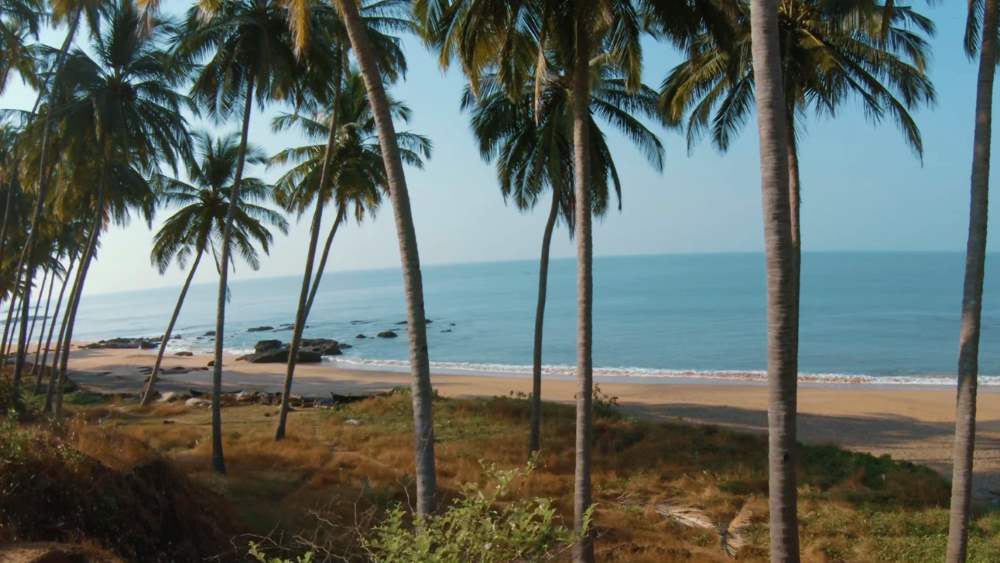 To this day, the state still has places untouched by human civilization, they are covered with virgin tropical jungle. They grow most vigorously during the High Season, and begin to creep closer to summer.
Goa has many plantations with spices, for which Indian cuisine is so famous. Tourists from different countries come to the plantations to enjoy the aromas and buy Indian pepper, coriander, ginger, cumin, cinnamon, etc.
Near the plantations there are usually small zoos with local mammals, reptiles, amphibians, birds, butterflies, insects, etc. Tourists have a real opportunity to see the real Indian fauna up close.
Holidays in Goa
There are an incredible number of holidays in this tourist state. Tourists during the holidays have time to enjoy plenty of festivities and carnivals, they are held here with no less pathos and pomp, scope and breadth of mind than in Russia.
The austere Catholic festivals of the Church are intertwined with the colorful and cheerful Hindu celebrations and festivals. The result is extraordinary processions and carnivals.
In processions, statues of many Hindu deities and Catholic saints, adorned with lush and colorful tropical flowers, pass in front of the audience. You will certainly be pelted with guns filled with water and paint.
What to take for a trip to Goa from the medicines?
India has a well-developed pharmaceutical industry, so to pack with a medication that may be needed on vacation in Goa, adults are not required. Almost everything can be bought locally, but only on the recommendation of the local doctor.
Therefore, a minimum supply of emergency medications brought from home should always be on hand:
Antihistamines. You will need allergies to local plants, animal hair, Indian cuisine, spices, etc. in case of an allergy attack. Remember that children often have allergic reactions to local jellyfish.
Analgesics and antispasmodics. When flying from Russia, take with you the domestic citramon, pentalgin or nostropa, to which your body is already accustomed. They should always be with you, so you don't have to search for them in the pharmacies of Goa.
Drugs for children. If you are traveling with your baby, be sure to take Russian children's medicine, including. necessary for gastrointestinal disorders, fever, colds, acclimatization, etc.
How much money should I take with me to Goa?
As mentioned above, there are expensive, elite resorts, and there are cheap, democratic campsites. In general, the cost of recreation, together with excursions, trips to restaurants is quite affordable, for a month is enough for $1000.
If you plan to attend glamorous parties, expensive bars, travel exclusively by cab and stay in apartments, then you need money for several orders of magnitude more.
When buying a trip to Goa from a tour operator, be sure to ask him about the price of the fuel surcharge ($50-75) and its inclusion in the total cost of the tour. If it is not paid in advance, you may be in trouble and waste money.
How do you dress in Goa?
This resort state is characterized by complete relaxation. There is a Sanskrit word "shanti," meaning "peace" or "attainment of harmony. This is the aspiration of all who practice Hinduism and Buddhism.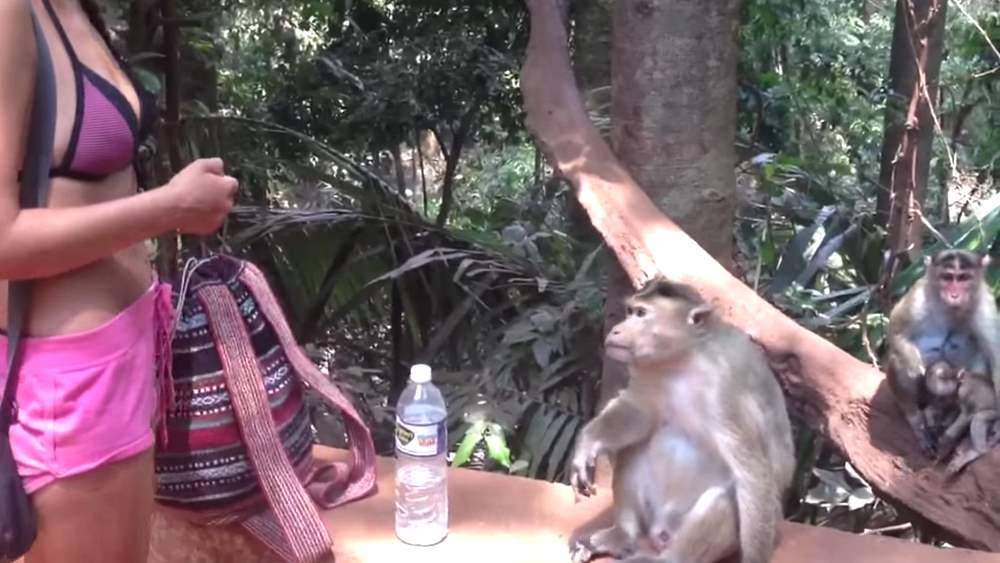 In Goa, everything is imbued with peace and harmony. It's a great place for locals and visiting tourists alike. They live in paradise, in eternal summer, so they dress what they want.
Everything here is to the face:
swimsuits;
shorts;
spacious shirts;
T-shirts with prints, etc.
Outings in glamorous or exclusive clothing are very welcome in South Goa, where the middle class and above vacation. And in North Goa, the simpler the clothes, the cooler. We recommend buying swimwear and other clothing directly from the state markets.
But despite the harmony in human relations in Goa, it is better not to be too naked in public places. There are nudist beaches for that. Transparent tunics and mini underpants are better to flaunt in the same place.
Dangers for tourists in Goa
Dangers can await tourists and travelers everywhere. There are many rumors and gossip about Goa, but many of them are greatly exaggerated. Most injuries are caused by tourists falling coconuts on their heads in windy conditions.
But tropical snakes, sharks, rays, poisonous jellyfish, various tropical diseases should not be forgotten either. Although the number of tourists affected by them, an order of magnitude less.
Snakes. When you come to India, you will definitely encounter snakes. It is as inevitable as meeting mosquitoes in Russia. There are sea snakes and land snakes in Goa. At the same time, sea snakes swim quite far into the sea, and they rarely meet people. Indians take land snakes in their hands without fear and convince visitors to Goa that snakes are perfectly safe, do not produce poison and do not bite. For many years, there have been no fatal snake bites in India.
Sharks. This is another danger in the state of Goa. Sharks live far out to sea and hardly ever come to the beach shallows. The natural instinct for survival requires sharks to encounter humans less. There are no real reports of sharks attacking people off the coast of Goa, but such "horror stories" appear every season. The sharks are only active at night near the fish markets off the coast.
Diseases. But tropical diseases can become a serious threat to human health and even life. Tropical heat and unsanitary conditions contribute to the rapid development of various intestinal infections. Tourists are required to strictly observe the rules of sanitation and hygiene. In this case, you don't even have to vaccinate. But medical insurance in case of force majeure is still strongly recommended.
Tsunami. The west coast, where the Arabian Sea spreads out, is in a fairly calm zone of the Indian Ocean. The threat of seismic activity generating tsunamis is low here. The last tsunami far out to sea was at the very beginning of the 21st century. You should know that a large sea wave (tsunami) requires quite a lot of sea depth near the coast. And Goa's seashore is wide and gentle, i.e. slowly and gradually descends into the sea.
Security in Goa
Once here, you must strictly follow the following rules:
Strict compliance with the visa regime, in case of its violation there may be criminal liability;
Do not use or sell drugs, it is strictly punishable by law, so do not get involved in such cases under any circumstances;
Do not wear provocative clothing in Goa, it may offend the feelings of the locals;
not to work or conduct business to foreigners without a permit or with a tourist visa, may follow the expulsion from the country.
Currency exchange
You should come to Goa with dollars. The euro is less valuable here. The Indian currency is the rupee. Its exchange rate is about the same as the ruble. The staff at the resorts is happy to take dollars, even though it is illegal.
Close to the rate, dollars are exchanged for Indian rupees at state banks, tourist bureaus, "Exchange" points located in hotels and stores. This is the safest way to exchange.
Do not change money when you arrive at the airport, the exchange rate there is absolutely wild. Don't do it at cab drivers and other service personnel. You have to haggle with them for a long time, and in the end you will still be on the losing side.
In Hinduism it is forbidden to steal, but it is not forbidden to cheat or otherwise defraud. Do not go to bars, restaurants, discos and clubs with a large sum of cash – you risk leaving your pockets empty.
What can't you take out of Goa?
Indian rupees;
precious metals in bullion;
representatives of local flora and fauna;
items of Indian handicrafts, etc.
Interesting facts about Goa
Almost the entire coast of Goa – about a hundred kilometers – is one big beach. To choose the best place to stay, we recommend visiting the north and south of the state, each has its own twist.
The people of Goa are extremely friendly to tourists. They speak a mixture of local languages, English and Porto. They understand sign language very well, too. In recent years, a lot of Russian-speaking staff appeared.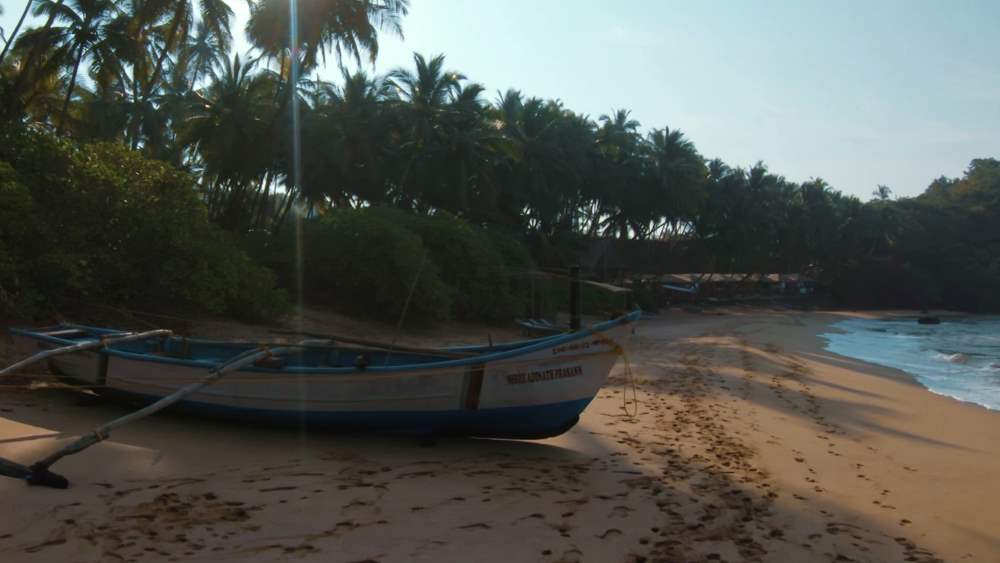 In India there is left-hand traffic on the roads, but the roads themselves are not yet modern and of sufficient quality. Few people here obey the traffic rules, and the police do not insist on it. Renters of a car or bike need to be very careful when driving.
The cow is a sacred animal in India. There are many stray cows living in Goa. You can't swing at them or raise your voice. This would offend both the cow and the Hindus who revere her, and could cause a serious conflict.
There are many garbage dumps in India, and it is not customary to clean the area. This should be taken into account and you should always carry antibacterial wet wipes, because. you can get a severe intestinal infection at any time.
Goa has many historical, cultural and natural attractions. Tourists especially like the Hindu and Buddhist wats as well as Catholic temples. Lovers of excursions will not be bored.
Some tips and reviews
Already at the airport you need to learn the rules of communication with cab drivers. Remember, the East is in front of you. Be sure to haggle, insist on your price. This way you will gain respect in the eyes of cab drivers, and they will cheat less.
It is customary to tip for any service in Goa – it's the law. They average 30-50 rupees. At 4 or 5-star hotels, tips cannot be less than $1. In a restaurant – about 5% of the bill.
When going to Goa, we recommend that you take some grounded tees with you, because. In India, hotel rooms often have loose outlets, so the plug doesn't fit properly. The problem can be solved with a tee fitting.
Once in Goa, you will definitely return here again and again. This place will surely fascinate you with its eternal summer, unique nature, Hindu culture, yoga, ancient literature, hippie culture and universal harmony.
Administrative division of Goa
The state is divided almost down the middle into parts: North Goa and South Goa.
North Goa has had hippies living in its colonies since the 1960s. Many representatives of other youth subcultures still come here today. North Goa is the place for a noisy, reckless and inexpensive vacation.
And South Goa is a respectable vacation for respectable families with or without children. There are "five-star" hotels, organized service European level, and luxurious white beaches are waiting for everyone who has enough money in his purse.
Northern part
North Goa has a higher density of local people and fewer hotels for tourists. Most hotels are two or three stars. On the local beaches is not white, but gray sand, and the sea water near the shore is quite muddy.
In the north of Goa vacation is much cheaper, so it has long been fond of students and state employees. And the first to discover Goa as a great place to rest, in the 60s, the hippies, who found in North Goa their new homeland.
It's easy to get into the local atmosphere here if you like Goa-trance music style. When you go here, be sure to find this music on youtube, listen to it, and you'll know what to expect in the coming weeks.
Society in North Goa is very democratic and loves trans parties on Vagator and Anjuna beaches. Here you can find real hippies of all ages and real Indian exotica.
South Side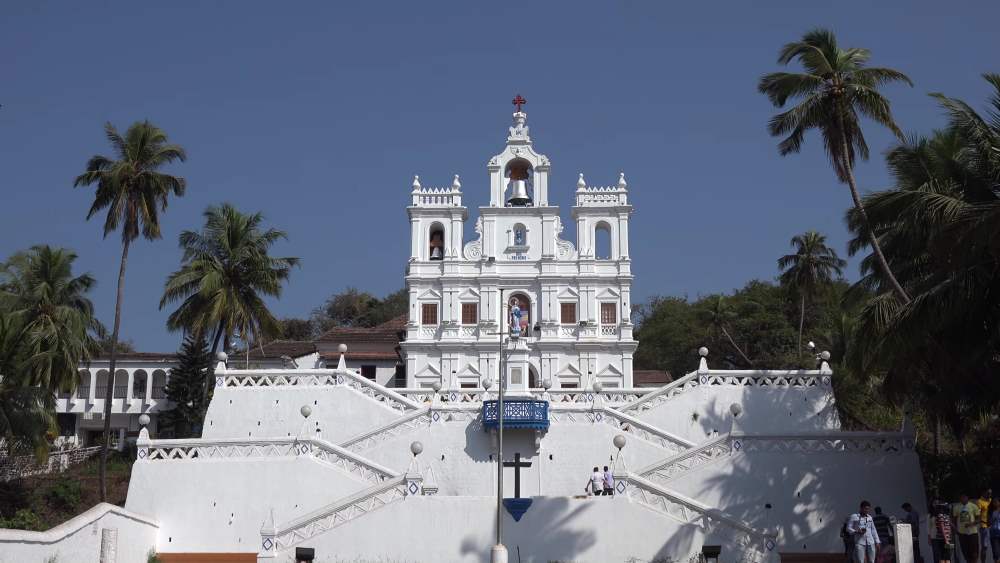 Here the sand on the beaches is golden or snow-white, surrounded by emerald gardens, and most hotels have five-star status. Accordingly, and the philosophy of rest, a completely different.
South Goa is chosen by those who prefer a respectable holiday bourgeois who have enough money. Rich Hindus and the European middle class rest here from their labors.
Young people who have already gotten into the hangout up north will be a little bored here. But for children, it's a real paradise. Thanks to the beautiful gentle beaches, a good organization of children's infrastructure, they will feel in South Goa just great.
Do I need a visa to Goa?
The state of Goa is not an independent state, but an integral part of India. Therefore, to visit Goa you need to get a tourist visa at the Embassy of India in Russia offline or electronic visa on the website of the embassy online.
https://indianembassy-moscow.gov.in/index.php.
Flight to Goa
During the high season, charter flights from almost any city in Russia with a population of millions fly to Goa, both domestic and foreign airlines. The ticket price includes the flight, transfer from the airport to the hotel, the price of the hotel room and insurance.
The flight from Moscow will last 7 hours. 30 minutes, from St. Petersburg – 7 hours. 50 min, from Yekaterinburg – 6 hours. 20 min. The connecting flight will be longer, in each case it is strictly individual.