Belek is a delightful town in Turkey, which has long been known as a popular and upscale resort. Attractions of Belek is not only the sun, sea and beaches, but also a lot of other interesting places. Here you will find interesting natural sites, five-star hotels, a variety of markets and, of course, beautiful promenades. Belek has beautiful beaches and crystal clear waters of the azure sea, which won the "Blue Flag" award for purity.
Top 8 attractions of Belek
Since these sites are quite popular among tourists, you can easily sign up for tours to various interesting historical and natural places. If you want to save money, you can walk around the area by yourself. Be sure to bring your camera to take a couple of pictures, because in Belek is really a lot of unusual places, which is worth seeing.
Keprülü Canyon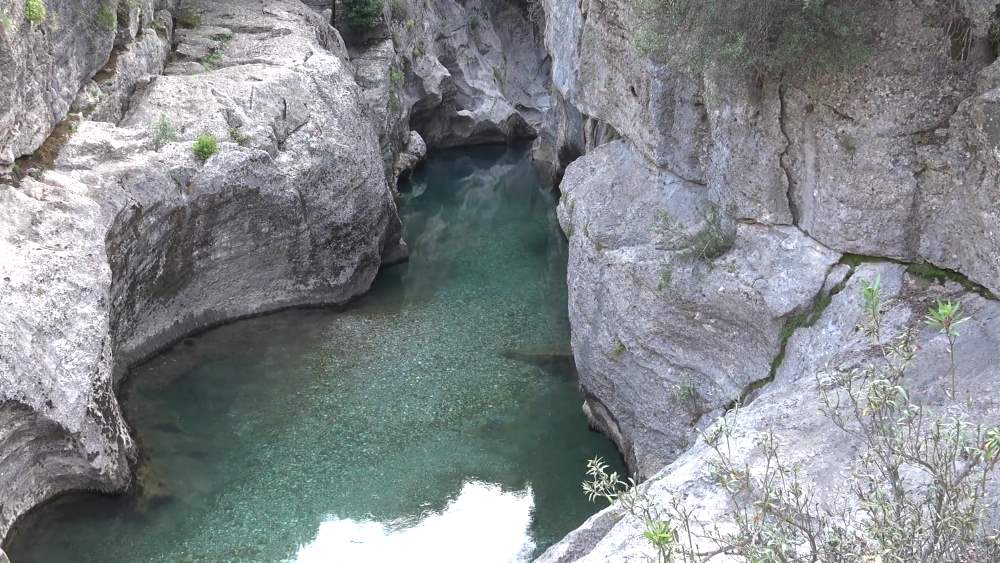 This is a national park that is not far from the city itself. The total area of the park is more than 500 thousand hectares. If you love the outdoors, then this is what you need. There are a variety of forests, mountains, and various water areas. It is definitely worth visiting the eucalyptus, cypress and other forests, because you can find many beautiful and large trees such as oak, juniper, cedar, fir, etc. in the Keprulu Canyon.
After walking through the forest thickets, it's worth a trip to the local landmark, the Köprühl River. Beautiful cool turquoise water will be very appropriate on a hot and sultry day. Also a large variety of cafes and restaurants, which are located on the banks of the river, will delight guests with authentic Turkish cuisine.
Troy Water Park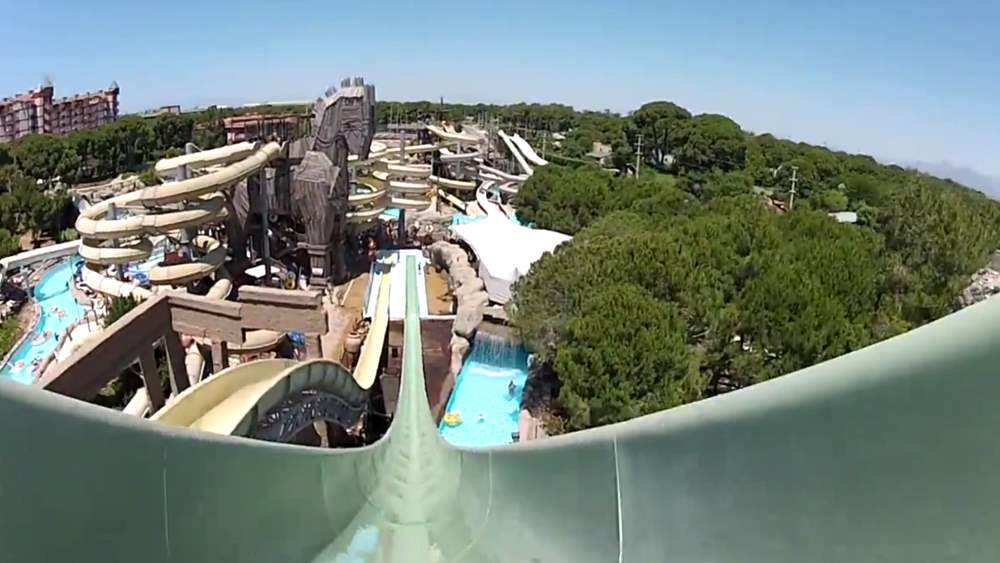 Another attraction of Belek is its famous water park "Troy". If you came to rest the whole family, then you will be delighted if you look at the "Troy". Here everyone will find something exciting for themselves. You can visit a huge variety of slides of different heights and shapes. There are recreation areas for both adults and children. In addition to a variety of water attractions, you can also rent a hotel room here and dine at a local restaurant with freshly caught seafood.
After a long and tiring day you can watch a great show with dolphins or even swim with them. All in all, it's a great place to relax with the whole family.
Kadriye Beach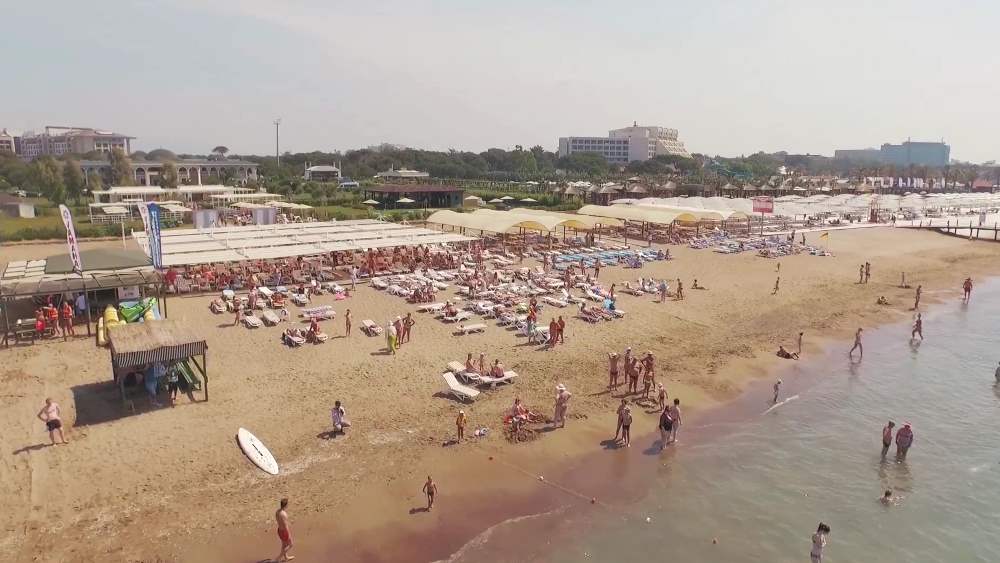 Lovers of relaxing on the open sea will be pleasantly surprised by visiting the legendary beach Kadriye. It is one of the current landmarks that deserves no less attention than the others. Lovers of the classic beach vacation are sure to like it here. Crunchy underfoot white sand and azure crystal clear sea are not the only visiting cards of this place. There is an opportunity to rent a deck chair and umbrella, and those who want an active holiday can enjoy various water extreme sports.
The beach is located next to comfortable hotels, so you can stay right there. The only downside is that the beach is 10 km from the city itself, but transport can be found quite easily, because it is a favorite place among tourists.
Kadriye Market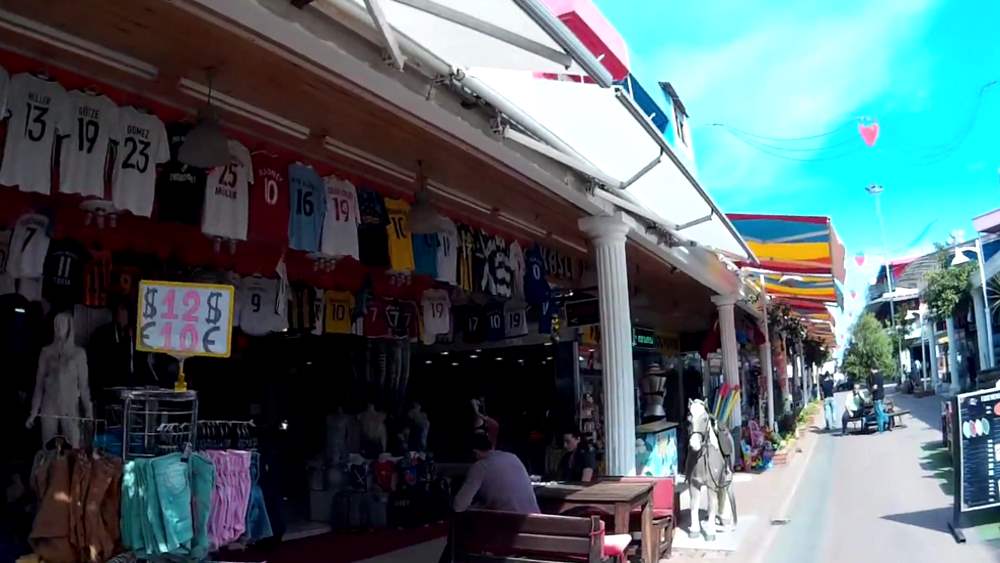 If you decide to walk through the local bazaars, then be sure to check out the popular Kadriye Market. Here you can try the local exotic fruits and vegetables, treat yourself to a variety of unusual snacks and buy yourself interesting jewelry or other trinkets. This market is not much different from other places where you can buy food, but it has everything and in an assortment. The main thing is not to forget to bargain, because the locals greatly overpriced for tourists.
City Mosque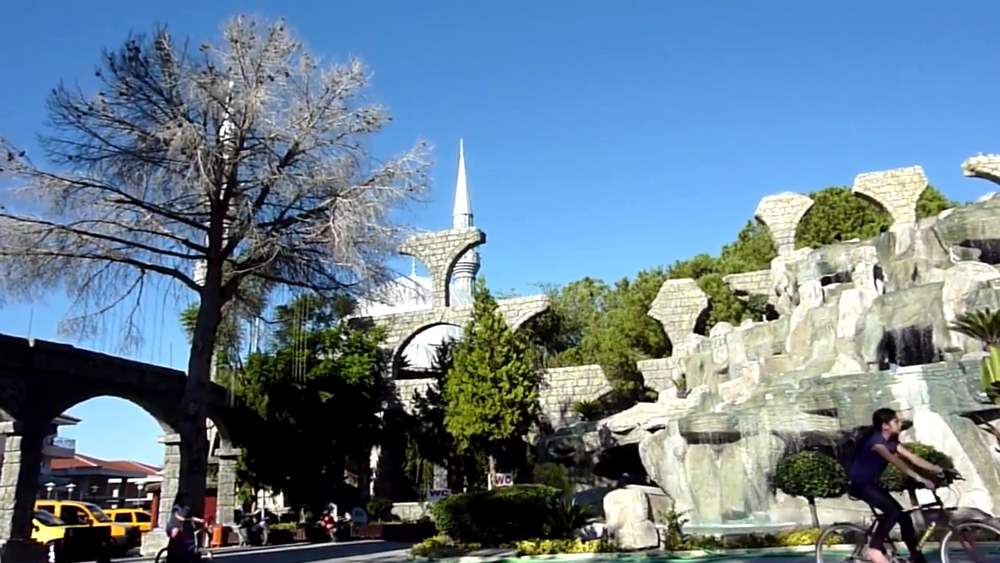 Everyone who wants to see the unique architecture of the local Turkish buildings should see the city's mosque. It is located in the center of the city, so that going for a walk in the heart of Belek, you will see it anyway. In addition to the beautiful mosque, there are gardens and fountains around, which are definitely worth photographing.
Zeytin Tash Cave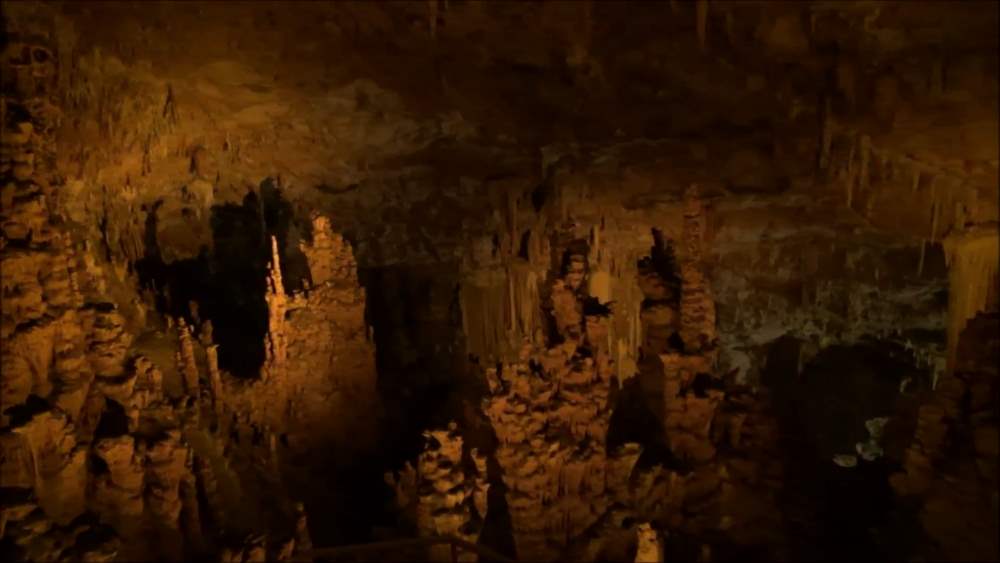 This cave was discovered fairly recently. In it you can enjoy views of the most beautiful underground life. According to some reports, it contains the thinnest stalactites in the world. Everything here is equipped for tourists, everywhere laid paths and bridges. If you do not know where to spend time, then go here, there are unforgettable excursions.
Ancient Theatre of Perge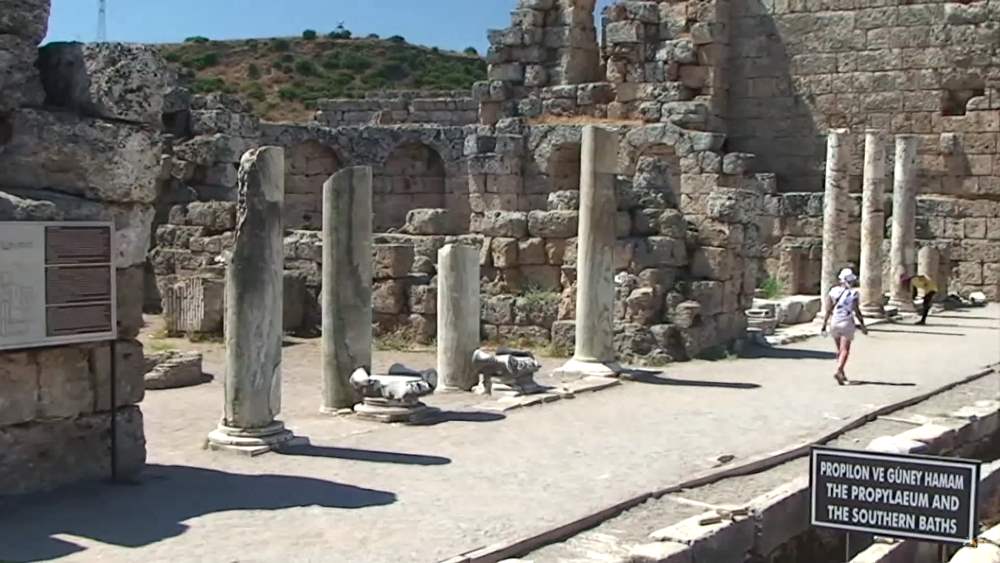 An archaeological find that has become a famous landmark. The amphitheater, which has been completely restored, now serves as a monument of architecture and history. It could once seat 12,000 spectators. The excavations have unearthed many finds that can be viewed in the Antalya Historical Museum.
If you want to learn more about the history of the city, it is best to sign up for a guided tour.
Nature of Pamukkale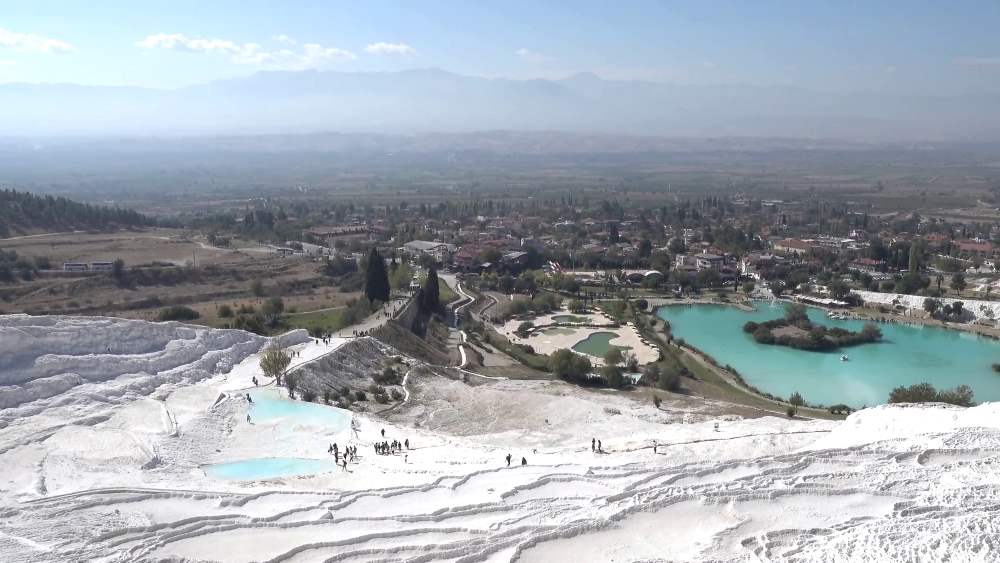 It is a unique place of its kind. If you're looking for unusual natural attractions, then you'll love it here. Thanks to hot natural springs, deposits of white travertine appeared here. We got a kind of small pools, in which everyone can swim. The views here are really stunning, because nowhere else can you find a nature like this. Once in Pamukkale, you will surely want to return here.
This is not the whole list of famous places of Belek. The sights here are enough to spend an unforgettable and cultural vacation.
Video overview of the attractions of Belek
Climate of Belek
Heat and sunshine, that's a brief description of the weather here. In summer, the temperature stays around 30-40 °C, peaking at 45 °C. The most pleasant time of the year for tourists is late fall and early spring. At this time there is almost no rain and strong winds, so if your goal is sunbathing and lounging on a deck chair with a cool cocktail, then choose this time of year. The climate here is designed just for recreation.
How to get to Belek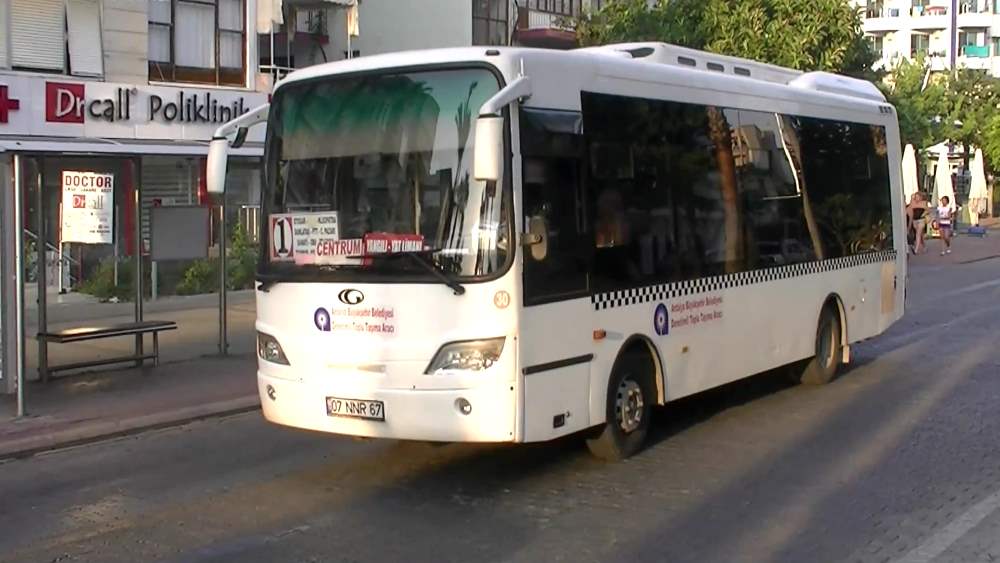 If you want in Turkey to admire the beautiful view, to visit unusual natural sites and bask on the beach, then you need to go to Belek. You can get here from Antalya Airport. The distance is only 42 km. Here you can arrange a transfer and you will quickly get to the right place.
If you want to save money, then take a bus to the bus station in Antalya, and from there look for another bus to get to Belek. You can also easily rent a car or rent a cab.