The Racha Islands are two small islands called Racha Yai and Racha Noi that belong to Thailand and are located in the Andaman Sea, just south of the world-famous Thai island of Phuket.
Today, the tourism infrastructure is sufficiently developed only on the island of Racha Yai. The second island of Racha Noi is famous for its completely untouched by human civilization wildlife and magnificent underwater world.
On the islands of Racha rest mostly Thais, Chinese and Japanese. Other foreign tourists know them much less. But the tourism business is gradually developing these islands, and soon they will become popular tourist centers.
Racha Yai Island
This island is located 20 kilometers south of Phuket. Its length is about one and a half kilometers, and width – about 3 km. It is famous for its snow-white beaches and coral reefs, a truly fabulous nature.
Racha Yai Island is washed by the clearest, most transparent sea water, its reefs have a rich marine flora and fauna. This is the perfect place for those who love to go snorkeling or diving on vacation.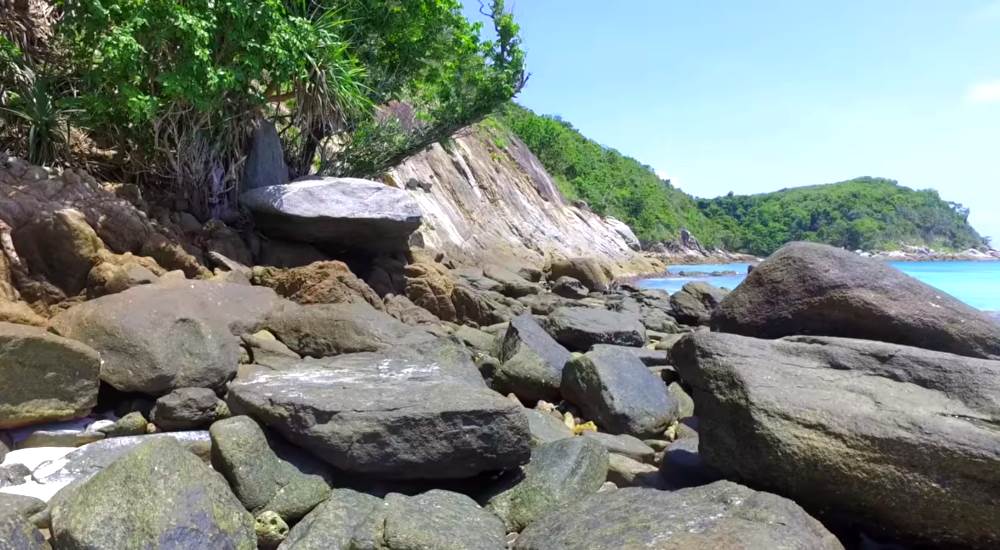 The entire island is overgrown with tropical vegetation, different types of palm trees, so along with snow-white beaches and clear sea water, it is extremely similar to the beautiful pictures from the old movie "Bounty" with Marlon Brando.
On the island of Racha Yai built and operates several restaurants and cafes with good food. There are four hotels for all tastes and wallets. But the cost of rooms is noticeably higher than on Phuket. A secluded vacation in the wilderness always costs more.
Tourists from the mainland of Thailand come here for a day to bask in the white beaches of fine and soft sand. Some vacationers from neighboring islands stay for a night or two.
On the shore of the island of Racha Yai are stalls and stalls with fruit, souvenirs, beach goods, etc. In the back of the island, near the lake is a small village where you can find a grocery store and diving center.
The only transport on this tiny island is a moped. But most locals don't even use it, they walk. The fauna here is quite rich: a lot of birds, crabs, lizards. The islanders breed buffalo for farm work.
Racha Noi Island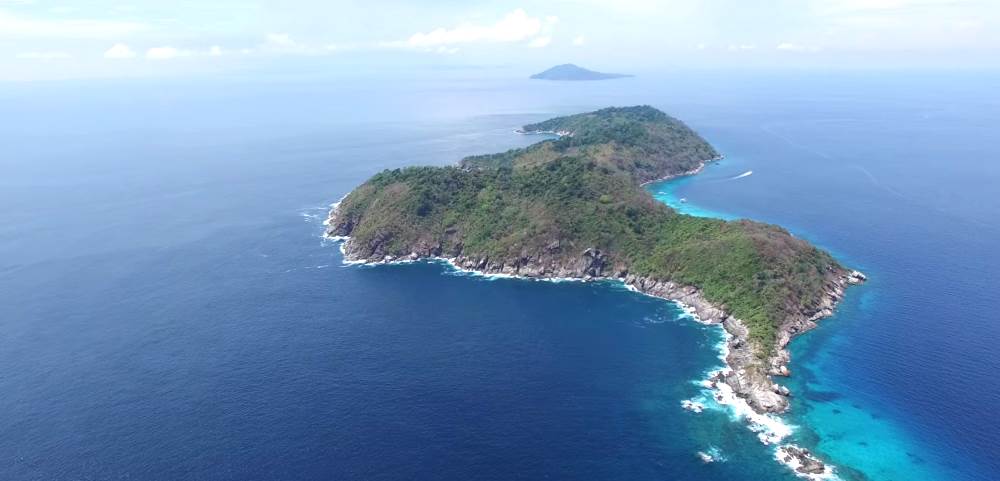 And this island is practically uninhabited, it does not even have decent beaches. They come here just to go snorkeling or diving in isolation from the rest of the world. Another popular activity on the island of Racha Noi is fishing.
There are various species of exotic and very dangerous animals that live mainly in the sea, which is not illegal to hunt in Thailand (barracuda, sharks, moray eels). Coral reefs with a complex world of flora and fauna above all praise.
Climate and weather in the Racha Islands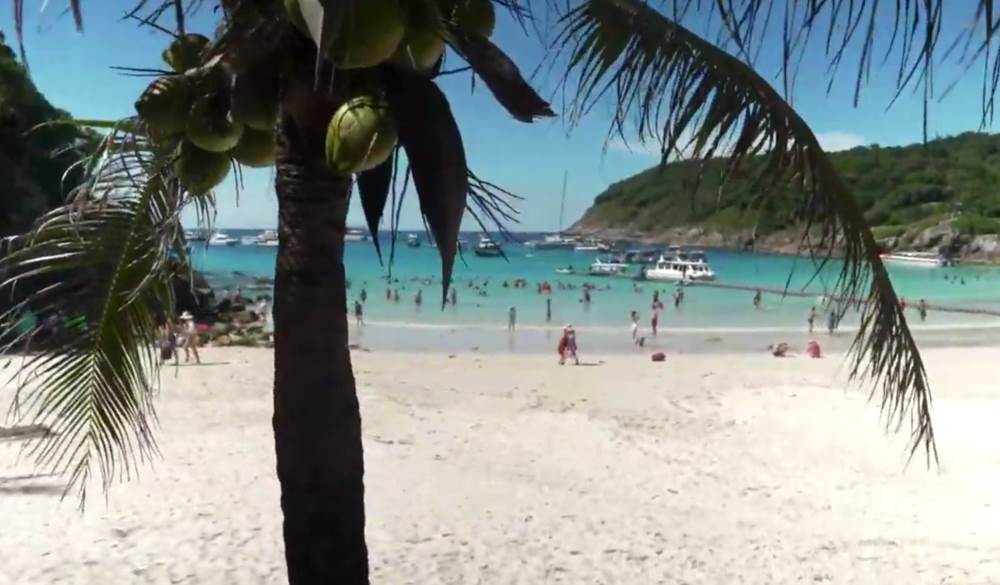 The islands have a tropical monsoon climate, i.e. In winter it is mostly dry and warm, and in summer it is very humid and hot. The High Season lasts from November to April, and the Low Season from May to October.
The water temperature in the sea near the Racha Islands all year round has a temperature of about +30C. In the Low Season it rains every day, usually in the afternoon, because of the southerly winds. The sky is covered with clouds, and the sun is hidden. A strong undercurrent prevents you from swimming.
During the High Season, thanks to the north wind, the weather is dry and sunny, with no clouds. Minimum chance of rain, but they still happen more often than in Phuket because of the small area of the Racha Islands.
How to get to the Racha Islands from Phuket?
From the island of Phuket to these islands can be reached from Cape Chalong by boat, pre-purchase an excursion. It can be purchased at any travel agency in Phuket, on the beach, the streets, the market and even on the Internet.
A day tour costs about 1,200 Thai Baht or $37.9, a tour with an overnight stay on one of the islands costs 1,400 Thai Baht or $45. Its price includes transportation to the island, three meals a day, equipment for snorkeling or diving and insurance.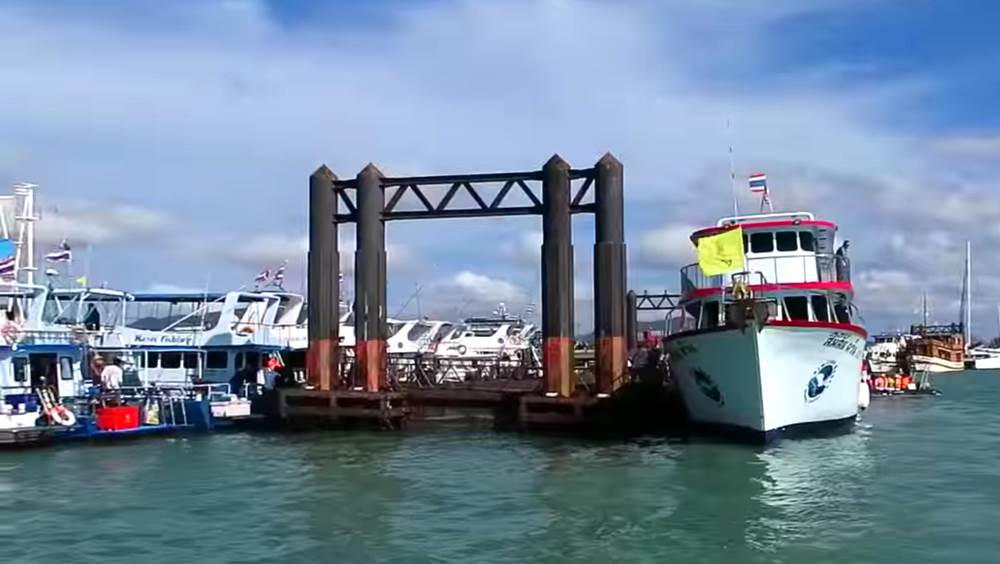 You can not buy a tour, but just buy a ticket for a fast boat. It will take you to Racha Yai island in half an hour with a breeze. Here in the bay, on Patok Bai Beach, there is a pier. Don't forget to check the boat schedule back to Phuket.
You can also rent a pleasure boat in Phuket and go on a trip to the nearby islands alone or in large groups. This is probably the most comfortable, but also the most expensive option. A day's rental will cost 15,000 baht, or $481.
Racha Island on the map of Thailand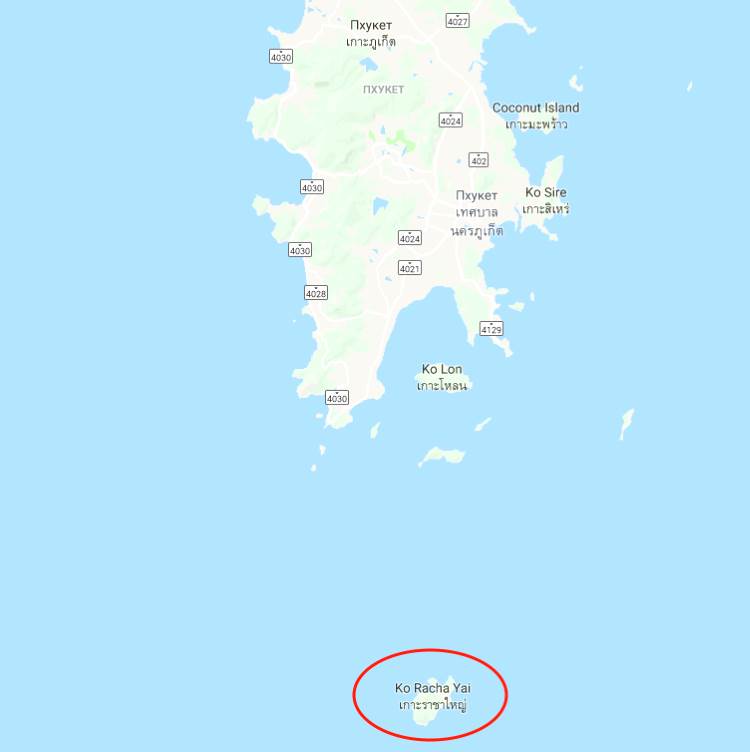 Along with the islands of Racha, near Phuket you can also visit Coral Island, Phi Phi, etc. In total, there are more than 30 small islands around Phuket with excellent nature and sometimes first-class hotels and restaurants.
Hotels in Racha Yai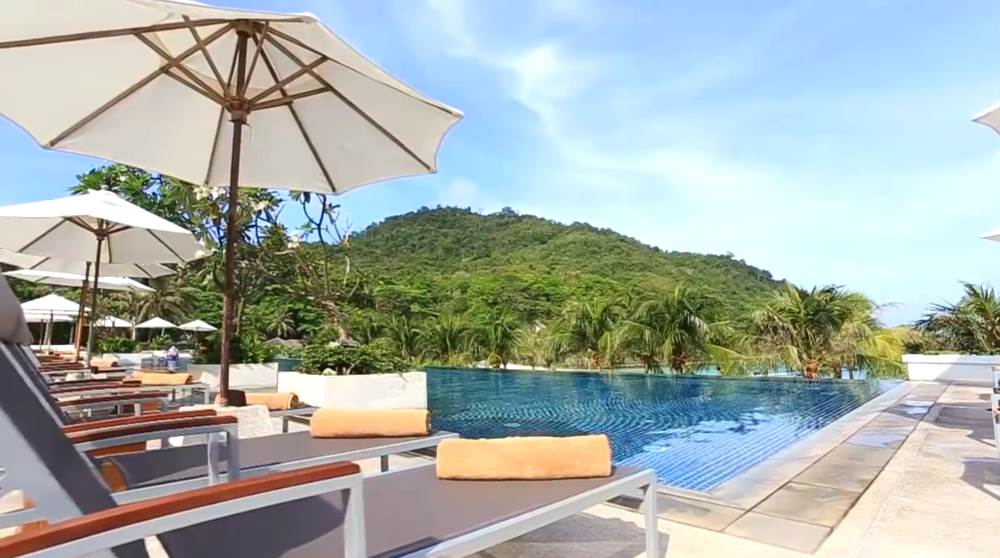 There are hotels, guest houses and bungalows. During their construction, developers tried not to spoil the local fauna, so hotels are naturally adjacent to groves of palm trees and other tropical flora.
Hotel Racha 5* is the best and most expensive on the island. The cost of living in its rooms and suites starts at $300 per day. The hotel has two swimming pools, SPA-salon, etc., near it stretches snow-white beach.
Hotel Rayburi Resort 4 * is cheaper, from $ 130 per night, but very favorite of the guests for the first-class service. Also has its own white beach with modern beach infrastructure.
Hotel Ban Raya Resort and Spa 3* will cost $100 per night, quite a reasonable price. There is a restaurant with quality cuisine, swimming pool with sea water, bar, beach, SPA-salon, free Wi-Fi, etc.
Hotel Raya Bangalous is the most inexpensive hotel on Racha Yai. Its rooms start at $70 a night. It is a few bungalows, located on the seashore and is perfect for two people.
Beaches on Racha Yai Island
According to reviews, the beaches are the best thing on the island of Racha Yai near Phuket, for the sake of them a lot of tourists come here every year. The beach is kind of a business card of this resort place.
The island of Racha Yai is famous for its clean, white sand, groves of palm trees on the coast and bungalows on the beaches, where you can stay for the holidays. The number of vacationers here is noticeably less than on Phuket or the mainland of Thailand.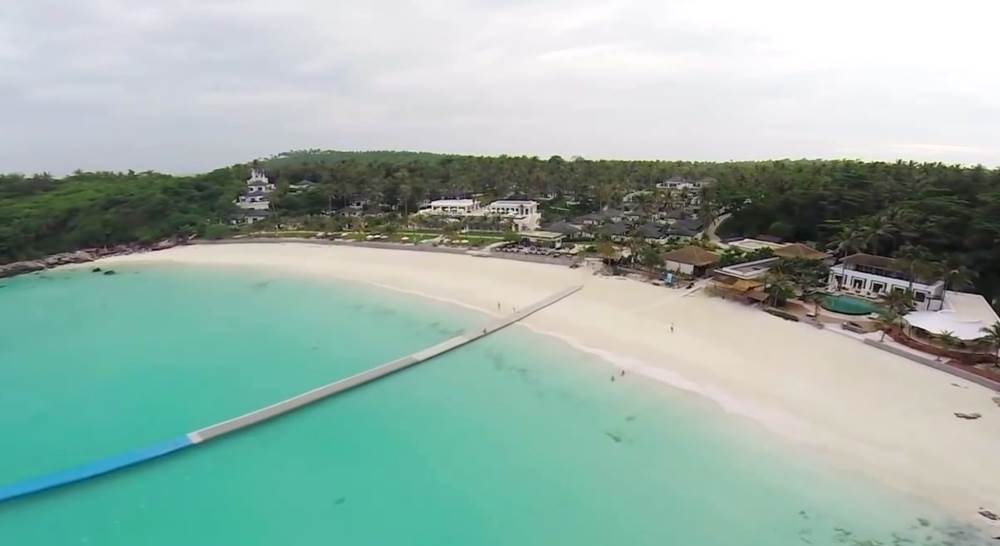 Going to the beach, do not forget to bring sunglasses, sunscreen, sunscreen, a large towel and a hat with a wide brim so as not to get burned on the first day.
Racha Yai beach map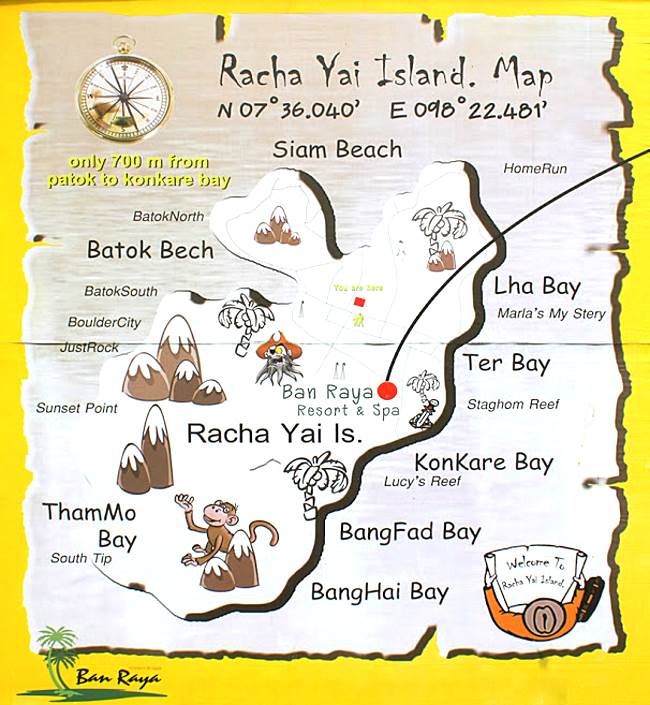 Kon Kare Bay. A great place to dive and snorkel. Fish are not afraid of people and swim right into their hands. Children especially like stroking and feeding them. At the bottom of a lot of stones so it is better to wear shoes so as not to hurt your feet.
Lah Bay. On this beach amazing white sand is interspersed with sharp stones, be careful. Not far from the shore in the sea you can see the beautiful reefs, swim to them and do snorkeling.
Siam Bay. Wonderful sandy beach with soft white sand and magnificent views in the northern part, where vacationers make sure to take selfies. Next to Siam Bay is a restaurant offering excellent Siamese cuisine.
Patok Bay. There is a pier on this beach, to which boats and boats going to and from Phuket are docked. The pier does not prevent tourists to swim and sunbathe. Patok Bay is the most important beach on the island.
Ter Bay. And this is the least crowded beach. The sea here is particularly clean, thanks to the transparency of the water, you can see sea creatures several meters deep. The purity of the white sand is amazing.
Entertainment in the Racha Islands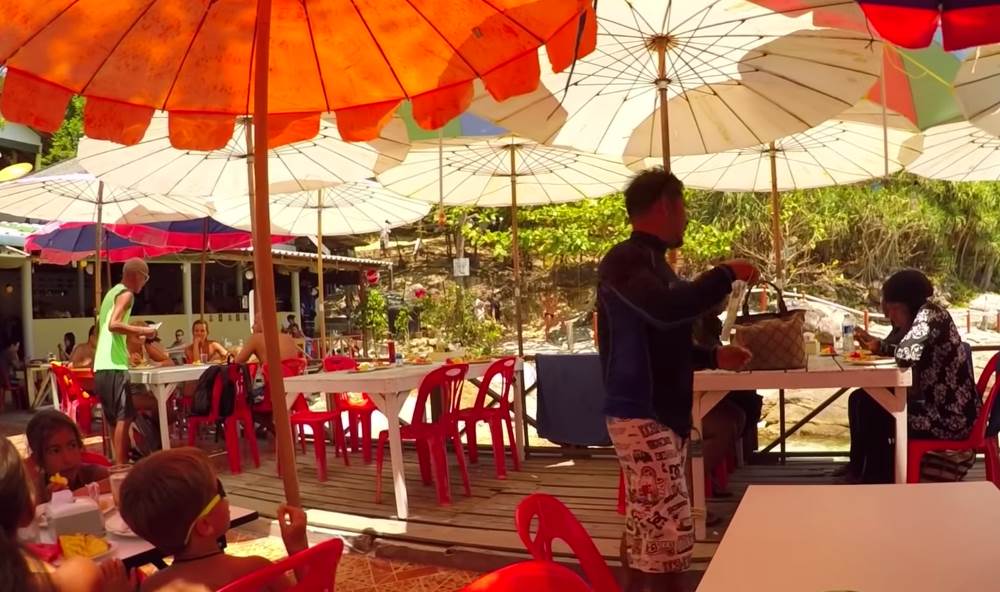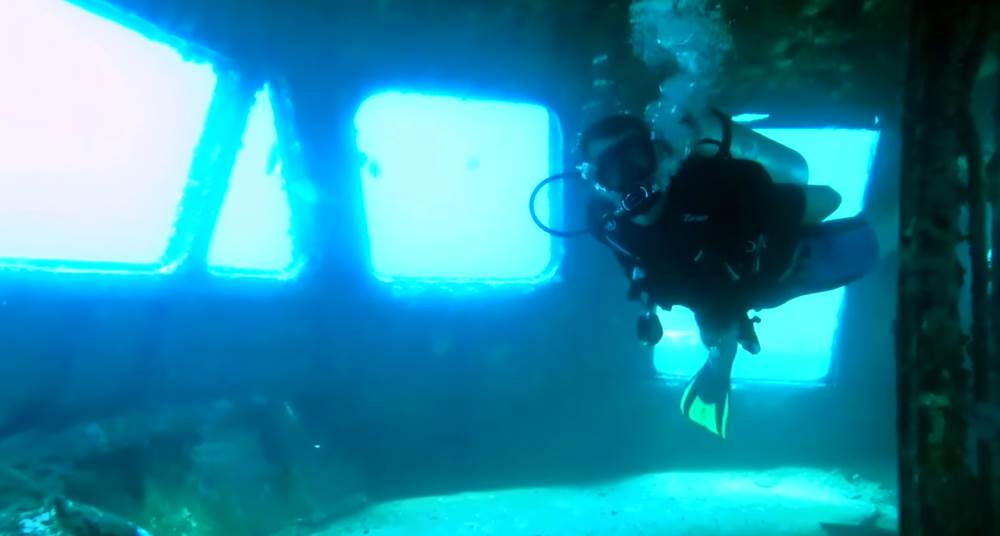 The best ways to spend time according to tourists:
Both islands are great places for long hikes. They are also called Paradise Islands, so vacationers will be able to examine in detail the paradise on earth, take pictures and make videos of it. There is a small lake in the center of Racha Yai. According to reviews of tourists on the islands of Racha off Phuket, it is as if they find themselves in a magical, fairy-tale place, filled with sun, azure sea and tropical plants, and feel real happiness.
Fans of diving and snorkeling can view the incredible beauty of the underwater world, such places as near the Racha Islands, few left on the planet. Local instructors will help you dive.
Racha Yai has several stables, organized equestrian club, so tourists can train in riding and take horseback riding tours around the island under the supervision of experienced instructors. Bicycles and ATVs are also available.
There are no cultural and historical monuments on the islands, but there are many delightful natural attractions. The nature here is so beautiful that it takes your breath away. And this beauty is not spoiled by the crowds of tourists. Today it is fashionable to rent quadcopters and shoot all this splendor as a memento of a visit to the Racha Islands off Phuket. Until here, along with the traditional tourist infrastructure has not come mass tourists, these places are considered the best in Thailand.
Video overview of the Racha Islands