The most correct direction for the tourist is west, leading to Alameda Park. The five parallel streets (Donceles, Tacuba, May 5, Madero and September 16) are filled with museums, cafes, stores and various kinds of institutions occupying 18th century mansions. And despite the presence of faceless 20th-century architectural novodel, the neighborhood can be considered a sanctuary of colonial architecture.
The "City of Palaces" began to be called Mexico City with the easy hand, or rather the tongue, of the German traveler Humboldt. Many of the buildings here bear the flavor of Spanish antiquity: the characteristic slanted awnings over the windows from the sun, patio gardens, and street lamps from a century ago, set the right emphasis on the perception.
We start our walk along Donceles Street from the Main Temple. And along the way we can highlight the beautiful church of Ensignanza, built in the second half of the 18th century by the Spaniard José de Churriguera, who founded a whole architectural style called "churrigueresca". Inside is quite colorful, lots of gold, a sense of light and space. Next is the city theater (Teatro de la Ciudad), built in 1912 in the spirit of Art Nouveau, and next door is the residence of the House of Representatives.
On the contrary, the best choice of the budget traveler, the Catedral Hotel in an 18th-century mansion. It's true that sometimes the hot water is turned off here. The convenience of this hotel is that it is located almost behind the cathedral.
The nearby Museum of Caricature (No. 99) is of interest only to those who know Spanish. Moving on, we note the building of the Mexican City Congress and Historical Archive (corner of Chile Street), where the original head of the Angel sculpture, which fell from its pedestal during the 1957 earthquake (more about it in the chapter "Paseo de la Reforma"), is on display.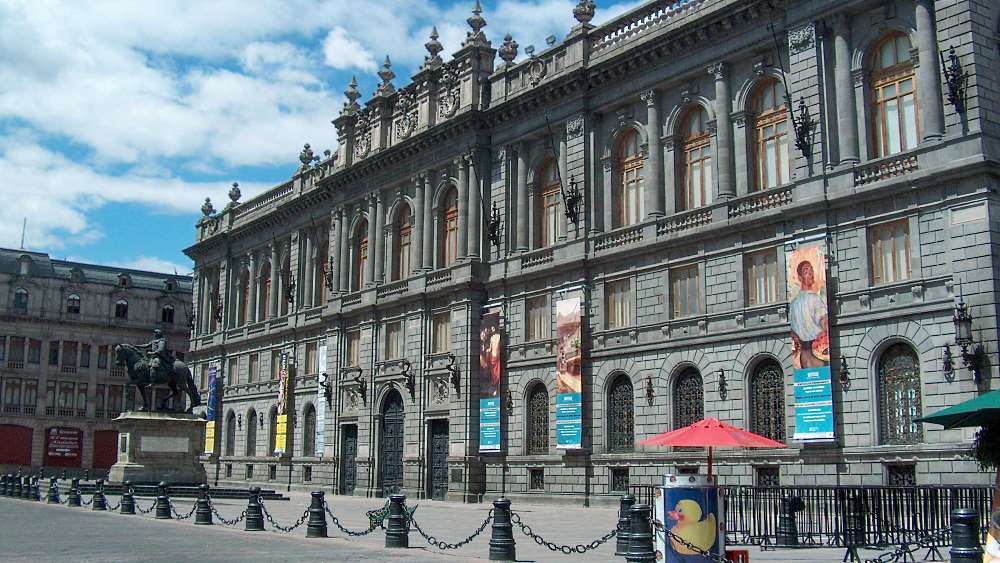 Finally, we reach a small square with an equestrian monument (sculpted by Manuel Tolsa, 1852). The locals call her affectionately "Caballito," that is, "Horse. And the caballero sitting on horseback is the Spanish King Charles IV. The horse used to stand on Reforma Avenue, but in 1979 it was decided that it only spoils the whole view, and the Spanish kings are somehow unpopular with Mexicans. So it was moved here, to the facade of the Museo Nacional del Arte, and the square was named after Manuel Tolsa (Plaza Tolsa).
There is also a small square of the Three Chiefs, as if to balance the statue of the Spanish king with its monument to three 15th century Aztec rulers: Itcoatl (city of Tenochtitlan), Totocihuacin (city of Tlacopan) and Netsahualkojotl (city of Texcoco). Unlike the Spaniard, all three are feathered and on foot. Not surprisingly, Native Americans often gather around the sculpture to do all sorts of pre-Columbian dances.