The night market in Pattaya on Theprasit Street is the most famous and sought-after weekend market, i.e. It opens to customers only on Friday, Saturday and Sunday, and is closed all other days of the week. This market in Thailand is most commonly referred to as Theprasit Night Market. It is the largest in this city, occupies a large area, and is sometimes also called Central.
What can I buy at the market Teprasite?
Night Market Thepprasit is a very colorful and atmospheric market, you can feel the spirit of China. Be sure to visit it if you find yourself in Pattaya for the first time. Once here, be as careful as possible, otherwise you will surely get lost.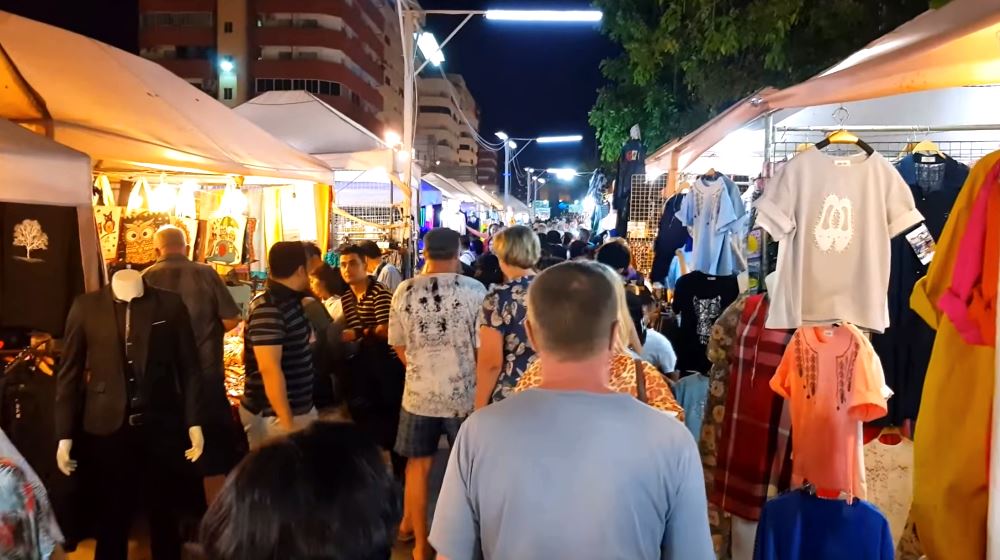 Don't forget to bring money with you, because. You will definitely want to indulge in shopping, too many products for every taste and purse. Remember that haggling is a must here – you are in the East.
Teprasite has a good selection of wearables for adults and children, including. denim, there are good sports and beachwear, children's toys, you can buy interesting bags and purses. For tourists – a sea of different souvenirs.
Be sure to go to the local bird market, which sells pets of all stripes, as well as various products for their life in the house, many types of food for all ages. The bird market is located on the last line of the Teprasit market.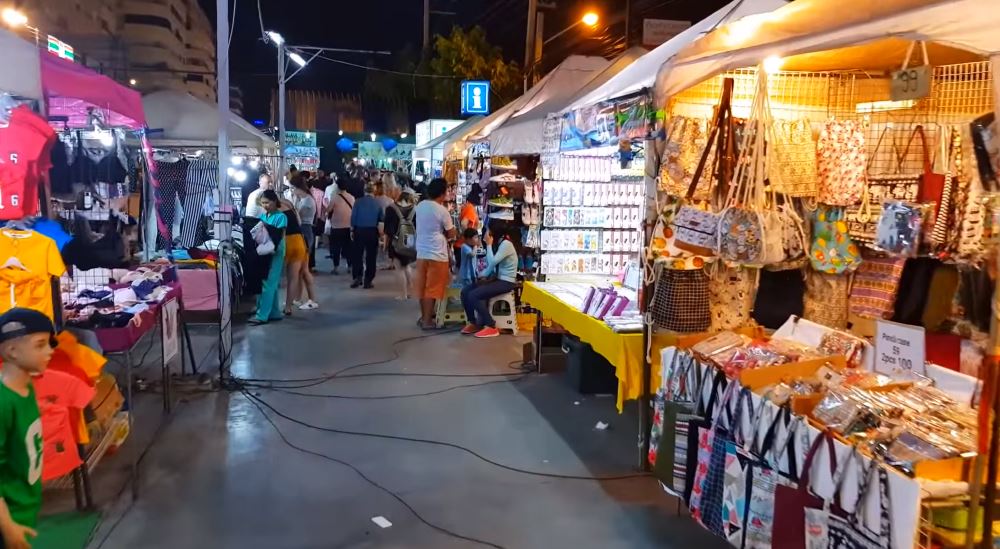 There is a large selection of inexpensive copies of the world's famous brands, the brands themselves can be bought in the shopping center nearby. There's everything a family with kids from babies to teens needs, as well as fruit and prepared foods from different cuisines around the world.
There is also an interesting flea market nearby, where you can buy second hand. Being in a country with its unique traditions and tastes, you can become the owner of an extraordinary rarity, you just have to look among the goods.
Cost of goods
Of course, this night market is designed for tourists and their income, but the prices of local goods are still much lower than in Europe and even Russia, so it enjoys great popularity. Russians buy souvenirs and gifts for family and friends.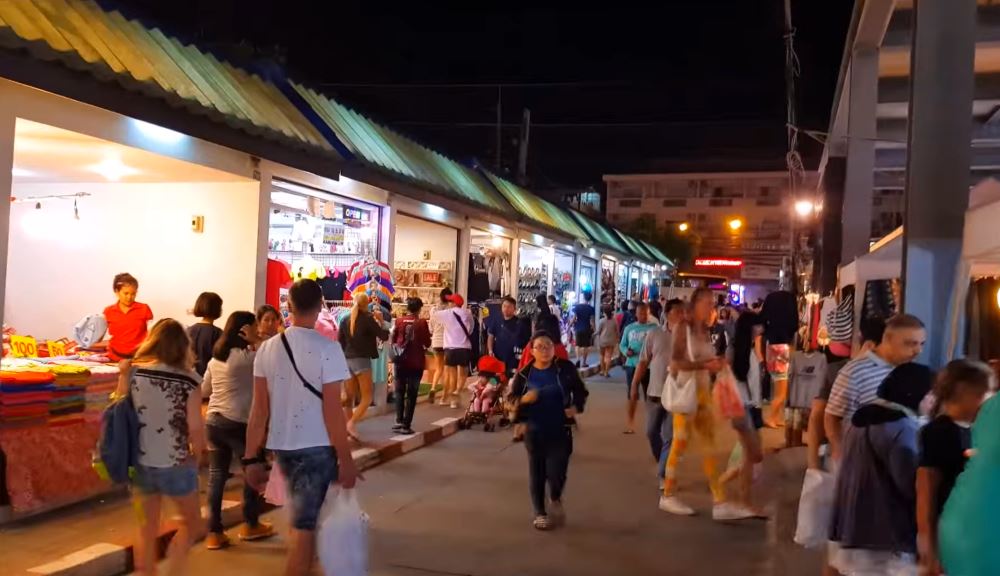 The Teprasit Market is quite a democratic place, a paradise for lovers of inexpensive shopping. So, here it is easy to buy cheap authentic Thai, Laotian and Cambodian clothes to wear later with pleasure at home.
Remember that the initial price of jeans or hoodies, handbags or toys is only put up to start an exciting game called "trading. If you know how to play it well, the buyer can easily reduce the price by half.
Food in the market
The Teprasit night market is famous for its delicious food at reasonable prices, no one goes hungry here. The local fruits and dishes are allocated several trading rows, there are their own bakeries, kebab shops, breweries, etc.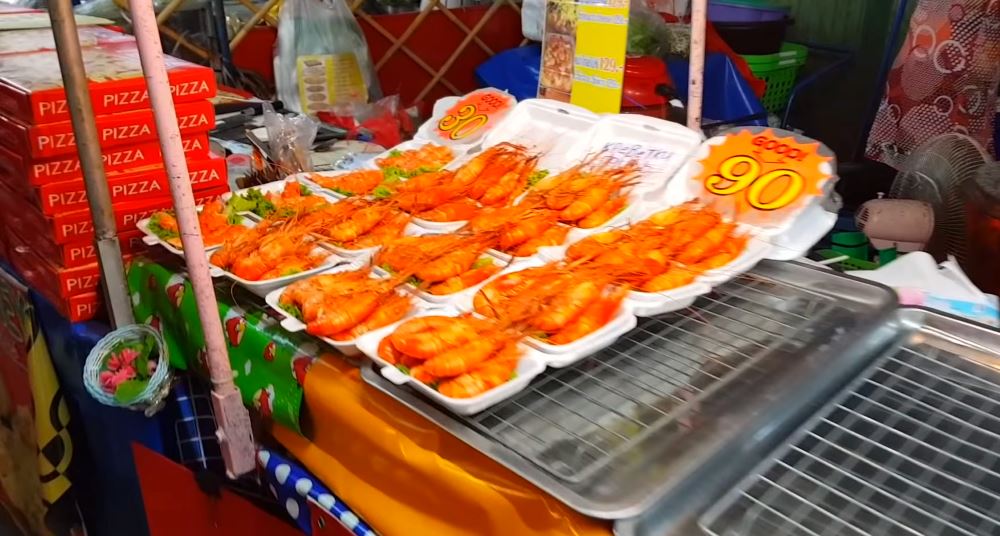 An endless array of local dishes, pastries and drinks are in front of the shopper, and be sure to buy slices of delicious handmade cakes. You can take everything with you, eat it directly in the cafe or just walk around the market.
You will see soups from around the world prepared by local chefs, tropical fish, seafood, meat and chicken dishes. Customers are offered different types of sausages, lamb kebabs, and experts can taste fried insects.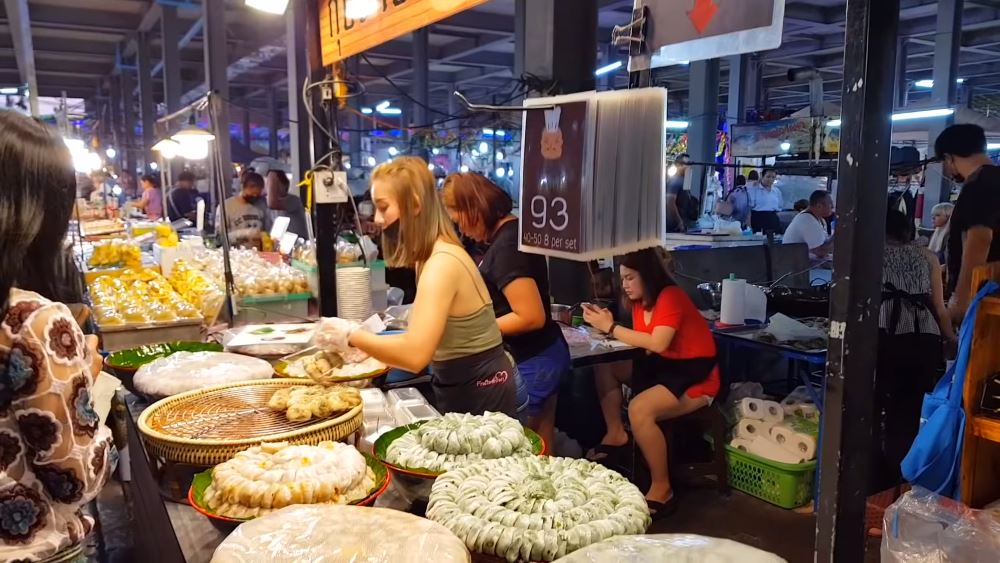 Very popular in Thailand, in general, and in this market in Pattaya, in particular, fish dishes Thai cuisine. The customers will be offered natural juices and smoothies, mineral water with and without gas, beer and wine.
Food and drink prices:
European and Thai dishes – 30-65 baht;
Shish kebabs and sausages by the piece – 20-25 baht;
Fried chicken – up to 100 baht;
Pizza – up to 140 baht;
Pastries are 10-20 baht;
Smoothies are 20-25 baht;
Juice – 20-30 baht, etc.
How does the Teprasit night market work?
The market is open the last three days of each week from 5 p.m. to 11 p.m. Experienced shoppers know that the best time to come here is at 6 pm, when vendors will unpack their goods, but really closes Teprasit after midnight. But some salespeople leave as early as 9:00 p.m.
How do I get to the Teprasit night market?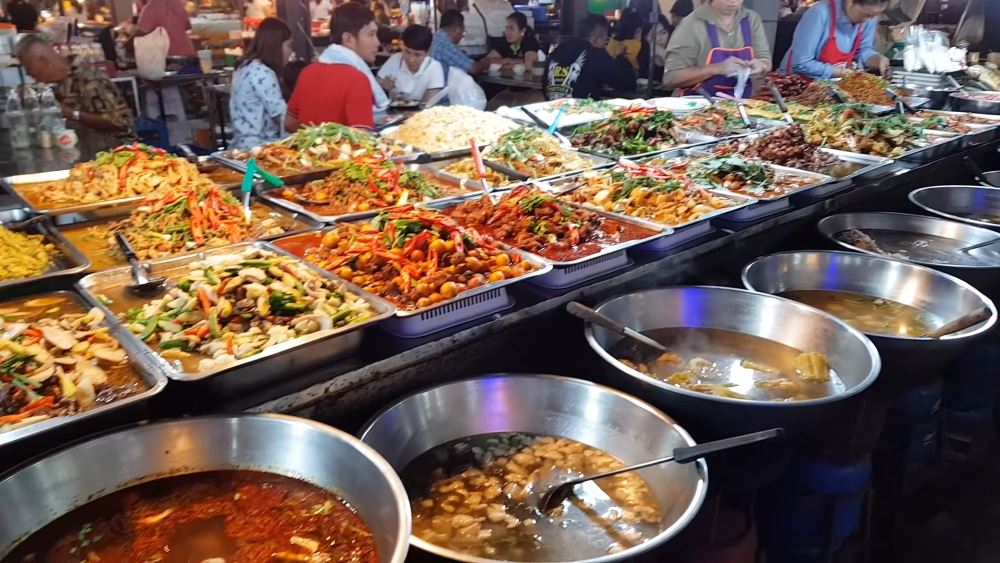 The market is quite distant from the tourist centers of Pattaya. The famous Outlet Mall and Sukhumvit Road are nearby. The map is easiest to navigate by these geographic points.
The easiest way to get to Teprasit is by cab, rented or city transport. From the center of Pattaya to Sukhumvit Road, which intersects with Terazit Street, you can take a white songteo, paying 20 baht for the ticket. The tuk-tuk routes are well developed.
Teprasit night market on the map
Reviews of the Teprasit night market
Valentina, Kirov:
The market is gigantic. One evening will not be enough to see everything, it will take several days. I decided to try Thai food and found a wonderful local fish with some kind of sauce. It's very tasty, the memory will last a long time.
Kirill, Rostov-on-Don:
The night market on Theprasit is a colorful world of its own and a must-see in Pattaya. The prices of goods are low. That's good, but we came to see this wonder of the world – a real Oriental market in the Chinese manner.
Yelizaveta, Yekaterinburg:
A lot of great photos and videos were taken at the night market. Especially fond of the local food for every taste – it is truly a masterpiece. The clothes and shoes are not bad, you can also find them in Russia, but they are noticeably cheaper here.