The Church of Saint Loup is a masterpiece of the Southern Dutch Baroque in Belgium, located in the center of Namur, about three hundred meters east of the Cathedral, on the corner of rue de Saint-Loup and rue du Collège. All work on this church began at the Jesuit college around 1620, but it dragged on for twenty years due to the occasional lack of money.
The architect of this structure was Pierre Huysens. He was an ordinary stonemason before joining the Jesuit brothers, and after that in time he became one of the recognized baroque masters in the Netherlands, all the churches that were built according to his designs can be seen in Ghent, Antwerp, Bruges. Huysens did not see the completed temple; he died in 1637.
The consecrated church opened in 1645, the Jesuit order was abolished in 1773, and the building was transferred by the city authorities to the parishioners. The church survived the revolution without much loss. In 1864, serious restoration work took place on the building, and the facade was rebuilt in the course of this work. At the moment the temple is open, it mainly serves as a concert and exhibition hall. The architecture of the building was influenced by the styles of two Jesuit churches at once: the St. Ignatius Church in Antwerp and the Il Gesu Church in Rome.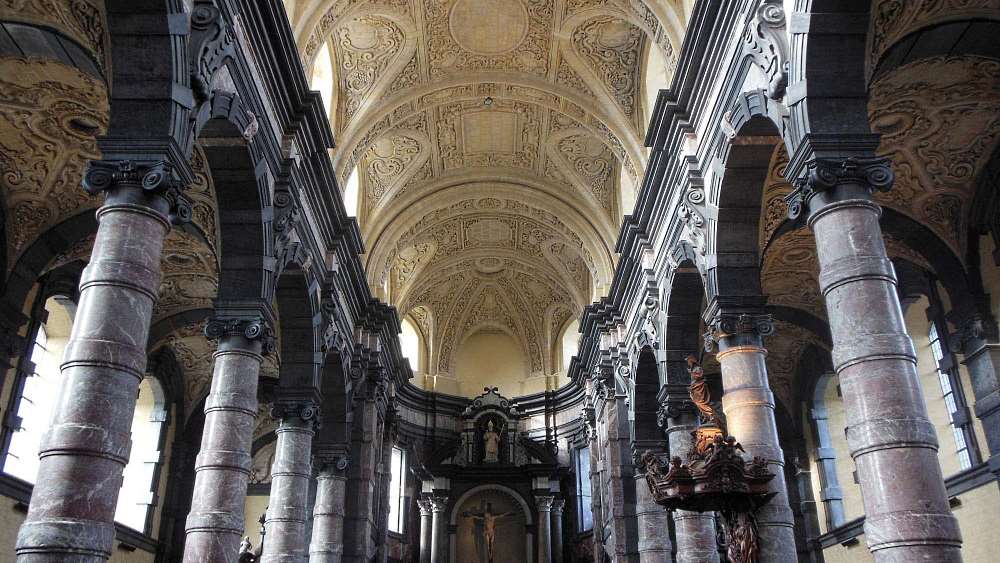 The classical lines of the three-tiered elegant flat facade are harmoniously combined with Baroque elements without overpowering the whole church. In the upper part of the facade you can see the monogram of Jesus Christ – IHS, by which the Jesuits traditionally marked all their buildings. Behind the aspid is the bell tower of the church; it was assumed by Huysens that its lines will repeat the vertical of the main facade, but, unfortunately, this openwork tower was never completed and in the modern version it has approximately the same height as the nave.
Traditional building plan: six spans, three naves, aisles and choir, but no transept. It took craftsmen about three centuries to create the sumptuous interior of the church.
At the building all the sculptural vaults are made of sandstone, in the temple all the paintings are created by one of Rubens's students – Jacques Nicolai. The central aisle is richly decorated with red and black marble, and the side aisle walls are lavishly decorated with beautiful wooden confessionals. Located above the altar is a 17th-century sculpture: originally it was the image of Ignatius Loyola, later he was added a cross and a bishop's mitre and thus transformed into St. Lupus. There was a crypt under the last aisle, and in it the tombstones of many 17th-century Jesuits were discovered in the 19th century.
Now everyone can visit this Belgian architectural landmark.