From every trip I want to bring something unusual to close and distant relatives, colleagues at work. And, of course, to yourself, so that this thing, fragrance or drink would remind you of an amazing trip to a faraway country. If there is no goal to just give away consumer goods, but planned to invest in each gift a piece of heat, it is necessary to allocate time for thoughtful visits to all kinds of markets, stalls and galleries. Shopping in Goa is another fun filled with surprising discoveries and positive emotions, if you follow the unspoken rules adopted in this Indian state.
Where to start looking for exclusive items in Goa?
A former Portuguese colony and now a popular tourist center with a developed structure and unique monuments, Goa has preserved its national flavor, which is expressed not only in the character of the locals, but also in the objects made by them. According to tourist reviews, shopping in Goa is possible at any time of day, which is a characteristic feature of this region of India.
First of all, you need to change money into rupees, dollars or euros for ease of settlement. No other currency is used. It is easy to calculate the cost of shopping, given that one dollar is equal to about 75 rupees.
It is worth considering that most of the products on the shelves are often displayed without price tags.
The explanation is very simple – there are two prices: for "insiders" and for tourists. In the second case, it will be 2-3 times higher. The only way to correct this injustice is to bargain. And you have to do it kindly and with a smile. The more virtuosic the process, the more impressive the discount. Either way there will be a 20% discount, with special luck you will get close to the original cost for locals or get a nice little thing for free, as a bonus.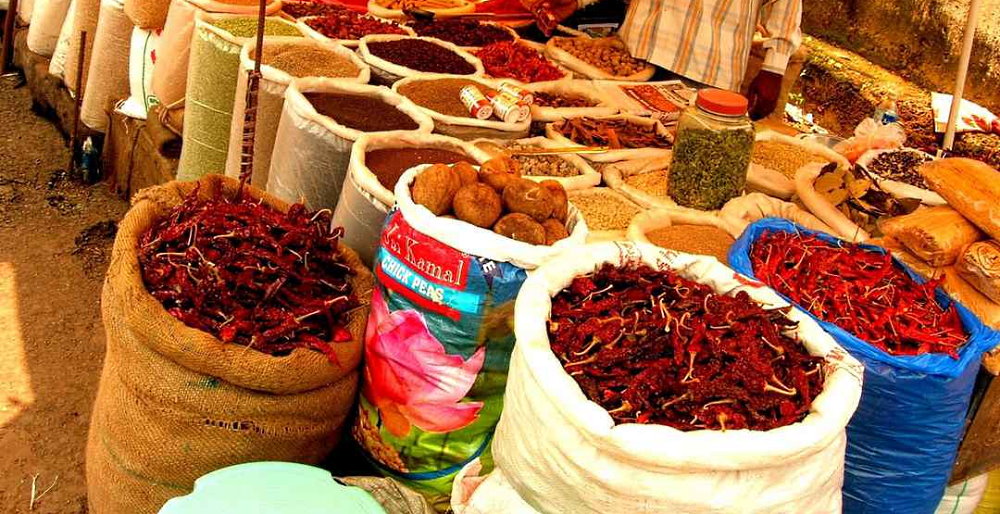 Another aspect to consider is that trading is done both day and night. The prices are not much different, but the emotions of visiting the rows of shops are radically different. It is also worth taking advantage of a special service that is available in almost all markets – the preparation of freshly purchased products. To do this, you need to go to the points of mobile trays, where for a purely nominal fee will prepare a dish from the products of the customer. It's unusual, interesting, very tasty.
In order to get a sense of the cost of basic goods, it is enough to look in 2-3 major supermarkets and thoughtfully walk the rows. This will allow for a more confident price-quality relationship in spontaneous and organized markets. For shops with souvenirs this principle is unlikely to work, but here it helps only common sense.
The main division of goods goes to everyday and souvenir. The first group includes beach supplies, household sundries, food, exotic fruits, casual and national clothing. In the second – a huge number of figurines, jewelry, incense, fragrances and spices. As well as amulets, images and figurines of elephants of all sizes and suits.
What products are worth paying attention to?
If you want to buy something that will remind you of your trip to India, then, according to tourist reviews, in North and South Goa, you should look out for several categories. They are in great demand, the range is quite large and there is a chance to find a few unique in its charm.
Ceramics
It is considered a trademark of India, the traditional blue and indigo painting.
In the assortment:
small graceful cups;
dishes for festive occasions;
ritual items;
pots for cooking and storing spices;
kitchen utensils;
decorative decorations;
aroma lamps;
luminaires.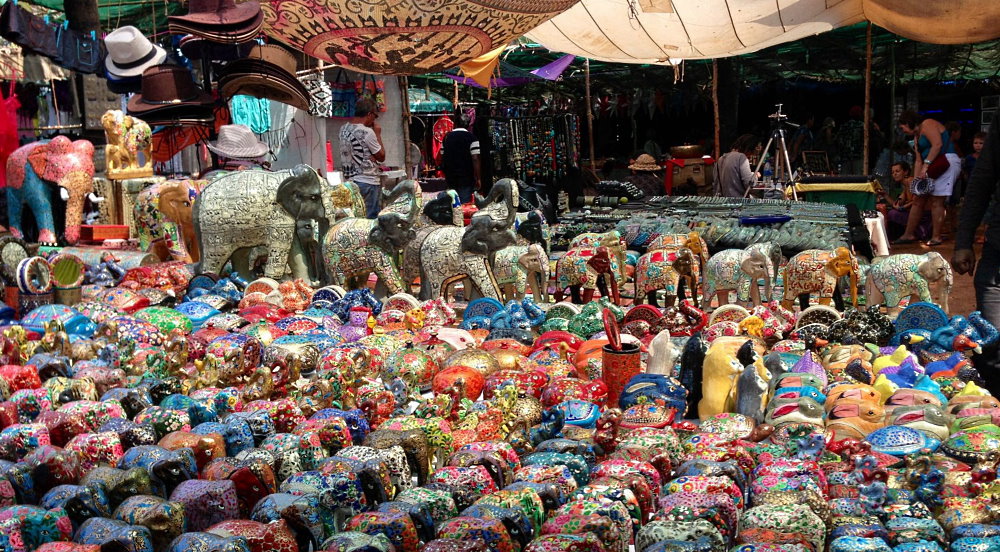 The prices are varied. But by comparing them on several lots and haggling, you can make quite an acceptable value purchase.
In large markets, the farther away from the entrance, the lower the price of similar goods.
Leather goods
Here you can literally run your eyes wide open. Offered: purses, cases, elegant handbags in the original patchwork technique. Those who want to surprise their family with an interesting gift should consider a water bottle made of camel leather.
Carpets
They are made of silk and cotton, as they were hundreds of years ago, and have consistently remained an important item of local exports. Performed in a variety of techniques, have a variety of sizes depending on the destination. Very popular options for placement on the wall with a rich intricate ornamentation.
Decorations
These are mainly items of semi-precious and ornamental stones in a silver setting. The cost depends on the type of material and the filigree of jewelry work. Set beads made of semi-precious stones are famous. Goa is especially proud of its pearls, which are unique in size, flatness and richness of shades.
Famous markets of Goa
One of the largest and most famous markets in Goa is considered to be Anjuna. The village itself is small, but near it unfolds grandiose action. It is not just a market where you can buy everything at once, there are colorful fire shows, on the shelves of a variety of products and all this is accompanied by the sound of ethnic music. The purchases will not be the most profitable, but the experience will be long-lasting.
According to tourist reviews, the best shopping in Goa is in Arambola, and the widest selection of seafood and bamboo products in Calangute.
What is prohibited to take out of Goa?
Before you go shopping, it is worth asking what things are on the list of non-exportable from the country. Then you can avoid unpleasant situations at the airport.
The list includes:
local currency in a large volume;
rare species of animals, fish and reptiles;
some living plants;
gems worth more than 2,000 rupees and metals in bullion.
There are no strict restrictions on the import and export of personal belongings, but some of them, such as expensive equipment, must be specified in the declaration. A variety of Ayurvedic and herbal cosmetics, essential oils and perfume sticks, as well as souvenirs, clothing and jewelry can be purchased without fear and safely take in general order to please the family and leave a few things to remind yourself of a great vacation in India.