Mexico's San Miguel gives every tourist a carnival life. The holiday never ends here – every month there are 3 or 4 of them! The locals know how to celebrate, with dancing, parades, and fireworks.
All the fun comes from Native American roots, but every year the fiestas become more and more vivid in mercantile show business, designed for tourists.
It all begins as early as January 17, when the animals are led to the church for a blessing, and the owners themselves are washed with holy water.
A little later, on January 21, there is a military parade marking the birthday of revolutionary hero Allende. In February, the grand carnival common to all Latin America is held loudly.
The first day of spring is a celebration of children, when kids ages 5-10 dress up as butterflies, bumblebees and tulips and parade around town. Oddly enough, San Miguel also celebrates a holiday foreign to Mexico, like St. Patrick's Day. Celtic songs go on all night long, keeping tourists awake, and in the morning there's a green parade outside.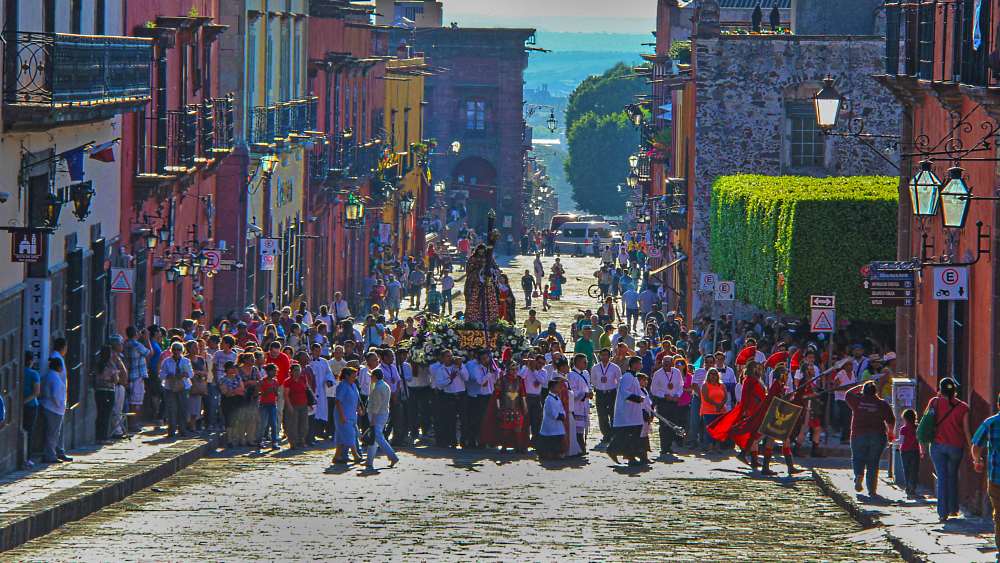 The culmination of the annual cycle of holidays is Easter. No fasting, no kulichki and other familiar associations with Easter. But there is plenty of fun: for two weeks before the holiday itself, San Miguel literally shudders with shouts, processions, and fireworks.
It all begins with the accompaniment of an orchestra – the figure of the bleeding Christ is brought to the city, which is placed first in the main church of the city, and then, within two weeks, is carried through the other churches. With music and shouting, of course. On Easter Saturday, San Miguel de Allende rests, and the next day, at 1 p.m. sharp, they entertain in a new way – they burn Judas.
Along with him, other unpopular characters are destroyed, such as dummies of former presidents or governors. They are hung on ropes that stretch between trees and buildings. As they burn, the figures burst and piles of confetti fly to the ground, legs and arms are torn off, causing indescribable excitement in the audience. After Easter begins the rains and heat, and the festivities come to naught.