In the list of popular resorts in Thailand, Samui is in second place, second only to Phuket. The Island is located in the Gulf of Thailand in the Pacific Ocean and covers an area of about 230 square kilometers. Those who want maximum comfort, exoticism and a true paradisiacal pleasure seek here. It has snow-white sand, coconut palms, gentle warm sea, great weather almost all year round. Beaches on Koh Samui are continuous succession, not all equally popular and comfortable. Nevertheless, there are about 10 clear favorites.
The best beaches on Koh Samui
All bathing places on the island are free, you can visit the most famous without financial cost, comparing the experience in person. There are partying and virtually unexplored, wild, where they go in search of silence and solitude. The level of service in such places is appropriate.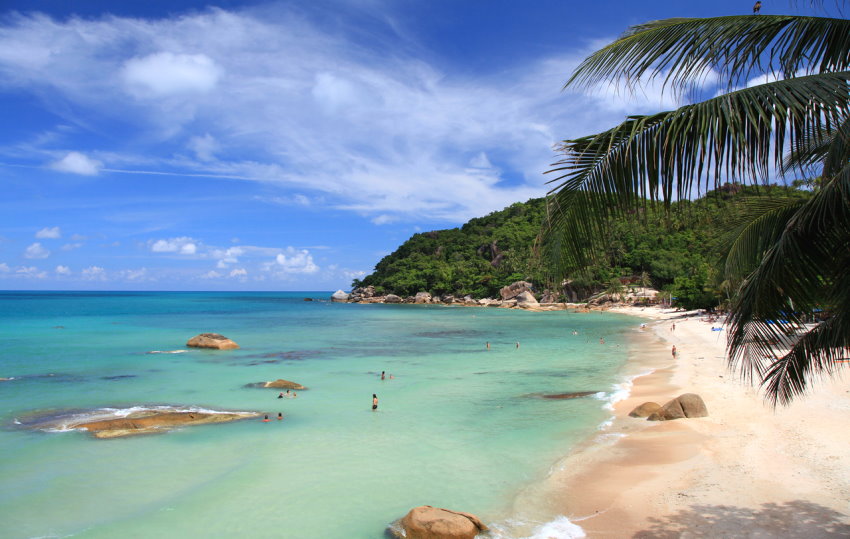 Picked the top 10:
The most popular beach on Koh Samui is Chaweng. It has no strict time limits on attendance. The daytime noise and exclamations of holidaymakers seamlessly transition into the sounds of the music of another night party with famous DJs. Walking through the boutiques and stores, sitting on the outdoor terrace of the restaurant here is also quite possible, but the prices are quite high. In a word – resort.
Lamai Beach is also crowded, but there is much more space, since its length is about 4 km. The atmosphere on this beach Samui is much calmer, it is beloved by holidaymakers of all ages. You can buy what you need in small stores. Hangouts are also held, but on a much smaller scale. If you plan a long vacation near this beach on Koh Samui, or want to stay here for the winter, it is worth looking at the list of rental offers. There are expensive and quite affordable hotels nearby. You can rent a room or a whole house from the locals. The general trend, the farther from the coast, the cheaper, remains.
Coral Cove has a reputation for being that very box that is small but dear. The coastal strip, only 300 meters long, is quiet and cozy. Many of those who came here for the first time, then invariably return in search of unity with nature. Entertainment on Coral Cove is not, except for the cleanest water, comfortable descent, fine, pleasant sand and a sense of quiet happiness with the beauty of the surrounding landscape.
Hua Tanon is not on the list of top places, but there are good restaurants and stores within reach, and the tiger zoo and butterfly park are accessible from here. What reduces the popularity of this beach on Koh Samui are large stones, scattered in its territory. The number of tourists is small, which means there is a chance to take a comfortable seat at any time.
Tongtakian is favored by couples. It's clean, comfortable, and there are places nearby to grab a bite to eat or a refreshing cocktail. This beach on Koh Samui is called Crystal and Silver. Entrance to the water is safe, gentle, cleanliness meets the highest requirements.
On the beach, Chong Mon can meet Russian-speaking tourists in any season. Bathing conditions are not exactly comfortable. At low tide, the water goes far and have a long walk in shallow water. The central part is not so affected by changes, but there are expensive hotels and it is not easy to get to the water. But as far as entertainment is concerned, Chong Mon is all right. You can ride a banana, rent water skis or a water scooter, attend a massage.
Tongson is located in a small, cozy cove that puts you in a romantic mood. It is convenient to swim here, but it is expensive to rent a room in nearby hotels. This part of the island is intended for very wealthy tourists.
Bang Rak, according to reviews, is considered ideal for those who aim to live in Koh Samui longer. Near large stores, entertainment venues, relatively close to the airport. At the same time on the beach and in its vicinity is quite calm, no rush and night parties, few people. Bathing conditions are not the best. The beach is clean, but the bottom is uneven, rocky, fans of diving will have a long walk to get to the right depth.
Bophut is considered one of the most beautiful beaches. The water in this part of the island is rarely clear, and all because of the boats that are often moored near the shore, constantly bringing tourists. But if you move away from the central part, you can again see the gentle sandy bottom with small multi-colored shells. People come here to live on Koh Samui for 1-2 months or to stay for the winter. Nearby stores with all the necessary small things, from groceries to home appliances, the prices are affordable.
Menam Beach is also one of the longest. Rest here is calm, measured, no noisy night parties, but there is a beautiful scenery. Light waves rarely develop into something threatening, the bottom drops quickly and it only takes a few steps to dive with a mask.
If you look at the beaches of Samui on a map of the island, you can see that the whole north and east is often suitable for recreation, and the infrastructure is most developed in the area of Chaweng and Bo Phut.
For children, the best conditions in Chaweng, Lipa Noi, Crystal Bay. For a wild vacation recommend Taling Nam, Hua Tanon, Bang Khao, Laem Set. Those who are used to sunbathing topless or completely naked should visit the far side of the beach Ban Tai, but then it is better to go to the island of Ko Lan, because on Samui there is a chance to get a fine for swimming on a public beach without appropriate clothing.
How to get to the beaches on Koh Samui
The island is small, but not everyone wants to walk all the time. To move around, you can use:
motorcycle cab, where there is room for 1 or 2 passengers;
songhtao, whose only disadvantage is the high rise in the body;
cab;
with a rented motorcycle or car.
It is useless to look for a bus, there are none on the island. By the way, many vacationers prefer to actually walk to the beaches of Samui island, choosing a hotel or private house near the shoreline in advance.
Samui's beaches are very different and with the proper persistence everyone is sure to find his corner of paradise.