The choice of a place with a child's parents approach with great care. You do not want to come to the sea and get a few days of acclimatization or a cloud of pesky insects, whose bites can be dangerous. According to reviews, it is possible to go to Goa with children. Luxurious nature is combined with a decent level of service, many hotels offer special facilities for young guests, including entertainment activities and children's menus.
The best resorts in Goa for family vacations
North and South Goa are very different levels of comfort. The North is beloved by yogis, lovers of freedom and beach parties. Hotels are cheaper there, there are fewer restrictions, and the nightlife is more diverse. The South is more relaxed, life flows measuredly at a leisurely resort pace. It is recommended for honeymoons and family vacations. The audience is sedate, preferring silence and comfort. Southern beaches are perfect for kids, there are almost no waves, clean soft sand and gentle entrance to the water.
Colva
Most of the vacationers on the Colva are locals. They are welcoming to tourists. The beach is wide, there is enough room even in high season, the area is clean. Paid entertainment is not much, which provides a calm and relaxed holiday. Nearby are cafes and pavilions with drinks. There are no special attractions, the main entertainment is swimming and water rides. Nearby is a bright fruit market, where you can always buy something tasty and healthy.
Putnam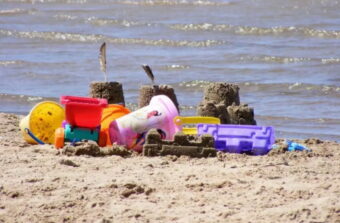 Offers a great selection of accommodations from hotels to rooms in private homes. Most often the resort is chosen by couples, there are always a lot of children, especially from November to March. The beach beckons with fine white sand and vast shallow waters. Despite its popularity, the beach is relatively quiet and decent, there is not a huge number of holidaymakers, all find a cozy corner. A highlight is the chic selection of seafood dishes in the nearby chequers and cafes. Children are offered a more traditional menu.
Benaulim
Quiet and peaceful. Most of the vacationers are independent travelers looking for a break from the bustle of the city and the constant stress. There are no strong currents and tides, children are safe to swim. Benaulim is not very popular among young people, but it is well known to connoisseurs of a quiet holiday in nature. Among the most popular activities fishing and trips to the dolphins.
There are several attractions in the vicinity of the beach. You can visit the Church of Our Lady, the Church of St. John the Hierarch, look at the market in Margao.
Cooking
Varka Beach is known for its marine excursions to the dolphins, designed for children. According to reviews from tourists, a great place to stay in Goa with a small child. Here come vacationers who value comfort and safety.
Candolim
Candolim Beach is located in northern Goa. According to reviews of tourists, it is better to go there with older children. They will love the hustle and bustle, the abundance of entertainment, the delicious dinners in small restaurants and the opportunity to go water-skiing.
Tourist season in Goa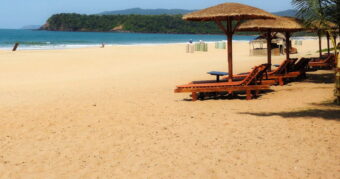 The most attractive time for family trips is from mid-November to early March. It peaks in December. At this time the beaches are crowded, hotel rooms must be booked in advance. The exception is the small resort towns in the south. In the winter months, holidays with a child in Goa, according to reviews of tourists, almost flawless. There is no acclimatization, no stifling heat. The sea is calm, and the weather spoils the sunny clear days.
The temperature remains stable in the range of + 32-35 degrees, it almost never rains, in the evening the thermometer often drops to 21, it is better to take a light jacket for a walk. From April begins a gradual increase in humidity levels, which children can hardly tolerate, so until the end of October the beaches are empty.
Tips for a comfortable holiday
Going to Goa with a small child, it is worth focusing on the reviews of experienced travelers. According to their recommendations, it is necessary to:
During the trip strictly observe hygiene, wash your hands and carry antibacterial gel;
drink only bottled water;
Do not take the risk of ordering local dishes for children;
Take warm clothes with you for evening walks;
assemble a universal first aid kit, paying attention to remedies for burns and upset stomach;
to keep a close eye on the absence of jellyfish in the sea.
Reviews of holidays in Goa with children
A wide range of resorts on the south and north coast makes it possible to plan a vacation with children, based on the interests and domestic needs.
Natalia, 34 years old:
We went to Colva several times, this year with my son we decided to go north. It's much more interesting for a teenager there. They loved the beach of Baga. The resort town on the coast is quite small. But there are affordable prices for renting any kind of transport. The week flew by without a hitch, drove around several beaches, visited the sightseeing tours. It was almost unreal to get the baby off the beach. There are constantly spontaneously organized games in the sand, calling for a boat trip. He only agreed to take a lunch break. We didn't even have to go far; we found a double menu in one of the chequers that included burgers and local dishes.
Oksana, 29 years old:
For a vacation with children we chose Kolva. The main reason was not crowded, the proximity of the beach, the quiet sea. About the small number of vacationers slightly embellished. There are a lot of locals on the beach. Our boys quickly found a common language with them. How they communicated I do not know, each chirped in his own way, but the understanding was complete. The beach is clean, sandy, for the game is great. Swimming in shallow water, the water is warm, no waves. Jellyfish were only 1 day, we did not dare to swim, went on an excursion. Great place for a family vacation, I liked it.
Maxim, 36 years old:
Vacationed with a child in Goa in February, great. It's quiet, it's peaceful, there are no late-night parties. However, I had to hide in the room during the day, it was hot. Before 11 a.m. and after 4 p.m. they went swimming. The hotel was almost on the beach, no need to go far. I'm glad we chose Putnam.
Jeanne, 37 years old:
We were frightened by unsanitary conditions and bad food in vain. Everything is fine as long as you wash your hands and don't put any disgusting things in your mouth. We vacationed near Morjim Beach. It was as if they were going nowhere, so many compatriots. Some of the cafes are Russian-speaking. By the way, there were absolutely no problems with the food. We had chicken fillet and a vegetable side dish. Just need to be warned not to put spices, but to bring separately. What is slightly spicy for Indians is almost impossible for us to eat. The sea is warm, the people are friendly, the vacation was excellent.
Anna, 46 years old:
We've been meaning to go to India with the kids for a long time. They're not little anymore, 10 and 13 years old, so they decided to head north, closer to Anjuna Beach. We weren't even intimidated by night parties, on the contrary, we wanted to join freedom and creativity. We stayed at Spazio Leisure, it's only 600 meters from the beach. It was comfortable, comfortable, clean. We preferred to dine on the go, especially liked the atmosphere at the German Bakery. There you can sit at a regular table or on cushions, Indian-style. We didn't go there very often, the prices are high compared to other cafes, but the food is delicious.

Went to the water park, the impressions are average. A dream come true and have been to several parties on the sand. Interesting, colorful and very noisy. I was surprised that there are a lot of travelers from Europe who live here for 4-6 months at a time. In general, the holiday was a success, children should definitely take with them to Goa.