PortAventura is an amusement park and a great five-star resort located in Spain in the Tarragona area, not far from Barcelona, the capital of Catalonia.
History of PortAventura Park
PortAventura Park was built in the mid-90s by two British and one American company. Upon completion of construction, Universal Studios from the United States acquired more than half of the shares of PortAventura Park.
At the very beginning of the 21st century there were built two excellent hotels and ultramodern water park "Costa Caribe". Then the PortAventura theme park grew bigger and better every year.
Today PortAventura in Spain is directly an amusement park, Ferrari Land, a golf course and 4 themed hotels. This profitable company is in demand and has great ratings on the stock exchanges.
How much do tickets to PortAventura cost?
Location: Avinguda del Batlle Pere Molas, km 2, 43840 Vila-seca, Tarragona, Spain
Phone: +90 212 522 17 50
The entrance ticket to PortAventura costs €47. With this money you can ride all the slides and rides in the park as many times as you want. You can also buy a fast ticket, which allows you to avoid standing in line.
Combination tickets are available for sale. They are designed for those who have already been to PortAventura theme park and have the most favorite places to go again. Also tickets can be for several days.
For example, if you want to visit PortAventura and Ferrari Land, an adult ticket will cost €60, a visit to PortAventura, Aquatic Park and Ferrari Land for 4 days will cost €109, etc.
The layout of PortAventura Park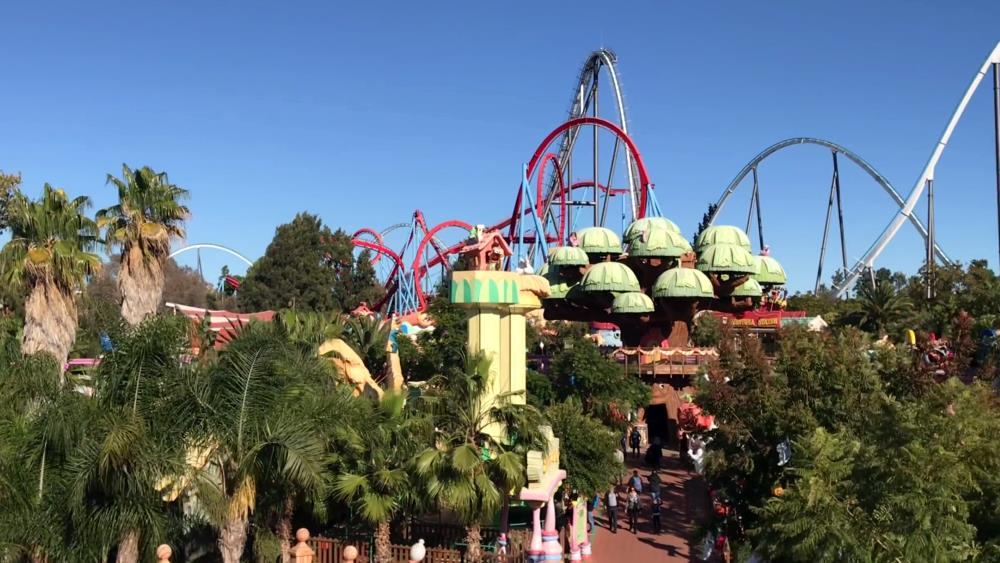 PortAventura is divided into six sectors. Each sector is dedicated to a different human civilization that has existed in history and has given the world many monuments. It authentically depicts the special, unique features of each civilization.
Thanks to the authenticity, the visitor of PortAventura Park is fully immersed in these civilizations, learning in a playful way a lot of new and surprising about them. The last sector opened in 2011, it is called Sesame-Aventura and is designed for children.
Mediterranean
This is the very first sector of the park, located at the main entrance. There are a lot of restaurants and cafes where you can just have a good time or just sit in the fresh air, tasting the Catalan cuisine. Nearby are souvenir shops.
In the Mediterranean there is an interesting attraction that is very popular with visitors, on which you can accelerate to a speed of 135 km/h in 3 seconds.
In the Mediterranean sector, viewers are offered the following colorful costume shows:
Sesame Parade,
Fiesta Aventura,
Halloween,
Christmas Parade,
The Procession of the Magi, etc.
Wild West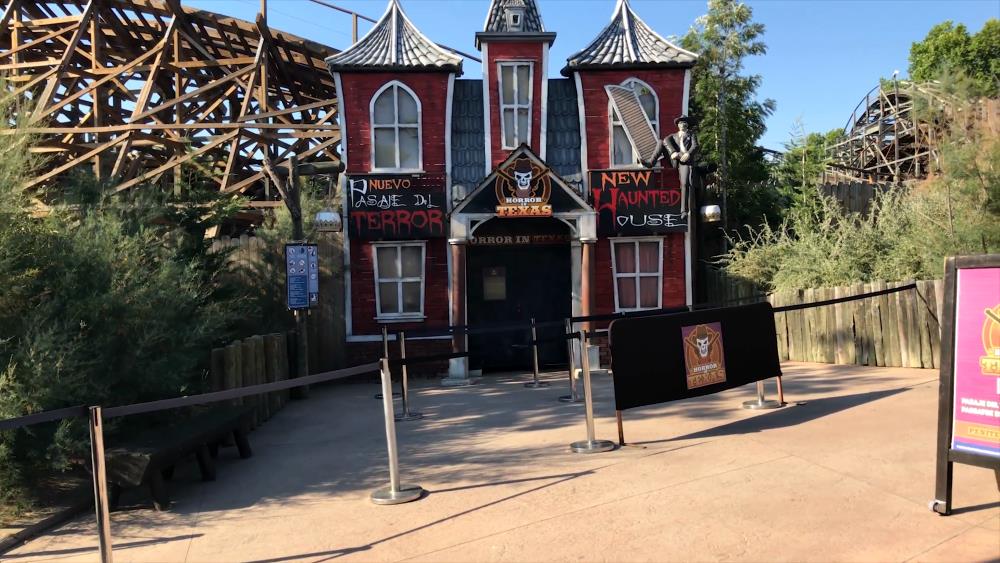 In this section of PortAventura visitors will see many images from American westerns, films about the exploration of the western territories of their country by American pioneers.
The Wild West is all cowboy-inspired, with 19th-century American-style landscapes and buildings all around the visitor. This place is a haven for fans of Hollywood movies about cowboys, sheriffs, Indians, etc.
All the rides in this part of PortAventura are also built in the spirit of this cultural civilization:
Silver River with elevation changes and waterfalls;
A roller coaster in the form of wagon races on parallel tracks;
A roller coaster in the form of a single wagon race;
driving down a mountain river on a huge cylinder, etc.
The rides in the Wild West of PortAventura Park are intended for adults. They are safe as long as the visitor clearly follows all the established rules and meets the height and weight restrictions.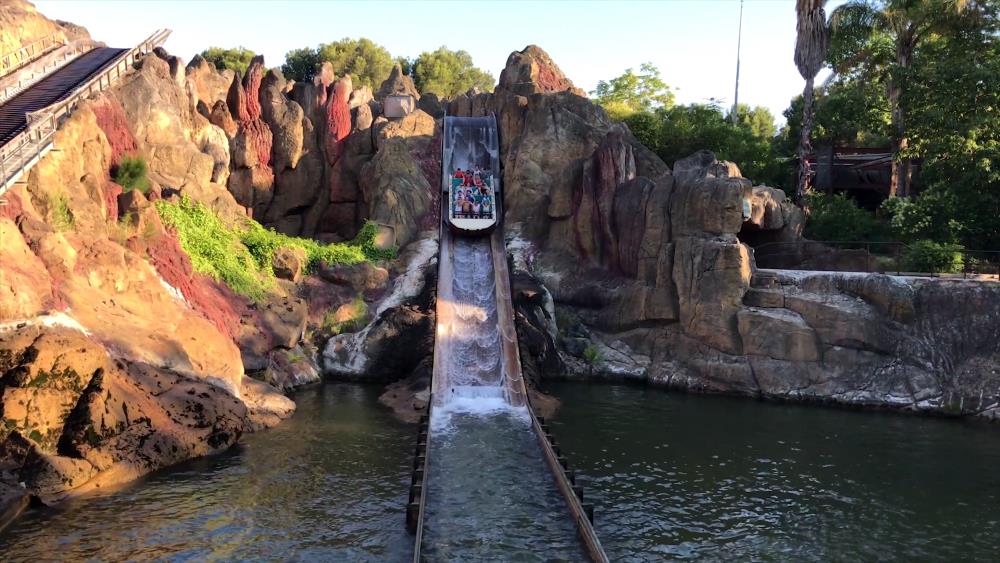 The following shows are offered for the audience:
Wild West;
Roxy Salon;
Terrors of the Penitent;
Vampire Love;
Wild Halloween;
A Christmas Dream;
Port Aventura in the ice, etc.
Mexico
In this section of PortAventura Park in Spain you will find spectacular, colorful rides and many restaurants and cafes offering visitors Mexican food.
PortAventura Mexico is home to free-fall rides, a roller coaster with a great route and other entertainment complexes demanded by the park's guests.
Barcelona's Port Aventura theme park in the Mexico Zone offers the following shows to the public:
Temple of Fire;
Mayan Ritual;
The Curse of the Maya;
The Magic Forest, etc.
China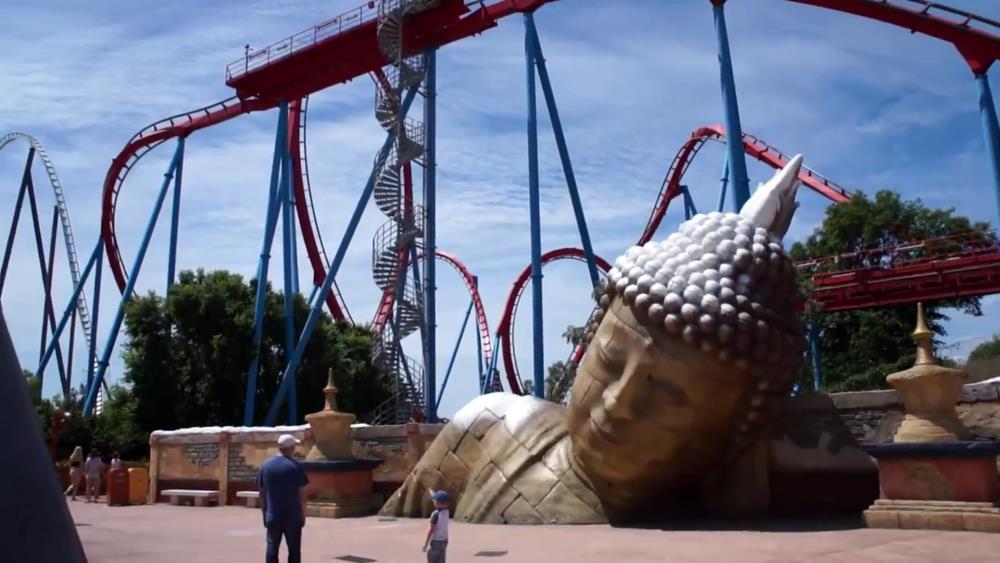 In this sector you can visit a real Chinatown, everything in the Spanish Barcelona in Porte Aventura is imbued with the spirit of ancient China, its national and cultural characteristics.
It will be interesting to visit the Dragon Han ride with several dead loops on a route of more than 1,200 meters. There is another unique attraction in the Chinese part of PortAventura called Shambhala.
This is a completely new system of roller coasters, which here have broken all existing records for speed and height in Europe and the world. They are the highest in Europe and have the longest fall in the world.
On these slides, speeds of up to 135 km/h are reached in a few seconds. There are five high climbs and descents on the ride, after which passengers experience a takeoff above the seat. There are height restrictions.
For lovers of the Chinese exotic, the PortAventura theme park in Spain offers the following extraordinary shows:
Soap Bubble Show;
Mystery 3;
A Christmas present, etc.
Polynesia
In this section of the amusement park in Spain PortAventura you can see great theater shows, unique rides and visit a cafe with Polynesian cuisine, decorated in the national style.
The most popular attraction in this area is a huge boat floating in the caves and going down the slopes. There is also a 4D movie theater that offers viewers a thrilling movie about sea voyages.
In Polynesia you can see great shows in bright Polynesian colors:
Birds of Paradise;
Bora Bora;
Fear in the Jungle;
Guests from Darkness, etc.
Sesame-Aventura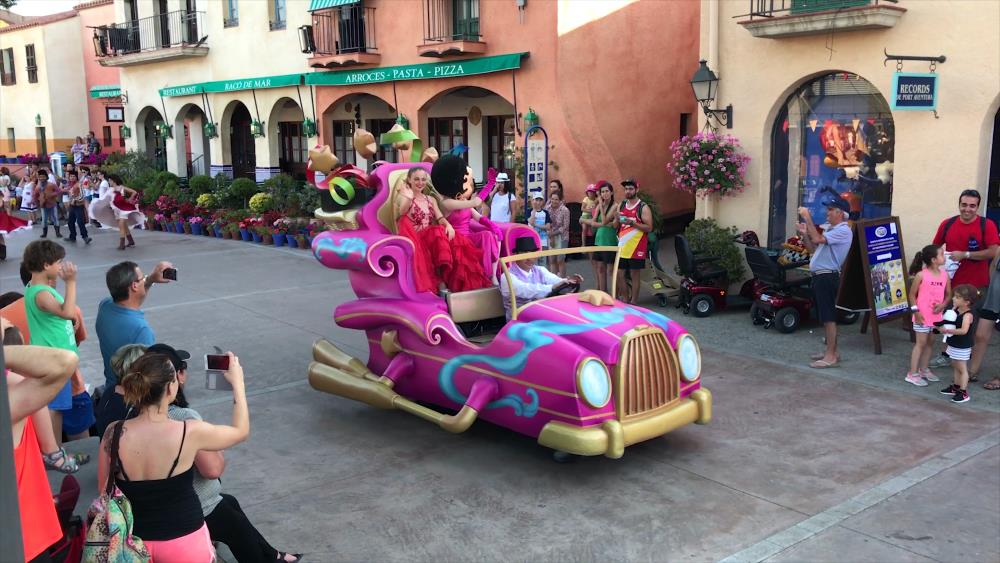 This section of the PortAventura theme park in Spain is completely dedicated to children. There is entertainment even for kids under three years old. This is a great place for those who come to relax with the whole family, from small to large.
Here you can see small planes riding on rails. You can ride them over the Sesame Sector, as if flying through the air. Fans of roller coasters are offered a freefall, the rest – a merry-go-round in the form of an airplane, etc.
For the entertainment of visitors to PortAventura Park in this area offers the following shows:
Flying over Sesame-Aventura;
Halloween at Sesame-Aventura;
Christmas has come, etc.
PortAventura Waterpark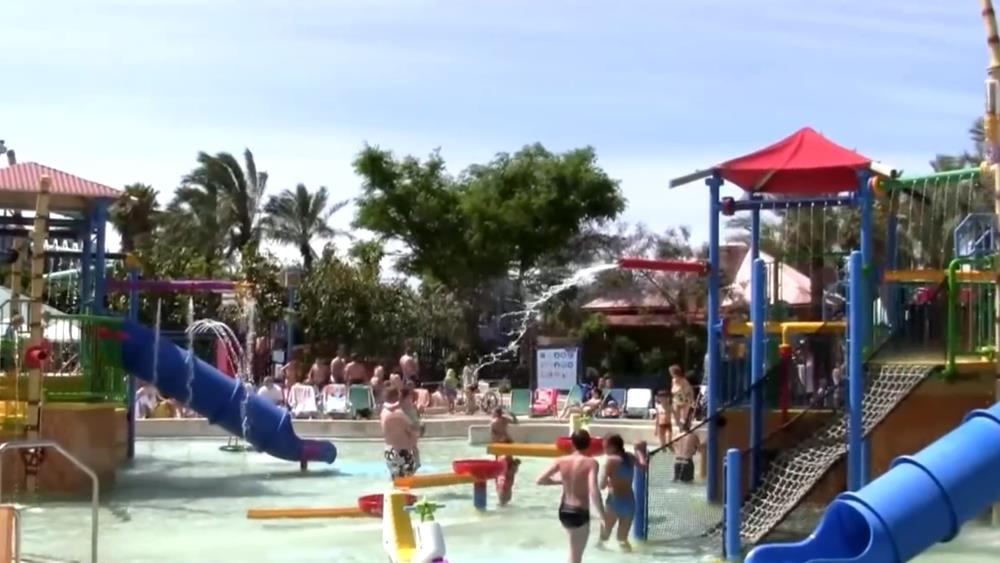 Costa Caribe Water Park is an integral part of the entire resort. It is built in the form of the Caribbean coast and covers a huge area. It has everything you need for a great vacation: the cleanest beaches, lots of music, restaurants, boutiques, etc.
In the water park you can find a variety of water attractions, many of which are one-of-a-kind. For example, the Water Toboggan is the highest open water slide in Europe.
Rides and slides at PortAventura Park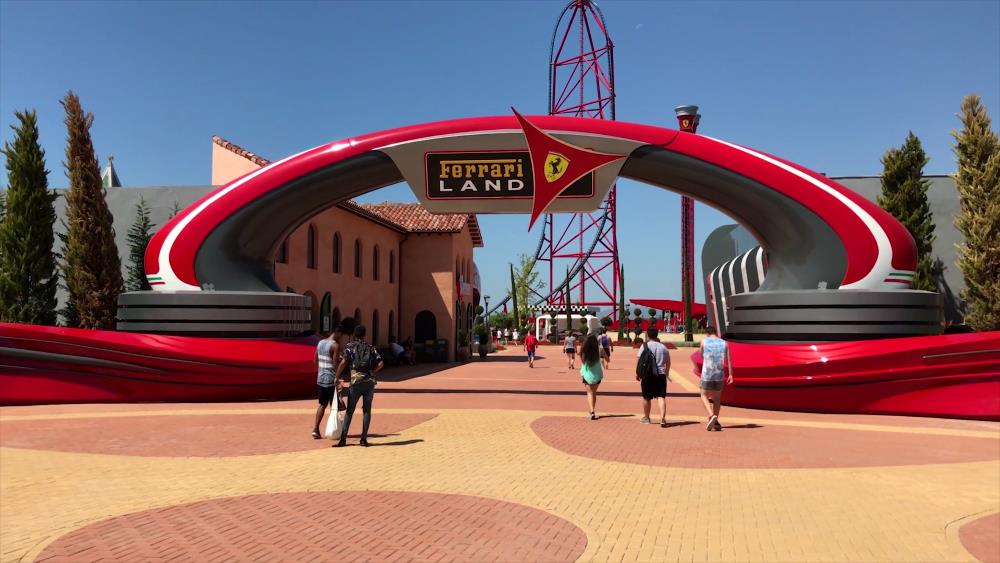 It is worth telling about some of the most famous rides in PortAventura Waterpark:
King Kahuna is the highest slide in Europe, which has a freefall of more than 30 meters.
Rapid Race is a slide with significant drops in elevation and waterfalls. Go down it on an air mattress.
Sesame Beach is a small kiddie pool that has two different depths. In this pool, children can swim on a real pirate ship.
Paradise Beach connects to the children's pool, from which a beautiful artificial waterfall descends into the pool.
Cayo Cookie is a play area for children, where you can see many water jets that form extraordinary shapes.
The Pirate Galleon is a ship where the youngest guests of the park can have fun. From there on the water slides you can go down to the children's pool.
The Bermuda Triangle is a large pool of artificial waves that mimics the sea around Bermuda.
Barracudas are two medium-height slides with a smooth descent on inflatable mattresses, designed for children.
Crazy Rio is a river on which you can travel on a mattress in PortAventura Park, watching the beautiful water effects.
Woody's Lagoon is a small pool with a slide in its center and many extraordinary water effects.
PortAventura opening hours
The park works depending on the time of year and tourist season. You can learn more about this information on its official website, where it is presented, including. in Russian – portaventuraworld.com/en/.
In the spring, PortAventura Park opens in late March from 10-00 to 19-00, from mid-June to the first half of September from 10-00 to 24-00, most of the fall from 10-00 to 19-00, and in November only on weekends.
In winter, PortAventura is open only on weekends, as well as on Christmas and some other holidays. To make no mistake, keep a close eye on the park's schedule on the website at this time.
How to get to PortAventura Park?
The distance from Barcelona to PortAventura theme park is about 108 km. You can get here by train, bus, rental car or cab. You will determine the most convenient way.
GPS coordinates of PortAventura Park:
latitude 41º05'15.46 "N, longitude 01º09'26.02 "E;
decimal format 41.087628; 1.157228.
The electric trains from Barcelona to the park (the next station after Tarragona) leave during the day, about once an hour. Take care to buy a train schedule in advance so that you arrive back in Barcelona on time.
There are also buses from Barcelona to the park and back, the schedule should be seen on the websites of these companies. You can rent a car in Europe through rentalcars.com and order a cab through KiwiTaxi.
All the ways to get to PortAventura from Barcelona you can read here.
Video overview of PortAventura Park
PortAventura Park is incredibly popular with tourists. It is one of the most sought-after amusement parks in Europe. Several million adults and children come here every year. PortAventura Resort is the largest in southern Europe. It has a tourism infrastructure of the highest level. There are two airports and one train station nearby.