Phuket Botanical Garden is located in the eastern part of the island. All the most interesting specimens of local flora are collected here. In the garden you will see the best tropical vegetation of Thailand, as well as the flora of other countries of the world.
Description of the Phuket Botanical Gardens
The area of the botanical garden is about a hectare. It is divided by local botanists into three dozen zones dedicated to the flora of different continents of our planet: America, Europe, Asia, etc.
Visitors enter through one gate, look around the garden, and leave through another gate. Sometimes half an hour is enough for the entire tour, and the most attentive visitors stay for several hours and come back later for more.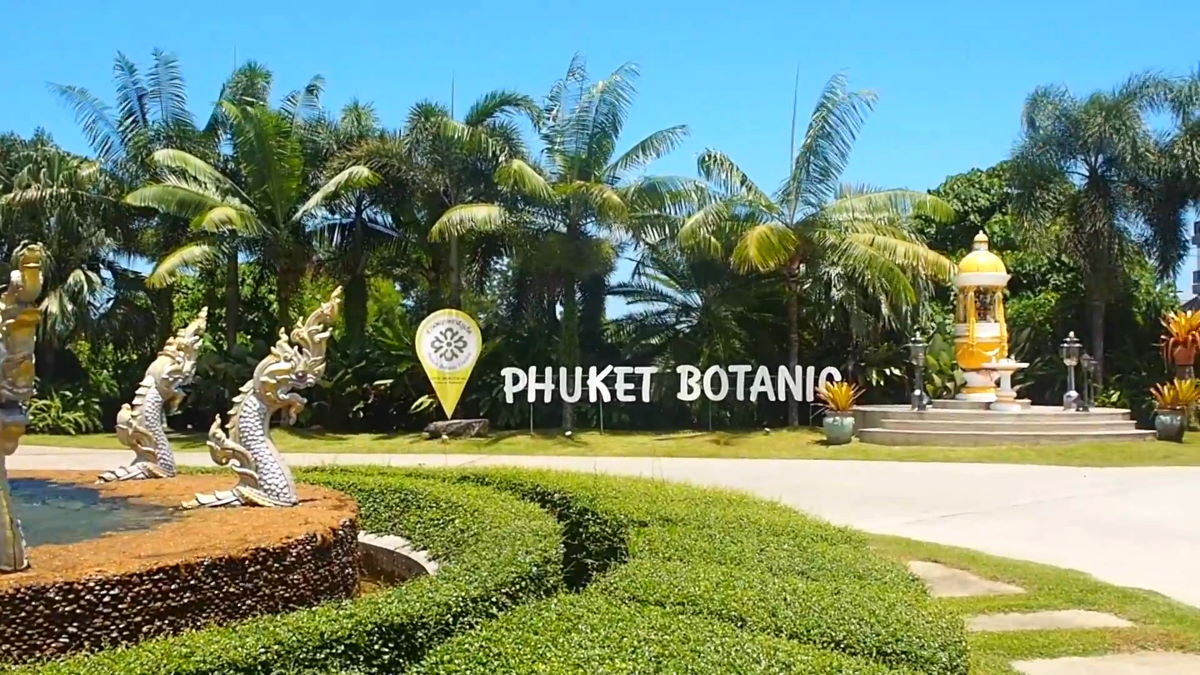 Each zone here is miniature in size and is about 36 square meters. And plants from all over the world are collected here. And they grow on a hundred meters botanical garden in Phuket strictly from south to north according to climate zones.
Tourists will be interested to visit a real Chinese pond with carp, they are allowed to feed them, buying food in a nearby shop. Especially kids like to do this, make sure they do not feed the fish.
Be sure to visit the local butterfly park and winter pavilion with plants from the north. You will definitely like it in a real bamboo house; many locals still live in such housing today.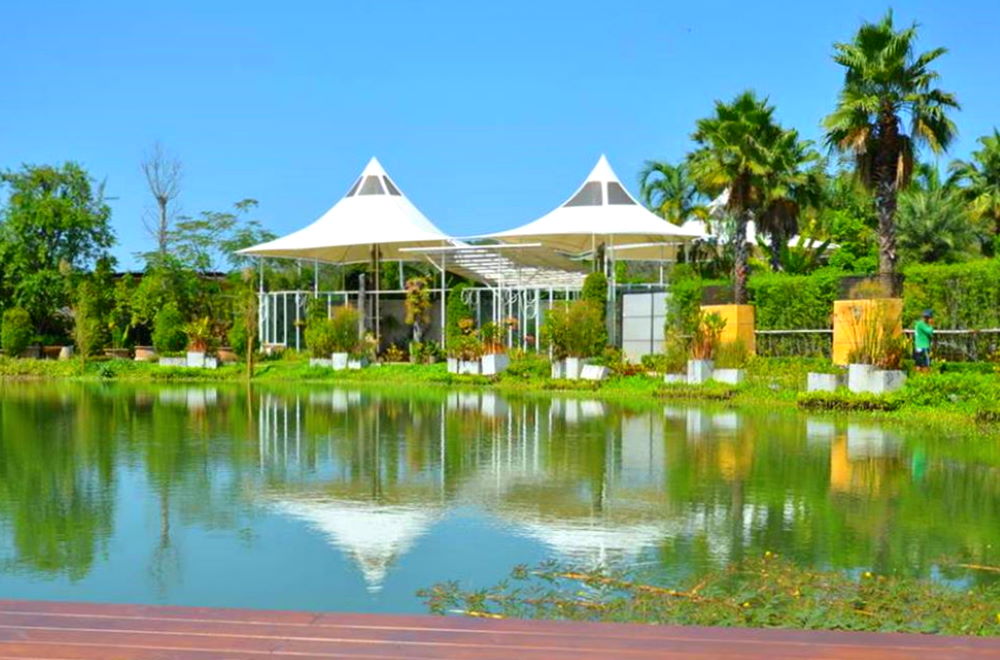 At the service of tourists near the botanical garden is a hotel, a room in it you can rent to rest or spend the night. There is a cafe near the hotel, where you can have a good snack, relax and discuss with friends what they saw.
Be sure to visit the local souvenir shop to buy a souvenir of the amazing garden and Phuket with the local artists wonderful handmade crafts, real orchids in a pot, etc.
Popular Places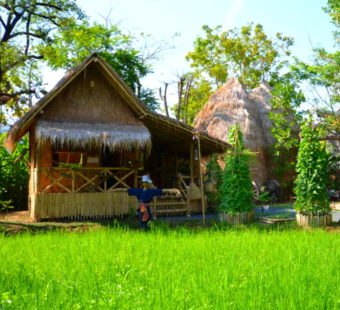 Bamboo hut. In this cabin tourists get a closer look at rural Thailand, its hinterland, learn how ordinary Thais live, see their real life: bedroom, kitchen, etc. Everything is shown realistically, with no embellishments.
Two waterfalls. These natural attractions are "ennobled" for tourists. Visitors can go practically inside the waterfalls to take creative selfies or interesting videos.
There are small sculptures of mythical, fairy-tale or cartoon characters everywhere near the waterfalls, and Russians will be interested in watching the god Ganesha sleeping by the stream. You can also relax on your own on the benches under the trees.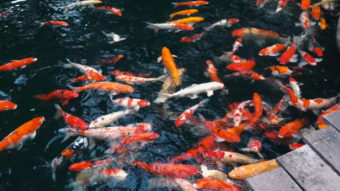 Carp Pond. This pond is just overflowing with fish, it seems like the carps are about to jump into your arms. Here, too, you are allowed to take photos or videos for free. Fish food costs 20 baht or $0.64. This is the standard price in Phuket.
Disadvantages
Mosquitoes. The island of Phuket is a rather humid place because of the tropical climate and the many bodies of water. In the botanical garden there are hordes of local mosquitoes. You have to protect yourself from them, don't forget about Dengue fever.
Buy and use mosquito repellent. Otherwise, you risk catching malaria from a mosquito bite and staying in bed the entire vacation.
Going to Thailand, do not forget to buy insurance.
Butterflies. If it's too hot, there's a siesta in the butterfly park during the day. They hide in the shade and do not fly out into the sun to delight visitors with the beauty of their wings. When going to the park, it is recommended to choose the right weather in advance.
Ticket prices
But the cost of tickets to the garden is clearly overpriced, if you compare it with similar tickets in Russia and the world:
A ticket for an adult costs 500 baht or $16.09;
A ticket for a child costs 300 baht or $9.65.
Remember that such high prices are exclusively for foreign tourists. For Thais, a ticket to the garden costs 100 baht or $3.22.
Working time
Garden gates are open from 09-00 to 17-00 every day, without holidays and weekends. Then the garden works only for the guests of the local hotel Phuket Botanic Resort. At this time there are fewer people and the weather is cooler.
Ways to get there
Remember that the botanical garden does not have an official website, all important and useful for tourists information about it should be obtained in advance on maps, on the web, from the words of local residents, guides, etc. There is also an official website at:
www.phuketbotanicgarden.com.
Public transport on the island is poorly developed, so you must immediately rent a bike or car. We recommend downloading from the Internet a high-quality map of Phuket from Google or Yandex with roads and settlements.
You can get to the Botanical Gardens from Patong by taking a cab or tuk-tuk, renting a bicycle or car. Police recommend that you keep a close eye on things left in your car at a stop near the garden.
Phuket Botanical Garden on the map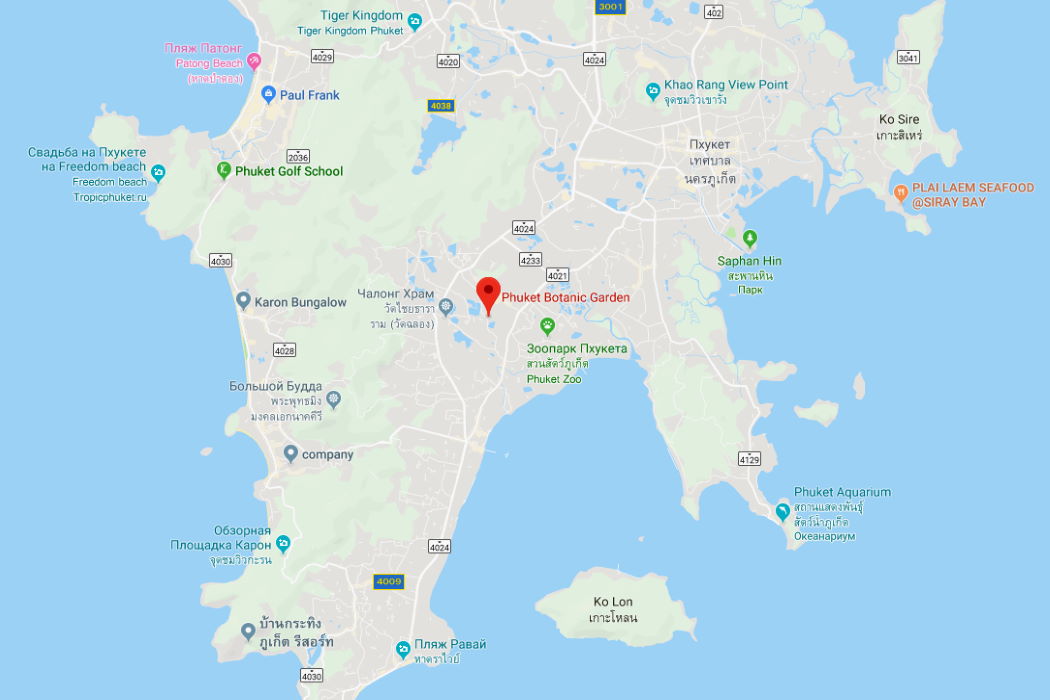 Video overview of the Phuket Botanical Garden
Reviews of the Phuket Botanical Garden
Eugenia, Samara:
I think this garden is for those who love flowers (there are a million of them here) and an arranged place to relax. The tour went without fuss, my granddaughter and I really liked the butterflies. But it's not worth 500 baht.
Alexei, Novosibirsk:
A good way to diversify your holiday in Phuket. I recommend visiting this garden, but the second time will be a bit boring. I loved the quality of care of the plants from around the world and the service at the local hotel.