The islands of Thailand are famous for the most exotic places on the entire planet. The island of Phi Phi is striking in its natural beauty and tourist attractions. There is a way for everyone to relax and have fun here. During the day you can languidly lie on one of the clean deserted beaches, and at night to dive into the turmoil of the night city.
In recent years there has been a large increase in visitors to rest and change the usual rhythm of life. Once you've been here, you realize what a rich and vibrant pastime it can be.
Features of the Phi Phi Islands
The Phi Phi archipelago consists of six separate islands. The northern island of Phi Phi Don is the largest of them all. All the tourist infrastructure is located here. In addition, there is a large pier on the island, where ferries and ships are regularly docked.
Phi Phi Lei is to the south. The popular movie "The Beach" was filmed on this uninhabited island several years ago. There are no entertainment venues here. The whole area is a protected zone.
In addition to these popular islands, there are also several smaller ones. They are in demand by divers and explorers of caves and underwater rocks. The water in these places is crystal clear with a bluish hue, and the white sand underfoot creates the illusion of paradise.
Phi Phi location on the map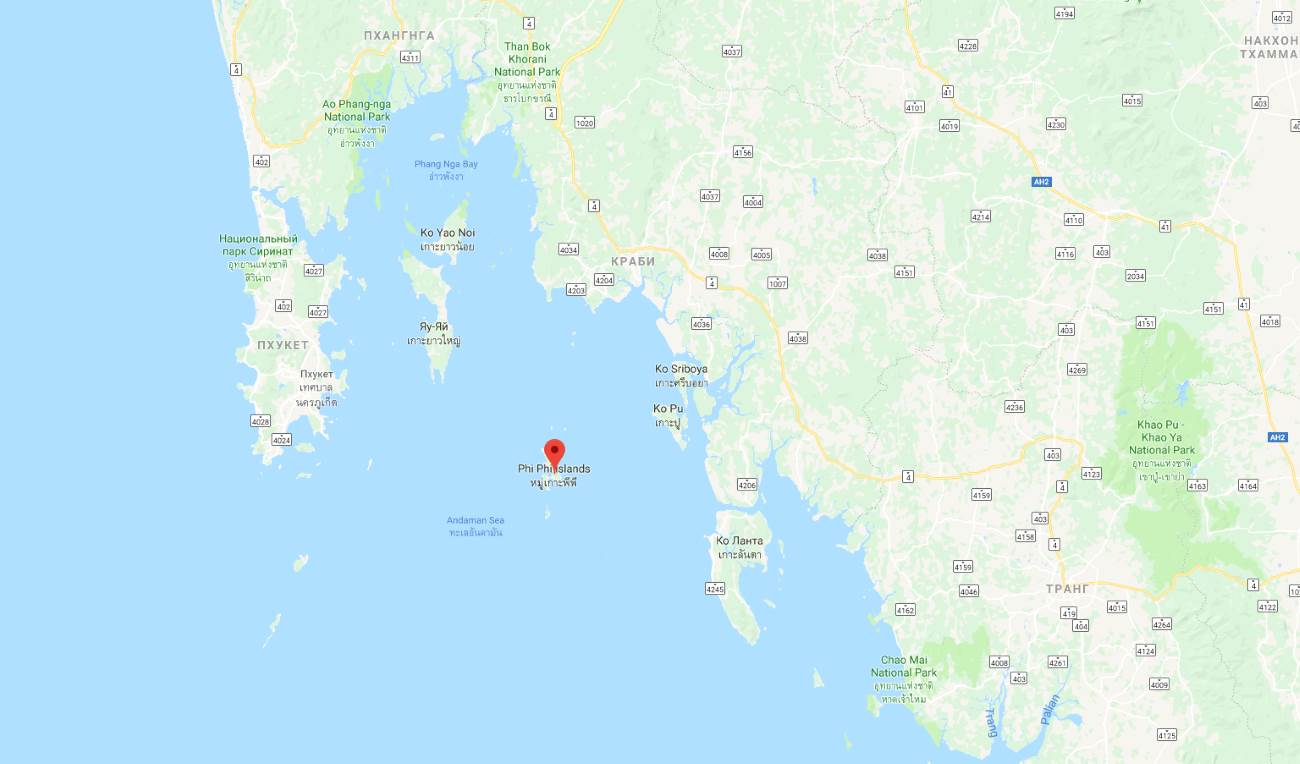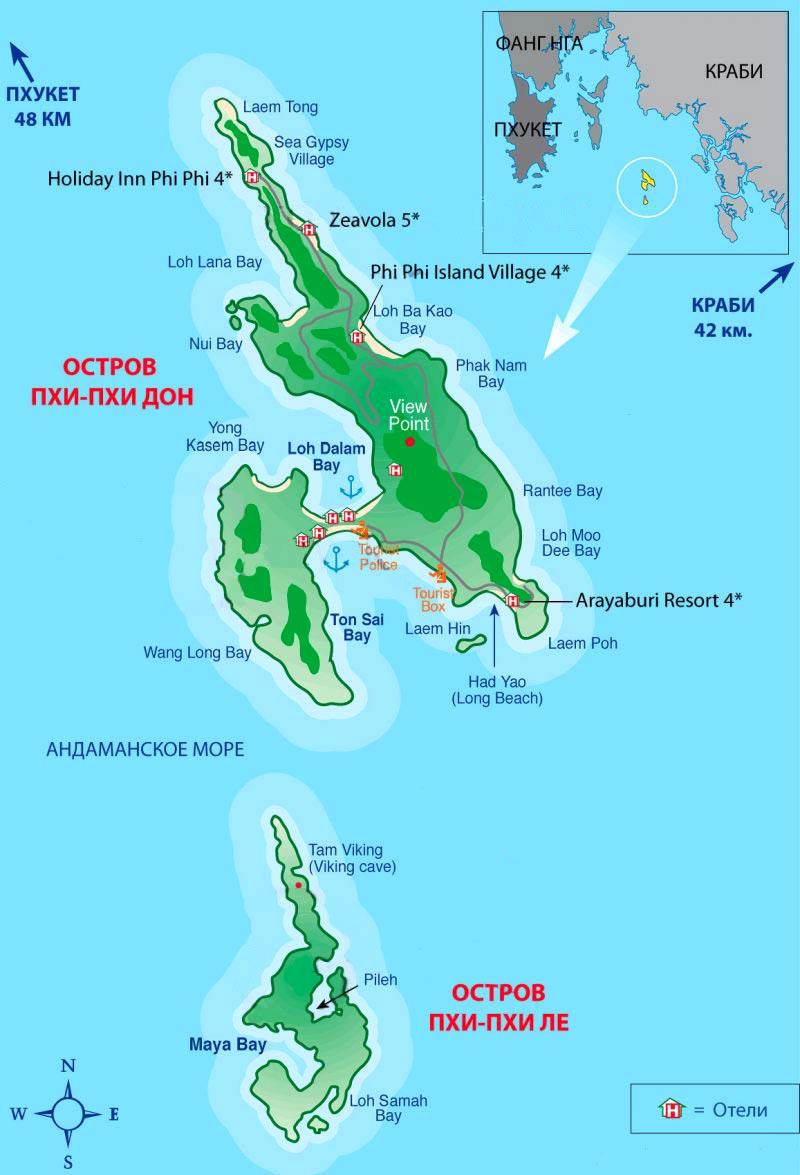 When going on a trip to an island, it is important to equip yourself with the necessary knowledge and information about it in advance. For example, Phi Phi is considered a completely walkable island. Mopeds are used here, but this type of transport is not welcomed either. On the water, people travel by boat.
In addition to standard services for visitors here is a market, ATMs, banks with exchange offices, supermarket chain Seven Eleven. If you compare prices with Phuket, everything here is much more expensive. But unlike Khao Lak on Phi Phi Phi the cost of housing and food is lower.
Most restaurants focus on European cuisine, but on the island must try the famous Thai national dishes. Among them are Tom Yan Kung, Som Tam, Pad Thai, Panang Gai, Kung Massaam, Kung Jude, and others.
Take a risk and try the fried cockroaches and grasshoppers.
Who will enjoy a vacation to Phi Phi?
The well-appointed archipelago island will suit the noisy company and couples. It is conventionally divided into several parts, each of which is interesting and attractive in its own way. Each site has a life of its own, so it can take more than one day to explore the island.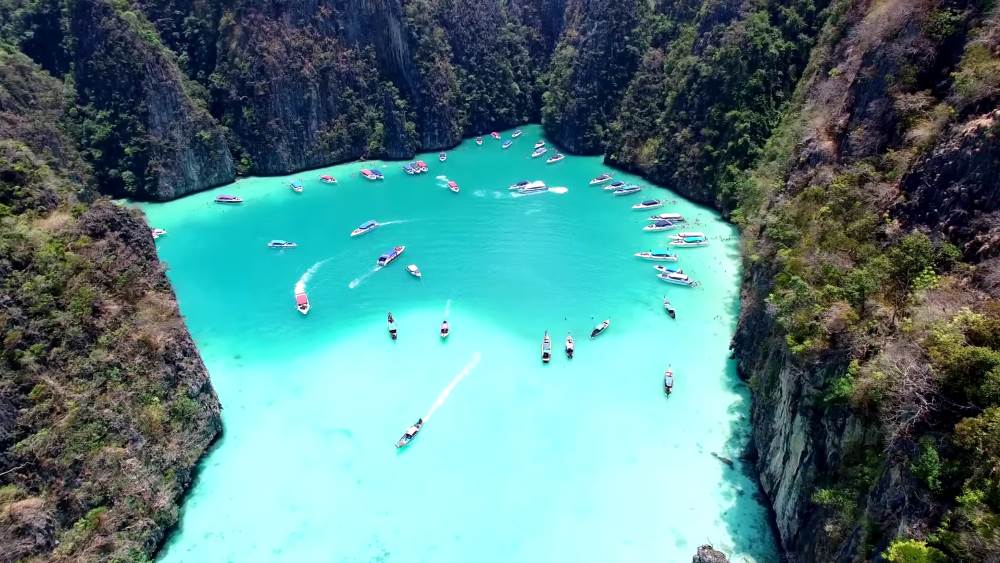 Wild beaches are located in the eastern part of Phi Phi. Here you will not meet a large number of tourists, as you have to pay to stay in the secluded area. If the tourist has the means, he can stay on the beach area, where he usually stays under the sun without clothes. Phi Phi Island in the east is built up with luxury hotels.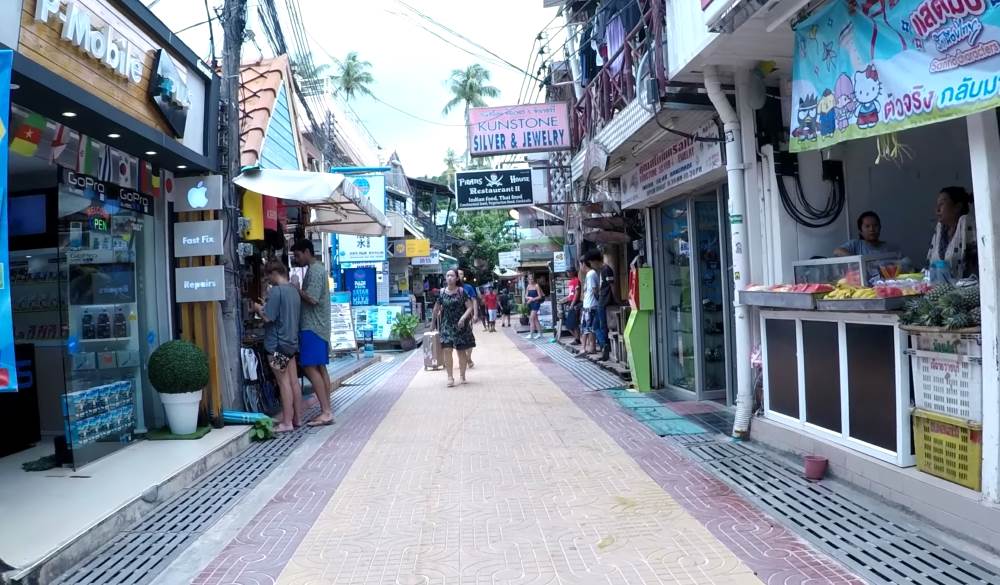 The noisiest and most popular night spots are on Lowe's Dalum Beach. From darkness until dawn begins to work here beach disco. Also in this part of the island you can visit massage parlors that offer a standard list of services. Some establishments actively invite you to experience the delights of sex tourism. Prices for various services are low, so at any time of the day at Low Dalum is crowded.
Long Beach is radically different from the bustling Lowe's Dalum Beach. It is here that quiet affluent couples who are tired of the noise of the big city come. The coast with its clean sand, cozy deck chairs and high level of service is especially appreciated by families with small children. Drivers who want to try out the waves choose this area for their time. Nightlife is not welcome here. The nearest disco is at least a half-hour walk away.
When is the best time to come?
A visit to the archipelago of Phi Phi Phi is better reserved for the period from October to March. The tropical monsoon climate is ideal for outdoor activities on the coast. At this time, the water temperature is 29 degrees. It rains constantly from June to September. Tourists who want to save money come here at that time.
How to get there?
Phi Phi on the map can be found between Phuket and Krabi. You can only get to the island by sea. Tourists are offered the option of disembarking from the plane in Phuket, and from there to follow the archipelago by ferry. Comfortable ships also sail from Krabi. The most common and affordable way is to order tickets from Ao Nang Beach. They are sold in all tourist kiosks. The average ticket to Phi Phi costs $10. Ferries with a bar, TV, air conditioning are about 2 hours away.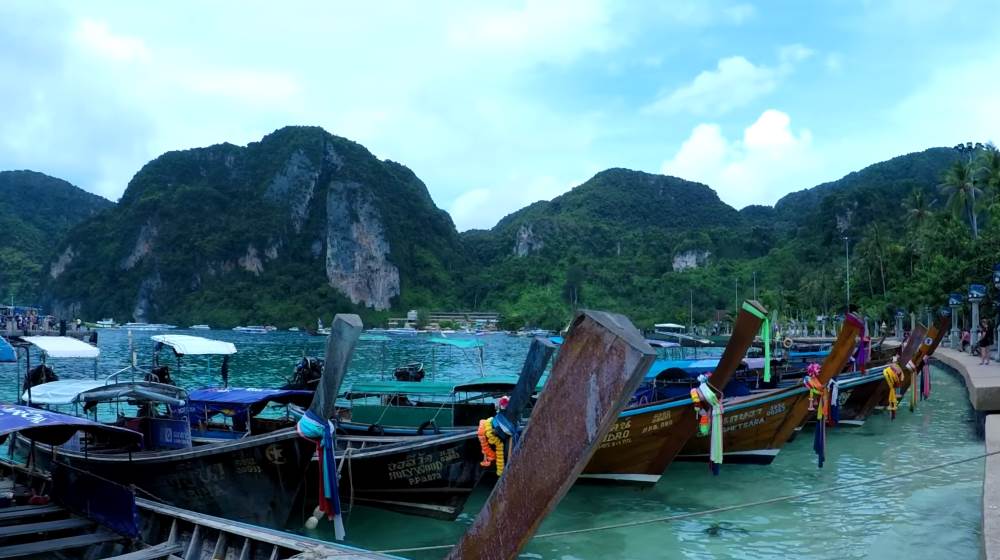 Experienced travelers note that the time on board can rightly be considered part of an amazing excursion, as the deck offers incredible views of the sea and islands. It's definitely worth capturing this beauty in a photo.
A visit to the island is sometimes included as part of an extensive tour. Here you should consider that the duration of such a trip will be long, and the cost of the ticket is quite high. Departing from Phuket on their own, there is an opportunity to consider an individual tour itinerary.
You can get to Thailand from anywhere in the world by plane. If you buy a last minute trip, it will cost much cheaper.
Accommodation in Phi Phi
The tourist area of the island accommodates a large number of hotels for people with average income and elite class. Economy bungalow without air conditioning can be rented without problems to 400 baht. Expensive hotels with a full range of services and a balcony overlooking the sea is more expensive. Not everyone can afford it. The average price for a room to stay at an adequate price is 1,000 baht. Lodging is offered at all the billboards and on the pier. It is desirable to look at the conditions, so that you do not have to overpay for a shack. The best and most profitable option is to pre-order accommodation through the Internet.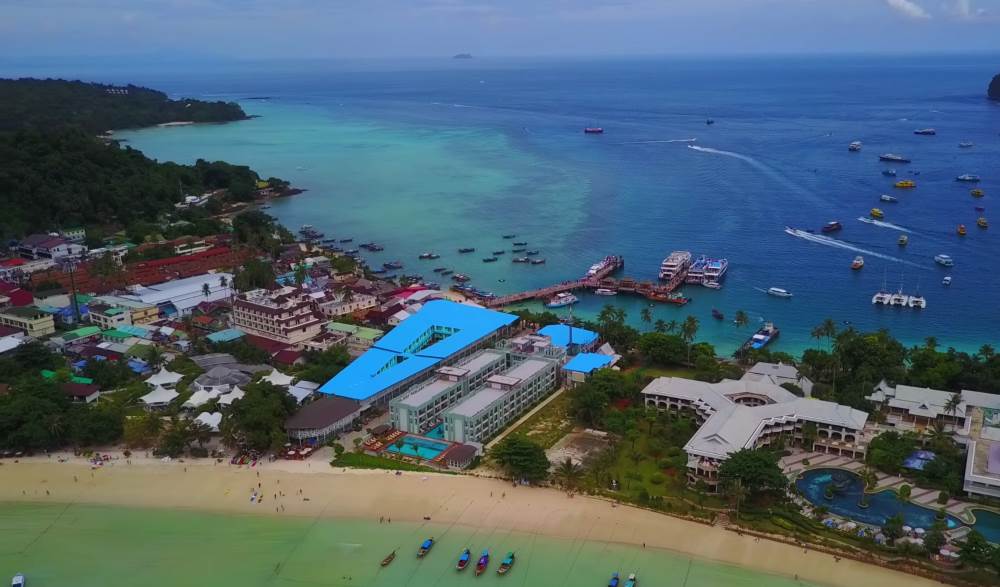 The cheapest hotels on the island are in Lo Dalum and Tonsai. The only disadvantage of these places – on every corner there are noisy discos, which will work until morning.
As an option, you can rent a tent and spend the night under the open sky.
Beaches
The best option for choosing a good beach to relax on is a boat excursion. On the first day it is worth going to the nearest coastal area, and then find out where this or that place is. In addition to large popular beaches, there are many smaller areas. On this site there is no entertainment and coastal cafes, but it is always quiet and peaceful.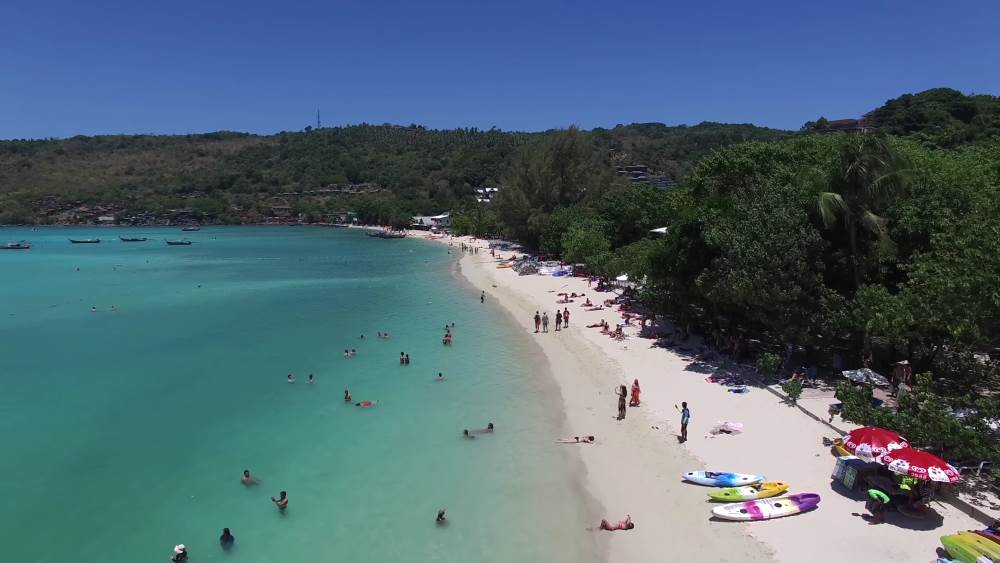 The flow of tourists often follows the beaches of Tonsai Bay and Lo Dalum. The water is equipped with a special safe descent into the water. The sand is snow-white, the local authorities try to keep it clean and empty the trash garbage cans in a timely manner. On Lo Dalum there are no waves, which is very convenient if you vacation with children. It is important to know that at low tide can not swim.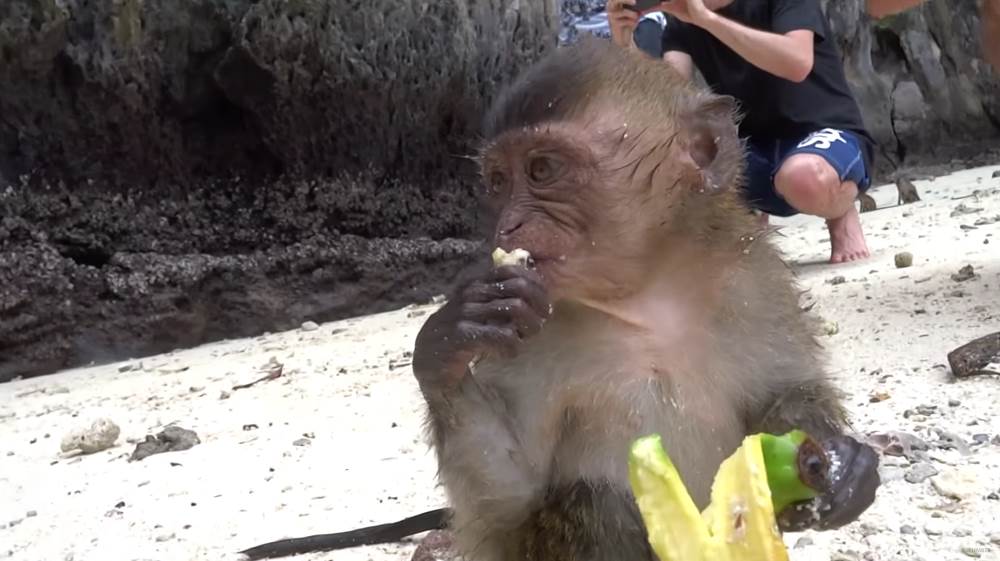 Rent a boat and you can swim to one of the central beaches of Phi Phi. An interesting place to visit is Mankey Beach. There are packs of wild monkeys living here. Of course, you can only partly call them wild. The monkeys are happy to eat fruit and cookies. But their favorite prey are cell phones and cameras.
New Beach is a small-sized beach, special because it is surrounded on three sides by massive cliffs. If you have time, be sure to go there. In the morning and evening there are almost no people, so there is an opportunity to take colorful pictures in one of the most beautiful bays in the world.
Diving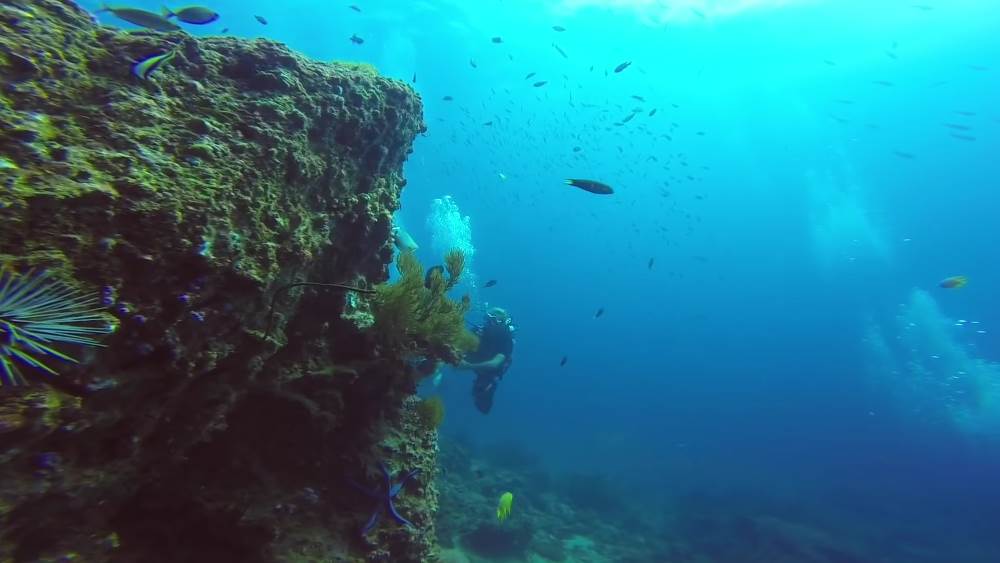 The island's scenic spots are not only on land, but also underwater. Diving enthusiasts will appreciate the picturesque underwater world. Underwater caves, a variety of marine animals, coral reefs will be appreciated even by seasoned travelers. Divers choose secluded beaches, where there is no influx of tourists. In the period from September to April, visibility under the water is about 25 m, in other months only up to 10 m.
The best places for diving are considered:
Bida Nok. An island of limestone with an underwater room at a depth of 10 m. This is a great place for beginner divers.
Phi Phi Shark Point. Underwater area with sleeping leopard sharks on the bottom. Dangerous, but fascinating.
Bida Nye. A rock with numerous corals and sponges. At a depth of 20 m there is a tunnel of rocks, so this area is more suitable for experienced underwater enthusiasts.
Low Sama Bay. A perfect place for snorkeling. Diving is only possible in the rock area.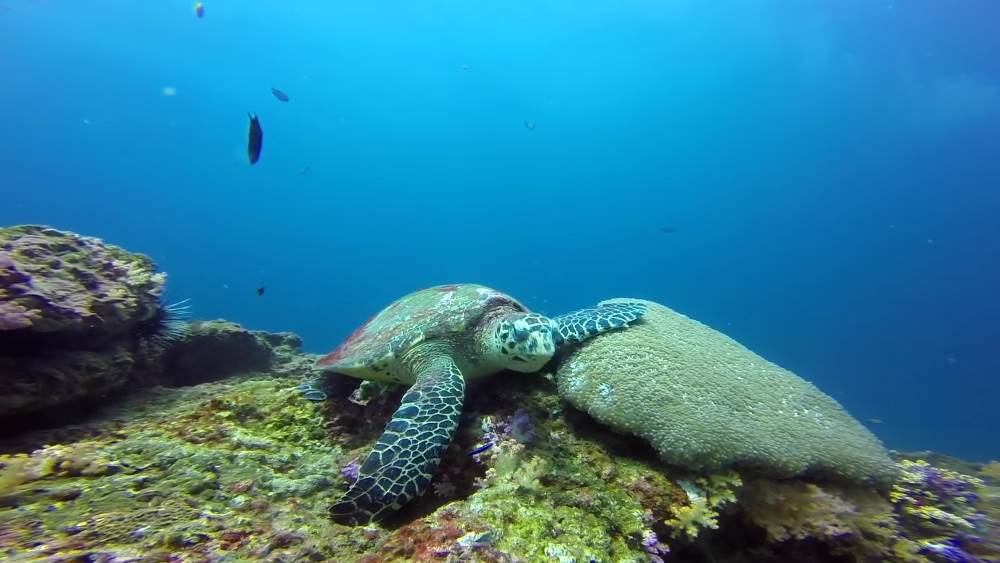 Within 20 km of Phi Phi, there are areas that have an individual ecosystem. Underwater you can see the mysterious seahorse, squid, tuna, barracuda, mackerel, clownfish, angelfish. There are huge sea turtles near the coral reefs.
Equipment rental with two dives will cost 2500 baht for adults and 1500 baht for children. There is a diving school on the coast, whose masters will help you master the depths.
Excursion to the archipelago can be one day with a return to Phuket, as well as a long indefinite time. In any case, these places are worth the time it takes to explore the local beauties.