Broadly speaking, Ayurveda means a whole system that includes knowledge of the universe and its laws, astrology and meditation. In its practical version, it is better known as a branch of ancient Indian medicine. It was mentioned as early as the 4th millennium BC. During this time, techniques have changed, but the original attitude to the human body as a whole has remained, where treatment eliminates the causes of the disease rather than its symptoms. Therein lies the effectiveness of the methods. Healers and massage therapists come from all over the world to undergo recovery and treatment in Goa, in most cases combining it with a beach holiday.
Better clinics and ayurveda specialists in Goa
Island resorts are famous for massage therapists working in large spas, hotels and small offices on the beaches. The master's most important advertisement is the verbal feedback from tourists, which they willingly share with newcomers. Noticing where a good massage therapist works is very easy. It's enough to see where there is a waiting list for a master, and where clients are persistently, but in vain.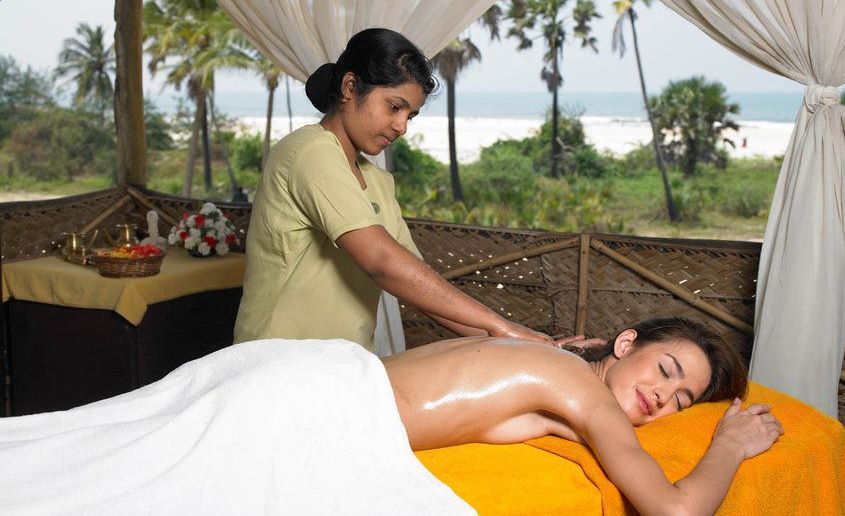 Each resort is sure to find large centers, a few smaller salons and private offices.
Ayurveda in Colva, Goa, is represented by a succession of offices on 2 floors of local pharmacies. It is convenient and profitable, because after the sessions many visitors tend to buy cosmetics and ayurvedic products. Mostly oil massages are done, there are procedures with hot stones. A lot of salons work in Calangute, Baga, Candolim, Morjim.
Do not believe the charlatans, inviting you to take a course of massage for a penny. You won't find quality and sanitation there.
Types of Ayurvedic massage
They can be divided into therapeutic and relaxing. Almost everywhere oil is used, the difference is in the technique itself, the temperature and the amount of oil component.
Specialists at the centers offer sessions based on techniques:
Sirodhara;
Kativasi;
Abhyang;
Nasyam;
Elakiji;
Pizhichil;
Marma.
The Ayurvedic head massage is recommended for relieving migraines and headaches, improving blood circulation, accelerating thought processes, and activating attention.
Testimony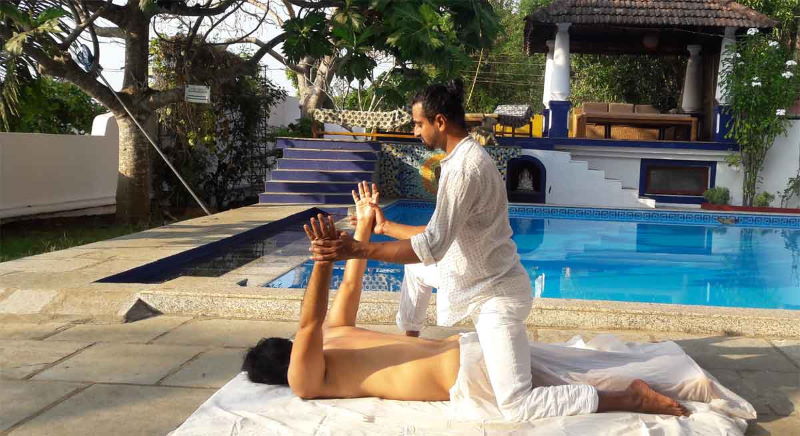 A comprehensive approach with the use of special massage techniques, herbal remedies and gymnastics eliminates the problems of the gastrointestinal tract, musculoskeletal system, vascular pathologies, the effects of hepatitis. If you look at the problem from a broader perspective, Ayurveda can help improve the condition of many diseases, because it does not treat a point, but strengthens the body and awakens its deepest reserves, starting the process of self-recovery.
Infertility in Goa, India is also successfully treated using the principles of Ayurveda, but the process is long. After an intensive course it is required to take herbal medicines for several months. They are sold in pharmacies and salons of ayurvedic products.
The most common choice for infertility treatment is the Ayurvedic Center for Natural Health, abbreviated ANHC. The complex occupies 1.5 hectares, away from the bustling cities in North Goa. Ayurveda centers in Goa such as the Ayurvedalai in Arambol and the clinic in Arpora are also popular.
Ayurvedic products and cosmetics in Goa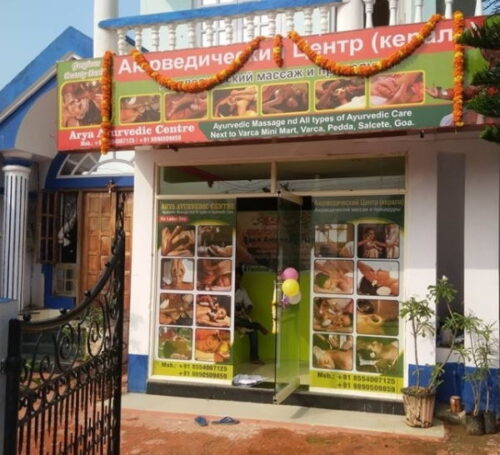 Natural herbal remedies are no substitute for antibiotics and antispasmodics. They have a completely different focus. They stabilize the body, gently cleanse, rebuild inner balance and circulation of energies. The products are all-natural, without dyes or fragrances. There are creams, oils, hair care, tooth care and oral care products on sale.
Ayurvedic oils play a big role, they are sold in pure form and in compositions. Almond, sesame, rosehip, and rose petals are considered favorites. They often become the basis for oil blends, where additional ingredients are added. According to tourist reviews, food, incense, tea, mats for meditation and breathing practices, massagers are also particularly popular.
The cost depends on the place of purchase. First-time visitors to Goa are warned not to buy any ayurvedic products at the market. It is much safer to buy them in pharmacies and special pavilions. The cost will be higher, but the quality is guaranteed.
Reviews of Ayurvedic treatments
Most reviews of rest and treatment in ayurvedic centers in Goa are positive.
Antonina, 56 years old:
I went to India with the secret hope of leaving migraines and chronic nervous breakdowns there. I chose Goa, more precisely the resort of Arpora. I had heard about the Ayurveda clinic, so I calculated the time so that I should have 10 days left for the treatment course. In my hometown, the doctors would throw up their hands in response to my complaints and prescribe painkillers. A week was enough for me to say goodbye to headaches and get the inexpressible pleasure of oil massages. The master additionally used acupuncture and acupressure. I took with me a whole bag of herbal remedies, and I did not forget about cosmetics. As long as I live without pills, I remember the Ayurveda master with gratitude.
Catherine, 32 years old:
Have been to Colva several times already and I make sure to go to the little pharmacy on Main Street. There's a small room on the 2nd floor where they give amazing massages. I ask for a full body workout, which takes 45-50 minutes. I don't know how much oil goes out, my feeling is about 4-5 liters. But that's not the point, it's an amazing feeling of lightness and quiet all-encompassing happiness after the session. The cost depends on the duration and related products. An hour treatment with oil is 1,000 rupees, with a full body scrub about 2,500.
Julia, 45 years old:
A lot of health problems have haunted me for the last 15 years. Something came from nerves, other sorenesses grew on this fertile ground. I try to stay away from medication after treating a painful joint. He began to bend, and an ulcer formed in his stomach. At home, I indulged in herbal remedies, while on a trip to Goa, I decided to take a more thorough approach. I started with an Ayurvedic head massage and realized that I would not stop there. Focusing on the rave reviews of my hotel neighbors, I went to a small massage parlor in Morjim. I don't remember the name, but I kept the thanks to the master. How we communicated with my lame English and his broken Russian should be told separately. We agreed literally on the fingers. After 5 massages it turned out that I could fix it, but it would take time. I had to thoroughly stock up on herbal remedies at the nearest pharmacy. It's been six months, I'm looking forward to another trip. And yes, I do without medication, but I drink ayurvedic morning tea without fail.