Patong Beach is the most popular and well-developed beach in Phuket. Although many tourists are convinced that there is too much trash, rests there only rabble, it is the dirtiest area of the island.
We recommend you to visit Patong or Patong Beach once to see for yourself that this is a modern and high-quality place for a beach holiday with clear sea water and excellent sand on the shore.
Patong Beach Review
Patong is located on the west coast of the island. From here to Phuket International Airport is about 40 km, and to the capital of Phuket City – no more than 15 km. On the land side of the beach is surrounded by mountains.
For many centuries Patong was an ordinary fishing village and only in the late 20th century it became a fashionable resort. Every year, hundreds of thousands of tourists from all over the world come here to rest.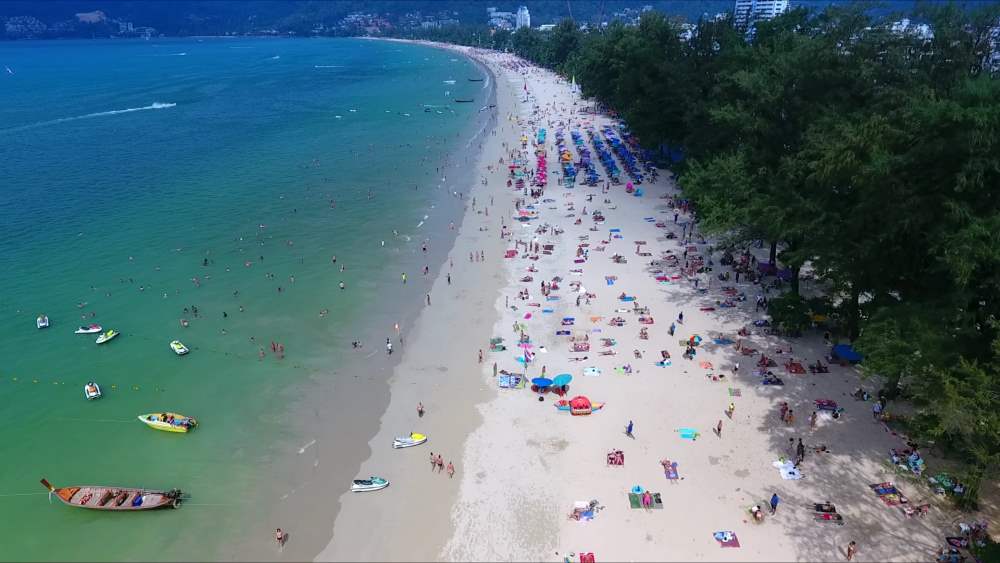 This wide sandy strip is almost 4 km long. Despite the large number of vacationers, there is enough room for everyone. In the morning, when it's not crowded, you can just run on the soft, soft sand of Patong, enjoying the island exoticism.
On the beach, taking into account the number of tourists and sunbathers, the level of cleanliness is quite acceptable. There are almost no cigarette butts, stumps or plastic bottles, and the local cleaning service is quite efficient.
The sand on Patong beach is very fine and very light, but not white, it is nice to walk barefoot. Actually floury, soft and soft sand on almost all the beaches of the Thai island of Phuket.
In Patong there are practically no waves in the sea. Even on the quiet Kamala, the waves are much bigger. Even children can swim and bathe here without fear. There are specially fenced areas for swimming, near them sit lifeguards.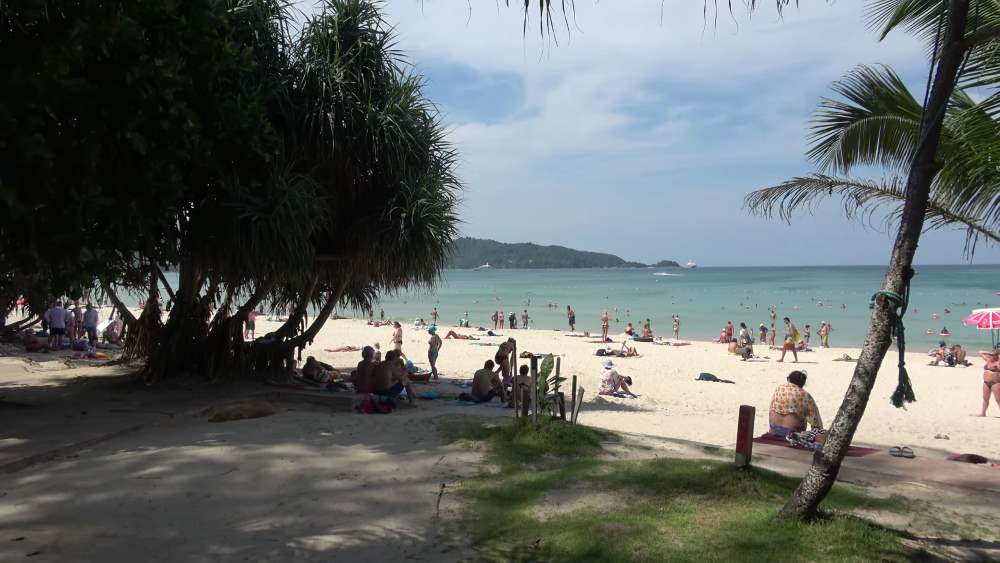 The bottom of the shore is sandy and gentle, there are small pebbles. The water is clear, warm, almost steamy, you can see the sandy bottom. All in all, bathing on Patong Beach is a real pleasure.
Patong is a favorite vacation spot for tourists from Russia. You can hear the Russian language everywhere. Also on the beach a lot of Germans and the French. Every travel agency sells tours to this beach, they are inexpensive, affordable for Russian budget travelers.
There are two roads along Patong Beach: Tawiwong Road and Song Roy Pi Road, where there are many hotels. As everywhere else in Thailand, the sex industry is developed here: massage parlors, shows, clubs and brothels, where you can indulge in pleasures.
Climate
In Patong the year is divided into two seasons. May through October is the Rainy Season, when tropical cyclones with torrential downpours hit. It gets extremely humid, but there are still enough tourists.
From November to April, Phuket has a warm High Season. At this time, the air temperature during the day ranges from +21C to +35C, and precipitation is minimal. This is an ideal time for recreation and tourism.
In 2004, in Phuket, Patong beach was severely damaged by the tsunami caused by the Indian Ocean earthquake. He was seriously injured. At the time, several hundred people, including tourists, were killed on the island.
Setting up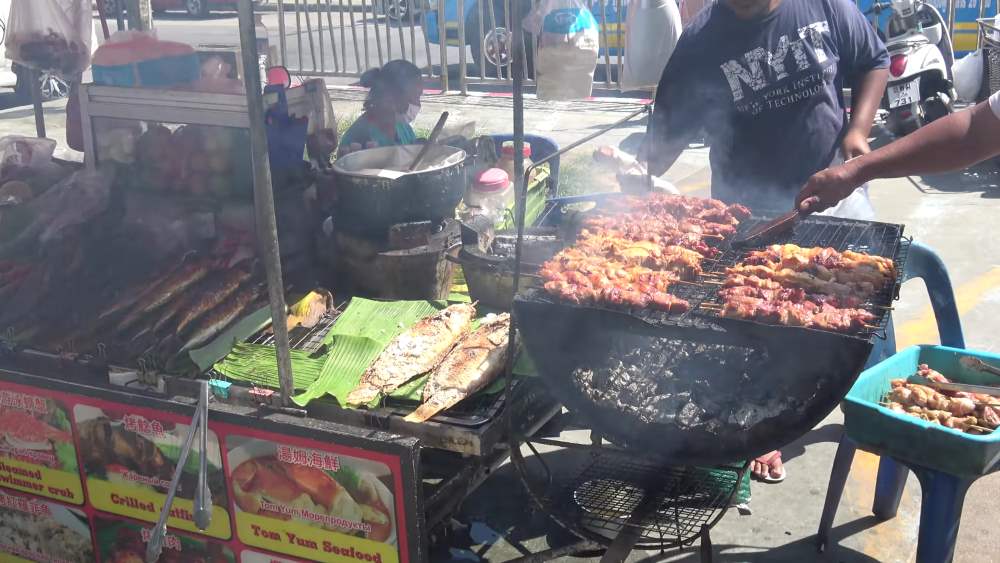 On the way to the beach you will certainly be met by mat sellers, they are convenient for sunbathing. Mats are a variant of chaise lounges and are widely used in Phuket. For two people the mate costs 200 Thai Baht or $6.22 per day.
Traditional beach chairs are not available here, but you can use your own towel or buy around the beach special mat, it costs 250 Thai baht or $7.78. In Patong there is only one toilet, no showers.
Trade
Patong Beach has long had an excellent system of food tourists. You do not have to get up from the mat and go to the nearest cafe, you will bring everything to the place of rest. It's enough to call a caterer of food and dishes from different cuisines of the world.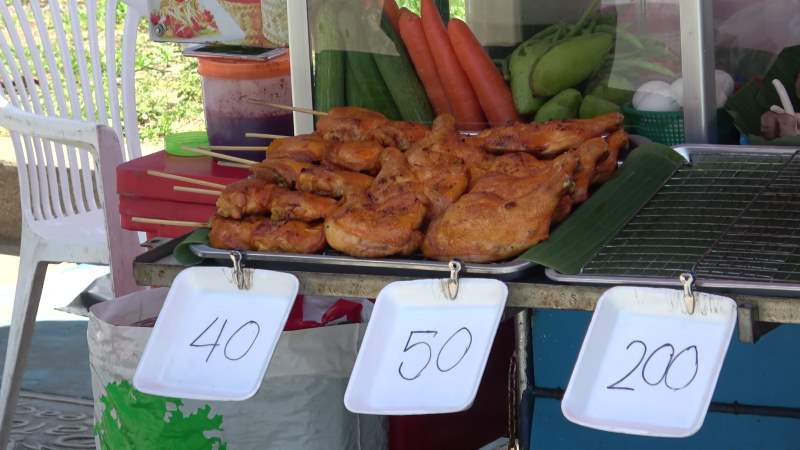 This category of attendants on the beach is extremely intrusive. If you don't plan to buy their products, don't be interested in them at all, otherwise it will be hard to get rid of them. Other sellers will come at you with merchandise, too.
Beach vendors will offer you national Thai cuisine, fruits, bracelets, sunglasses, national clothes and shoes, bags, suitcases, small souvenirs, etc.
After nightlife is the second most popular shopping. There are many night markets, where you can inspect and buy almost any product. Also in Patong there are several shopping malls: Yungceylon, Patong OTOP, etc.
Entertainment
Other molesters are tattoo specialists, as well as owners of scooters, parachutes and other entertainment. In Patong, they are relatively inexpensive, but not showing the proper willpower, you can remain completely without money.
If you want on the beach you can buy a ticket for a banana ride, a parachute flight, a ride on a jet ski or kayak several times during the day. Sometimes regular customers are given discounts by sellers.
The cost of entertainment on the beach:
Half-hour scooter ride: 1,500 Thai Baht or $46.69;
Half-hour scooter ride for two: 2,000 Thai Baht or $62.25;
parachute flight: 1,500 baht or $46.69;
Banana ride: 700 Thai Baht or $21.79.
Bargaining in the eastern market is appropriate. Sellers will simply not understand you if you are not interested in the price of the product you are selling and try to lower it. With proper diligence, you will win half of the original amount requested.
Embankment
The presence of the waterfront – one of the undoubted advantages of Patong. Here tourists stroll under the palm trees and snack on something tasty. On your way there will be vendors with kebabs of meat, fish, seafood, fruit, etc.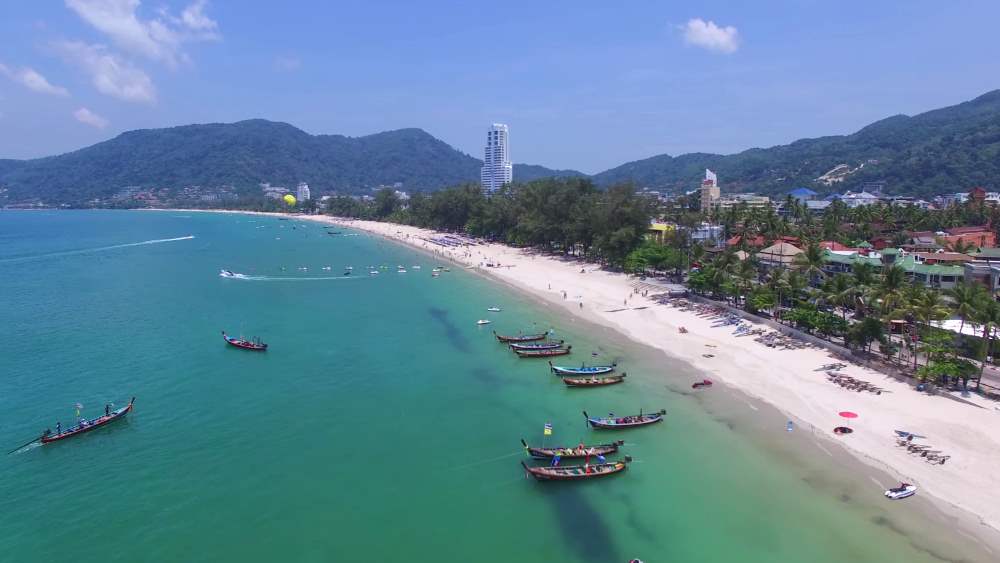 You can organize an amateur cafe right on the beach, without all the tables and chairs. Just sit on the sand and have a snack at your pleasure. The cost of the dishes is not at all higher than the city prices.
There are also full-fledged restaurants, cafes, pizzerias, the well-known McDonald's, Burger King, etc. on the waterfront. But in a swimsuit or swimming trunks you will not be allowed there, you will have to change clothes.
Nightlife
In the evening on Patong lit a thousand lights, beckoning tourists to the most extreme entertainment. There are opportunities for a vibrant nightlife at local restaurants, clubs and discos, of which there are not less than a hundred and fifty.
Very popular in Patong at night go-go bars, where girls dance on a podium at the pole, periodically changing each other. Trying to get to know them is usually to no avail.
They're not coconuts, they're just night dancers at work. They perform sexual dances in different genres, showing their genitals to the audience, but no more than that, they do not engage in corrupt lovemaking.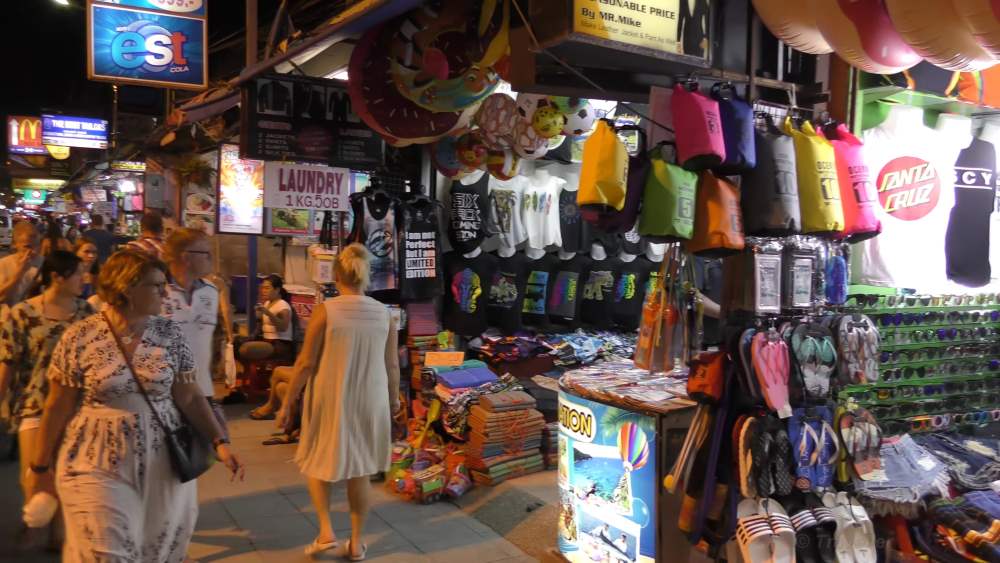 The epicenter of nightlife in Patong is the famous Bangla Road. Here you can get drunk, find a girl and spend a beautiful night with her, paying a sum of money designated by her.
There are three transvestite shows that are extremely popular at Simon Cabaret. Two such shows are presented to the public during the rainy season. "Simon Cabaret" is the calling card of Patong Beach.
Most of the public comes here for this kind of entertainment. There is an unusually rich nightlife here. Sometimes Patong is compared to Pattaya, but here you can still have a great vacation and sports during the day.
Hotels in Patong Beach
Here you will find hotels of any quality, including. with five stars. Those who are not looking for luxury in Patong, can choose a budget option from the many hotels for the middle class, which successfully combines the price-quality ratio. At your service:
Patong Studio Apartment;
Bella Tropican;
Heba Residen;
Syrah Boutique Residen;
Forest Patong Hotel;
Alfresco Phuket Hotel;
Chick Boutique Hotel;
Bauman Resources, etc.
How to get to Patong Beach?
From Phuket Town you can get to the beach by city or public transportation. The trip takes no more than half an hour and costs 30 Thai baht or $0.94 one-way.
Buses from the city to Patong Beach and back start at 06:00 and finish at 17:00. If you did not catch the bus, you can take a cab, the transfer costs about 300 Thai Baht or $ 9.42.
Cab service to the neighboring beaches of Karon and Kata. The fare is about 300 Thai baht or $9.42. You can take a cab to the island's Phuket Airport, but it is expensive – 1,000 Thai baht or $31.38.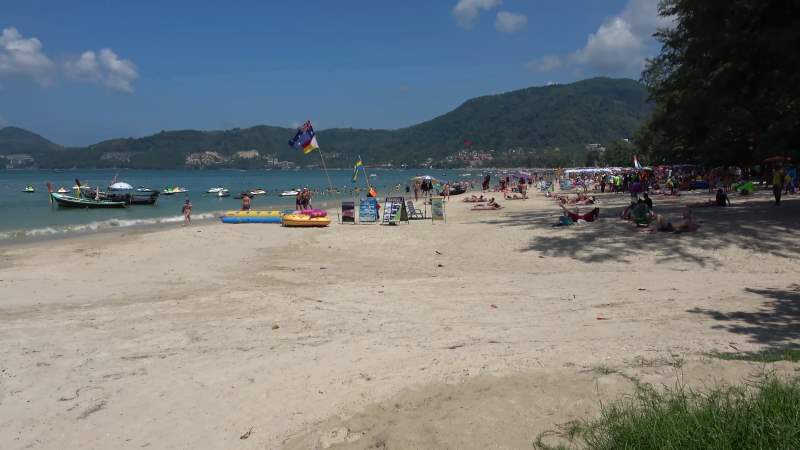 There is a system of Phuket and rent a car, they can be rented well before you arrive on vacation, while still being at home in Russia. This can be done for one transfer or for the entire stay on the island.
Patong Beach is a leader among the best beaches in Phuket. Due to the lack of waves, it is perfect for swimming with children. You can spend a day here, periodically strolling along the promenade and visiting local cafes and restaurants. And in the evening and at night on Patong wishing to entertainment for adults.
Video overview of Patong Beach
Patong Beach Map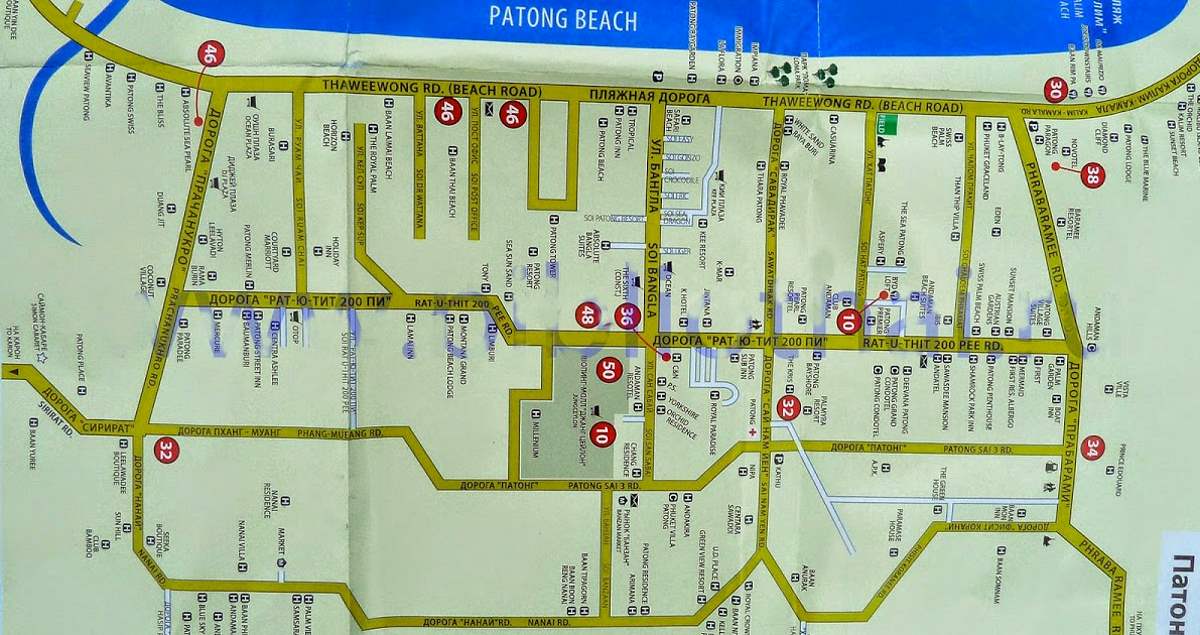 Reviews about Patong Beach
Maria:
For the first time my husband and I took a tour to Patong, I liked that everything is relatively inexpensive: food and hotel. Didn't like the fact that it was too crowded. For tourists – a decent infrastructure. Perhaps if you get here again, you can find the best balance between the price and the too noisy crowd. Alexandra, Samara.
Valery:
We stayed ten days with friends in Patong. It's a great place to party and have fun all night long. The beach itself is not bad, we spent most of our time on it playing volleyball and swimming. I recommend Patong to everyone who is not yet thirty. Sergey, Vladivostok.