Park Guell, founded and built by Antoni Gaudi, is one of the most unusual parks in the world. This unique architectural complex is a symbol of Barcelona and the whole of Catalonia and the best work of the Great Architect. The local aristocracy did not like Park Guell. However, today it is the best resting place in Barcelona, protected by UNESCO as a monument of national importance.
History of Park Guell
At the beginning of the 20th century a wealthy Catalan industrialist Guell decided to invest in the construction of cottages in the green belt near Barcelona, for which he bought 15 hectares of land on the outskirts of the city. He dreamed of building a real garden city.
It was supposed to be a perfect, eco-friendly, green neighborhood, where well-off people lived in joy and harmony with each other and the world around them. Guell decided to entrust such a complex task to Antonio Gaudi.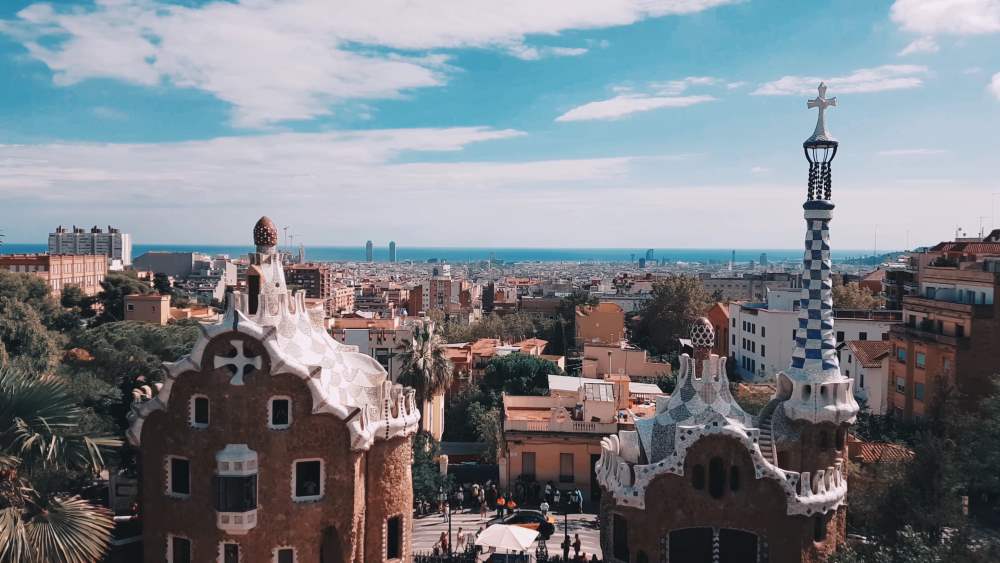 He had known the architect for a long time and adored his work, so he put his complete trust in Gaudi's creative imagination. The architect worked for more than 13 years, created the walls surrounding the future garden city, paved roads to it, built cottages.
We got a children's fairy tale or a cartoon about a fairy tale town. But the wealthy bourgeoisie did not appreciate the creative impulses and diligence of Antoni Gaudi, who created the Park Guell in Barcelona, and poorly bought real estate.
Subsequently, the children of Guell found it expensive to maintain Gaudi's creation and had to sell it to the city authorities, who made a park in it. Today it is the most popular attraction in Barcelona, visited by at least 8 million people. people per year.
Three homes sold
One of the mansions in Park Guell was purchased by Gaudi, who lived in the house for more than two decades. Today it houses the artist's museum, extremely popular with Catalans and tourists from around the world.
The second mansion was purchased by the owner of the failed project, Güell. There he organized his residence. After his death, the house was given to the municipal school, which still exists and works today.
The third mansion was bought by one of Güell's friends – a famous Barcelona lawyer, also an admirer of Antoni Gaudi, he lived in his house all his life. Today, his grandchildren and great-grandchildren live there.
Features of the Park Guell style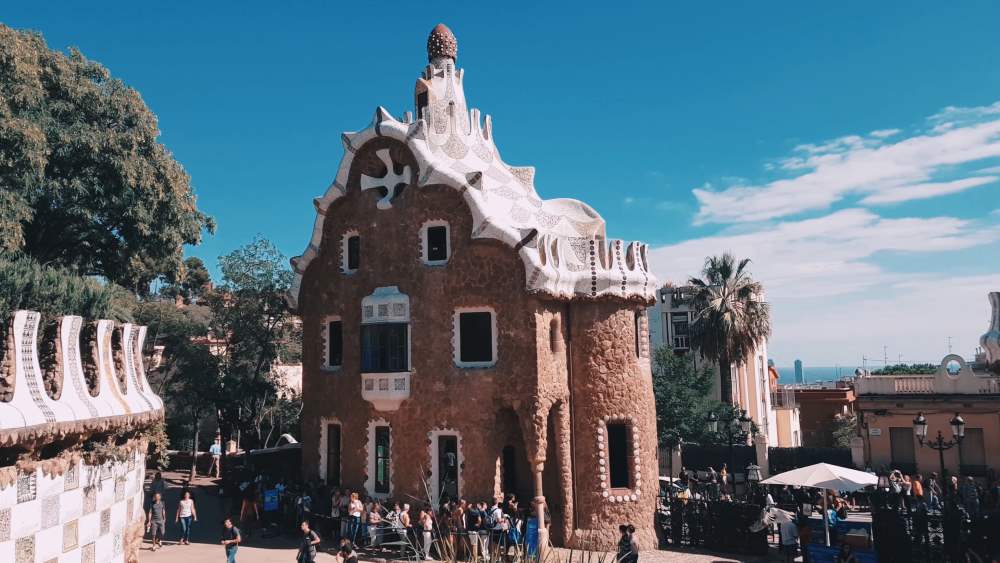 It is a bright, juicy, immediately striking to the average person the work of an architect. And experts are guessing second and third meanings in Park Guell, because it is known that the great architect was an extremely religious man.
The place where the garden city was built was called Bald Mountain. Gaudi must have perceived the name mystically. He filled it with secret meanings and symbols, like any genius who cannot tolerate trivialities.
Antoni Gaudi could not tolerate straight lines and angles, because he did not like them. they contradicted the nature of the universe, felt in them falsity, rebellion against nature and God. Each of his images is fantastic, but at the same time understandable and close to the man.
In his unique architectural style, Gaudi used extraordinary shapes, proportions, colors that can only be seen in dreams. With all his work, he was saying that the old world was going away, a new, pure and authentic world was coming.
Interesting places in Güell Park
The most interesting architectural structures can be seen at the entrance to the park. There is an open pavilion, where, according to the author's plan, guests of the garden city could be invited. The second structure is for guards or gatekeepers.
Everywhere in the park there are buildings trimmed with broken glass or ceramics and therefore reminiscent of sweet lush cakes or buns. These buildings eventually became known as "gingerbread houses.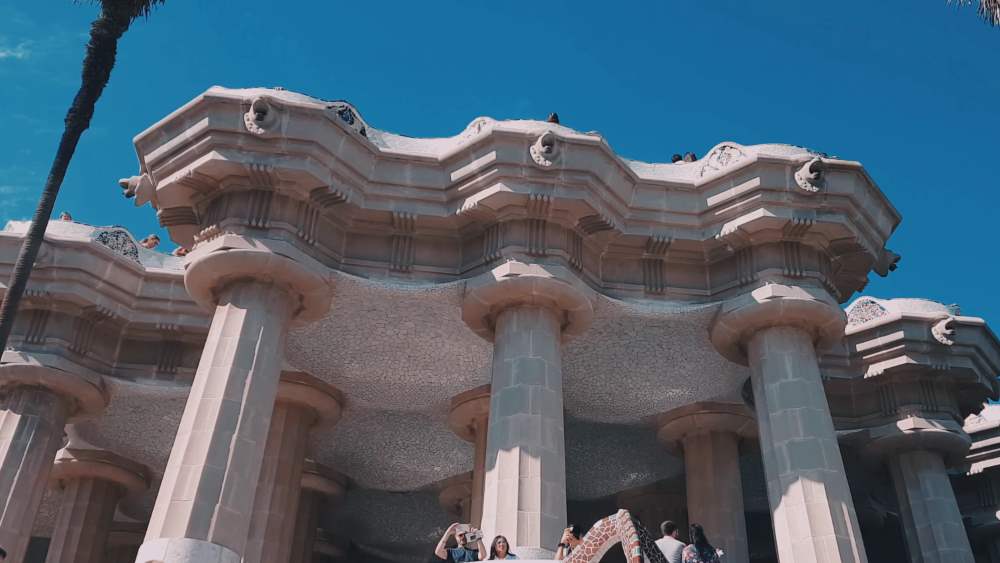 Of great interest is the staircase with fountains leading to a huge hall surrounded by majestic columns. These columns support a ceiling with beautiful mosaics.
The room with the columns looks like an ancient cult temple, although it was originally designed as a marketplace. Today concerts and music festivals are held here more often than not, as. The room has excellent acoustics.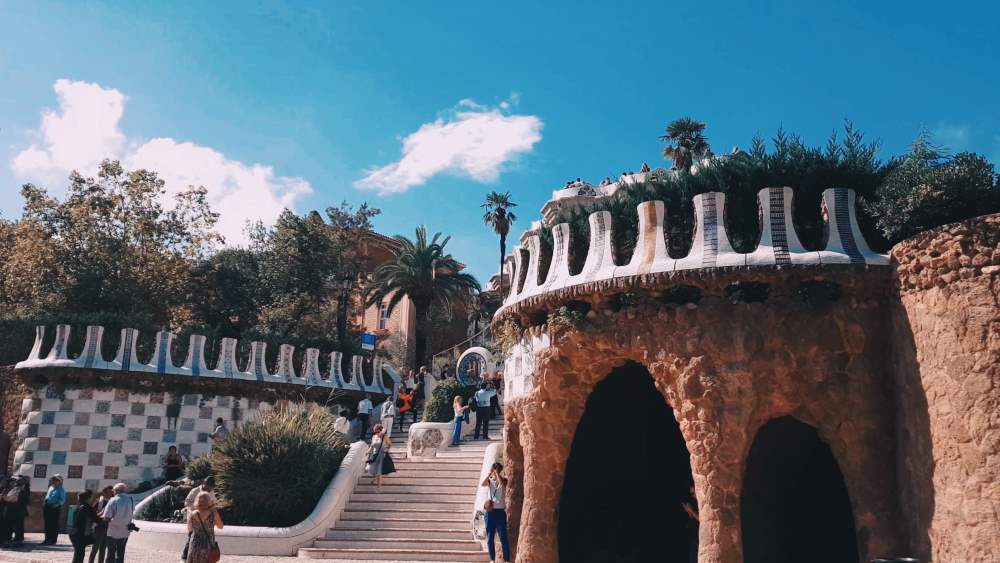 One of Antoni Gaudi's favorite images is the salamander. It was most often used by medieval alchemists as a symbol of the struggle against sin, secret base passions, as well as a symbol of fire, eternal life, immortality.
Gaudi built his garden in honor of Hercules, who, according to legend, founded Barcelona and killed the dragon that lived there. At the entrance to Güell Park, Gaudí laid out a mosaic depicting a salamander. Everyone had to touch it like a dragon.
Over time, the salamander became a symbol of Barcelona. Residents of this city and tourists believe that if you touch Gaudi's salamander, you will definitely come back to this beautiful city.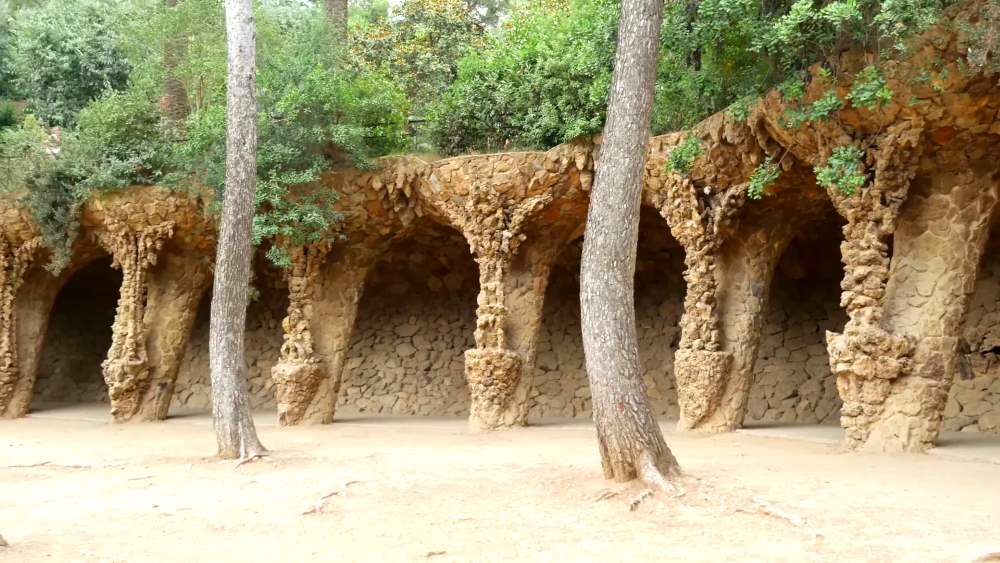 In the streets of Barcelona you can buy many souvenirs depicting this mythical salamander. Residents of the city are convinced that it brings them success, good luck and prosperity.
Each of the benches in Park Guell in Barcelona is unique, representing a true work of art and having its own unique shape that corresponds to the anatomy of the person sitting.
Here you can sit on the longest bench in the world. It wraps around the perimeter of the enormous Place de la Nature, which Gaudi had conceived as a place for theatrical productions.
How to buy tickets?
To celebrate the centennial of Park Guell, the city authorities decided to make the entrance fee. You can buy tickets at the ticket office, located near the park. But there are always queues, and there can be organizational problems.
Ticket price:
for adults – €8;
For children under 12 years old – €5.6;
For children under 7 years old – free of charge.
Most visitors purchase tickets on the park's official website at: parkguell.cat There is a Russian translation, and it's not hard to figure out the procedure. And you can save euros on each ticket: parkguell.cat/en/buy-tickets
Opening hours of Park Guell
During the winter, from 10/29 to 3/25, the park is open from 8:30 a.m. to 6:30 p.m.
Spring and fall from 03/26 to 04/30 and 08/28 to 10/28 are waiting for you from 8 a.m. to 8:30 p.m.
In high season from 01.05 to 27.08 the doors are open for visitors from 08:00 to 21:30.
How do I get to Park Guell?
The park, located in Barcelona on Carrer d'Olot, is accessible by car:
on buses on city routes 24, 31, 36 and 92;
to Lesseps or Vallcarca stations by subway;
on the city tourist buses, get off at the Park Guell stop.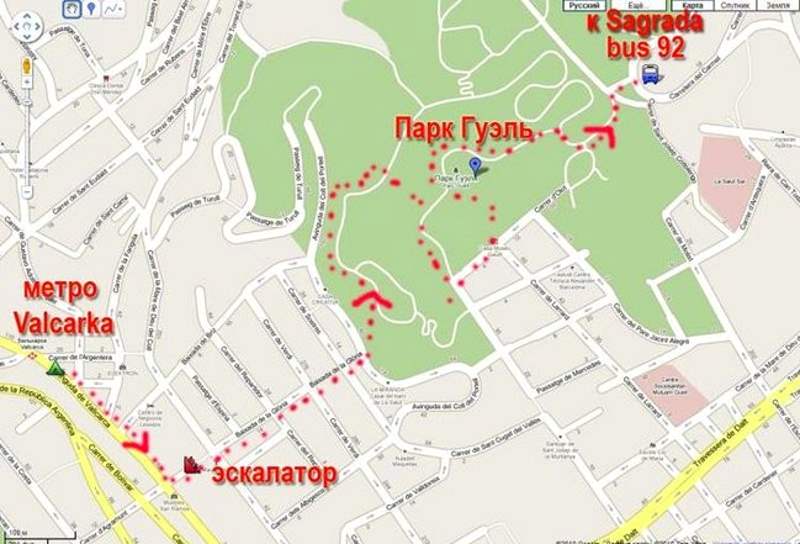 Recommendations for visiting
It's impossible to walk around this famous Barcelona landmark in a couple of hours. It is better to set aside a whole day for this or come to the park several days in a row. It won't bore or tire anyone.
Each time you will make new discoveries in the park, enjoying the unique architecture of Gaudi. People who have visited this place note that the park is characterized by unusual harmony, fabulous beauty and peace.
Park Guell on the map of Barcelona