Amazing and mysterious India is famous not only for yoga, spiritual practices and attractions. Tourists are often attracted by the lush nature and magnificent beaches. In South Goa, the most famous and most visited beach is Palolem beach. It is always crowded, near comfortable cottages of different levels of comfort, a variety of cafes and restaurants, cleanliness and order on the beach itself. Holidays in Palolem Beach includes an extensive sightseeing program in Goa.
Palolem Beach on a map of Goa
The Arabian Sea coast is simply dotted with beaches, they smoothly flow into each other, Palolem is located in the south of Goa, near the town of Kanakona. According to the map, everything is within walking distance, even the international airport in Dabolim. But do not flatter yourself, the distance in India – a very relative concept, it is necessary to look around carefully and then select accommodation and make tourist itineraries.
The map clearly shows that Palolem beach is surrounded on three sides by hills, and on the fourth overlooks the bay. You get the impression that two palms gently embrace this strip of sand, protecting it from winds and storm waves.
Palolem on a map of South Goa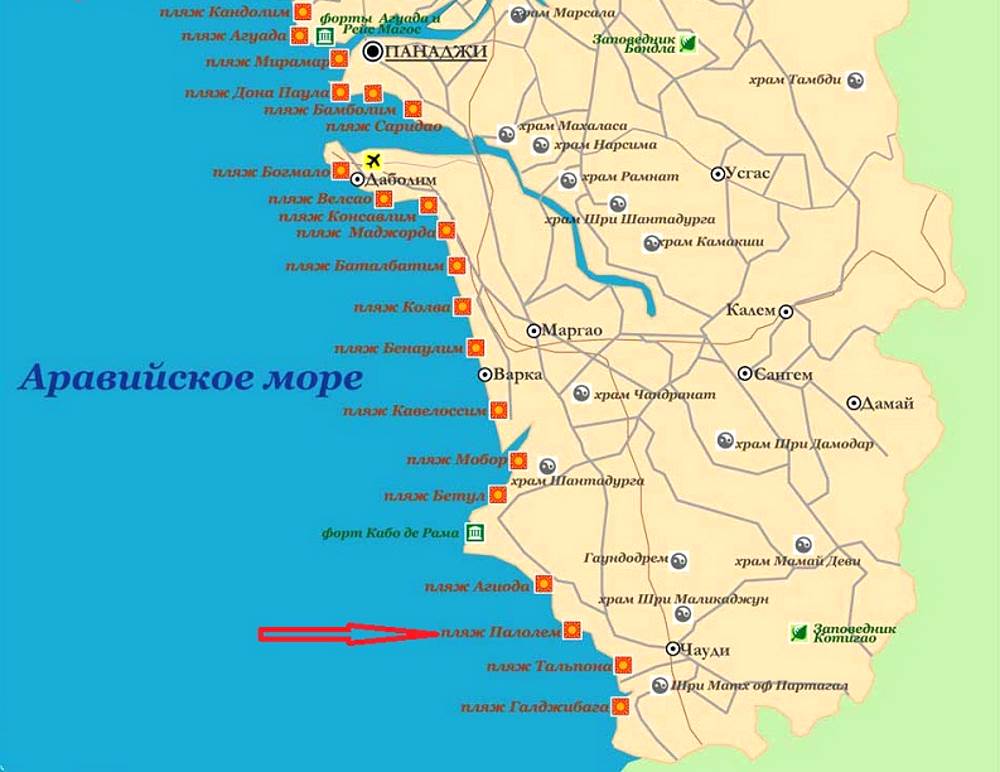 Characteristics and features of Palolem Beach
Compared to other beaches in Goa, Palolem is small. Its secret lies elsewhere, it is very cozy, clean and comfortable for bathing those who treat the water with apprehension. The shallow shore is literally a millimeter deep. The popularity of this place is such that it is safely compared to Sochi. It is also loved by Indians, they come for vacations, weekends and holidays, so peace here is only a dream. But for a noisy and fun Palolem beach is just perfect.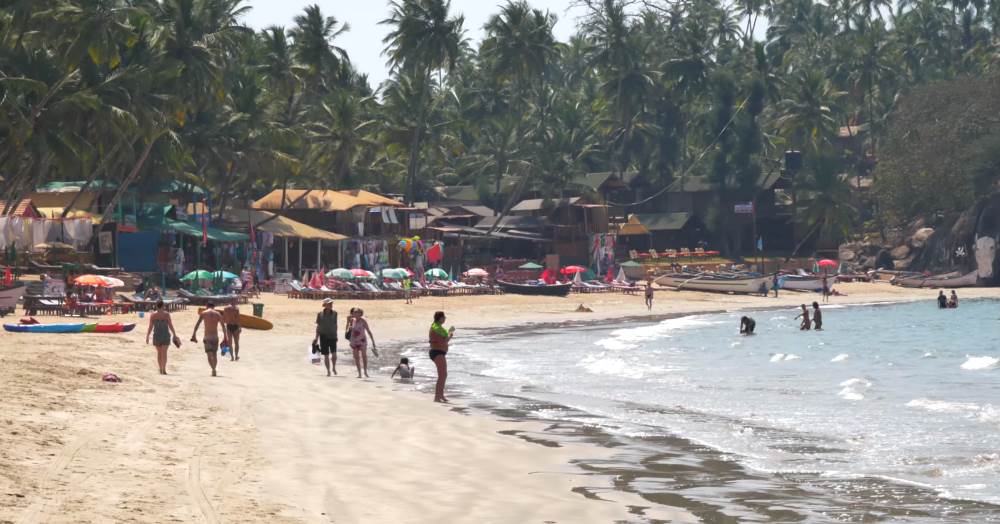 Its length is about 2 km, and in terms of purity it ranks 1st. Sacred cows rarely come here, preferring to lounge in the shade of palm trees by the stores away from the water and the hustle and bustle. Every day is thoroughly cleaned, so you can fearlessly lie directly on the sand, if for some reason did not like the bright sun loungers.
At high tide, the beach is almost completely hidden under the water, leaving a sandy strip just a few meters wide.
A riot of color is present in the colors of umbrellas, awnings, house fronts and even water skis. There is not a single dull gray spot and this is also a feature of the beach.
Housing choices and costs in Palolem
Map of hotels in Palolem
If you have not purchased a comprehensive trip, then the solution to pressing problems begins with the search for housing. Four options are possible:
bungalows on the beach;
gesthouses;
private sector;
hotels.
The best price option is the bungalow. It could be considered a gift of fortune for the lazy. Houses are almost by the water, they are raised on piles and look like multi-colored birdhouses. The comfort in them is about the same. Of the essentials: bed, table, closet. The pluses are showers with hot water, cozy terraces with hammocks and other exotics, good Wi-Fi. For the rest of the benefits of civilization have to go to the tourist area or in Kanakon.
The most popular tourist complex is called Abel Cressida. The cost of accommodation is $8 – $10 per day. For this money you can feel like a Robinson, but there is no privacy and quiet and will not be.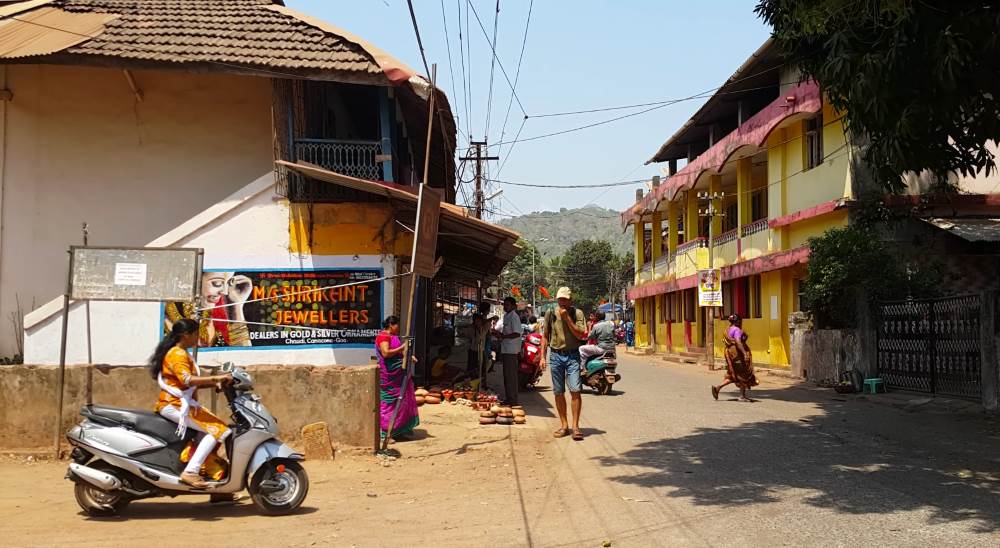 Guest houses are more comfortable to live in. They are a little farther from the shoreline, so the prices are almost the same as the bungalows, but life in them is much more comfortable and quieter. The road to the sea takes 3 – 5 minutes. But there is plumbing, air conditioning, maintenance staff and cleanliness.
The most common places to stay are the guest houses:
Sun N Moon;
Alba Rums;
Pritams Cottages.
Complexes are located in the shade of palm trees, near stores and cafes.
Renting in a private vector is beneficial for those who come for a month or more. The cost of accommodation will be about 20 thousand rupees, but you can haggle.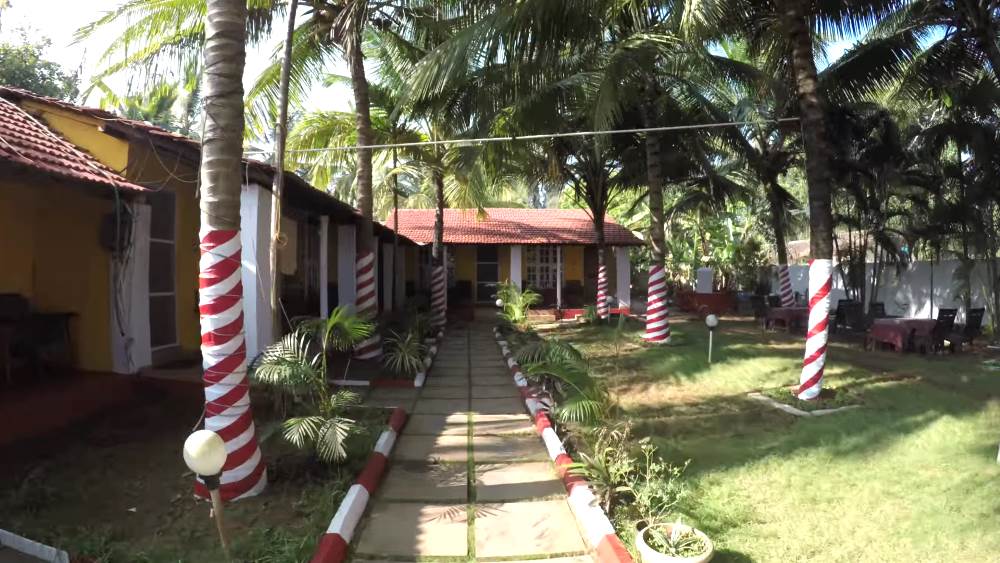 There are hotels, too, with room rates ranging from $25 to $65 a night. You can pay in currency and rupees. The most convenient in terms of value for money and quality recognized:
Palolem Beach;
Tubki;
Shawnels Beach;
Ourem Palace.
Where can I get a delicious and inexpensive meal in Palolem Beach?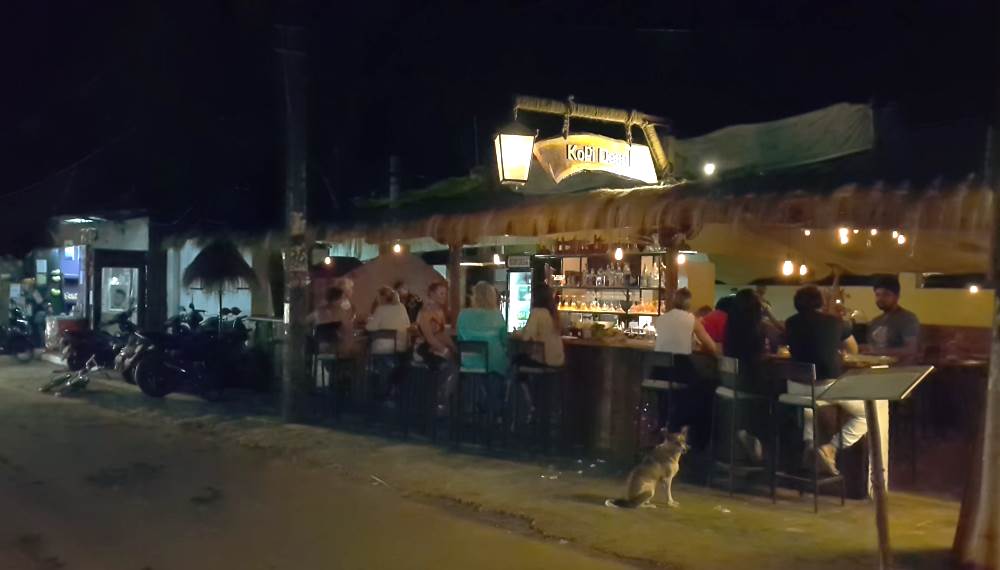 Freshes, juices and cocktails are always the hit of the season on vacation. You can buy them in any cafe, but they are most delicious in the sheks, there are sun beds under bright awnings, and ordering something delicious, you can sunbathe in the area all day.
The cafe gives preference to the fish menu and seafood. They are of excellent quality because they come straight from the water to the kitchen. For those who are used to European food and do not gravitate to the exotic, we recommend a look at pizzeria Magic Itali, restaurants "Fernandez" and "Samir", a pub in the English style "Smagler's Inn".
Sightseeing and Entertainment in Palolem
Excursion programs have been developed for tourists. They include field trips for a few hours or comprehensive trips for the whole day.
Fort Cabo da Rama
On a long promontory, far out to sea, for centuries stood the ruins of a fort named after the god Rama. Legend has it that he hid on the Cape in a place with his wife during his exile. Apart from a fragment of the wall, large debris and a beautiful view of the sea and surrounding scenery, there is nothing here and a visit to the fort is combined with other attractions.
Dudhsagar Waterfall
Almost all tourists seek to see the "milk" waterfall Dudhsagar, the largest in India. From Palolem Beach, tour groups go to the natural wonder of South Goa for almost an entire day.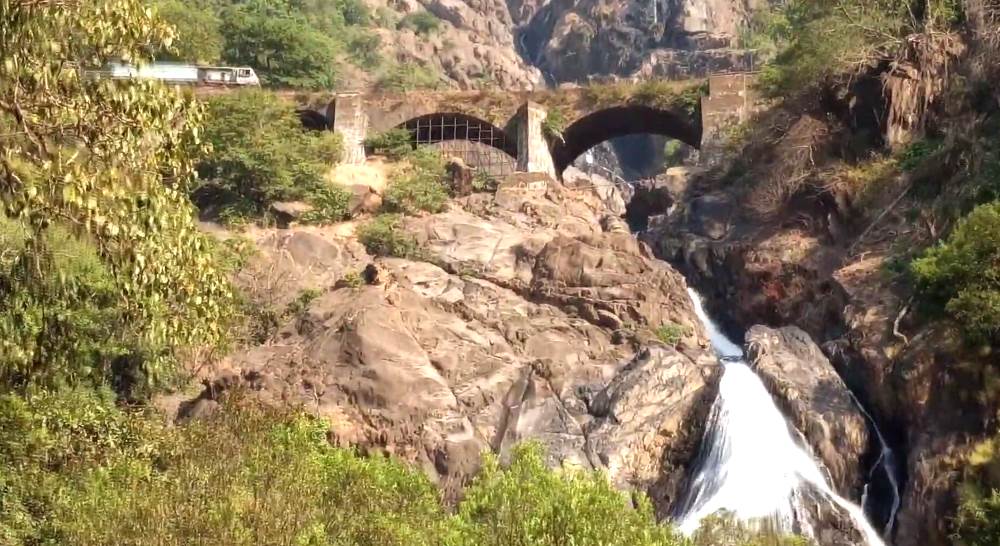 From a height of 310 m water falls with a noise into a small cool lake at the foot of the cliff. You can go up to the observation decks and admire the waterfall from convenient vantage points. From there you get colorful textured photos of white jets and a rainbow shimmering over them. The most convenient time to visit is from November to February. During the rainy season, the waterfall takes on impressive proportions, increasing the volume of falling water several times over.
In addition, the tour program includes:
A visit to a spice plantation;
a trip to Old Goa;
bathing with elephants
sea trip.
Active recreation
For those who are not used to being bored, Palolem Beach in Goa offers great opportunities for outdoor activities. According to the reviews of experienced tourists, it is worth doing canyoning, diving, trekking, scuba diving and snorkeling. Fans of passive recreation offer unique trips to the beaches of the coast. The cost of the trip is about $25, depending on the season and the number of people in the group.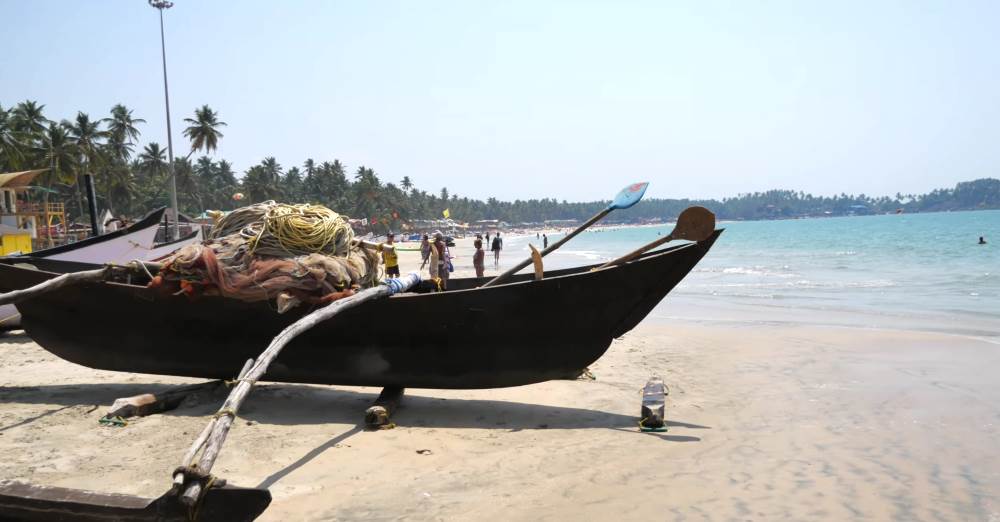 In the evenings away from the beach there are noisy hangouts. They show their art fire swallowers, there is a spontaneous fire show, demonstrated the wonders of balancing and juggling.
Reviews of Palolem Beach in Goa
There are no perfect places on the planet, yet reviews of holidays in Palolem Beach, mostly positive.
Marianne, 32 years old:
For a long time I dreamed of exoticism, but as always, then there is no money, then time. Acquaintances suggested a family trip to India, we looked at where Goa is, read about Palolem Beach. I was seduced by the prices and the natural beauty. We went for 10 days, a lot of vivid impressions. We especially liked the bungalows on the beach. We are undemanding in everyday life, and there is a great opportunity not to linger in the lodge.
Anton, 46 years old:
I love the Beatles and the extreme, so I went to Palolem Beach. Visited Chapora, saw the famous banyan tree where their meditations were held. And then he went with the group into the jungle for twenty-four hours. There are no words, it's a delight. The last day lay on the beach, like a seal, the holiday was a success.
Irina, 29 years old:
I was lucky enough to buy a last minute ticket. At first I was hesitant, I don't know much about Goa, but my curiosity overcame and I'm very happy about it. We were accommodated in small houses, the beach is only 5 minutes away by foot, surrounded by stunning palm trees. It was strange to see cows walking freely, but then I got used to it. Especially memorable was the trip to the waterfall and swimming with dolphins. We were lucky, they swam into the bay that evening.
How do I get to Palolem Beach?
There are direct and charter flights to Vasco da Gama International Airport. The flight time is about 7 hours. From there to Palolem Beach there is a shuttle bus, travel time – 2 hours, the ticket price – 120 rupees. A cab would be three times faster and fifteen times more expensive.
You can choose Kanakon as your destination; there is a train station there. From there it's a $2 cab ride to the beach. Many people choose a hotel in town and take a shuttle to the beach.
Video overview of Palolem Beach