Olympos is a living museum of peasant costume, ancient music and crafts. It is located on the Greek island of Karpathos. There are ruins of ancient mills everywhere, two of which are well preserved. They are behind the main church of the village and are still grinding barley and wheat.
But still, traditions in the village are slowly being forgotten. Only elderly women or saleswomen in souvenir stores can be seen in traditional attire. You can take a snapshot with them for a small fee. On the frail shoulders of the women of Olympos lay all the chores of the home. For the most part, all the men have gone to Baltimore or are working somewhere away from the village, sending money orders to their wives.
The village, isolated even from its island neighbors, developed a distinctive dialect in which, researchers say, one senses Thracian elements. Even the music in Olympos (or Elimbos, as the locals call it) is special. It sounds everywhere and always, but especially loud on holidays. One of these is Easter, as well as the Assumption, which is celebrated on August 15. These days a huge number of tourists come to the village, and it is almost impossible to find a place to stay overnight.
From the village you can walk to the magnificent beach of Fisses. The trip will take 35 minutes. Another walk option is the trip to Diafani, which will take 1.5 hours. The road is convenient and contains sources of drinking water.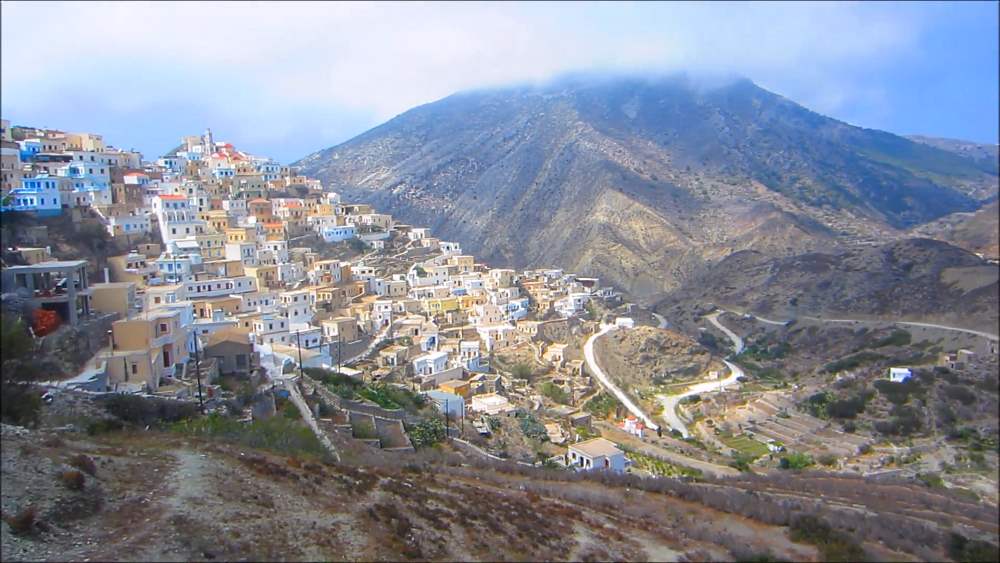 You can also go through Vrikunda Beach and the deserted village of Avlona to the ruins on the picturesque plateau. The way to Vricunda takes no more than 3 hours, but you can see the ruins of the ancient village Brikus, as well as the chapel of John the Baptist, located in a cave on the cape.
Going further along the paved road that begins above Avlona, you can reach the Byzantine port of Tristomo. It also takes 90 minutes to get from Avlona to Wananda Beach.
The best place to stay overnight in Olympos is the traditional Anemos house behind the church. At the entrance to the village there is another good place, Rooms Restaurant Olymbos. You can get rooms and a great breakfast on top of that at Hotel Astro with its own restaurant, Cafe-Restaurant Zefiros. The hotel is owned by two sisters whose father opened the hotel with Restaurant Avlona in Avlona, which is very popular with hikers.