Once in Goa, you will see a lot of markets, conditionally divided into day, night and fish markets. Be sure to visit each one to experience the local exoticism and peculiarities of oriental trade.
Specifics of the markets in India
When you get to the oriental market, you must follow its rules completely, otherwise you will feel like a black sheep and will not buy the goods at the appropriate price. You have to see and understand the flavor of the place.
If you don't visit the day, night and fish markets in Goa, if you don't understand all the unique variety of oriental trade, you just don't understand this country and its thousands of years of culture, you won't love it.
The night markets in Goa have a special atmosphere. It remarkably combines prehistoric antiquity and modern technology, the mixing of different cultures and religions, the splendor and poverty of Indian society.
Once you get to the night market in Goa, you immediately feel that it is more a place of entertainment than commerce. Most shoppers and tourists just hang out here, entertaining themselves with easy drugs like marijuana, remembering that Goa is the home of the hippies.
The local cops are not overly disciplined, quite relaxed, and drug problems can easily be solved with a small amount of money, it will remain in the pockets of the cops.
Read about shopping in Goa here.
Markets in North Goa
All markets in India can be conventionally divided into the usual, everyday markets, of which there are many in Russia, and those that look like real oriental bazaars. Although this division is tentative, any municipal market in Goa can be the extraordinary event of the day.
Market in Anjuna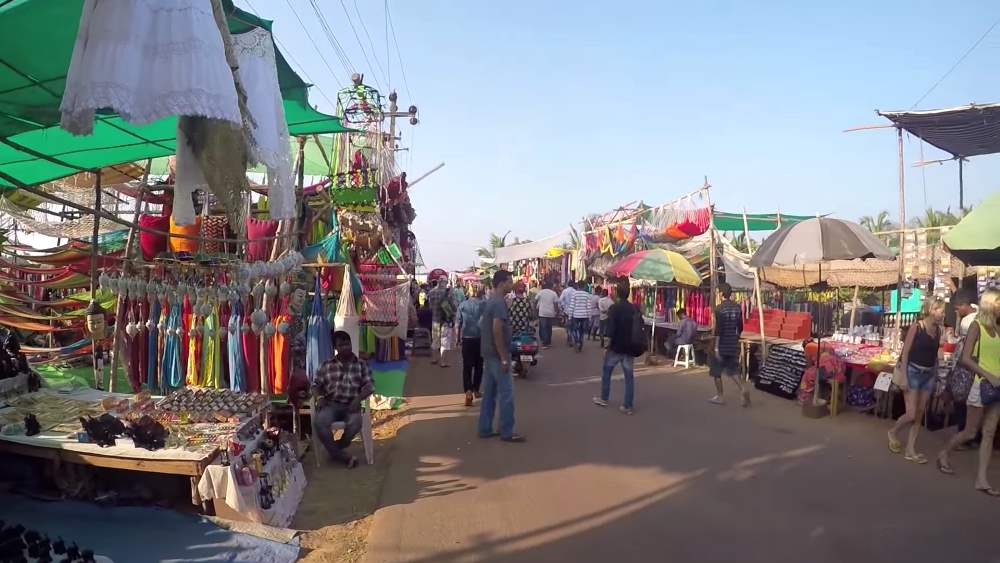 This day market is open every Wednesday, beginning trading at noon and ending around 8 p.m. It is famous for its numerous flea markets and brand new goods, always in demand among tourists.
There are a lot of consumer goods and rarities that are of interest only to aesthetes and specialists, they are much harder to find in other markets of Goa. For this reason, tourists looking for something exclusive to remember come here.
The market in Anjuna is noisy, talkative, sometimes hysterical, and its sellers and buyers are often verbally aggressive in their trade. But it is bright, charismatic and memorable, remains in the memory of tourists for a long time.
Market in Arambola
It is a spontaneous market that occurs daily on Arambole Beach. Here you can buy extraordinary handmade goods. Products and dishes of local cuisine are extremely rare here.
Most of these are talismans made by local craftsmen with their own hands, as well as homemade toys for children, jewelry, clothing, etc. Mandalas, often used in Buddhist and Hindu esotericism, are sold here.
An important product is the Dreamcatcher. This amulet protects a person in his sleep from evil spirits. In Indian mythology, bad dreams get tangled up in a web and good ones get in the middle of it. The talisman is a weave of deer veins and harsh threads. It hangs over the headboard.
Market in Mapusa
Very close to Kandalim is the famous market in Mapusa. Here you can buy groceries, prepared foods, Ayurvedic medicines and cosmetics on Fridays.
A lot of the market in Mapusa women's jewelry and local spices, Indian clothes and shoes, which is always so happy foreign tourists. There are a lot of chequers here that sell great authentic Indian coffee.
Market in Arpora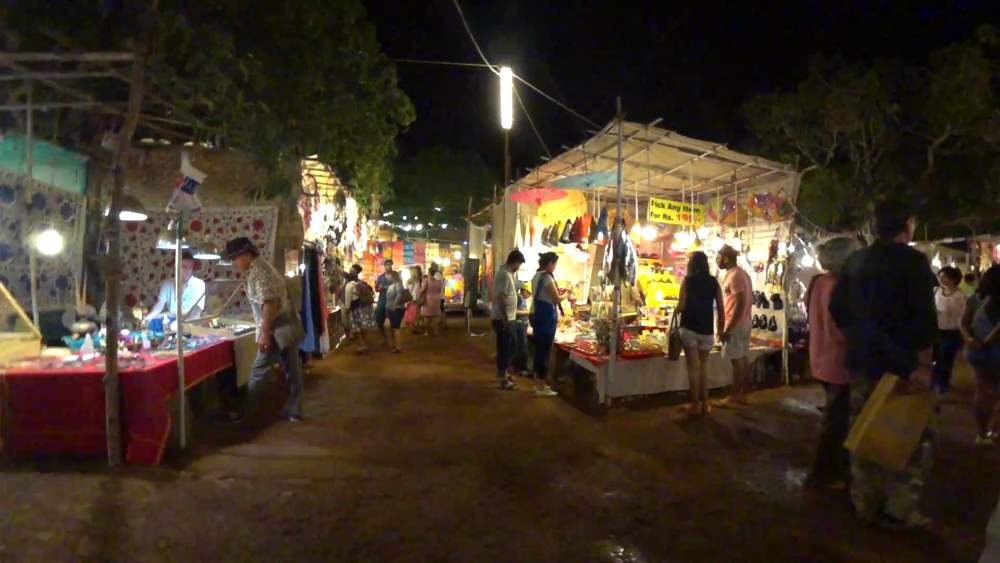 This night market is open on Saturdays near Arpora. Around 8 p.m. a bustling movement of sellers and buyers, tourists and locals begins here, forming a noisy oriental bazaar.
The night market in Arpora after midnight turns into a real feast of fun and raucous socializing. Buyers immediately forget about the goods, but at this time here you can literally for pennies to buy exclusive handmade things.
The market in Arpora is a real carnival procession, where you can see an outlandish maze of shops and stalls. Here the buyer is sure to find the right souvenir, which will be proud of a lifetime.
Baga Market
Far fewer people come here than to the market in Arpora, but the inherent color and flavor of Indian markets is unchanged here. Tourists know that the market in Baga at the end of the season after the closing of the market in Arpora becomes the main night festival.
Market in Baga is good because it does not abandon its fans and admirers, works until the last visitor or tourist, giving them a sense of holiday and endless happiness for the entire period of the vacation.
Vagator Market
This is another night market in this part of Goa, it was born relatively recently and is only gaining popularity among tourists, especially fans of hippie ideas. The market is located on the beach of the same name.
Markets in South Goa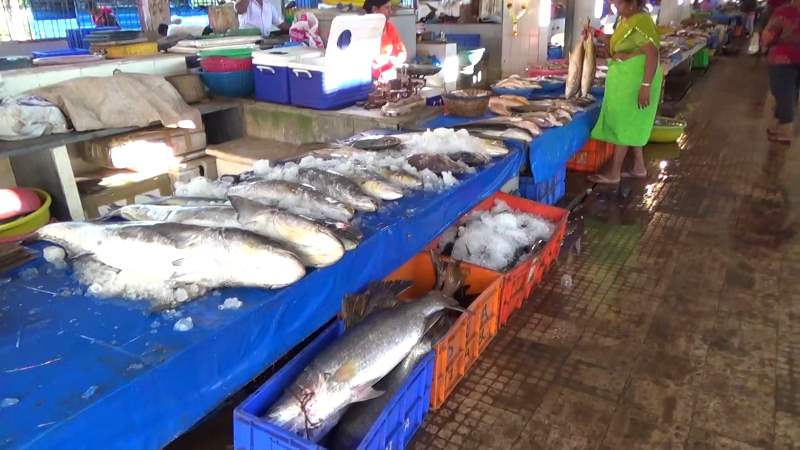 Here you can visit a real Oriental bazaar, like in a fairy tale or an Indian movie. In the south of the state, the markets have a different flavor. There are fewer fans of the hippie lifestyle, which means there are no easy drugs or mental stimulants.
Market in Margao
Here you can see the real India from the inside. Bright saris and oriental scents are mixed with rags and smells of urine. The market in Margao is the best place to buy authentic gifts made by real Indian craftsmen.
Market in Colva
Here you can find tropical fruits, vegetables, fish and seafood delicacies at a reasonable price. As in any Indian bazaar, freshly fragrant spices and exquisite oriental incense are to the delight of customers.
At the market in Colva, you can wander, indulging in shopping, all day long, enjoying the colors and scents of magical India. Nearby are several cafes and restaurants, offering tourists Indian cuisine, where you can relax.
Tibetan markets in Goa
On weekends in southern Goa you can visit the Tibetan markets. They are small, cozy and less conspicuous. Here one can find and buy Tibetan souvenirs, women's jewelry, handmade linens and bedspreads, Tibetan talismans, etc. It is interesting that Tibetan sellers never haggle.
Fish markets in Goa
The biggest bazaars in Goa, where they sell fish and seafood, are located in Sialim. Local fishermen also bring in their fresh catch and sell it in bulk to vendors in Colva and, Betim. There is a fish market in almost every bazaar.
Indian fishmongers have all the fish and fresh seafood on display, and they have ice cubes over them so that they don't spoil during the bazaar day. If the customer wishes, they can be cooked in any nearby shechek.
Rules of trading in the Indian market
Be sure to haggle in the oriental market. Think of trading as a game. Don't be shy. No one here will accuse you of greed. You just will not be understood, if you do not bring down the price, you will be known in local circles as a strange man.
Remember that most markets in Goa are designed for tourists with a wallet. Their goal: to rid the guest of unnecessary money. There are special guest trolls working here every day, roughly speaking, solely for the purpose of tricking simpletons.
Don't try anything off the counter, and carefully inspect prepared street food before you buy it. India has a hot and humid tropical climate, so without a refrigerator, food spoils quickly.
Never give alms to anyone. You will immediately be attacked by a horde of beggars, you have to fight back and flee. Begging here is a kind of business, like our gypsies, who also come from India.
If you are not a true shopaholic and shy to haggle, you will enjoy the excursion to the real Indian market, where you will fully immerse yourself in the culture of this amazing and ancient people.