The island of Mykonos in terms of tourism stands out among most other resorts in Greece. It is a symbol of free life, very popular among celebrities, bohemian youth and people with non-traditional orientations. It is famous for its picturesque scenery, beautiful beaches and many nightclubs. Here is always a holiday, and every vacationer is available to a variety of entertainment for all tastes. Mykonos sights are the pride not only of the island, but also of the whole country.
Top 9 Mykonos attractions
Despite the fact that Mykonos is primarily beaches, discos, bars and taverns, there are many historical monuments and ancient architecture. There are museums, monasteries and churches on the island (the latter number 365). The administrative center here is the city of the same name, which is more like a huge shopping and entertainment center. However, this does not prevent it from maintaining a special flavor and sense of harmony.
Alefkandra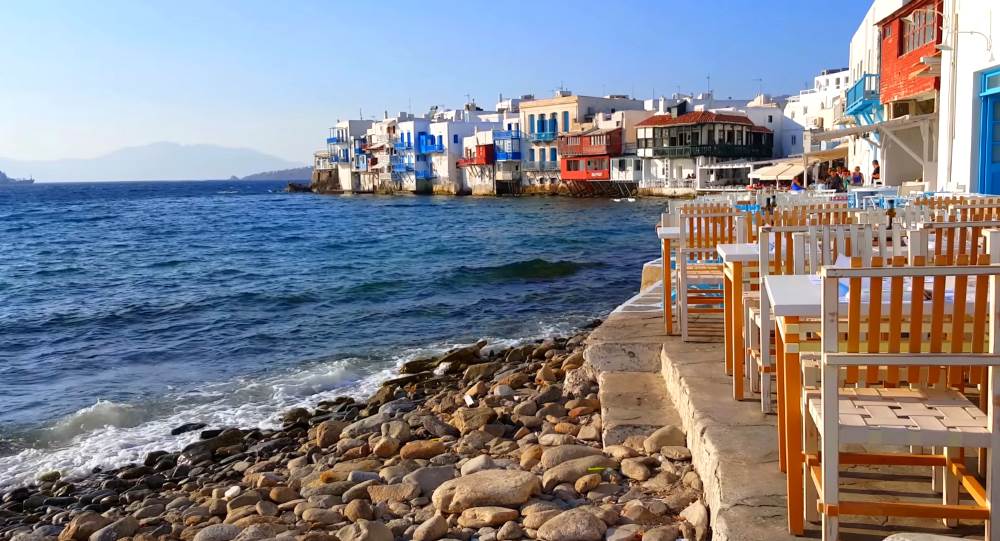 One of the most popular areas of Mykonos. This place attracts tourists with beautiful houses with colorful balconies, which are built as close to the water. In the restaurants located here you can spend a romantic dinner with your spouse, enjoying the beautiful sunset from the sea.
Panagia Paraportiani Church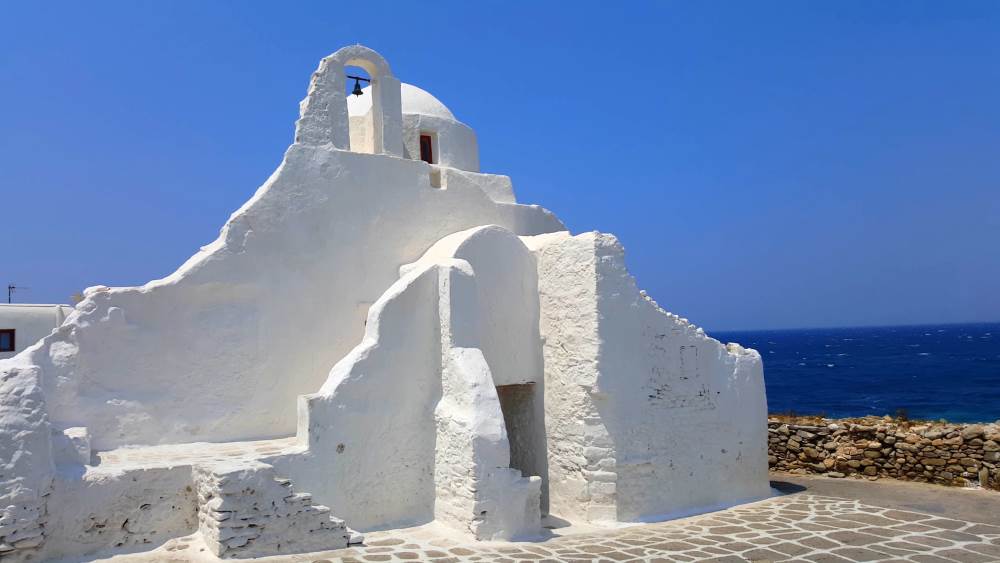 Built in the 17th century, it attracts attention with its unique architecture and snow-white exterior. Interesting fact: this religious monument consists of five churches, four of which are located at the base and the fifth on top of the others. All the buildings once took as much as two centuries to erect. This church is considered one of the most photographed churches in Mykonos. It is located in the oldest district of the island's capital called Castro. Nearby you can stay in any of the many hotels available. Their prices are quite acceptable – an average of 60-70 euros per person per night.
Museum of Ethnography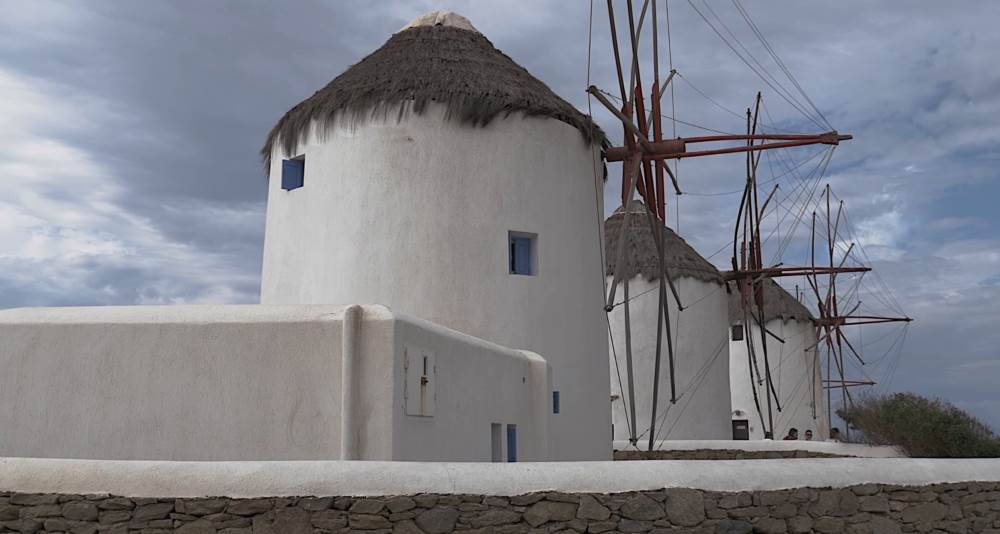 Founded in 1958. It can be found near the Church of Our Lady of Paraportiani. Among the exhibits are all kinds of ceramics, embroidery, furniture, post-Byzantine sculptures and other antiquities. If you want to visit this place, remember that the museum is open to the public from April to October. Opening hours are from 4:30 to 8:30 p.m. every day except Sundays.
Museum of Archaeology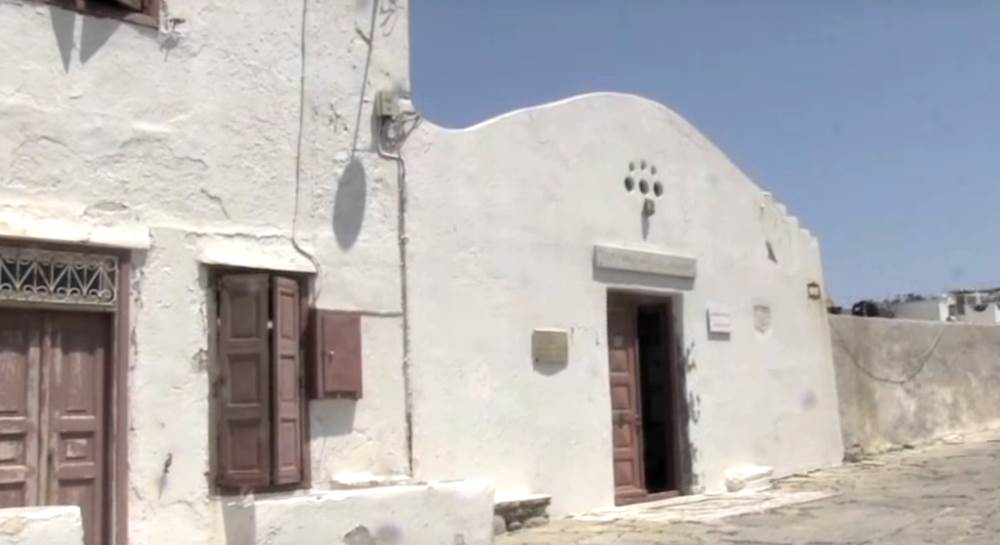 It is located in the heart of Mykonos Old Port. You can get here by bus or cab. The ticket price is 4 euros, students get a 50% discount, and visitors under the age of 18 are admitted for free. Among the exhibits are tombstones and steles, clay figurines, jewelry, and ceramics.
The museum is open from November to March and from April to October. Opening hours are from 8:00 a.m. to 3:00 p.m. Monday is a day off.
Kato Mili Windmills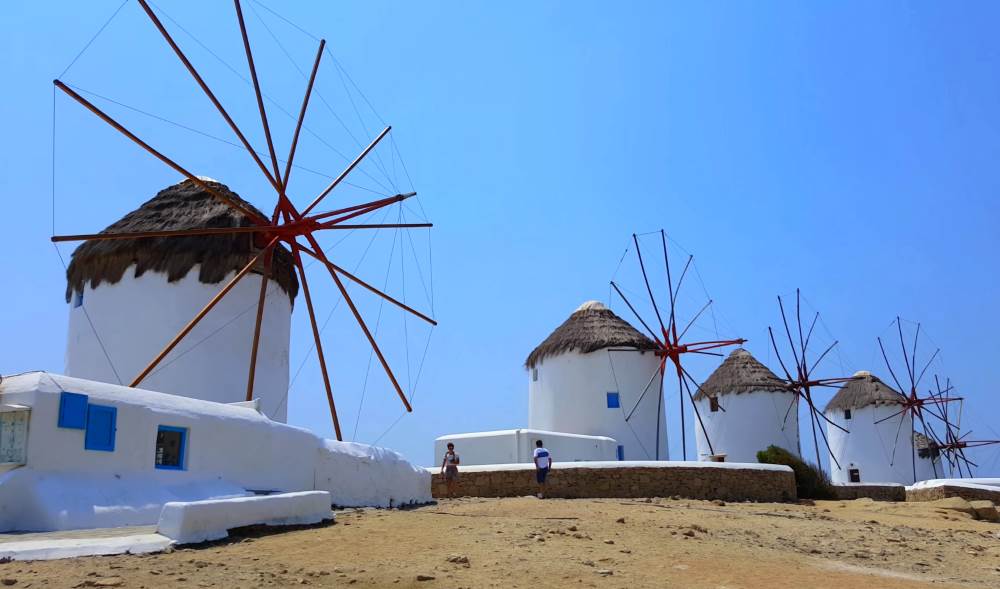 They are considered the calling card of the entire island of Mykonos. Have a cylindrical shape and cone-shaped roof made of wood. A total of 16 of them survived. Some are renovated and used for housing. One mill has been converted into a museum. There is a small hotel nearby.
Delos Island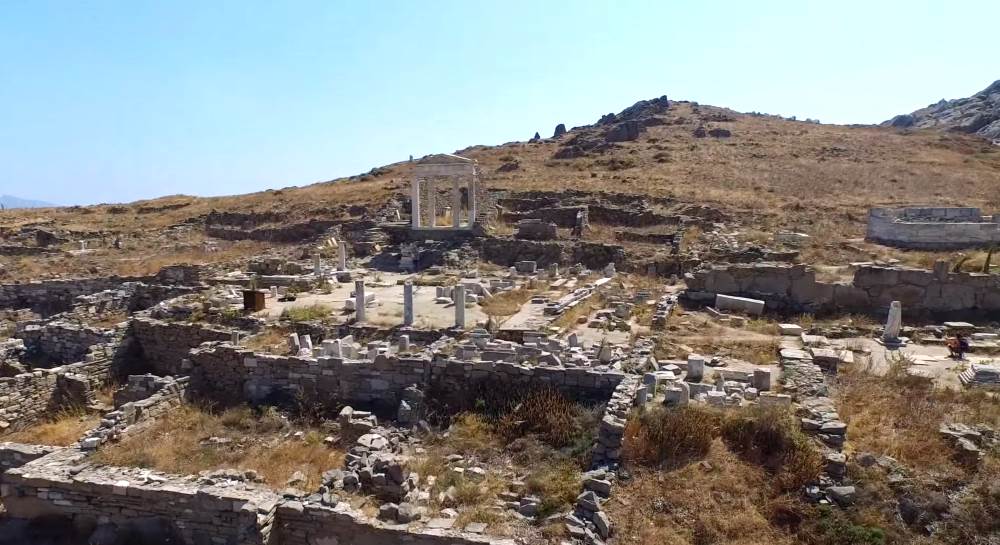 Located six miles from Mykonos. You will love this place if you are a big fan of ancient artifacts. The island is famous for its unique open-air museum. Fans of Greece come here to admire the sanctuary of Dionysus, the theater quarter, the ancient aqueduct, the temple of Artemis and other architectural monuments. You can get here from Mykonos town by water cab.
Monastery of Our Lady of Turliani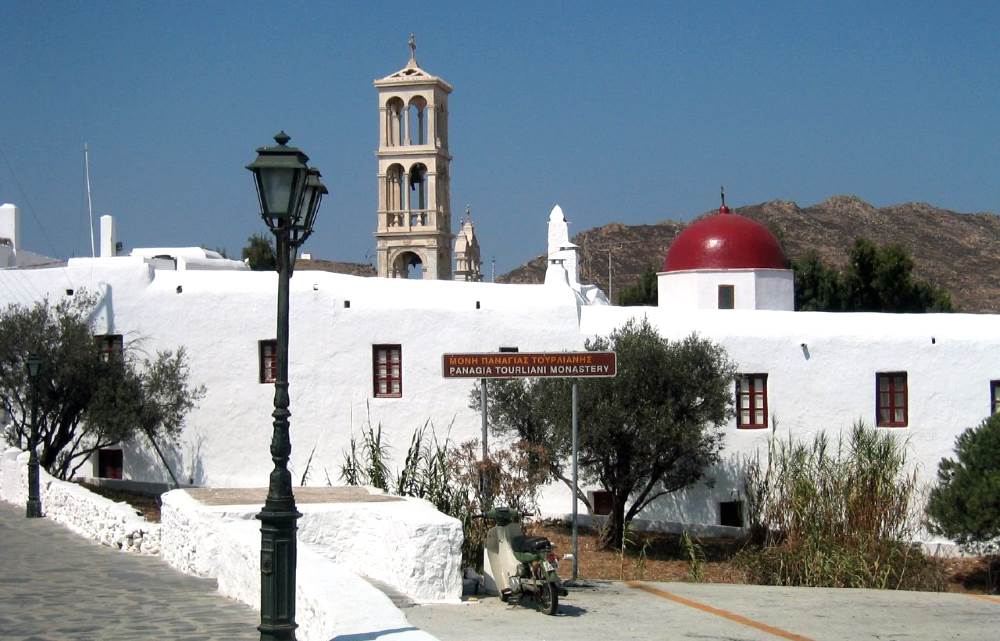 It was founded in the 16th century by two priests. It is located at a distance of 8 km from the capital of the island in a small village called Ano Mera. For tourists is open part of the monastery with its museum. The exhibits here include church relics, monk's clothing and ancient church bells.
Ano Mera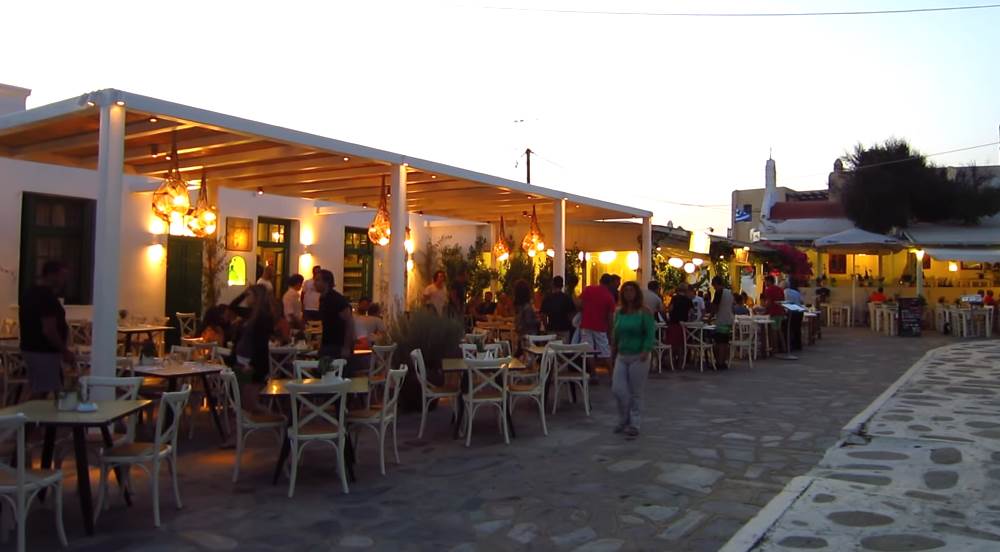 The second largest settlement of Mykonos, spread in a picturesque place at a distance of about 8 kilometers from the capital. It has everything for lovers of relaxing holidays: a few hotels, restaurants, tavern, cobblestone streets, cozy local color and relaxing atmosphere. In addition to the aforementioned you can visit the Paleokastro Monastery, built in the 18th century.
Since Ano Mera is in the center of the island, to travel here is better to rent a car to be able to get to the beach (about 4 km from the village).
Maritime Museum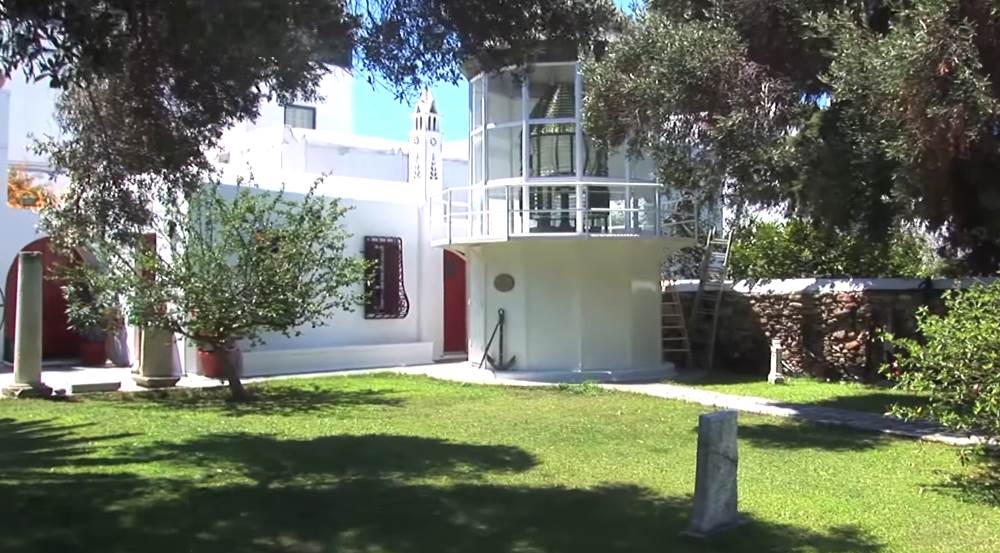 It is considered one of the best in Greece. You should definitely visit this place if you are interested in the history of Aegean navigation. There are all kinds of maps, navigational instruments, amphorae and scales, and the main exhibits are reconstructed with maximum accuracy antique rowing ships. It is not easy to find the Maritime Museum, even though it is located in the center of Mykonos. If you don't want to get lost, you're better off taking a cab.
Admission costs 4 euros, the price of a discount ticket is 2 euros. Opening hours are 10:30 a.m. to 1 p.m. in the morning and 6:30 to 9 p.m. in the evening, seven days a week.
The most popular beaches in Mykonos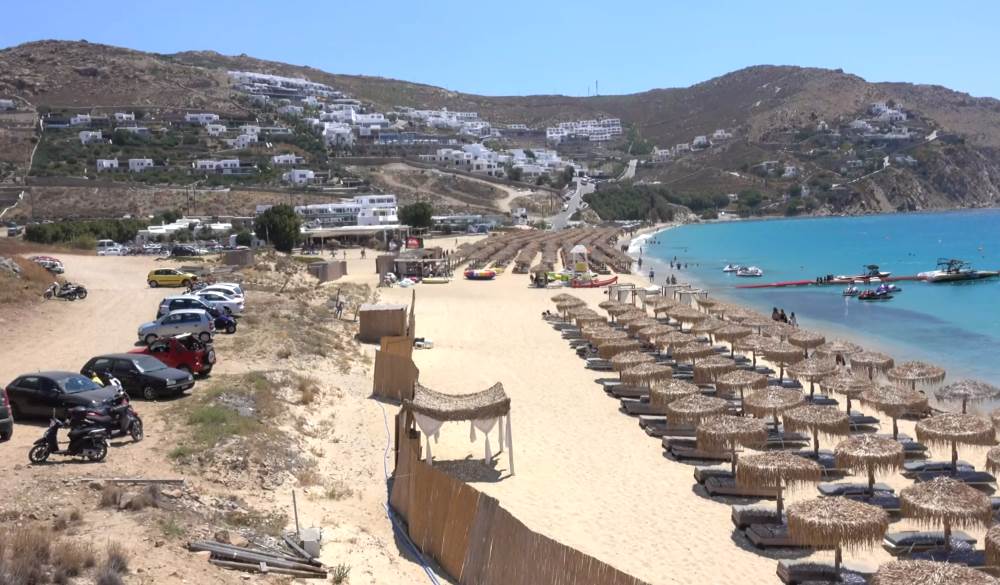 Paranga. It is very popular with surfers. Divided into two parts. South – less well-appointed, suitable for people who like a quiet holiday. North – with many bars and taverns, it is always noisy and a lot of sunbathers. The local cuisine is famous for the best chicken on the island.
Platys Yalos. It is located on the south coast in a small bay. It is very easy to get here – from Mykonos town there are two buses per hour. Of course, if you like a more comfortable trip, you can order a cab or rent a car. Sandy beach is fully equipped, there is a place to stay and eat, for fans of active recreation offered the opportunity to engage in various water sports.
Agrarians. It is commonly referred to as a family beach. It is very quiet, there are no bars and discos, everywhere you can hear only the sound of wind, birds singing and tourists talking. The water is also calm, as the coast at this point wraps around a small cove. Nearby there are water attractions, several small hotels and a family tavern. The price of sun loungers and umbrellas is quite moderate.
Psaru. Located on the west coast of the island. It has a well-developed infrastructure, you can do scuba diving, there are restaurants and bars. Nearby are palm orchards, which is a good place to hide from the scorching sun. The beach is very popular, so sun loungers are better to book in advance.
Elia. Among tourists it is considered the most beautiful beach on the northern coast of Mykonos. You can reach it from the capital of the island in just 10 minutes by cab or public transport. There are water sports centers, many hotels and restaurants. You can stay in both affordable apartments and suites. Prices for sun loungers – two pieces plus an umbrella will cost you 20-30 euros. Warning! Nudists and sex minorities are treated quite loyally on Elia. If you vacation with children, you should choose your place of residence more carefully.
Calafati. A sandy beach about 1 km long, located on the southeast coast of Mykonos. It is the largest center for water sports in Greece, there are all conditions for windsurfing. Kalafati has a good infrastructure, there is a volleyball court, bar, tavern and a small cozy restaurant. Due to the decent remoteness from the administrative center, there is almost no excessive crowding of people here. Any sports equipment can be rented.
Paradise and Super Paradise. Beaches most popular among young people. Life here never stops, which is well promoted by the abundance of bars and restaurants, where all sorts of parties regularly take place. Nudists and homosexuals like to vacation on much of the coast, and during the peak season these places are constantly overcrowded. During discos, people dance right on the sand.
Agios Stephanos. A small sandy beach, which is the closest available to Mykonos town. Pretty quiet and peaceful, suitable for recreation for both adults and children. There is a sports club "Nautikal".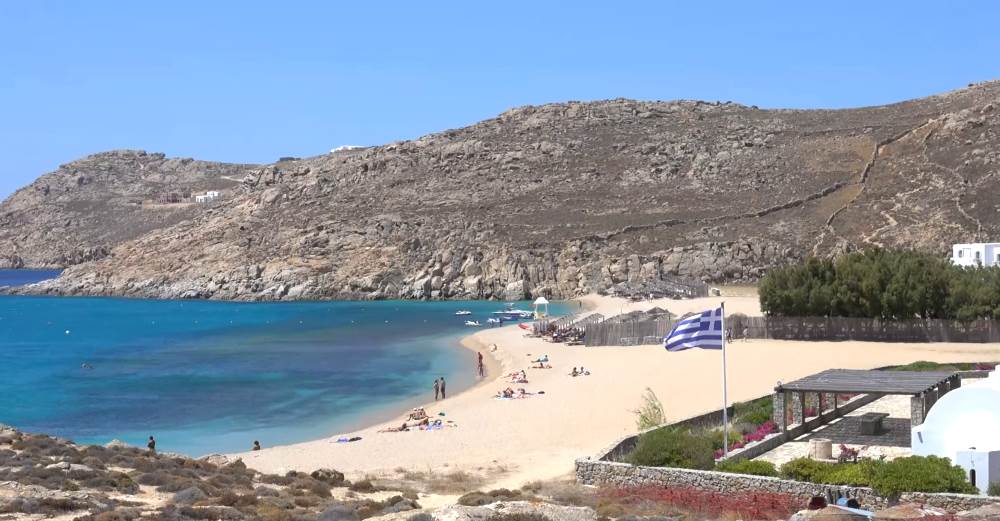 If you are going to Greece to see the sights of Mykonos, it makes sense to use the interactive map of the island. It is very easy to navigate, determine the location of destinations, and lay out a route to them.
Mykonos sightseeing map
Climate in Mykonos
The best months to vacation in Mykonos are July, August and September. It almost never rains and the weather is warm and sunny. The air temperature during the day is between 25°C and 30°C, the water temperature is between 24°C and 26°C. In the other beach months of June and October the weather is a little cooler, but also has a nice bathing. Peak season, when most vacationers are in July, in September there is a gradual decline. If you do not like the large number of people, you can plan your vacation at the end or beginning of the season.
Ways to get to Mykonos
From Moscow or St. Petersburg you can not fly to Mykonos directly – you have to change planes. There are daily flights from Athens airport, in the summer you can take a flight from Thessaloniki. In high season, some airlines provide flights from Rhodes, Crete, Volos and Santorini.
Another option is to take a ferry or fast catamaran. They run daily from Piraeus and Rafina. You can reach them from Athens airport by bus or cab. These ways are much slower than by plane, but allow you to enjoy a little cruise. On the island itself, boats constantly sail from the piers of Platys Yalos and Ornos, taking people to the beaches of the southern part of the coast.
Mykonos video tour