Monkey Mountain in Phuket is Thailand's most famous natural attraction and is a must-see. There are many of these animals living in the jungles of Thailand today, and you can see their lives in detail on Monkey Mountain. Here the monkeys live in natural conditions. They are not at all embarrassed by groups of tourists, who are allowed to observe and feed the monkeys. But remember that you are in front of wild animals, strictly follow the safety rules.
Description Monkey Mountain
This mountain is one of the most entertaining places in Thailand. It is located on the island of Phuket, not far from its capital, Phuket Town. Thousands of monkeys living here are not afraid of people and go to them without fear, although they have not become pets.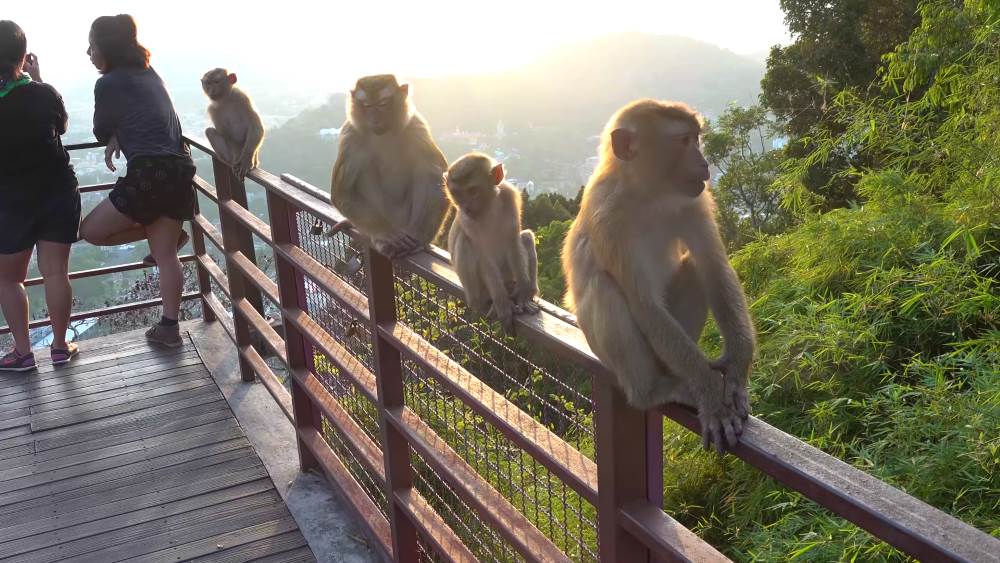 Tourists will be interesting to shoot photos and video camera monkeys, the latter are very fond of posing in public. To lure the animals closer, you need to stock up on goodies: seeds, nuts, sweet corn, fruit, etc.
On the Monkey Mountain in Phuket built three observation decks, where tourists are more convenient to observe the life of monkeys and explore the tropical surroundings. All platforms are located at different levels of height.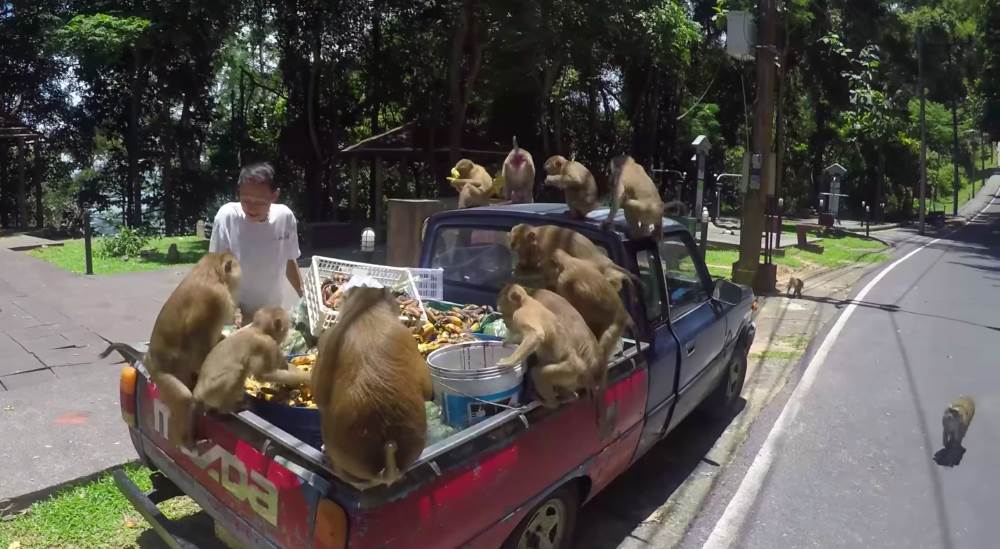 On the first, lowest level you can see part of the Phuket coast and the sea that washes the island. There are benches and a cafe, you can rest and eat. On the second, higher level there is a better view, beautiful views, there are gazebos.
At the very top of the Monkey Mountain tourists have a panoramic view of the capital Phuket Town, from here you can see half of the island with its jungle, the coast and unusual sunsets. At the top of the mountain there are benches on the platform.
New friends on Monkey Mountain
They are sociable and curious macaques, perceiving humans as an unusual phenomenon of nature, subject to immediate study. They approach people without any fear and examine them in detail.
You can see macaques everywhere on Monkey Mountain, but especially near the observation decks, where people congregate. If you want them to like you and socialize, offer bananas or tasty nuts, the monkeys will certainly do.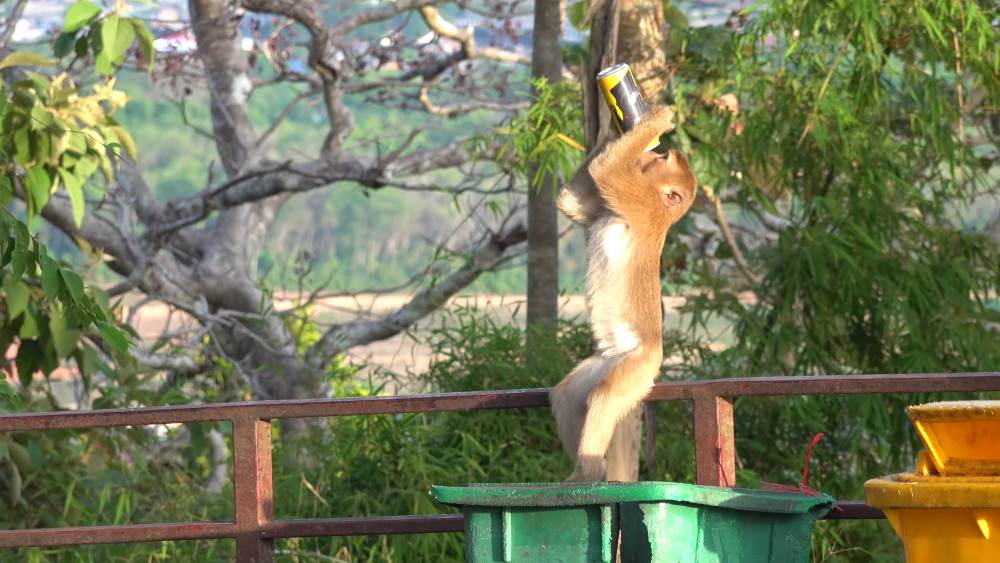 No need to give the macaques all the goodies you bring right away, try to prolong the pleasure, otherwise they will move on to another tourist with their gifts for these little animals. Your personality will immediately cease to be of interest to them.
They'll take a big piece of treat away from you themselves if they notice it in their pocket. Most tourists who have visited Monkey Mountain in Phuket leave the most positive reviews about this wonderful place.
Be careful! Monkeys do not take humans as food, they are herbivorous animals. But you should not think of them as a house cat. They are not domesticated at all; they are wild animals living in their natural environment.
There are a few rules in front of you and they should be followed when dealing with macaques:
You should not pet the macaque, it can bite, in Thailand monkeys are carriers of rabies, like stray dogs in Russia.
Do not look a macaque in the eyes, most wild animals perceive such a look as aggression. The macaque will be able to throw himself at you.
When communicating with a macaque, hide important things like your phone, camera, notepad. She can stealthily take away or simply take it all away from you. Macaques are strong enough to scratch or bite. An animal bite takes a long time to heal, don't take any chances.
Remove bright jewelry, sunglasses, watches, summer hats, everything shiny, these things can cause a genuine interest in macaques, and you have to part with them forever.
If you see monkeys fighting, do not try to exhort, calm or separate them. If a macaque grunts at you, walk away, it's dangerous.
Do not play with baby macaws, do not pick them up. Nearby is their mother, she any suspicious movement will perceive as aggression against the children, a danger to their life and health, and will throw herself at you.
How do I get to Monkey Mountain?
From the local capital, Phuket Town, you can head toward the mountain by cab, tuk-tuk, or bicycle. The latter is not difficult to rent on the island. Cab and tuk-tuk drivers know this place and the route to it.
If you go to the Monkey Mountain by bike, you have to drive a few kilometers, then pass a building that looks like a prison. From there you need to move another two hundred meters, and you will find yourself at the foot of the mountain.
Monkey Mountain on a map of Phuket
You can climb to the top of Monkey Mountain on foot, by car or bike on a paved road. Be as careful and cautious as possible when going down the mountain by car, control your speed. Islanders most often walk.