Tours of Goa in the past few years have become extremely popular among Russians. Everyone knows that it is a fabulous place to rest and travel, to see the ancient monuments and sights. Where is Goa on the world map?
What is Goa and where is it located?
Most newcomers to tourism are convinced that Goa is a tropical island in the middle of the ocean. We hasten to assure you that this is not the case, and present a little geographical information about this wonderful place.
There is a cliché that India, where Goa is located, is not too attentive to the rules of sanitation and hygiene. We assure you that these times in the Indian tourist states have long since passed.
Goa on the map
Meet Goa, the smallest state in vast India, located on its west coast, next to the always warm Arabian Sea. Indian Goa is becoming a tourist mecca every year.
Goa and India on the world map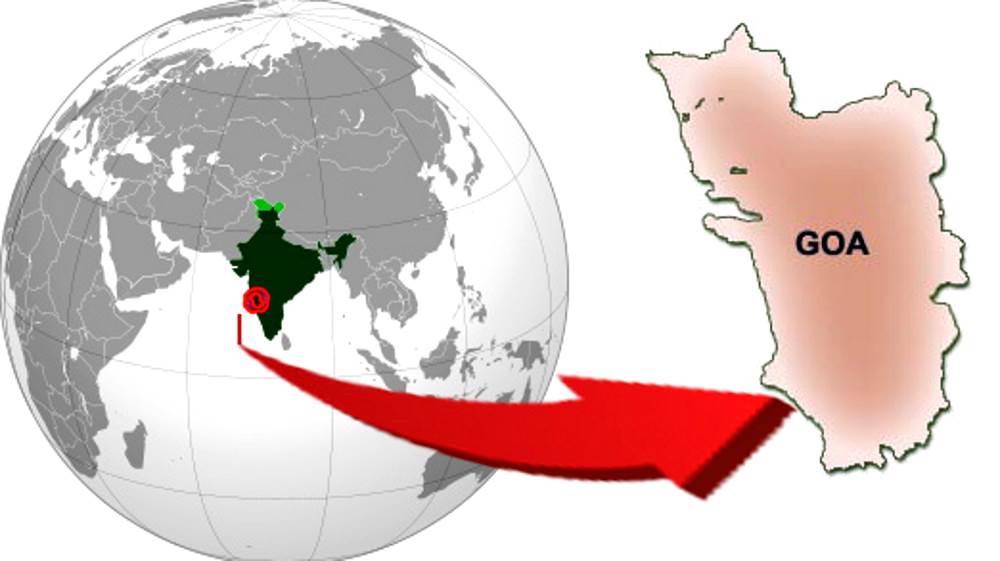 Goa on the map of India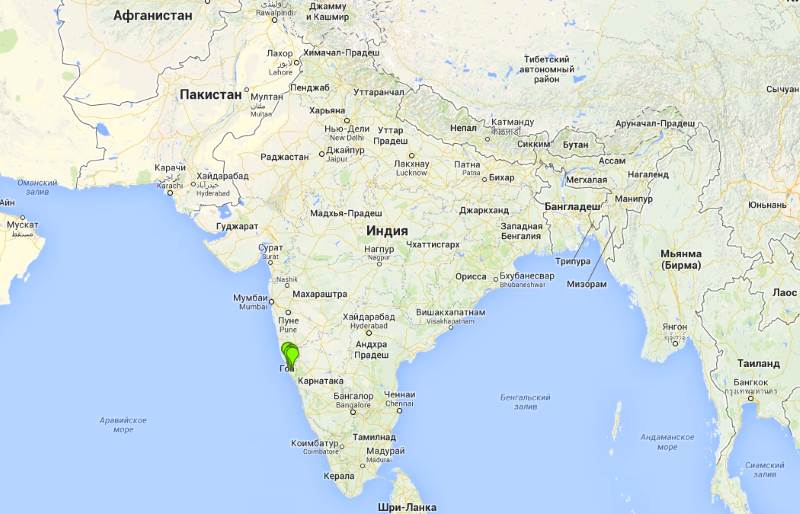 Map of Goa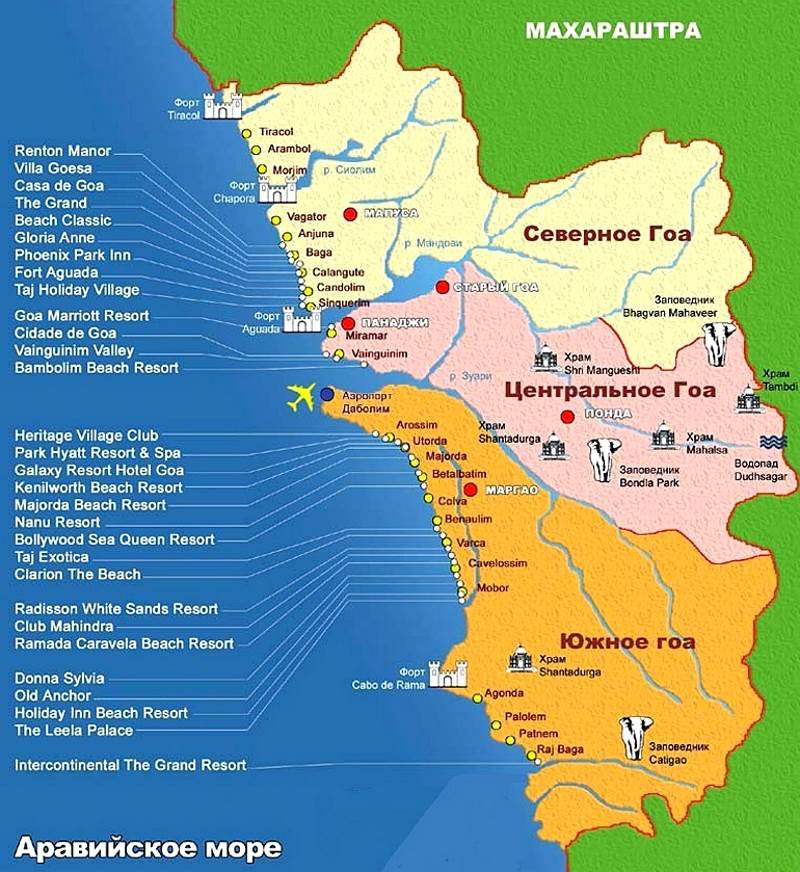 Goa on a map of India in Russian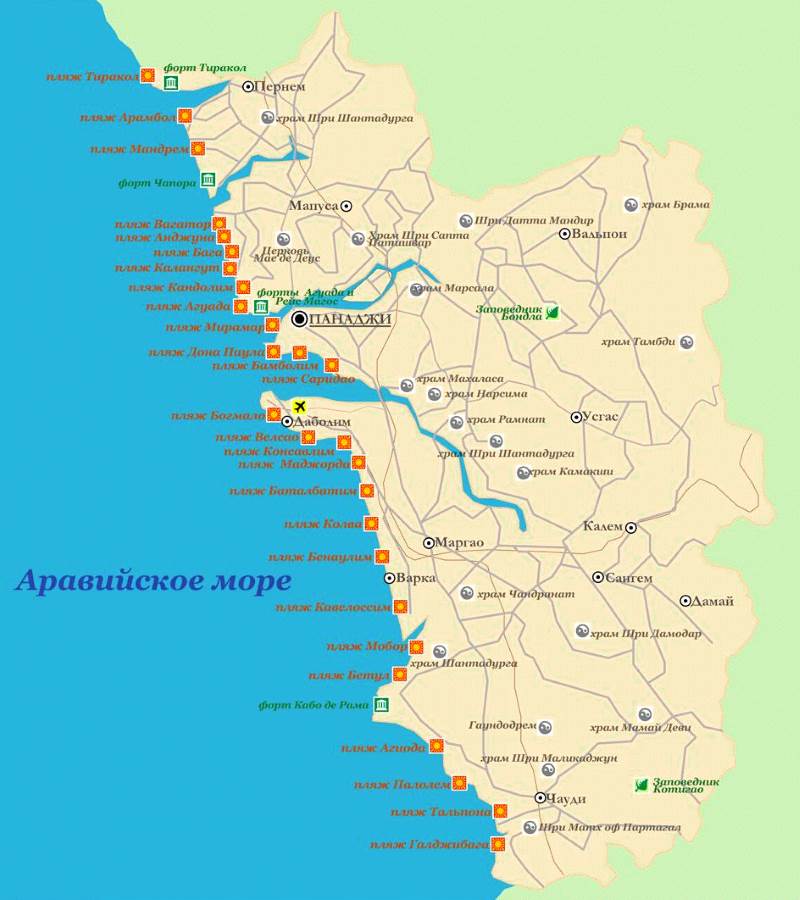 Tourism in Goa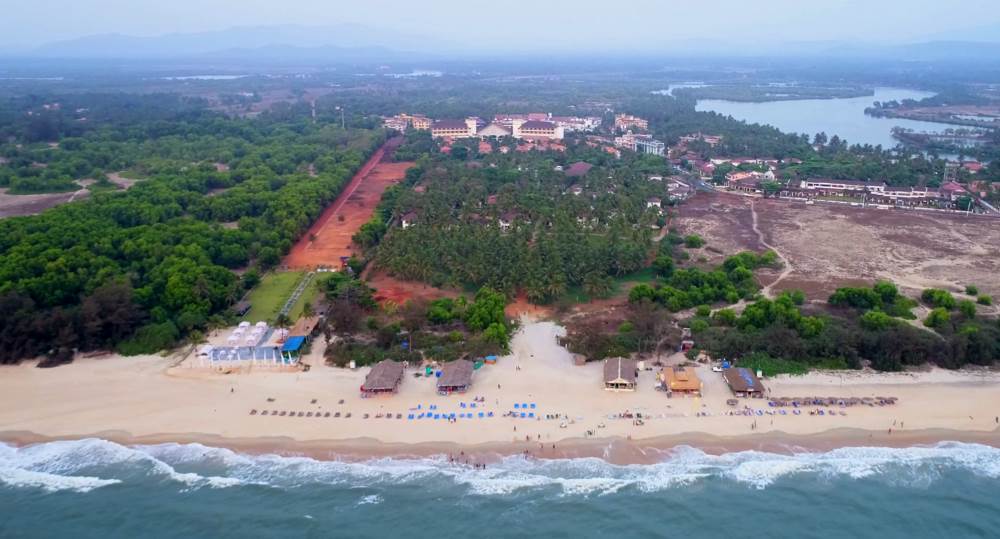 Goa's coastline of more than 100 kilometers is recognized as one of the most attractive for tourists from around the world. Here are built great hotels, standing on the cleanest beaches, many of which were awarded the Blue Flags.
Tourists will be delighted to wander through the local jungle and mangrove groves, preserved almost unchanged. The ancient Hindu temples, which tell all about the culture of these people, are still in operation here.
Goa is famous for its Ayurvedic medical centers, where people from all over the world come to recover. Local casinos are also well known, where fans of gambling spend all night long.
Map of Goa with beaches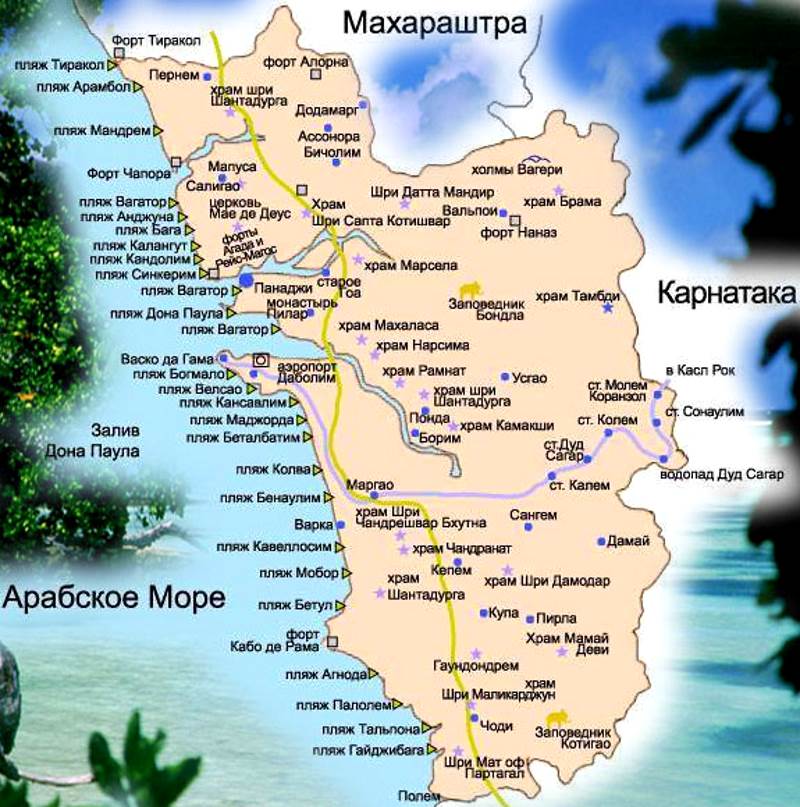 Interactive map of Goa with hotels and attractions
Such different North and South Goa
If you look at a map of the state of Goa in India, you can clearly see its division into northern and southern parts. The same goes for the division of the local 40 magnificent beaches and the huge number of hotels.
This has been the case since the 1960s, when the northern part of Goa was taken over by hippies, and in the south began to rest couples with children. And today students prefer to vacation in the north, and the more affluent and respectable crowd in the south.
The first time you go on vacation in this blessed place, be sure to buy in advance or download a map of Goa in Russian to better navigate on the spot.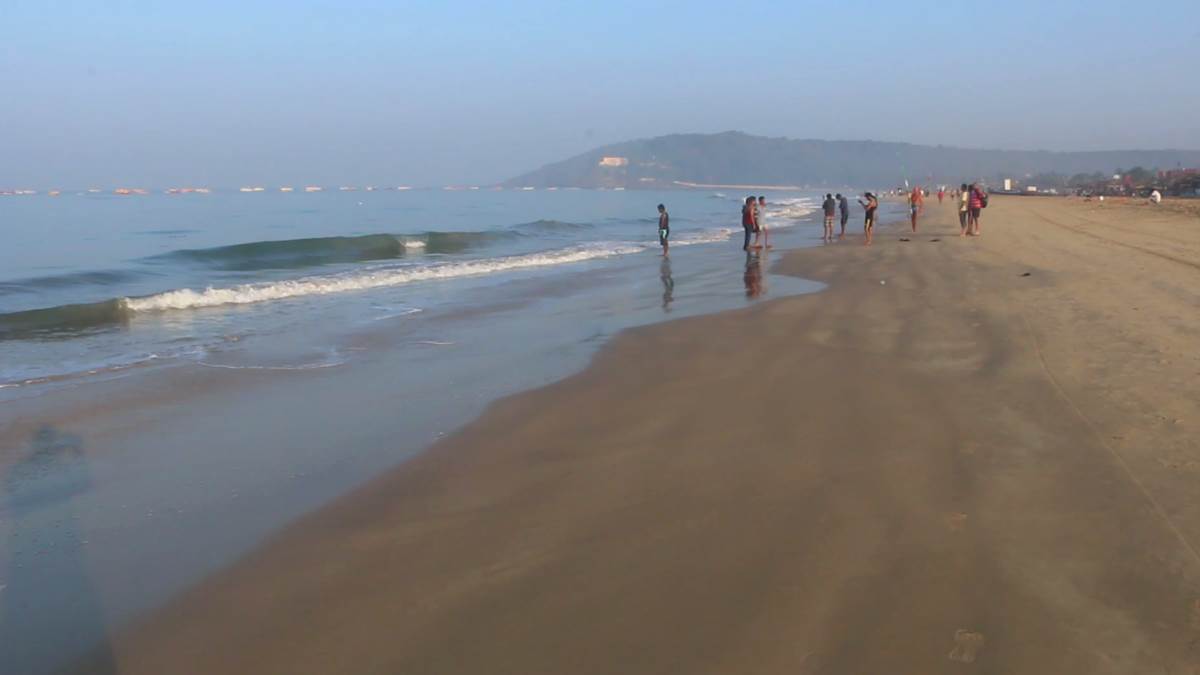 If you want a relaxing and measured vacation, world-class service and five-star hotels, all the joys of life you will find in the south of Goa. But remember that the rest here will cost you a lot of money.
Local hotels are located far enough from each other, so you will enjoy the rest of peace and quiet, to observe the local palm groves, wide well-kept beaches and real English lawns, as if they were mowed for 300 years.
If you are young, looking for companionship, entertainment and adventure, and you have not so much money in your pocket, it is better to go to North Goa. The hippie culture is still thriving here, and all their slogans remain valid.
In the north of Goa you can find inexpensive two- and three-star hotels, cafes and restaurants. Young people from Europe and America love the local nightclubs, noisy parties and discos that will not let anyone get bored.
Map of beaches in South Goa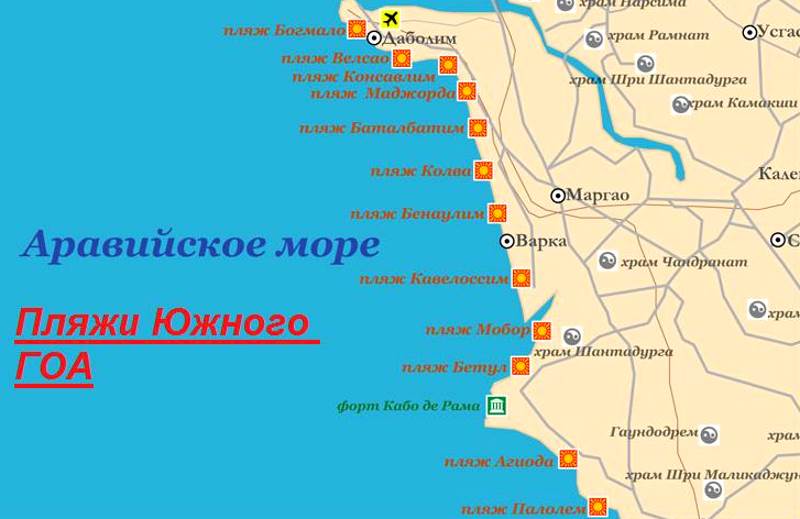 Majorda. This is one of the best local beaches. It has comfortable lagoons surrounded by palm groves and fruit trees, clear sea water and an excellent tourist infrastructure.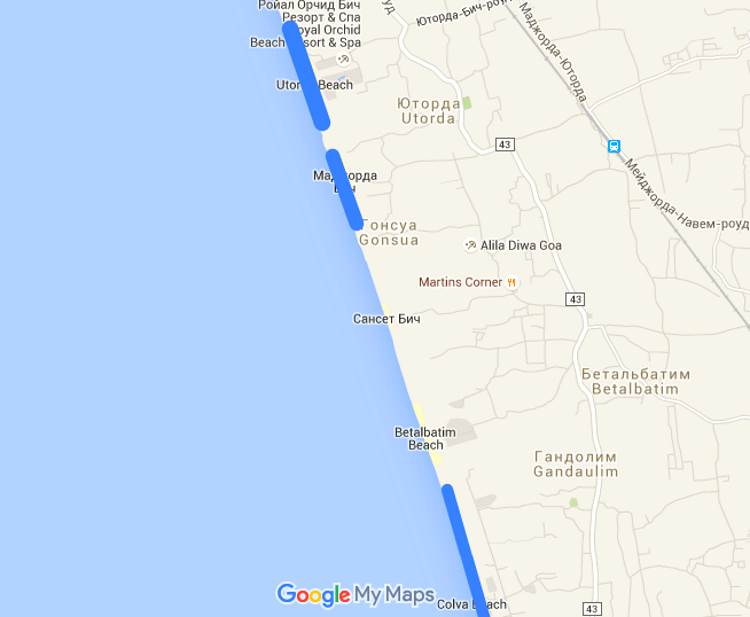 Palolem
. This beach is located far enough away from the other beaches, so it is more suitable for those looking for privacy. In addition to beautiful views of the local flora, you can watch the life of dolphins.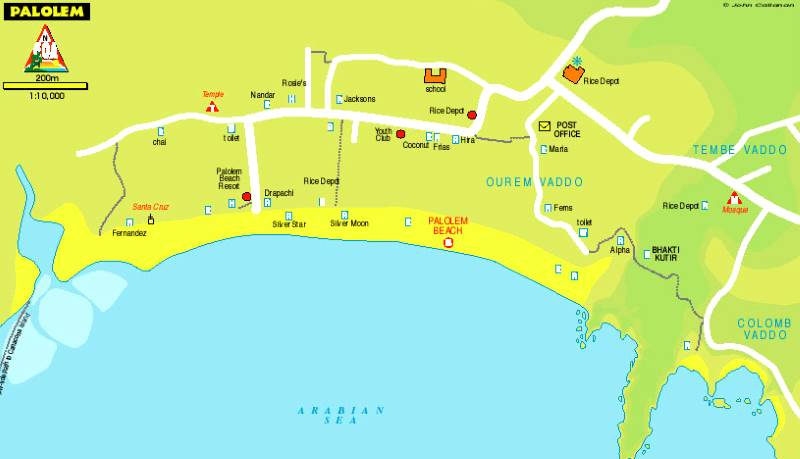 Cape Dona Paula. This place in Goa is also called the Cape Romantics. The cape has very beautiful scenery, which is why many Indian films were filmed here. In addition, a legend of unhappy love is associated with the Cape Dona Paula.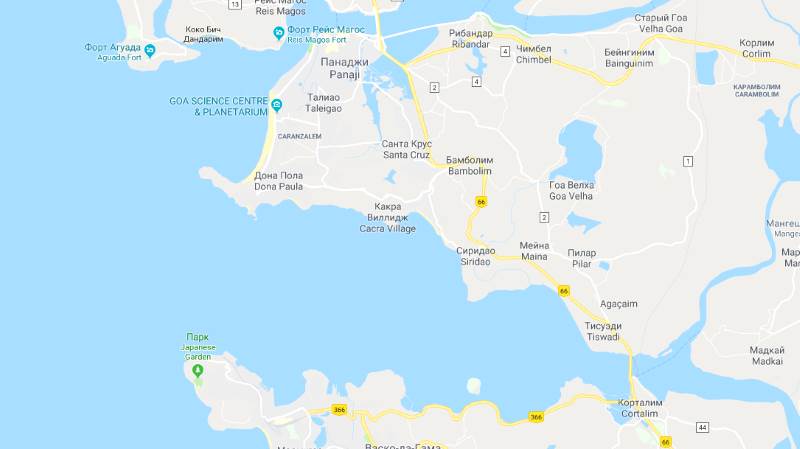 Map of beaches in northern Goa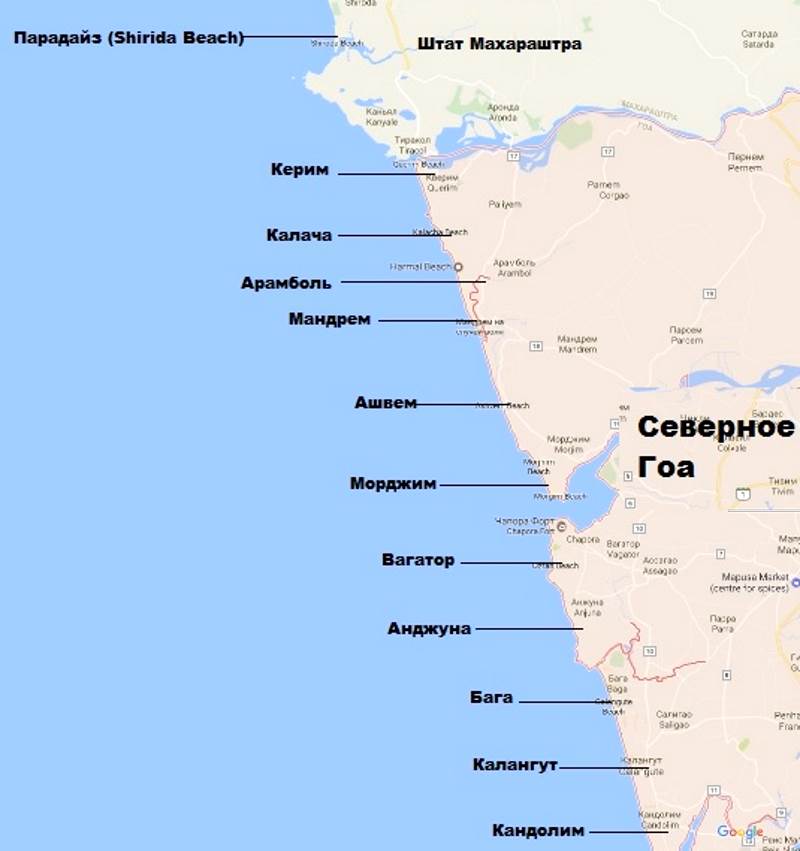 Anjuna
. This is the most popular and fun beach, where the famous nightclubs "Paradise" and "Dolce Vita" are located. It cannot be called the most comfortable, but people come here not for comfort, but for acquaintances and entertainment.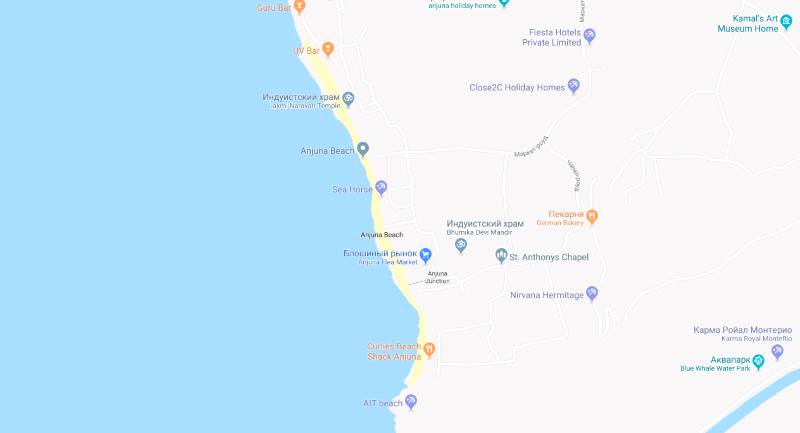 Morjim Beach. This beach is also called the "Russian Village" because. Here rest, mostly our compatriots. On the south side of Morjim is Turtle Beach, where turtles lay their eggs every year.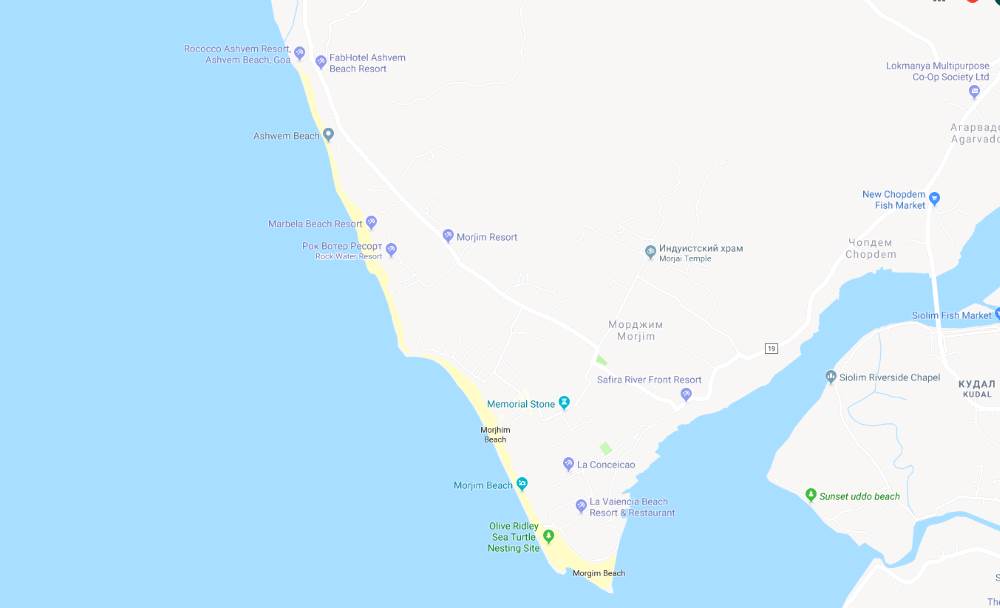 Now you know where Goa is on the world map, which country it is a part of, what are its features, so you can safely go there to enjoy all the charms of a real tropical tourism.