Mandrem Beach in India in North Goa is located between the beaches of Arambol and Ashwem. It is called by the name of the village Mandrem, located in its territory, and is famous for its small number of vacationers and complete peace.
Description of Mandrem Beach
Google map coordinates to be inserted into the search: 15.657906,73.71355
GPS coordinates: 15°39'28.46″N, 73°42'48.78″E
Mandrem Beach is 55 km from Goa Dabolim International Airport and 35 km from Goa's capital, Panaji. The closest railway station is Pernem, 20 km from Mandrem.
Mandrem on the map of Goa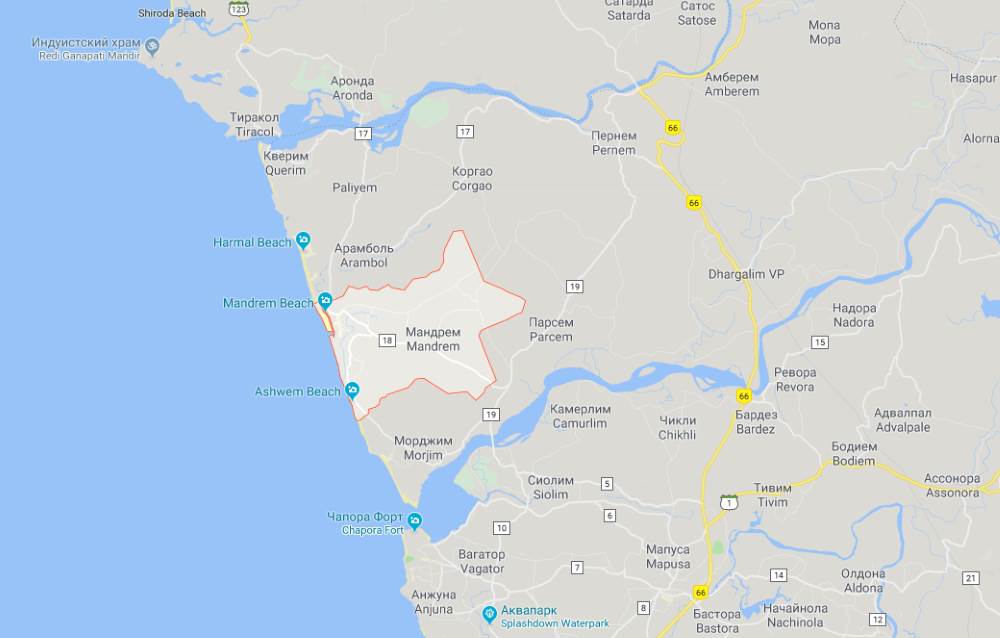 The entire beach stretches along the beach for two kilometers. A small river runs through Mandrem, dividing the entire beach area into several islands. I.e. You can swim in fresh water and sea water.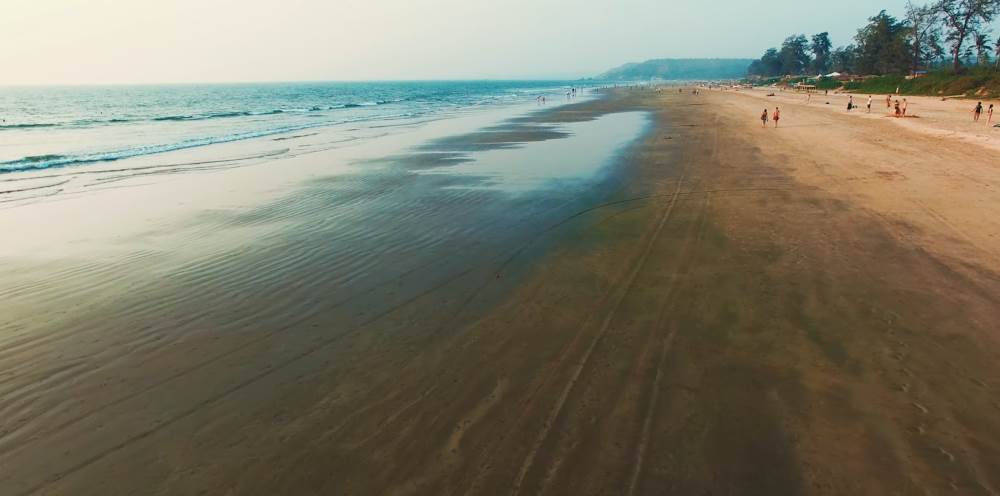 The beach has light, almost white sand, the color of ivory. There are no rocky hills, rocks on the bottom, but there is a very smooth descent from the shore to the sea depths. That's why it's a great place for bathing children.
The vegetation on Mandrem Beach is quite small, there are no palm groves, the area is quite open. But you can find olive turtles and observe their life. You can also see eagles flying across the sky.
Benefits
Mandrem is one of the jewels of North Goa in India. It is perfect for tourists who prefer a quiet holiday without the bars, discos and unnecessary noise. Couples with children and elderly vacationers are sure to like it here.
This is a relatively remote part of the Arabian Sea coast, so traders with their goods rarely come here. Equally rare here are the cows deified by Indians, as well as packs of wild dogs.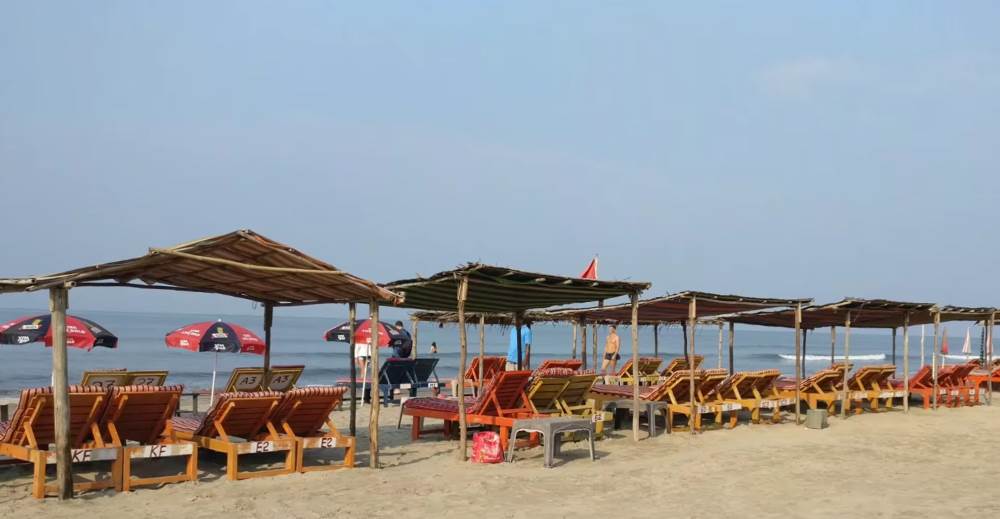 Due to the unpopularity of the beach among young people the prices of hotels, food in restaurants, cafes and shakes, food and goods in the markets here are markedly lower. It is important to remember that Mandrem Beach is often visited by locals, such as fishermen.
If you get bored here, you can always go to the neighboring beaches, which are very popular among young tourists and have all the attributes of modern leisure: cafes, bars, clubs, discos, dance floors, etc.
Climate and weather
Goa has a subequatorial climate. The high season here begins in October and lasts until March. You can safely add October and April for a beach holiday. The weather on Mandrem is warm and dry, the sea is calm, you can swim.
During the high season, the air temperature during the day is around +30C – +35C, the water temperature in the sea is +28C – +32C. There is practically no rain or wind. Russian tourists love to celebrate New Year and Christmas on the beaches of Goa.
During the Low Season in May, Mandrem Beach gets considerably hotter and the humidity increases greatly. As a result, it rains tropical rain all summer, and it gets as hot as a Russian bathhouse. The sea is often stormy, but by October everything calms down.
How do I get to Mandrem Beach?
From Dabolim Airport to the beach you can take a cab or shuttle bus. Interestingly, in India there are fixed rates for cabs, which you will definitely be informed by cab drivers even near the terminal.
It's cheaper to get to Mandrem by bus, but you have to make several transfers, including one to Mapusa. In a cab, of course, more expensive, but much more comfortable, so do not torture yourself, just choose a cab.
Description of Mandrem Village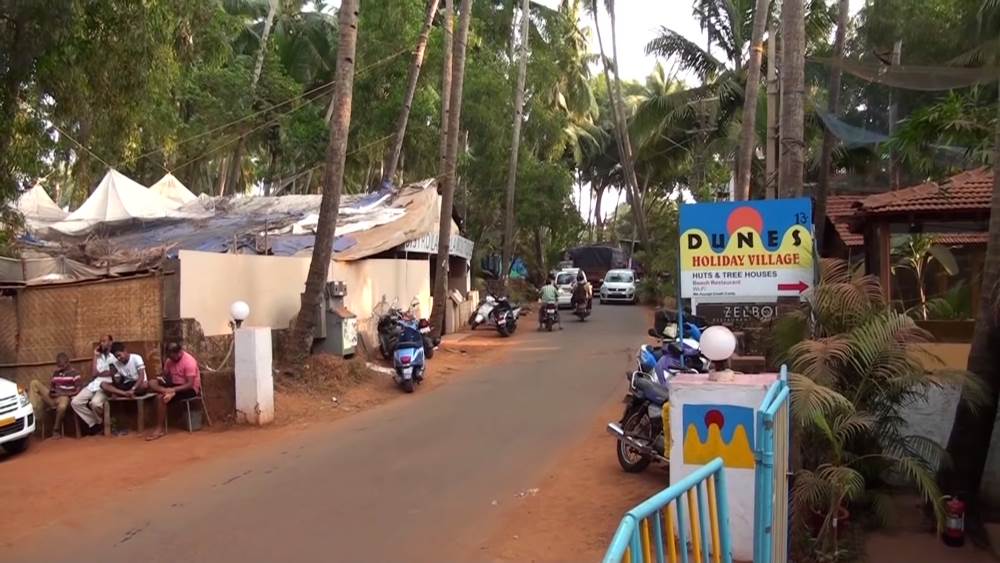 The whole village is conventionally divided into two parts. There are many stores and even Hindu temples in Upper Mandrem. And Lower Mandrem is predominantly home to hotels, guest houses, cafes, restaurants and beaches.
Upper Mandrem also has housing, but mostly they are large villas with gardens for the top clients, and in the lower part of the village you can choose housing for all tastes and wallets, including. rooms and apartments in five-star hotels and beds in guesthouses.
Therefore, Lower Mandrem can be called a tourist center. Here, in addition to affordable housing, there are grocery markets, supermarkets, equestrian club.
The most popular hotels in the village are:
Apartment Aajo;
Sovi Studios 3*;
OYO 17264 Ashvem Beach Resort 3*;
Morjim Grand Inn 3*;
Hotel Little Nest;
Paradise beach shack;
Maison Ocean Retreat 3*;
Summer of 69 Villa 3* and others.
The cost of holidays in Mandrem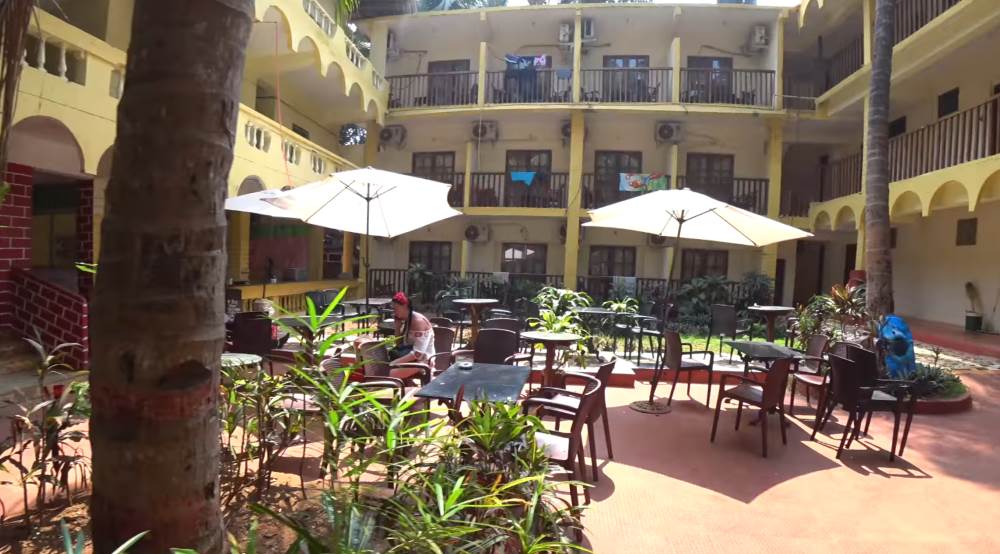 Holidays here are inexpensive compared to other North or South Goa beaches. The cost of a vacation for two weeks can cost a thousand dollars. To this amount should be added the cost of entertainment, transportation and souvenirs.
The budget for meals on Mandrem in Goa is about the same as in Russia. Tourists who live here mostly or permanently, cook their own food, buying products in the fish, vegetable, fruit or grocery markets.
Popular dining establishments in Mandrem:
Cafe Nu;
Sunset Mandrem;
The Well Garden;
Verandah;
Jivana Kitchen;
Vailankanni Guest House, etc.
Attractions near Mandrem Beach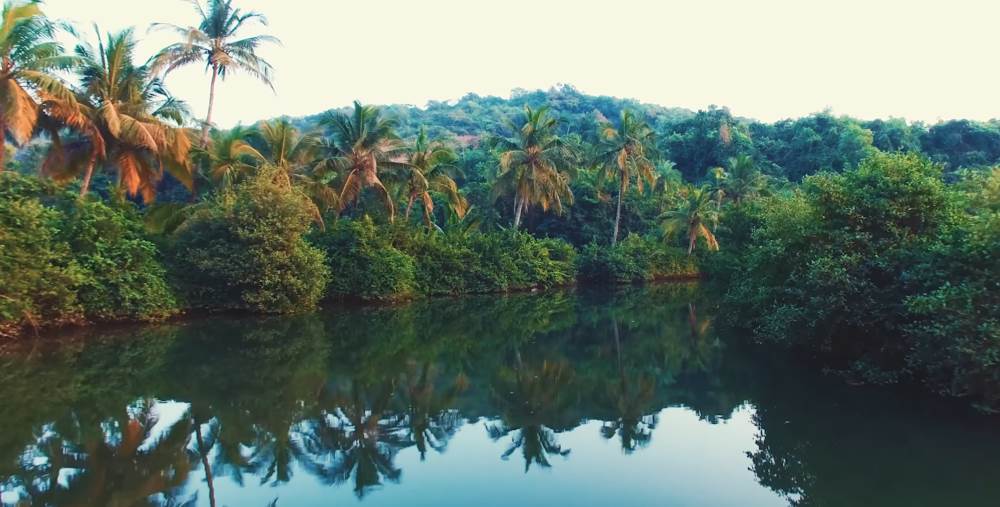 There are no nearby cultural or historical monuments, which fans of sightseeing tourism love to see. Although you can see some vibrant Hindu temples and a huge banyan in the village.
There are no nightclubs here either. Mandrem leads an exceptionally quiet and measured life. That's why fans of yoga, meditation and other Eastern practices have long settled on Mandrem Beach.
Also, beginners can learn in the surf center, and then go to the sea, where they put their knowledge into practice. There are many schools and teachers who teach Indian yoga. And the laziest can go to the massage or SPA-salon.
Lovers of long walks will be glad to stroll along the shores of the Arabian Sea or go to the jungle to make a photo report. And in the village there is a horse club, where you can do horseback riding.
There is also a place for shopping lovers. In Lower Mandrem there are many stores and souvenir shops where you can buy Indian saris, blankets, carved wood furniture, jewelry, etc.
Holidays, entertainment and excursions at Mandrem Beach
Holi is the most famous local holiday, celebrated in March, when it is still high season, but the tropical summer is inevitably approaching. Celebrants walk in processions and throw colorful water on each other.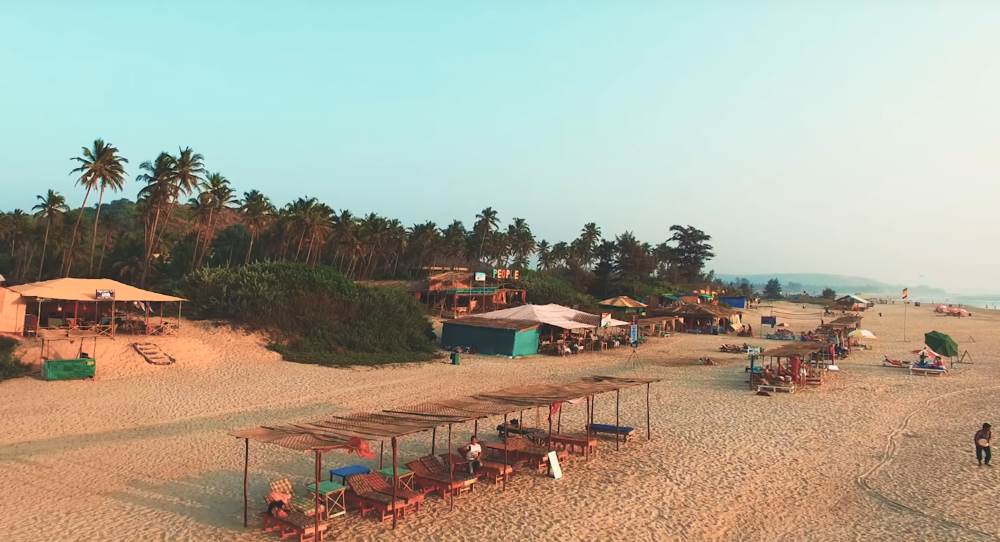 Also in the first half of February, a parade of local freaks is organized on Arambola. In February, before every Lent, there is a week-long carnival. At the end of the month they celebrate the birthdays of Rama, Ganesha, and Krishna.
At the end of November comes the celebration of the national Indian cuisine. And at the beginning of December, St. John's Day is celebrated. Francis, a Catholic saint, then Our Lady's Day and Christmas.
Reviews of Mandrem Beach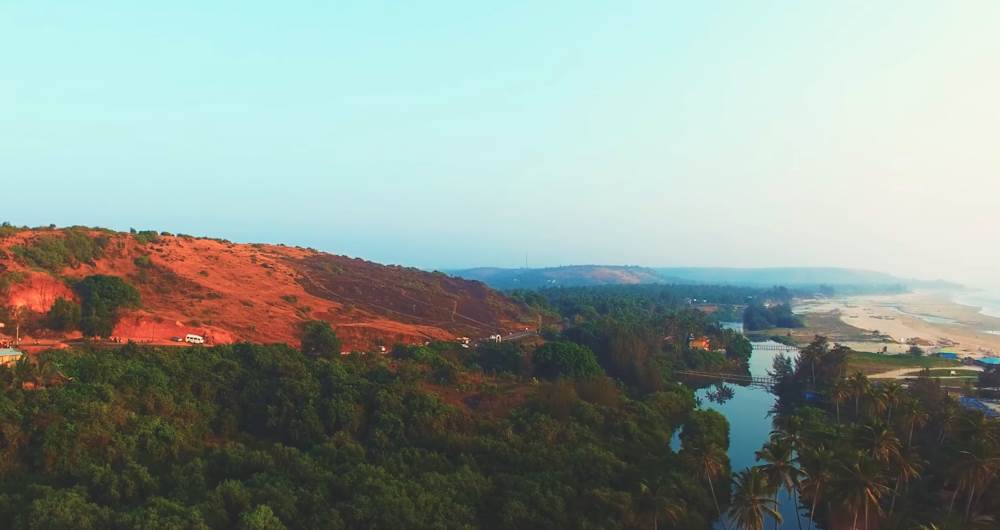 Tourists tend to speak favorably about resting on this beach, many like its sparseness and remoteness from other beaches, quiet and peaceful atmosphere. "It's like we get to an island," they say.
Many vacationers are happy with the local prices in cafes and shakes. Mothers with babies or romantic couples are happy to return here the next year. And young people, looking for round-the-clock and bright experiences, go to the neighboring beaches.