Komarovsky market in Minsk is the main food market in the capital of Belarus, which Minskers abbreviated as Komarovka, so historically the name of the area where it is located today.
The market is well known to the citizens; any guest to the Belarusian capital will definitely visit it and will not regret it. The market has an extremely wide selection of the freshest products, quality service and democratic prices.
History of the Komarovka Market
At the end of the 1970s, a large covered collective farm market was built on this site, it became the largest in the republic. The market was erected according to the design of the shopping center in Chelyabinsk, and in the early 21st century were built several parking lots.
Komarovka in Minsk is easily recognized by the characteristic dome of reinforced concrete, and there are no columns inside this structure. The area covered by this experimental dome exceeds a hectare.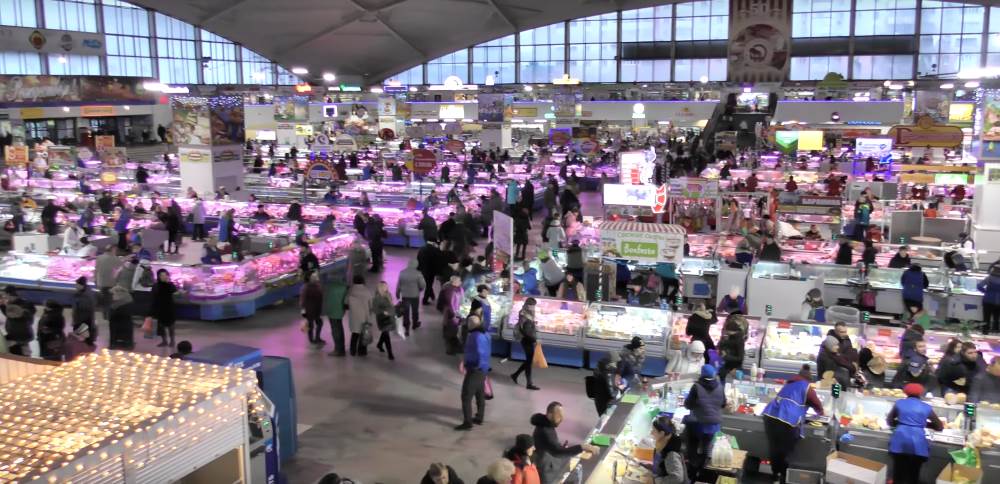 Today, the Komarovsky Market has 3,000 trading places, a convenience store, stores, a restaurant and a large hotel complex. It has perfect proportions and a pronounced national flavor.
A stucco belt decorated with glass and decorative plaster runs along the facade of the market. There is a lot of aluminum and ceramic on the building. And inside it's quite modest, restrained, so that the goods can be seen better.
At the beginning of our century, according to the European fashion, Komarovsky market was decorated with a fountain with several steps and wonderful bronze and metal sculptures of Belarusian authors.
Legends and Facts about Minsk Komarovsky Market
It is believed that this place was named Komarovka after the nickname of the local fool Fedka Komar, who lived here back in the 15th century. He was killed or he himself drowned in the local swamp, which was named Komarovskoe in memory of Fedka.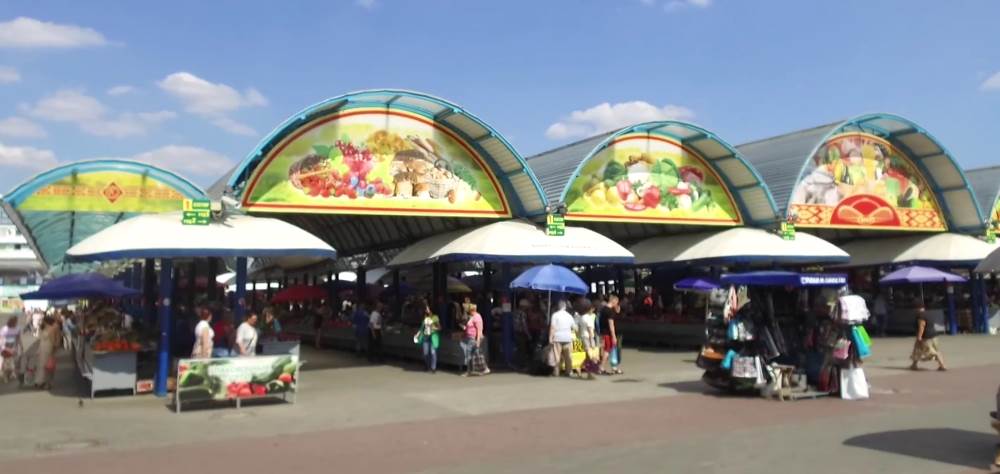 At the beginning of the 20th century, at the site of today's market, there was a training ground, where the famous Russian aviator S. Utochkin made his flights by airplane. One of these flights was filmed and remains forever in history.
Komarovka Market Awards
This trading company for the high level of organization of work has several awards at the national level: "Bronze Mercury" from the Ministry of Trade and Commerce and entered on the National Board of Honor.
Working hours and a map of the Komarovka Market
Working hours of Komarovsky market: 08:30 – 19:00, Monday – day off.
Address of Komarovsky market in Minsk: 8 Vera Khoruzha Street.
Komarovka metro station in Minsk: Pl. Yakub Kolas.
Komarovsky market on the map
Reviews of Komarovka in Minsk
Here you can buy any kind of products, the vast majority are fresh. A very convenient place for food shopping. Natalia Zh.
Market with a good level of service, did not see scandals and claims to each other sellers and buyers. Alexei V.
For tourists is a profitable place to bargain and choose quality goods at bargain prices. Jeanne. Е.
Video overview of the Komarovka market