Koh Kood Island in Thailand is one of the largest islands in Thailand, its area is just over 160 square kilometers. It is located in the Gulf of Thailand, not far from the east coast of mainland Thailand.
Koh Kood in Thailand is a young, rapidly growing resort. There are still some areas where you can see the pristine, unspoiled nature of Southeast Asia in all its beauty.
Local beaches are not yet so inhabited by tourists, and the sea is extremely clean, so Koh Kood will definitely appeal to those who prefer a quiet and secluded vacation. Today, the resort is formed in the direction of family tourism.
The Geography of Co Cuda
Most of the island of Koh Kood is completely impenetrable jungle. Its center is dominated by hilly terrain, and the plains along the coast where the islanders grow their produce: coconuts and rubber.
Ko Kud Island is a part of the Ko Chang Archipelago. It is located about 80 km from the mainland and is part of a national park. It is the fourth largest of all the Thai islands.
Tourist infrastructure on the island of Cud is still underdeveloped, but many tourists consider this a plus rather than a minus. There is no dense development of nightclubs, discos, bars and restaurants, which is extremely pleasant for family tourists.
One of the largest settlements on the island is the fishing village of Ao Yai. It stands near the local harbor next to many fishing boats. The second "big" village of the island is Ao Salad. The rest of the lodging is the property of the tourist business.
Climate in Koh Kood
All islands of the Ko Chang Archipelago are year-round resorts. There's plenty of sun, heat and beaches in the style of the old "Bounty" movie. Sea water near the shore all year round has a temperature of about +27C – +30C.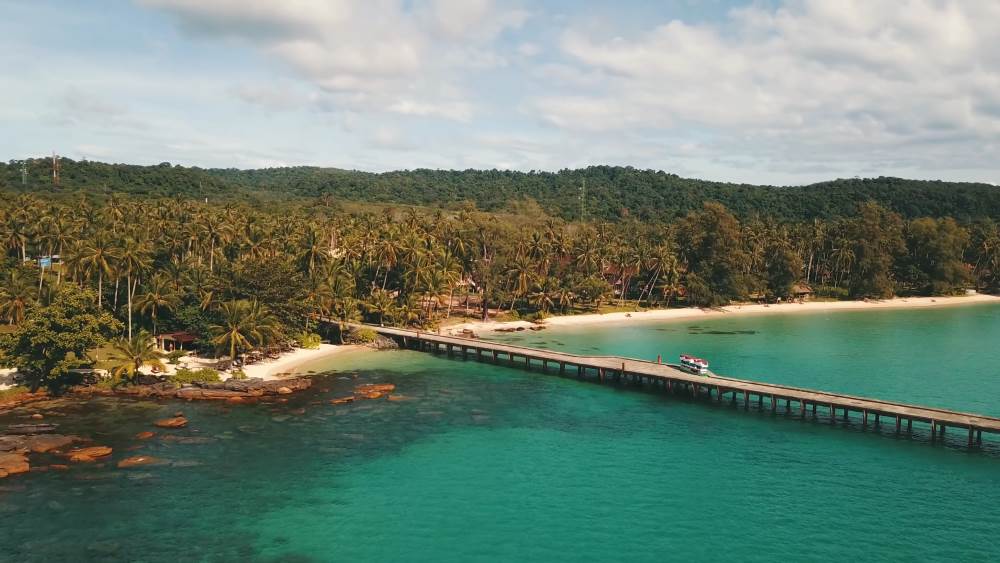 From early spring to mid-autumn there is a Low season, when the monsoons come. It rains frequently throughout this period, and there are serious storms in the bay. In late spring, temperatures can rise to +35C to +37C.
High season on the island of Koh Kood throughout the winter. At this time it is warm, dry and extremely sunny. The air temperature during the day stays around +30C, no higher.
History of the Thai island of Kud
The first settlements here appeared in the early 20th century. Kampucheans who had fled their homeland from the French invaders came here en masse. They were the founders of the first local village, Klong Mud.
This village still exists today, and its inhabitants do what their ancestors did: fishing and seafood, collecting coconuts and rubber. Recently another source of income has been added – tourism. Note that on Ko Kuda – high prices for tourists.
How to get to Ko Kuda?
You should know that the island has no airport, so it is impossible to get here by plane from Russia. But it is easy to fly from Russia to Bangkok, including. by booking in advance on online search engines and saving money on it.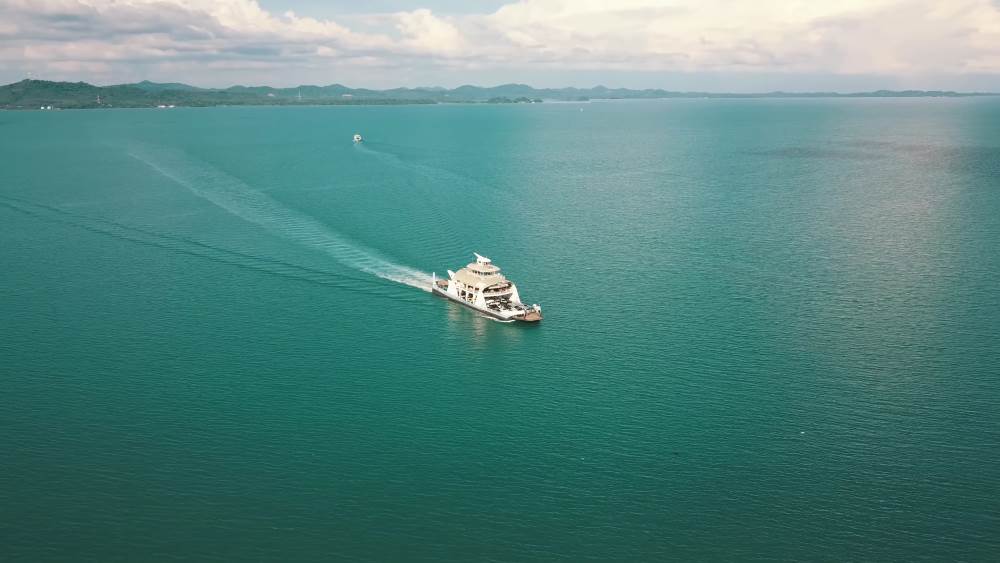 Then take a bus to Trat, on the east coast of mainland Thailand, where you can take a cab to the pier, where the ferries go to Ko Kuda in Ao Yai or Ao Salad.
The cost of tickets for the ferry depends directly on the transport company – from 350 to 600 Thai Baht, ie. $10.74 to $18.41. To get to the beaches from the marina on Ko Kuda is more difficult, public transport is not developed, walk only sometimes private tuk-tuks.
There are also daily ferries and speedboats from Koh Chang to Koh Kood. Tickets cost from 700 to 900 Thai Baht, ie. $21.46 to $27.59. If you buy tickets from a travel agency, you will be provided with a free shuttle from your hotel to the pier.
How to get to Ko Kuda from Pattaya? In this city there is a carrier called 35 Group Pattaya, which minivan from Pattaya will take you to the city pier, where you have to buy the appropriate ferry ticket.
Transportation to Koh Kood
Island transportation here is still in its infancy, it simply does not exist. No one provides transportation services and privately: cabs and motorcycle cabs have not yet appeared in this resort.
You can't catch the "motor" near sights, bungalows or restaurants like at other resorts. Sometimes you happen to see an islander's tuk-tuk who has decided to do a little "bombshelling." The problem can be solved through a travel agency, but it's a long time.
The most convenient way to rent a motorcycle for the whole vacation on Koh Kood. They cost about 300 Thai baht or $ 9.2 per day and are offered to tourists in almost all island hotels. There are no rental stations here.
From Ao Salad village in the north to Ao Yai village in the south there is a concrete and paved road. It goes next to Klong Chao beach, from which the dirt roads to the other beaches of Koh Kooda diverge.
Koh Kood Sightseeing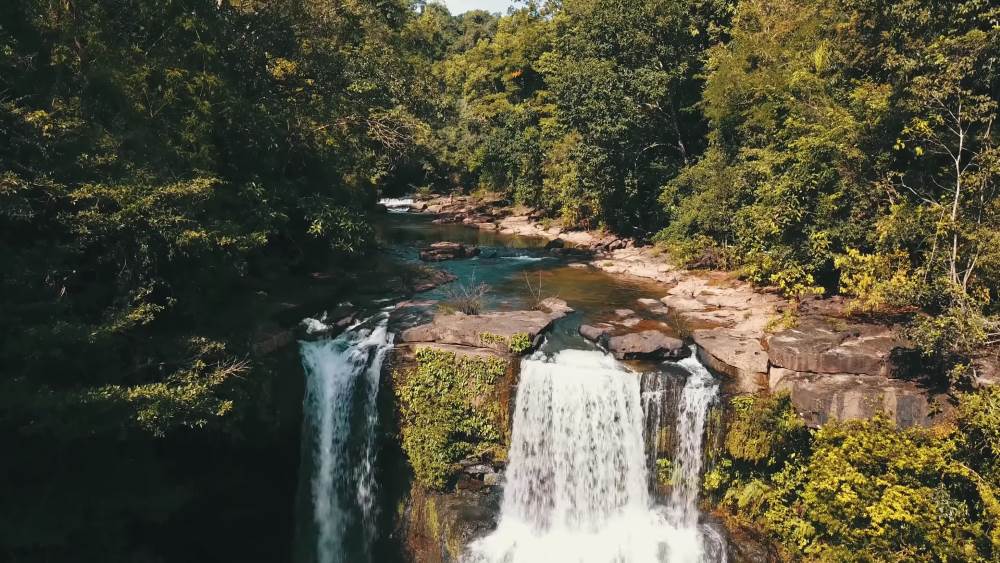 Sightseeing here is not enough, the island is a great beach vacation, but not sightseeing tourism. But if you get bored lounging on fine white sand, you can explore some iconic and natural sites:
Waterfalls at Klong Chao;
Klong Yaiki Waterfalls;
Big Buddha in Ao Salad;
Village on stilts Ao Yai;
Coconut and rubber plantations;
Ancient trees over 500 years old, etc.
Entertainment in Koh Kood
The island is a great place for those who prefer an active, sporty holiday. There are many water activities on the beaches: water bikes and skis, speedboat rides, etc. There are other options for fun and relaxation.
Kayaking trips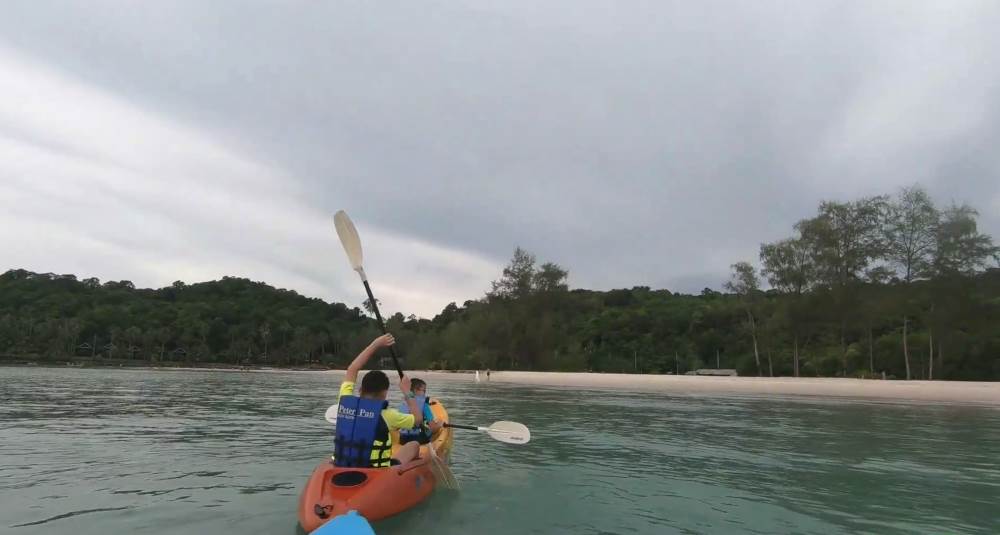 A kayak is the Thai national boat and can be used to explore the most remote places in Koh Kood. Here among the mango forests you can discover different rivers and lakes, see unusual tropical wildlife.
After learning how to operate a kayak, you can go on longer trips without assistance, to explore the small islands of the archipelago, fishing, diving, etc.
Snorkeling
We've been learning how to snorkel since we were kids, and now it's become a trendy thing that tourists at a lot of tropical resorts are into. On the island of Koh Kood snorkeling is done on the coast or swimming away a little depth.
It is best to dive in depth on the south coast of Koh Kuda, there are always a lot of divers. You will enjoy the beauty of the local underwater world, see coral reefs and sea creatures.
Diving
Thailand, the Gulf of Thailand and the many islands are a great place to go diving. There are several diving schools in the country, where most tourists learn during their Thai vacation.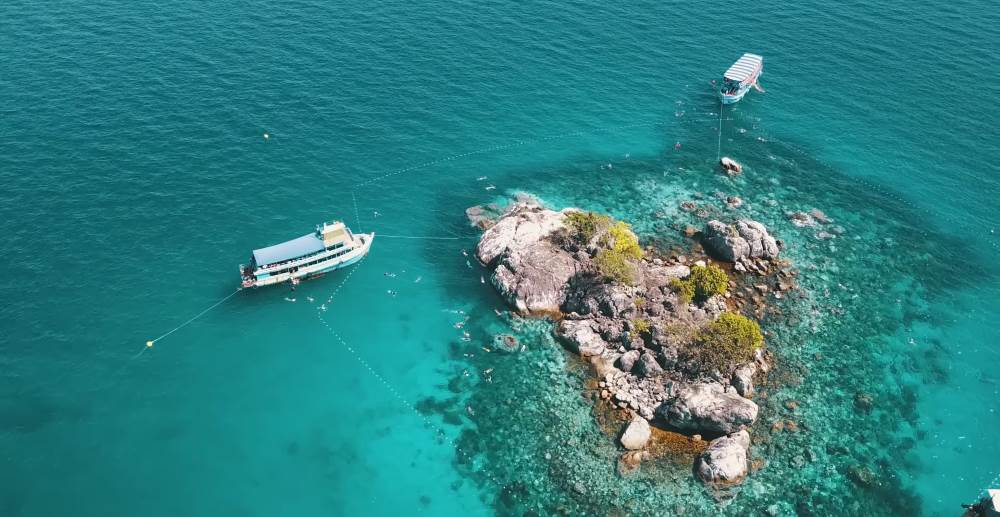 The island of Koh Kood in Thailand is also included in the purely places ideal for diving. They simply beckon divers, both amateurs and professionals, with their purity, pristine, and extraordinary beauty.
Fishing
There is no need for special fishing equipment and water transport. All you need is a fishing rod and the sea. Near the coast of Koh Kood there are a huge number of fish, biting even with a bait and sinker.
You can rent a fishing rod on the island and ask for bait from the chef of the restaurant where you go for lunch.
It is important to remember that the local sea is inhabited by poisonous fish, so be sure to consult with local fishermen, whether to prepare a catch.
Beaches of Koh Kood Island
Despite the small size of the island, it has some great beaches in the style of "Bounty" with soft and gentle white fine sand. Some of the beaches have already acquired an excellent beach infrastructure.
The most famous beaches are located on the west coast of Koh Kuda:
Klong Chao;
Bang Bao;
Tapao;
Ao Prao
Ao Yay Coet.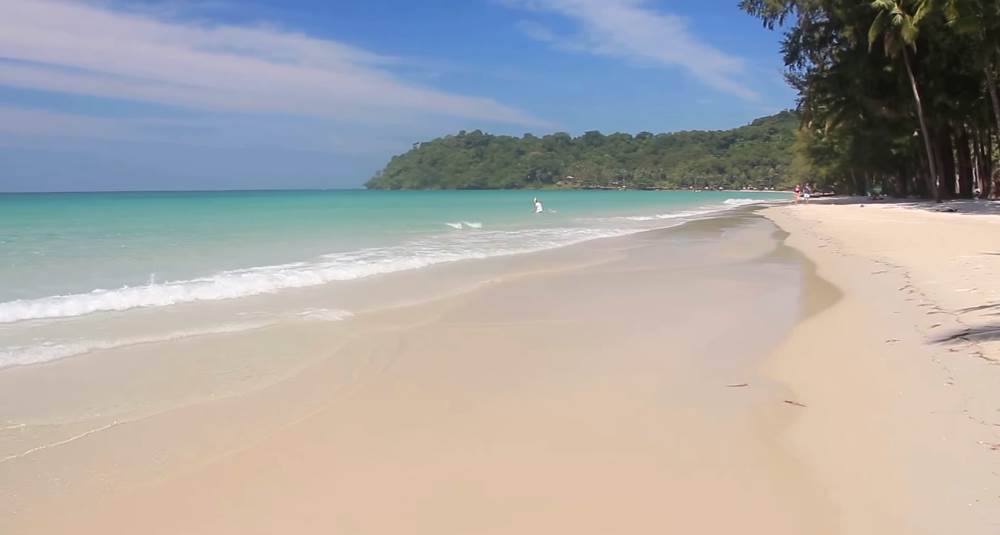 The most popular of these is Klong Chao. It has the best infrastructure, many hotels, bungalows and gesthouses, quality equipment for sports, etc.
The length of this beach – more than half a kilometer, width – about 120 meters. Near Klong Tsao there is a waterfall of the same name, which is a local nature attraction in Koh Kood.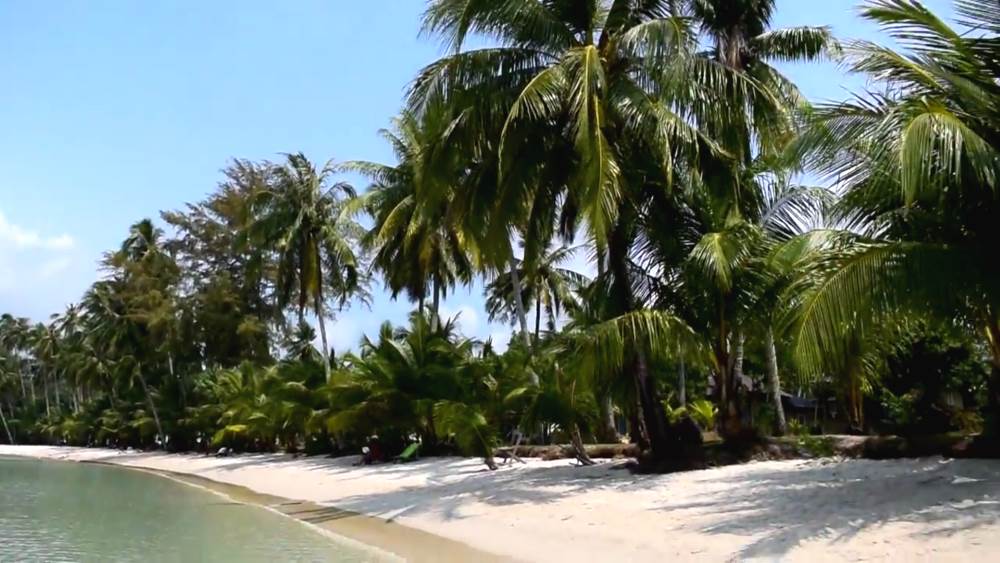 Bang Bao is also in demand among tourists. It is surrounded by hilly terrain covered with beautiful tropical vegetation. The shoreline is filled with white sand, with large boulders added to it.
Tapao has a beautiful natural beauty. On the white shore there are many palm trees, sheltering bathers in the heat and bad weather. But especially good here are the sunsets, which amaze tourists with their colors.
Hotels in Koh Kooda
The vast majority of island hotels are built in the form of bungalows, ie. We are faced with detached mansions or lodges. Only Klong Chao is a multifamily single-story house. They all stand on the 1st coastline.
The cost of hotel rooms on Koh Kood Island is noticeably higher than in other Thai resorts. A bungalow or room with air conditioning on the beach will cost at least 700 Thai Baht or $21.46 per night, and the average price is 1,500 Thai Baht or $45.98
Inexpensive housing at democratic prices on Ko Kuda also available. You can rent a straw bungalow with a fan inside. It costs only 400 Thai baht or $12.27 per night, a dorm room costs 200 Thai baht or $6.14.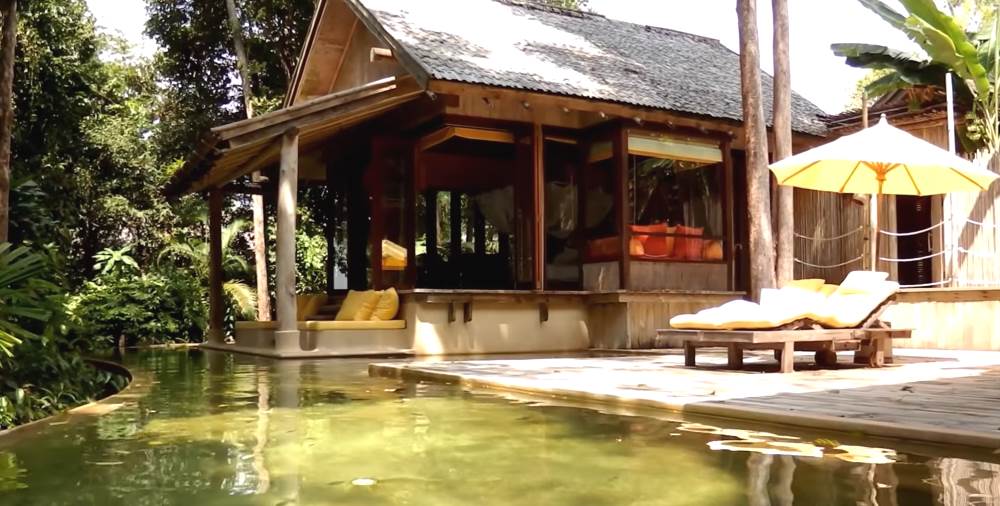 Almost all hotels have Internet, most have a restaurant and bar, many rooms are equipped with TV and refrigerator. The cheaper bungalows have all the amenities in the yard. I.e. to find a suitable apartment is quite realistic.
The best hotels in Koh Kooda:
Soneva Kiri;
High Season Resort;
Beach Natural Resort Ko Kud.
If you are planning to visit Koh Kood during the High Season, book your hotel in advance. The cost of a room or bungalow will be noticeably less, and the choice is much more. There are many travel accommodation booking sites online (Booking.com, etc.).
Video overview of Koh Kood Island
Koh Kood on the map