Ko Lipe in Thailand is a small island located in the south of the Kingdom of Thailand in the Andaman Sea, not far from neighboring Malaysia. It is part of one of Thailand's national parks, Tarutao.
Tourists discovered the island of Lipe relatively recently. Back in the middle of the last century it was inhabited by sea gypsies from Malaysia, and the first Europeans appeared here in the 1990s of the 20th century.
Description of Lipe Island
This tiny piece of land was, until ten years ago, an almost untouched human paradise. Then people came to the island and built a few bungalows and a store. There was almost no one on the beaches, and the Internet was available in one bar.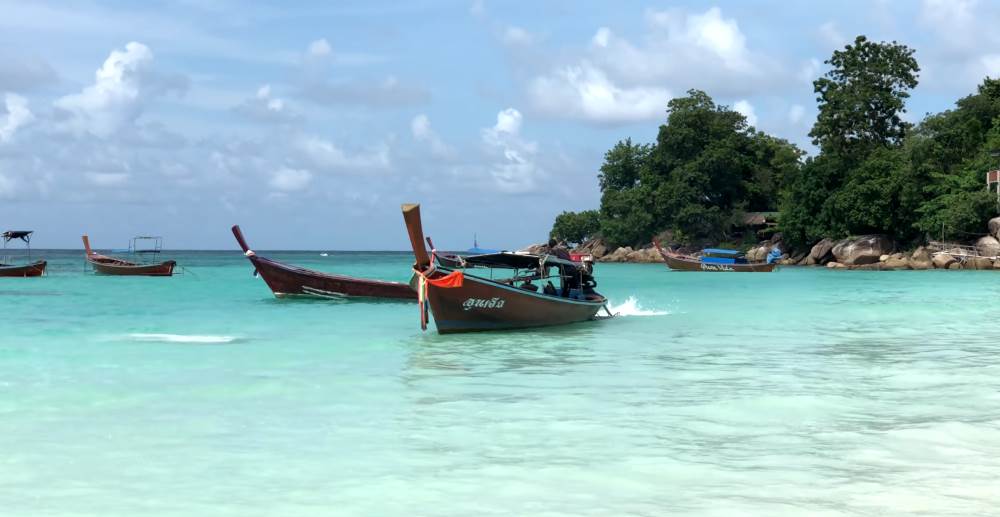 It was the Pooh Bar, where tourists from Europe and America gathered daily on the island to have a connection to civilization, to be able to eat dinner and drink some beer. There were no roads or cars, and people walked without shoes.
After a couple of years, the tourist business noticed Ko Lipe, and then the mass construction began. This is how the first guesthouses, hostels, and hotels came into being, including. with five stars and modern swimming pools inside. Civilization came to the island of Lipe.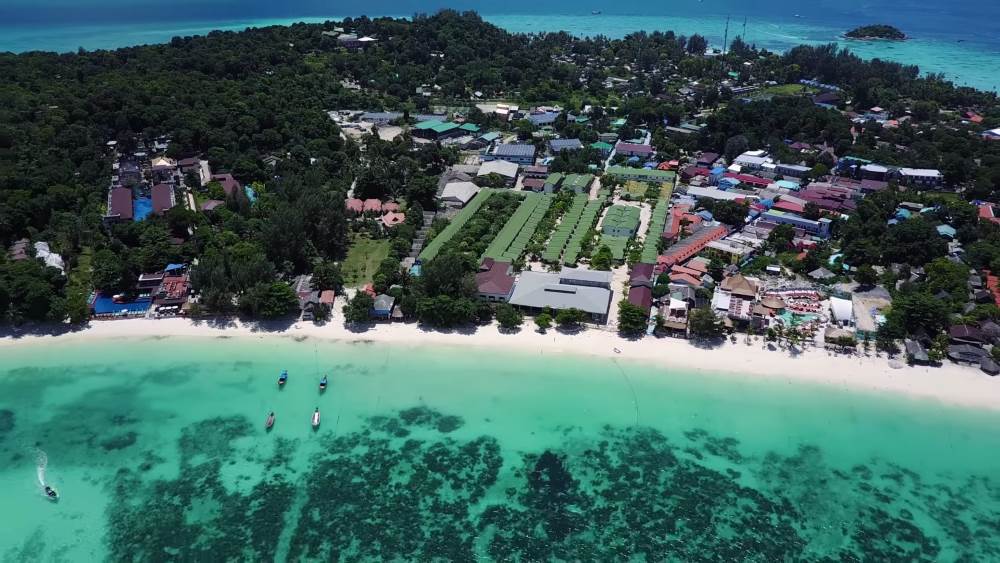 The main street was immediately concreted, there was its own Wolking street with stores, cafes and restaurants, but not as promiscuous as in Pattaya. Tourists take an evening stroll down the local Walking Street.
There is a sea connection between the Malaysian island of Langkawi and the Thai island of Lipe, so the local Pattaya beach soon had a migration office to carry out passport control and tourist passes.
As soon as there was a modern tourist infrastructure, the island immediately went to the crowds of tourists. The Chinese like to celebrate the Chinese New Year in Ko Lipe. In 2019, it will begin on February 5 and last for a lunar month.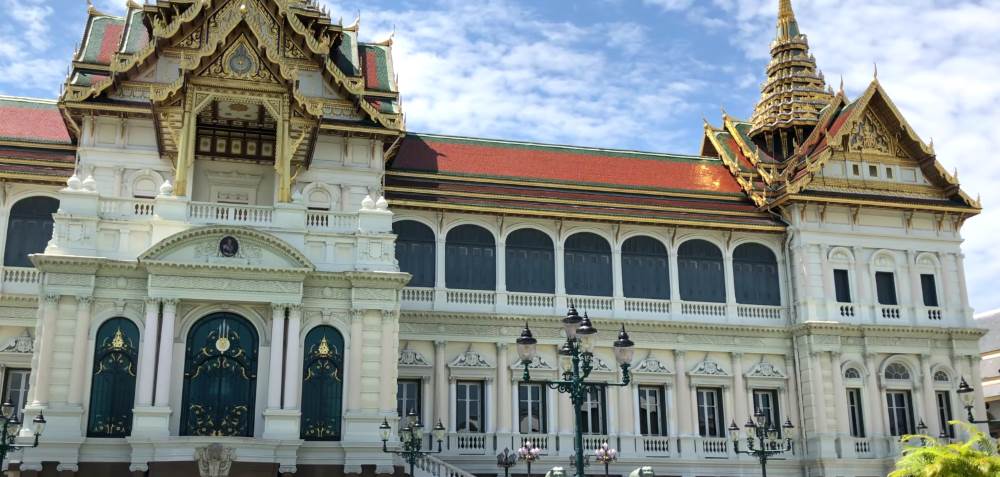 A lot of holidaymakers from Southeast Asia, on weekends and holidays mass arrivals of Thais and Malaysians.
But Russian tourists on the island did not particularly like it. They consider it too provincial.
Seasons and weather on Ko Lipa
Here we can distinguish two main seasons: with dry and rainy weather. The high season lasts from November to April. At this time it is dry, warm and sunny, the perfect time for a beach holiday.
Low season, ie. The time from May to October is characterized by constant rain, which in our calendar summer turns into downpours and pours like a bucket. Due to heavy rains, maritime traffic to Malaysia stops and the flow of tourists decreases.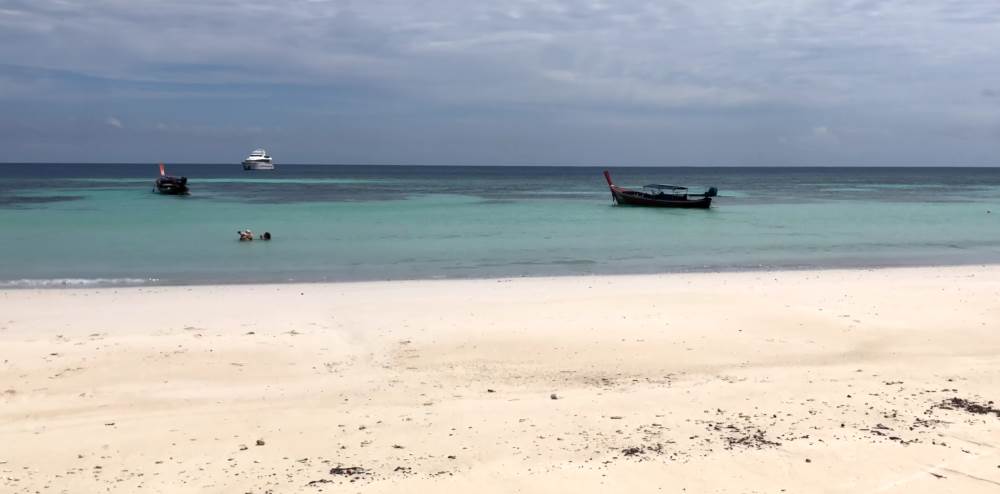 But with mainland Thailand maritime traffic continues, only the number of boat and boat trips decreases. The work of the hotels does not stop. On the island of Lipe and at this time of the rest lovers of the rains.
On the tiny island, due to global climate changes in the world today, you can get caught in the rain in winter and encounter beautiful, sunny weather in summer with low prices and few vacationers.
When is the best time to come on vacation?
It depends on what you want to get on vacation. Lovers of sun, dry heat, high prices, noisy crowds and general excitement is best to go to Koh Lipe for the European or Chinese New Year.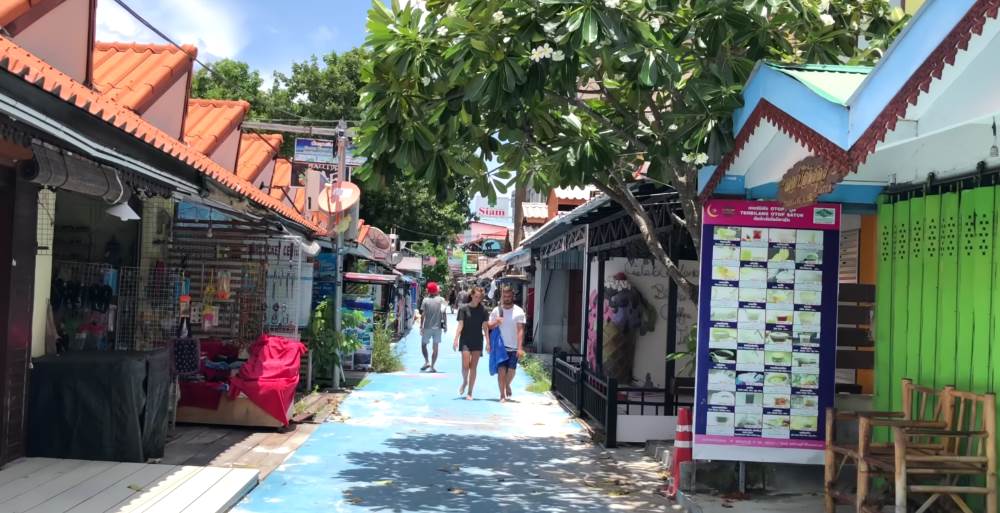 If you want to save money, but prefer a beach vacation, go to the island in the off-season, ie. in May or October, when the weather is already setting or still standing, and there are relatively few tourists.
If you like to rest in the rain, it soothes you and relaxes you, then on the island of Lipe all summer is yours. You will not be annoyed by noisy tourists, and prices for hotel, food and souvenirs at this time tend to a minimum.
How to get to Ko Lipe?
The island of Lipe is too small to build an international airport on it. The nearest airports are in Thailand (Hat Yai and Trang) and Malaysia (Langkawi). From there, tourists go to the piers and then get to the island by boat or boat.
Transport to Ko Lipe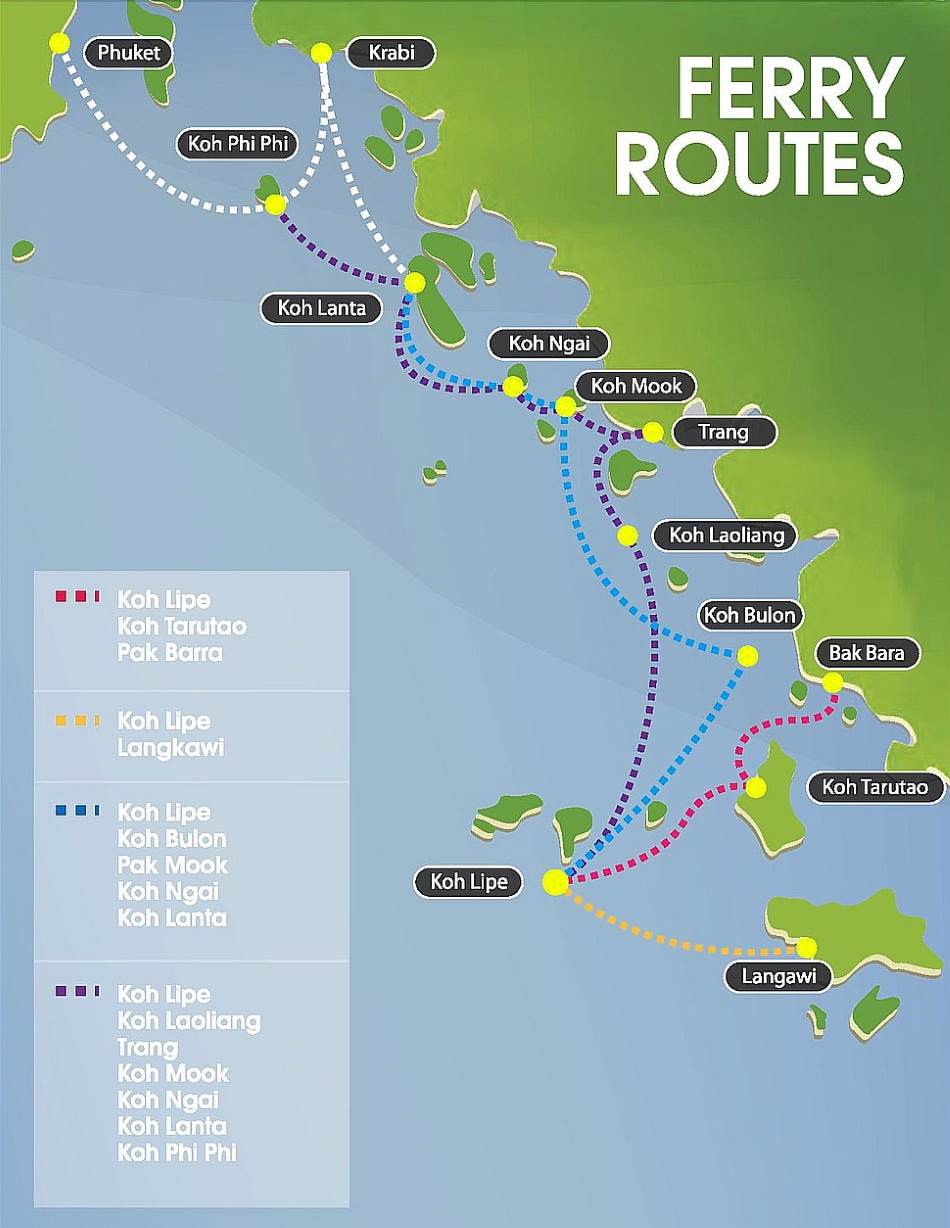 How do I get from the Pakbara Pier in Thailand?
There are two piers in Thailand: Pakbara and Yao Pier, where boats and launches go to the island. There are fast boats from Pakbar year-round, and there is constant communication with the island. The ticket costs 650 baht, or $20.38. In high season, up to 10 flights per day.
Boats do not always depart from the pier exactly on schedule. Travel time is up to 2 hours. In the Low Season, boats go every day, but less frequently. It costs 200 baht or $6.27 to enter Ko Lipe on Pattaya Beach. You can stay on the island for 10 minutes or several days.
How to get there from Bangkok?
Take a flight from Bangkok International Airport to Trang or Hat Yai, and from there take whatever transport is convenient to the Pakbara Pier, where you buy a ticket to Ko Lipe and expect a fast boat.
You can also take a bus or train from Bangkok to Hat Yai. The train ticket is cheaper at 300 baht or $9.41 (third class), but the travel time will take you half of your vacation.
How to get from Phuket?
There are several options:
by sea in fast boats;
by bus through Hat Yai to Pakbaru;
by plane via Hat Yai to Pakbaru.
How to get from Krabi?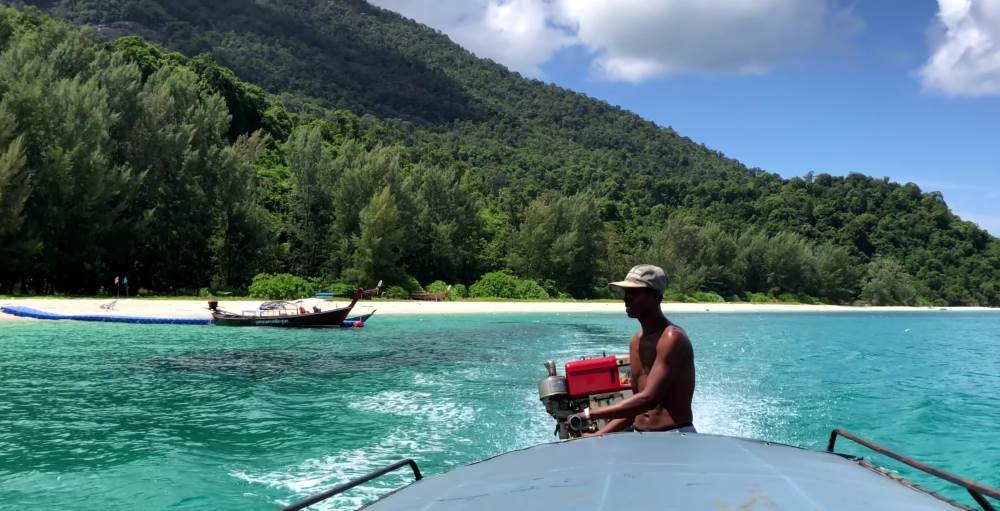 Krabi also has an international airport. From there you can take a flight through Bangkok to Hat Yai and then go to Pakbar pier by any transport, buy a ticket to Ko Lipe and wait for a fast boat.
How to get from Langkawi?
There is a direct route between the islands, but it works only in high season. You need to buy a ticket for the boat, take it to the island of Lipe and pass through passport control. The ticket costs about 1,000 baht or $31.36.
Practice has shown that it is more convenient to get to Lipa from Russia via the Malaysian island of Langkawi: it is cheaper and faster. Visa-free entry to Malaysia for Russians is allowed for one month.
Transportation on the island of Lipa
There are no paved roads, almost no cars and few bikes. The practice of renting out bikes is poorly developed. Tourists on the island move mainly on foot.
You can rent a bike for a while:
50 baht or $1.57 for a one-way trip;
400 baht or $12.54 to ride around the island.
You can rent a bicycle for 200 baht or $6.27 a day.
Hotels on Ko Lipa
Every year on the island there is a new accommodation for holidaymakers: inexpensive or executive class. During peak high season it's hard to find a good hotel room here, so we highly recommend booking in advance while you're still in Russia.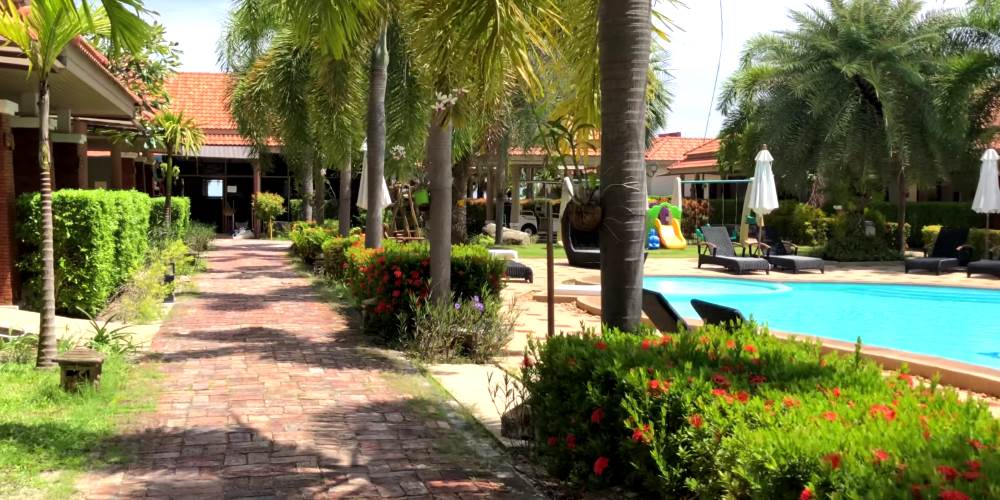 Room prices are quite high: a room for two in a three-star hotel costs at least 3,000 baht or $94.07 per night. The cheapest bungalow on the beach will cost about 1,000 baht or $31.36 per day.
Most of the hotels, guesthouses, bungalows, or hostels on Ko Lipa are on the shoreline, next to the sea, which is extremely popular with tourists. Here are some popular hotels to choose from:
Andaman Resort. It's an air-conditioned bungalow standing on the beach.
Castaway Resort. Europeans like this hotel.
Z-Touch Resort. There are new villas around the hotel.
Lipe Beach Resort. A decent and inexpensive option at Sunrise Beach.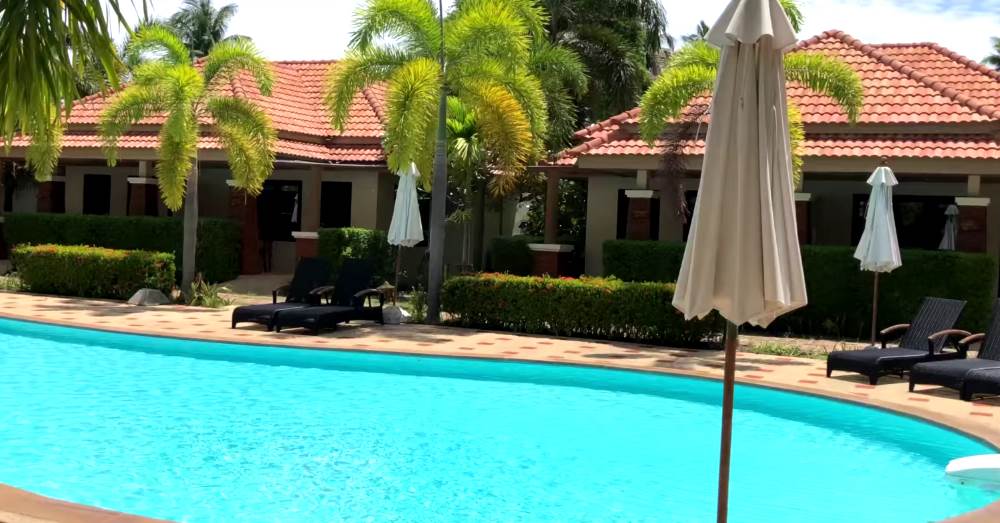 If you decide to worry ahead of time and come to the island, already have a room, you can book it online at services:
Booking,
Agoda,
Roomguru.
Beaches on Ko Lipa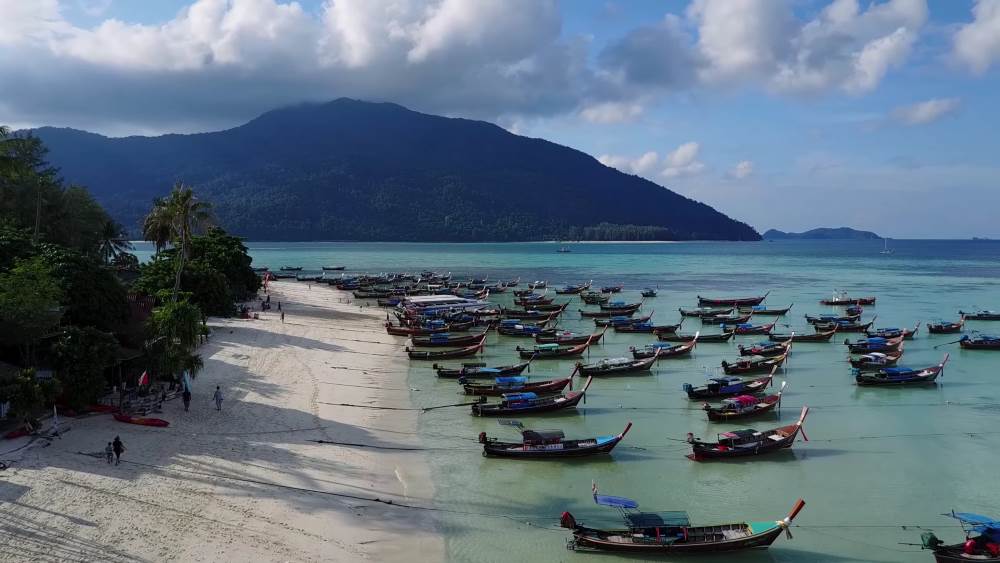 Pattaya Beach. This is the most popular beach on the island. It has white and soft sand, crystal clear sea water, near the shore is a coral reef. Pretty crowded, especially on the arrival of the boats.
Sunrise Beach. It is much quieter, the beach is great for families with children. Here, too, snow-white sand and a beautiful sunset in the evening. However, the entrance to the sea is quite sharp, you have to be as careful as possible.
Sunset Beach. On this beach grayish sand, but a smooth entrance to the sea, which will please moms with small children. On the beach there are many original stones of medium size that decorate the area.
Karma Beach. This beach is close to the Mountain Resort Hotel. It has a beautiful sandy spit, washed by the sea. The sand on the beach is white and coarse, and the sea has a clear turquoise color. But during the season there are strong winds.
Map of the beaches of Lipe Island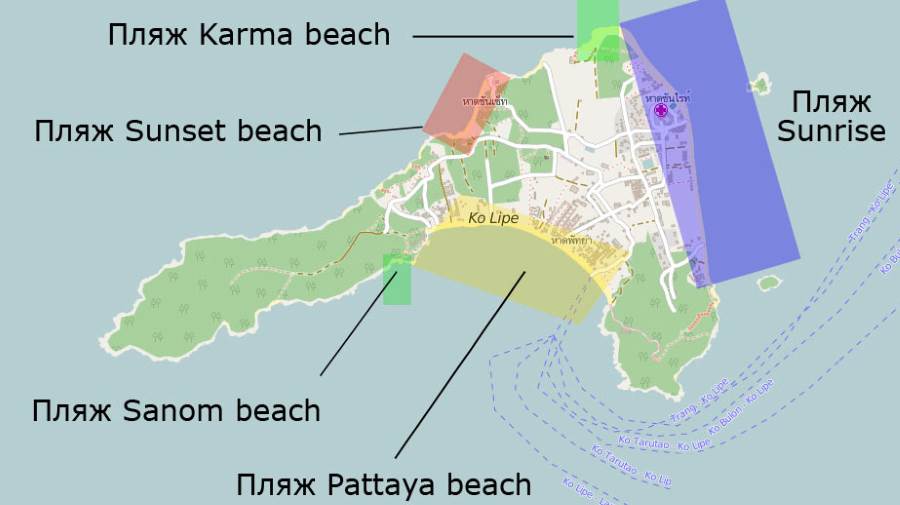 Prices on Ko Lipa
According to reviews of tourists to the island of Ko Lipa – an expensive treat. Indeed, here are high prices for hotel rooms, but the quality food in the cafe is quite adequate, even cheap. This price feature is characteristic of small Thai islands.
Entertainment on Ko Lipa
There are no loud parties or discos until morning, drunken students or freaks. This island is designed for a quiet, measured, solid beach family vacation. Sports lovers are also very welcome.
Sports activities snorkeling, diving and swimming. It is worth noting that the snorkeling here – the best in Thailand, the local underwater world is famous for its beauty, and for professional and amateur swimming – extremely wide open spaces.
Video overview of the island
Maps of the island
Koh Lipe on the map of Thailand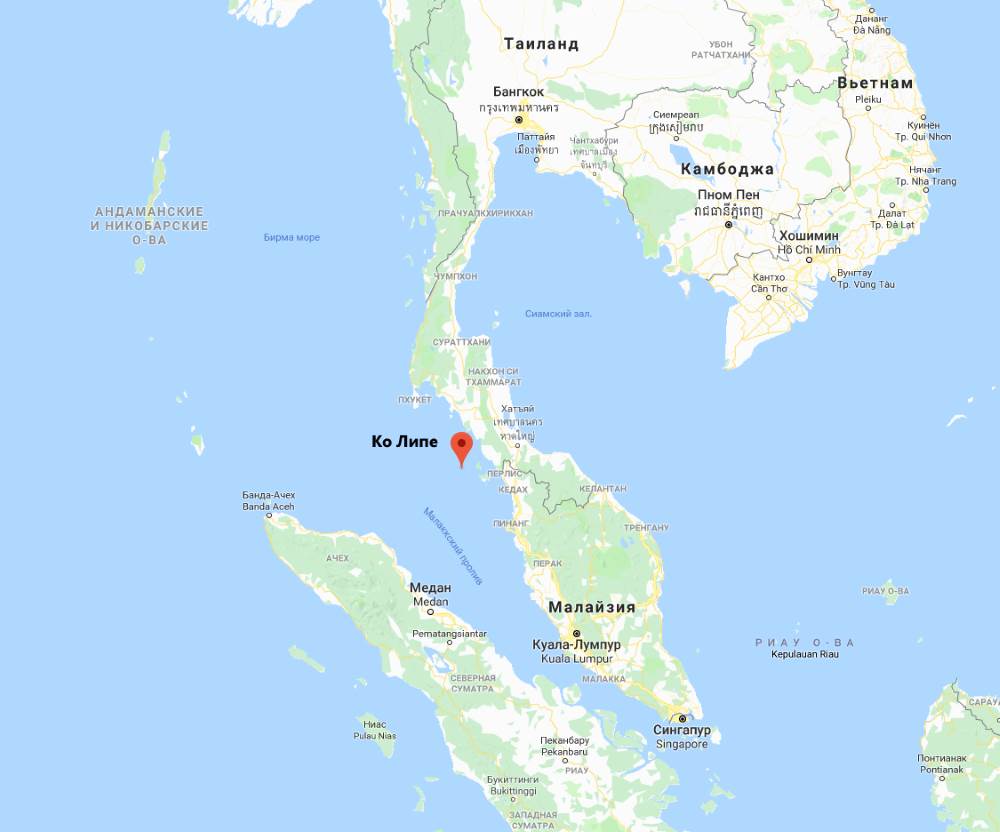 Map of Ko Lipe in the Adamant Sea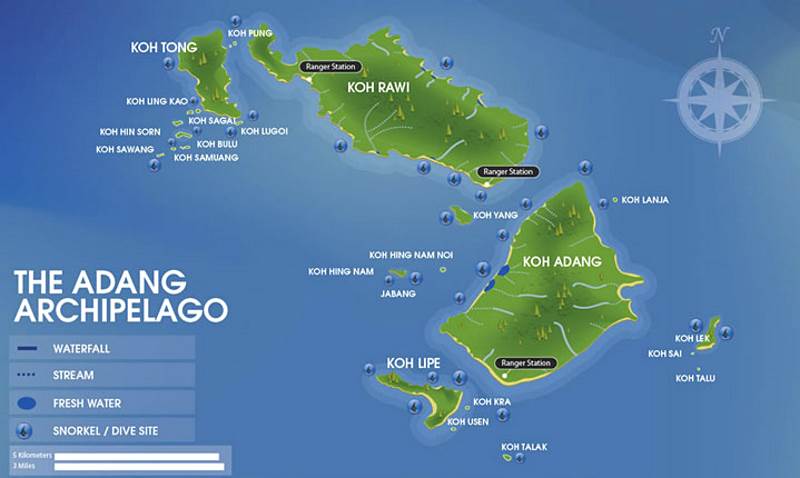 Map of Ko Lipe