Kavelossim Beach is one of the most beautiful and cleanest beaches in India in South Goa. It has a modern beach infrastructure, offers vacationers a variety of tours, excursions and other entertainment at affordable prices.
As you know, in South Goa, mostly European middle class crowd, so you can see the inflated prices for high quality rooms in hotels or rooms in bungalows. But not all tourists are willing to overpay.
Description of Cavelossim
Kavelossim is one of the large villages located in the southwestern part of the state of Goa in India, around which the beach of the same name stretches. To the north of this beach, the Sal River flows into the Arabian Sea, which washes the west coast of India.
Kavelossim Beach is located 34 kilometers south of the local airport of Dabolim and 15 kilometers from the nearest railway and bus station Margao. Kavellosim Resort is a long street, flanked by hotels, villas, bungalows.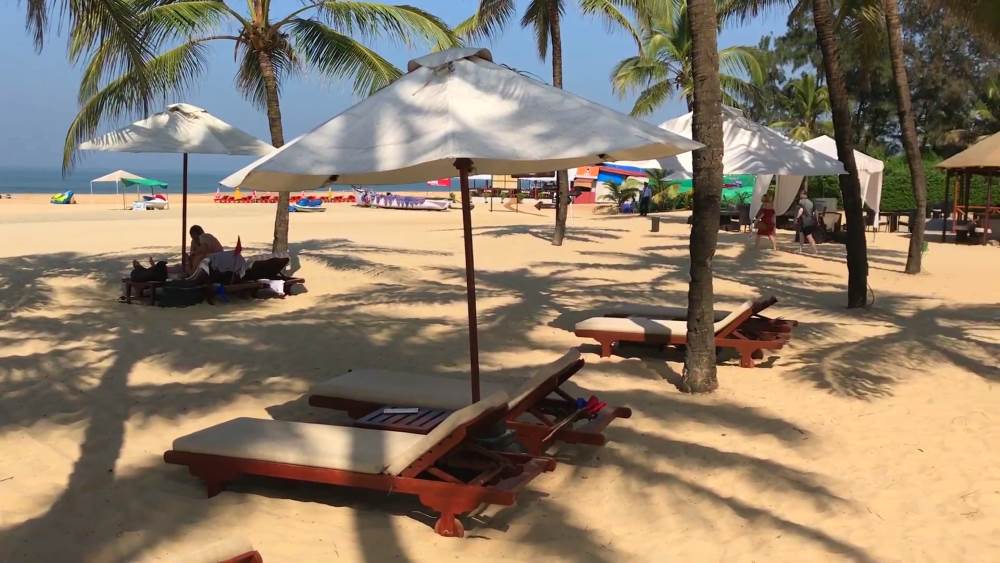 Kavelossim Beach in South Goa has free parking and a small market at the entrance. There is a long gentle approach, so it's perfect for bathing children. It's always a quiet, peaceful atmosphere that suits the families vacationing here.
The sand on the beach is fine and compacted, so you can ride bikes and bikes on it. A few hundred meters from the shakes Kavelossim becomes completely deserted, leaving only lifeguards walking around the beach.
According to reviews vacationers on the beach Kavelossim almost no wild cows, packs of dogs and other local animals. This is one of the obvious pluses of the Indian beach, highly appreciated by tourists from other countries.
Kavelossim on the map of South Goa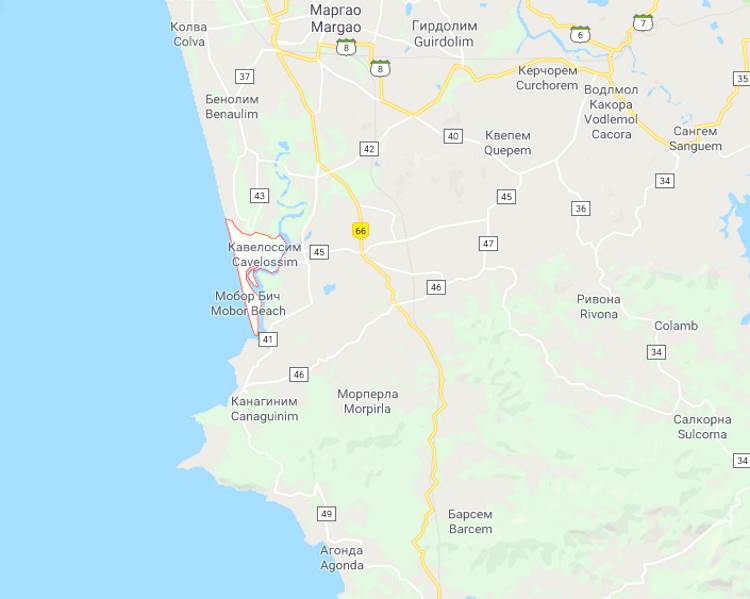 Where to eat at Kavelossim Beach?
There are several Indian shakes working right next to each other. On Kavelossim you can order and taste the food of many cuisines of the world, as well as rent a sun lounger with an umbrella for the day.
Mike's Place. The trendiest place in the village of Kavelossim, where you can eat, listen to live music, sing karaoke, participate in a party, order delicious seafood dishes, etc.
Jazz Inn. Here visitors are mostly offered dishes of European and Asian cuisine, in the evening – music and dancing, meetings with famous musicians.
Octima. This shake will appeal to lovers of Chinese and Indian cuisine, it offers cocktails, live music, and democratic prices. Visitors can try fried shrimp, shark with vegetables, and many exotic dishes.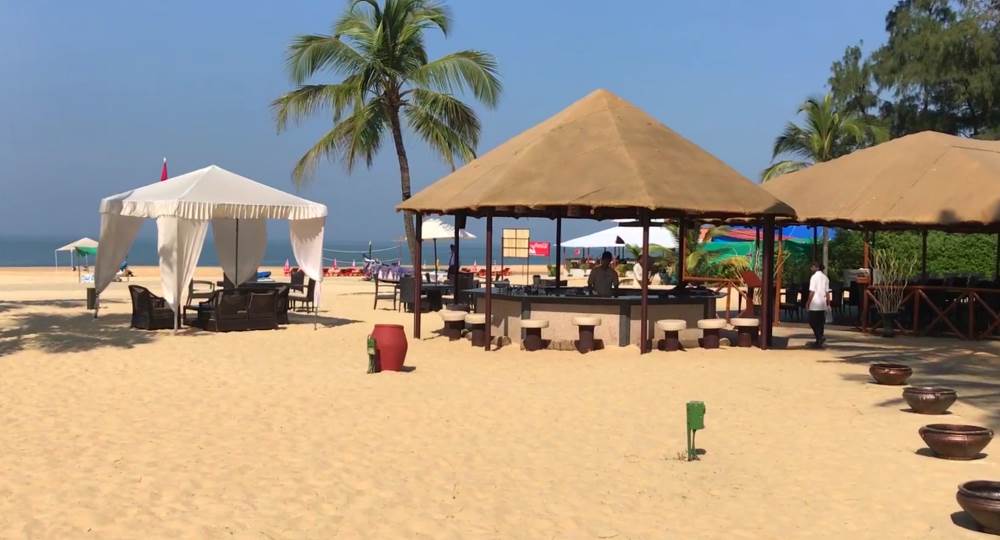 What to do at Kavelossim Beach?
A variety of water activities are offered to tourists of all ages: parasailing, jet skis, speedboats, kayaking, water skis, banana boats, etc. You can take a boat trip to Butterfly Beach, walk with dolphins on the sea, etc.
Kavelossim Beach in South Goa also has wonderful spas with many unique services, salons offering Ayurvedic treatments, face and back massages, makeovers, manicures, etc.
Attractions near Kavelossim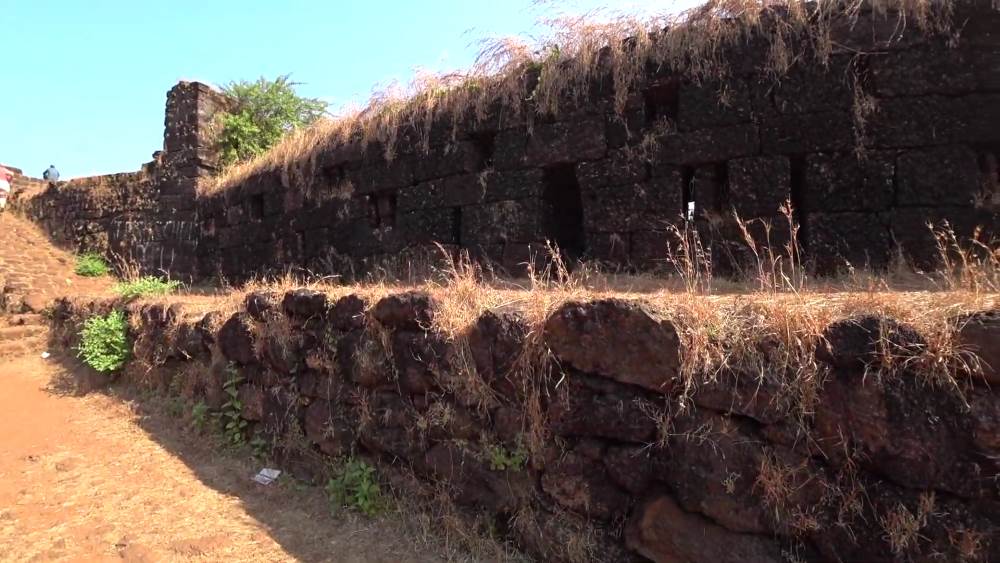 In the south of Goa, in the town of Kankon, you can see the Cabo de Rama Fort, which was the local prison in the first half of the 20th century. On its territory there is the Church of St. John the Baptist. Antonia. Admission is free, you can walk along the walls of the fort and see the seascapes.
Fort Betul was built in the 17th century and is located next to Kavelossim beach on nearby Mobor beach. It can be reached exclusively by boat or ferry. Around the fort is a beautiful and virtually deserted beach.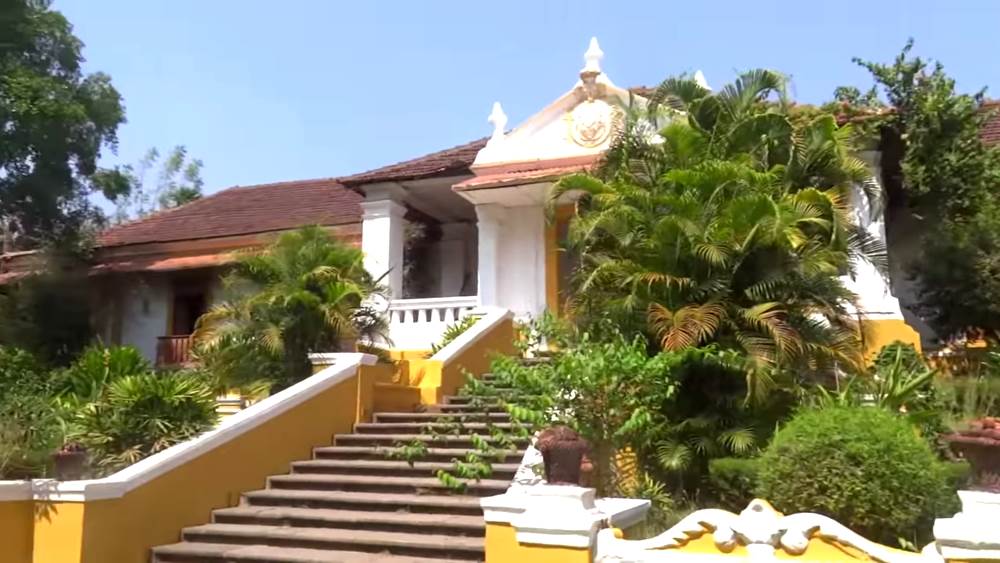 The Palacio do Deao (Dao Palace) is a remarkable mansion built by the Portuguese in the 18th century in a mixed Portuguese and Indian architectural style. This mansion is surrounded by a luxurious garden. Today it is a family-run restaurant.
The Church of the Holy Cross belongs to the local Catholic community. It was erected in the 1860s and is now in excellent, well-maintained condition, and weddings are often held in the church.
Excursions from Kavelossim
There are several travel agencies, where you can buy a tour of Goa with a guide who speaks Russian. Our compatriots prefer trips to the cities of Hampi, Mumbai, all over Goa. According to reviews, tours from South Goa to India are popular.
Shopping in Kavelossim
On the beach and in the village Kavelossim there are many shops and stores where you can buy great souvenirs to remember the wonderful Goa and all the magic of India. We especially recommend handmade souvenirs.
There are also large shopping centers, which attract tourists from all over South Goa. This is The Saga Store, where you can buy quality clothing from world brands, jewelry, gifts and souvenirs.
It's easy to find real tea at the Indian Tea House. Margao Market is a food market and local attraction where tourists come to enjoy the local color, buy fruits, spices, products from Ayurveda, household goods, jewelry.
Hotels on the front line of Kavelossim Beach
Bike Old Anchor Beach Resort 3* is an inexpensive hotel by the sea, built in the shape of a boat.
Shikara Beach Resort 3* is a budget hotel with manicured landscaping and a pool where you can rent bikes.
Karma Royal Haati Mahal 4* is a hotel with three swimming pools, SPA center, fitness club and several restaurants.
Gafinos Beach Resort 2* is a very cheap hotel located just a few meters from the shore of the Arabian Sea.
Leila Goa 5 * – a first-class hotel, which applies a favorite system of Russians All inclusive, it is located on the neighboring beach Mobor.
Tourist reviews and a video review of Kavelossim beach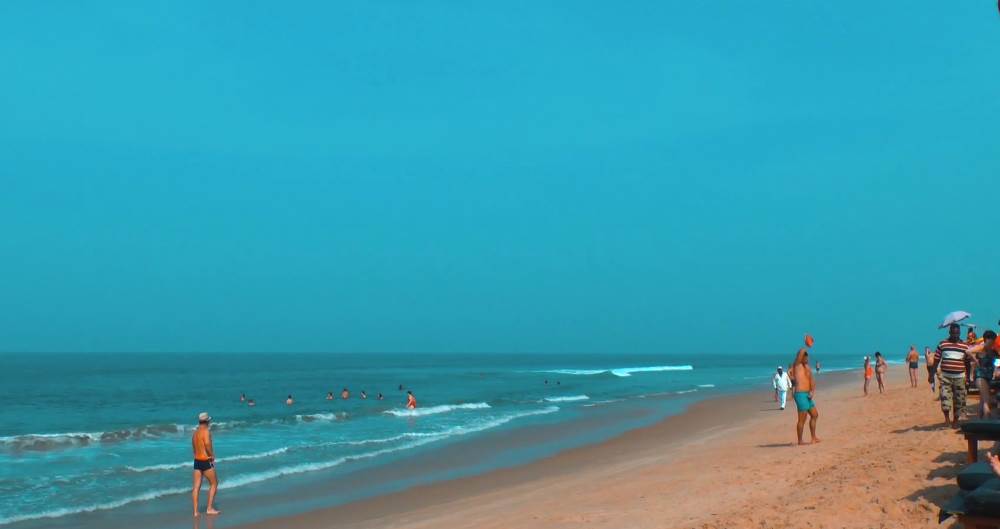 Compared to the nearby Kolpa, there are far fewer shakes on Kavelossim. But on the Kolpa for the weekend comes too many locals, so it can be noisy. Kavelossim is designed for quiet couples with children and for retirees.
A similar family beach is Benalium, but few Russians vacation here. And located near Kavelossim Palolem is designed exclusively for the amusement of young people, an adult can not stay on Palolem more than a couple of hours.