Jomtien Beach in Pattaya (Thailand) is located in the southern part of the city. This area of Pattaya compares favorably with the center, as. There is always a quiet atmosphere, very clean and practically no questionable public.
Jomtien Beach Maps
Jomtien Beach is developed tourist and beach infrastructure, there is everything you need for a comfortable beach holiday, as well as hotels of all star ratings, quality restaurants and cafes with good cuisine.
Jomtien on the map (interactive)
Map of Jomtien Beach in Pattaya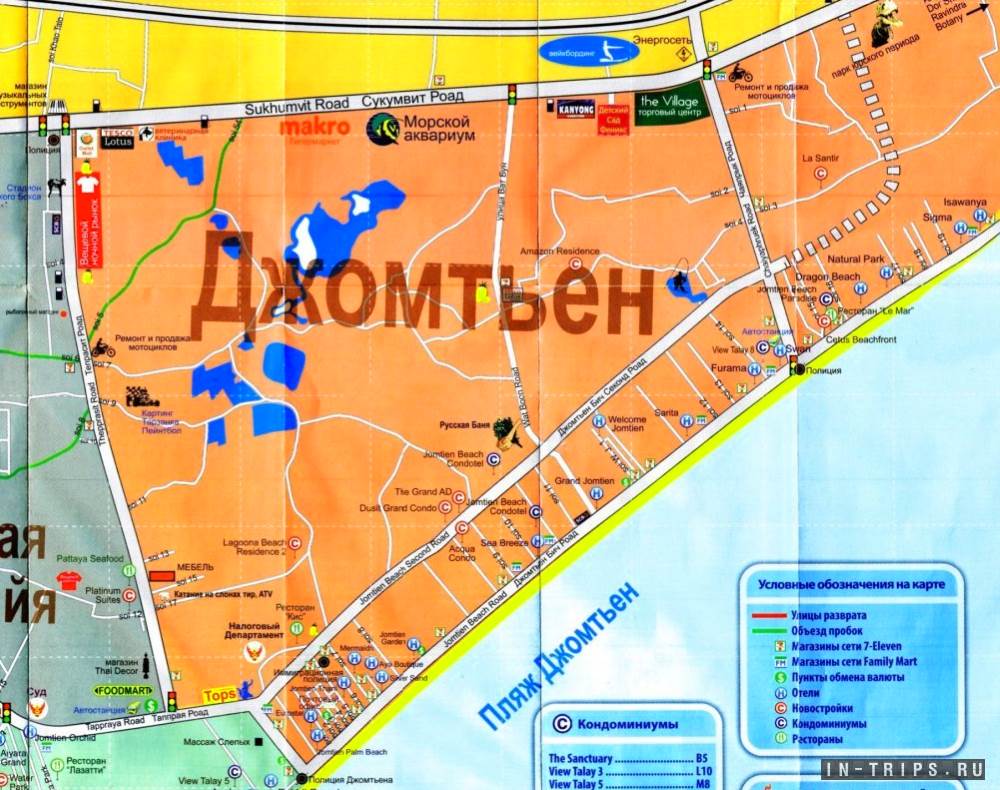 Description of Jomtien Beach
This beach stretches along the coast for more than 4 kilometers. A paved road runs along it, separating the sandy beach from the line of hotels. There are buses and shuttle buses running along the road all day long, bringing and taking tourists in and out.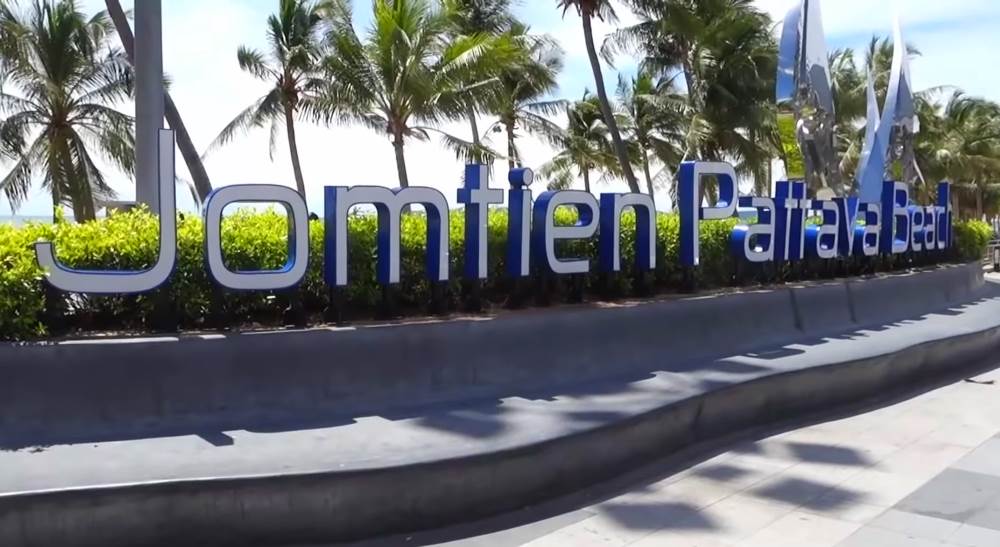 The width of the beach varies between 20-30 meters. There are many palm trees here, providing saving shade during the midday heat. A little north of Jomtien Beach is a beach for homosexuals, and even north of the beach for Russian tourists.
South of Jomtien, you can get to the fish market, where relatively inexpensive buy freshly caught fish and seafood from locals and tourists from many countries.
To ensure safety, there are police stations at the beginning and end of Jomtien Beach in Pattaya. According to reviews from tourists, theft is very rare here. But it is not advised to bring jewelry and expensive things on the beach.
A lot of people gather on weekends, when the beach mass arrives city residents with their families. They sunbathe, swim, play with children for hours at a time that is noisy and crowded.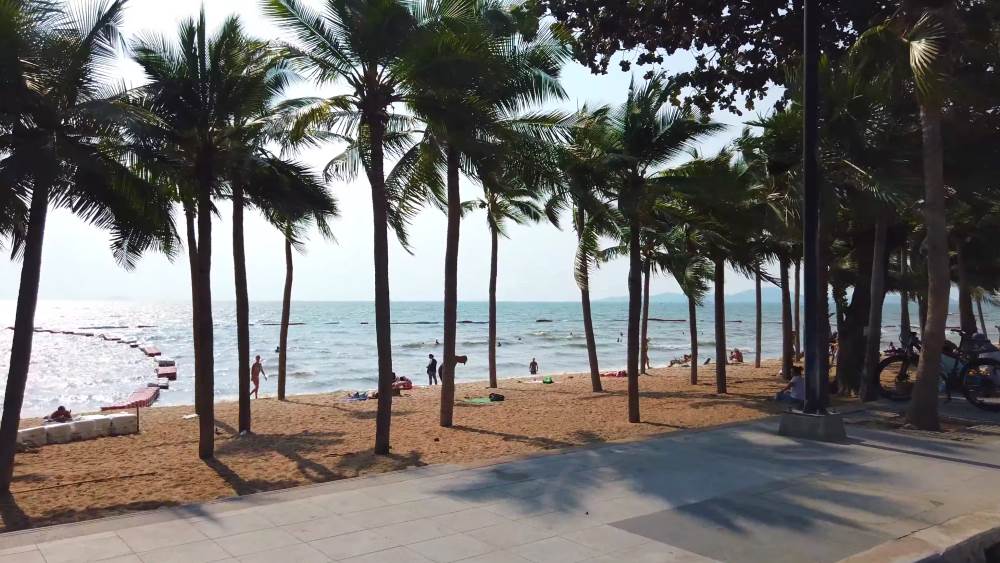 Locals come to Jomtien Beach on their bikes and park by the road. And you will love the local exotic tuk-tuks, they take tourists to any part of Pattaya for 10 Thai baht.
A couple of years ago here near the beach was reconstructed embankment, and around it were laid flower beds. For small children and people with disabilities equipped with special ramps, with their help it is convenient to go down to the sea.
Popular Hotels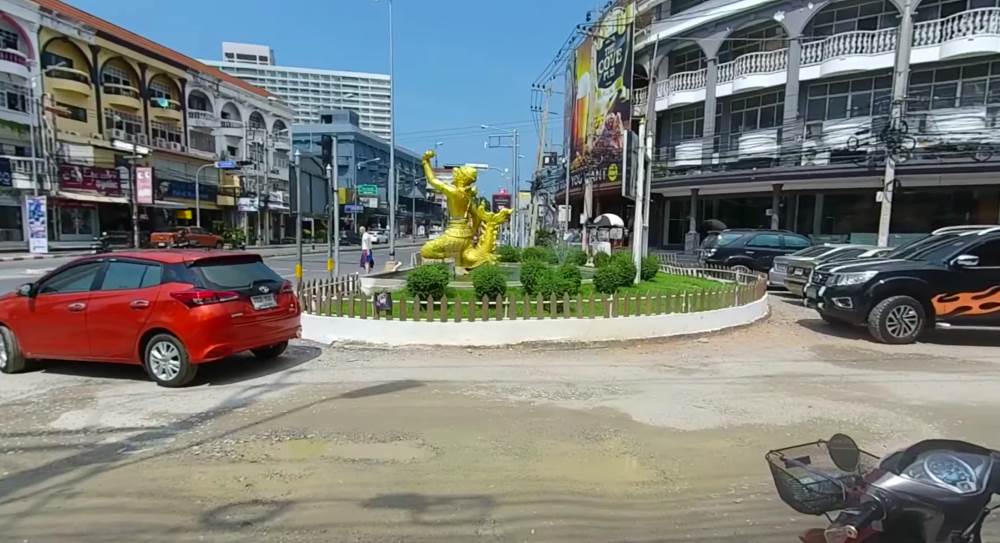 Find a comfortable and inexpensive accommodation near the beach is not difficult. However, it is recommended to book it online in advance through Bucking or other similar services, it will save you a lot of hassle in the future.
The Jomtien Twelve 3*. This is a hotel with standard double rooms in a hotel with a double bed. It will cost 35,000 rubles for two weeks. There is air conditioning, a bathroom and free WiFi. Breakfast is included in the price.
Atlantis Condo Resort Pattaya. This hotel is located near Jomtien Beach. It has a water park and outdoor pool, free WiFi and an excellent restaurant serving Thai cuisine. A one-bedroom double room costs 43,000 rubles for two weeks.
T2 Jomtien Pattaya 3*. The hotel is a kilometer from Jomtien Beach, and guests can rent a bicycle for free. The room has a flat-screen TV with satellite channels. The hotel has a fitness center. A double room costs 29,000 rubles for two weeks.
Villa Navin. This hotel is close to the beach. It has a pool, restaurant, free WiFi, and a choice of rooms, apartments and villas. A standard double room costs 27,000 rubles for two weeks. Breakfast is included.
Jomtien Longstay Hotel 3*. There is a swimming pool and free parking, you can visit a restaurant with Thai cuisine. To see the surroundings, it will be interesting to go out on the terrace. A two-week stay in a double room costs 20,000 rubles, breakfast included.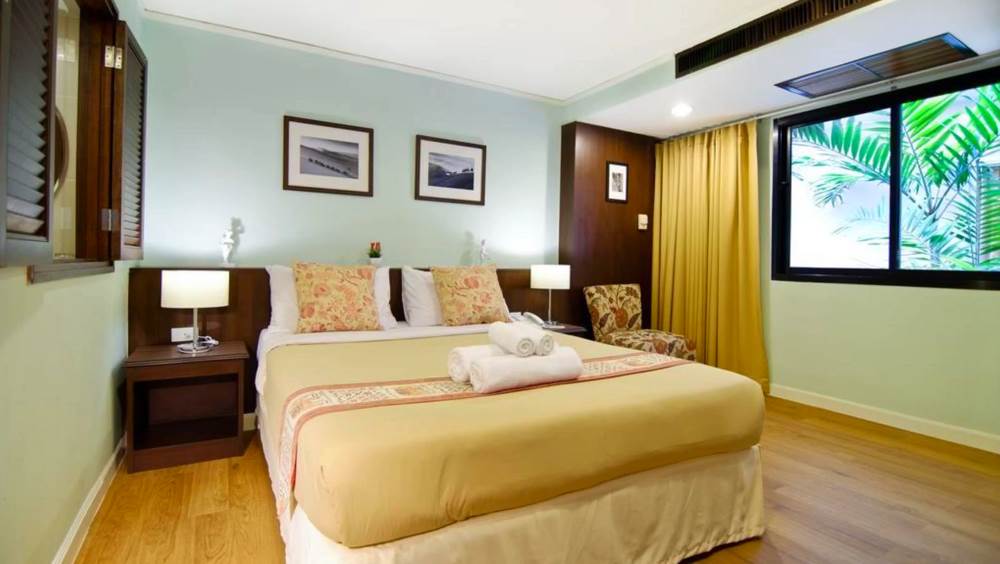 To the north of the district Jomtien Beach in Pattaya is just beginning, here you can see the quality of the restored waterfront. In the central part of the area there is practically no noise of tuk-tuks, shouts of prostitutes, a lot of stores for shopaholics.
In the south of the area on the beach noticeably reduced the number of tourists, it becomes much narrower and dirtier. There may be problems with tuk-tuks to get to your hotel on time in the evening.
Nutrition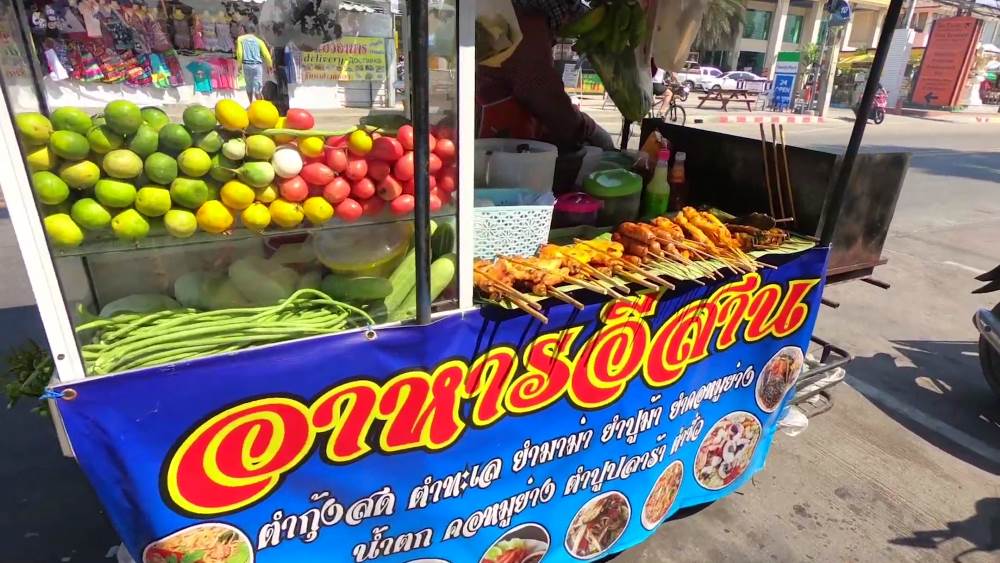 Thais and tourists often have picnics here. For this they bring food and wine from home or buy it from local vendors. Also near the beach there are many cafes and restaurants where you can eat between swimming and sunbathing.
Food vendors offer vacationers beer and soda, fruit and ice cream, delicious local pastries. You will definitely be persuaded to buy and try the local food, tea or coffee. Remember that food on the beach is a third more expensive than in the store.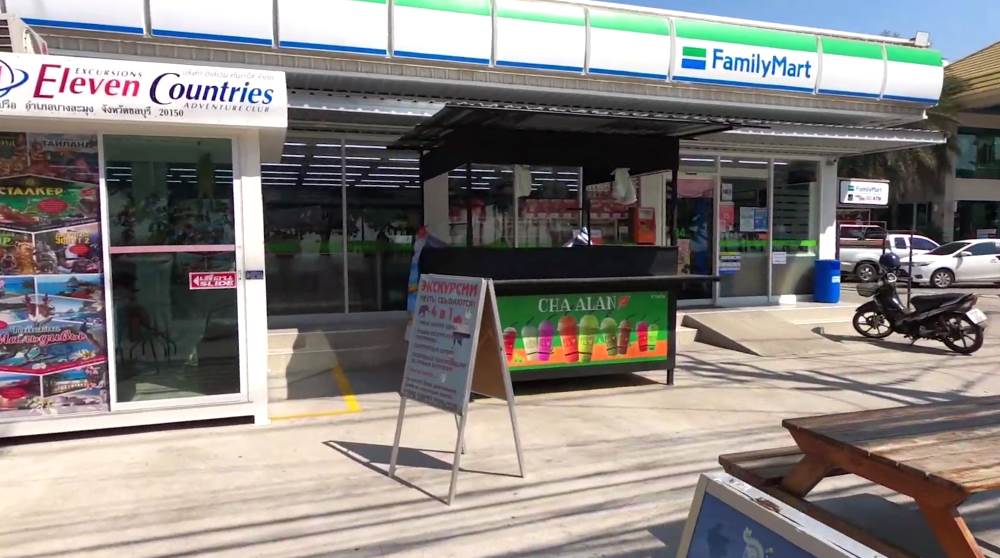 Buy cheaper food at local chain stores, right near Jomtien Beach. In the evening on the road, passing near the beach, begins to work food market, where you can buy even the Caucasian kebabs, Ukrainian corn, oriental sweets, etc.
Behind the road that separates Jomtien Beach in Pattaya from the hotels, wishing to find cafes, bars, restaurants, offering food and drink at democratic prices. Homesick Russians can find Russian and European cuisine.
Beach infrastructure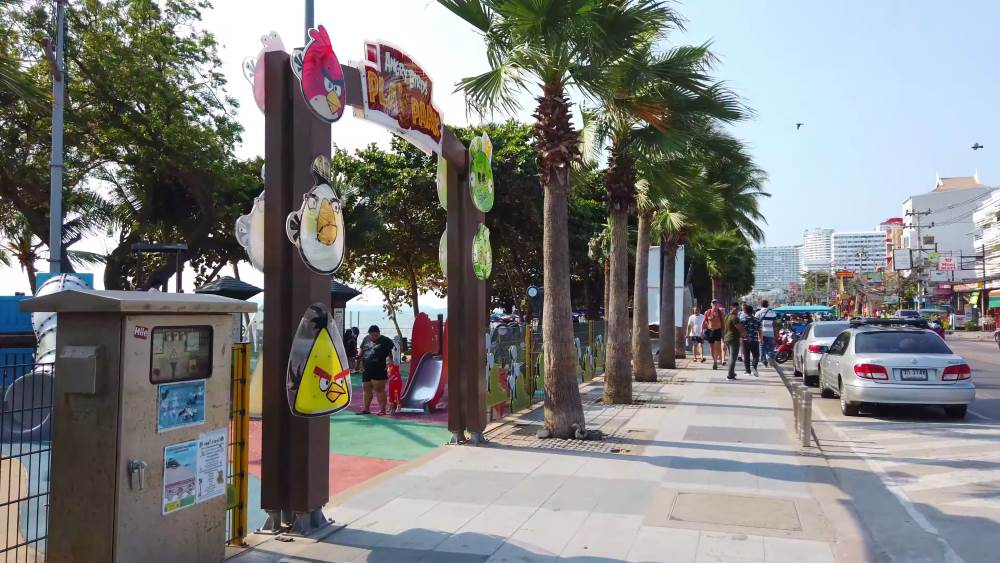 In Thailand, in cities where there are beaches, it is customary to rent parts of them to a particular Thai family for arrangement and use. You can also choose a day to rest area, rent umbrellas and sun loungers for 100 baht per day and be happy to relax.
If you do not want to pay for umbrellas and sun beds, you can settle directly on the sand, lying on a towel or beach mat. It is allowed to do it in any suitable place, but not to disturb those around you.
Weather and Seasons
The high season in Thailand lasts from October to April. This is the best time for air, sun and water baths. During the Low Season, it rains heavily and there are storms and tempests at sea.
There is a gentle entrance to the sea, no stones at the bottom, so the beach is perfect for children's bathing. Places designated for swimming, fenced buoys, you can not swim beyond them. During tropical rains the shores are eroded, so the sand is sprinkled.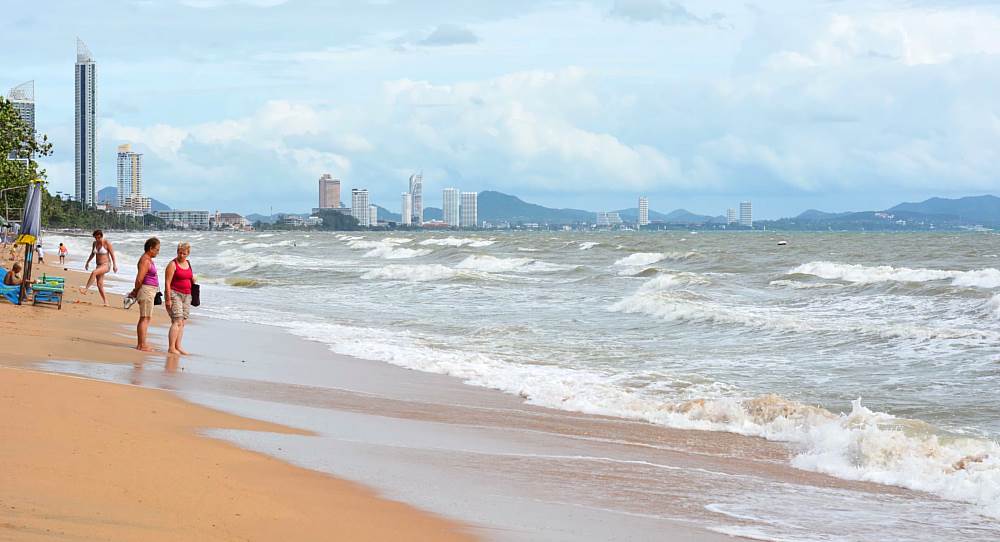 The water temperature in the sea all year round – about +25C. At low tide, the water moves a considerable distance away from the shores every day. During the High Season, there are virtually no storms at sea. In the Low season there is a fairly high wave.
Swimming at Jomtien Beach in the season is not dangerous. There are never any sharks here. Only in the middle of summer for a couple of weeks there are a lot of jellyfish, from them you can get quite painful burns.
Jomtien Beach Entertainment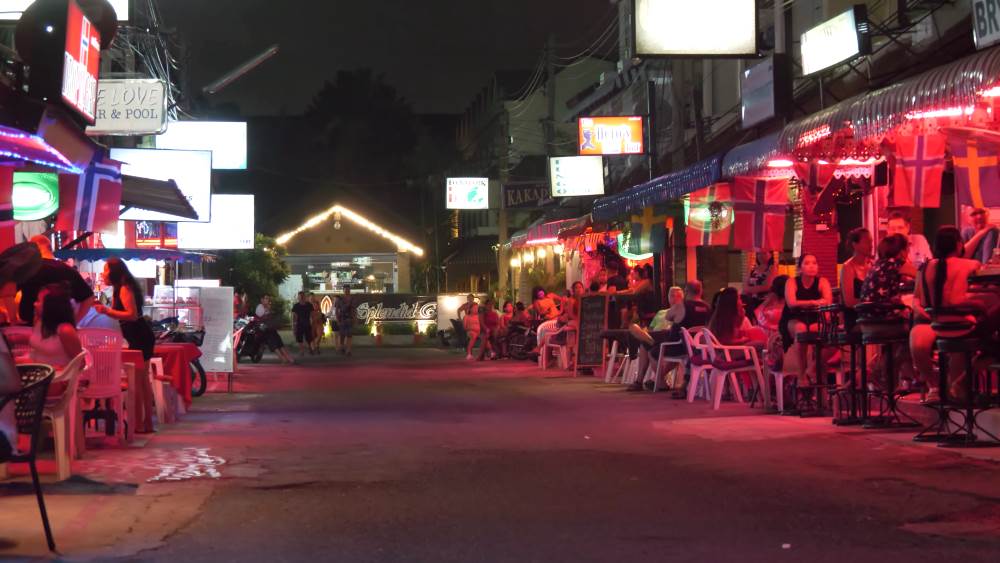 Here, tourists and other vacationers are offered many activities: water-skiing, "banana" or parachute behind the boat. It is possible to purchase a boat trip to neighboring islands near the mainland shore.
At Jomtien Beach, you can rent jet skis, play volleyball, learn to surf. The best time for water sports in Thailand, and in Pattaya in particular, is from November to May, that is. the entire High Season.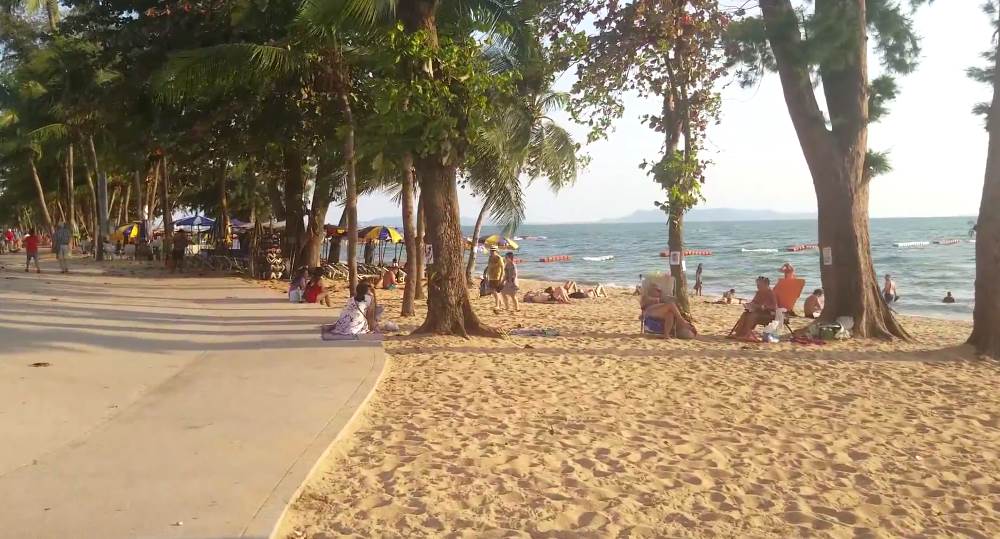 Various beach soccer tournaments are held here annually, including. Royal Cup. It will probably be interesting to watch the World Championship stage on jet skis, surfing championships, etc.
How to get to Jomtien Beach?
To get to Jomtien is simple, you can call a cab or take public transportation. In addition, you can use the wonderful local tuk-tuks and songteo or rent a bike for the entire vacation.
To get to the beach in Pattaya from the international airport of the same name, you must immediately after arrival go to the buses that go to Pattaya, they run once an hour, the schedule is performed fairly accurately.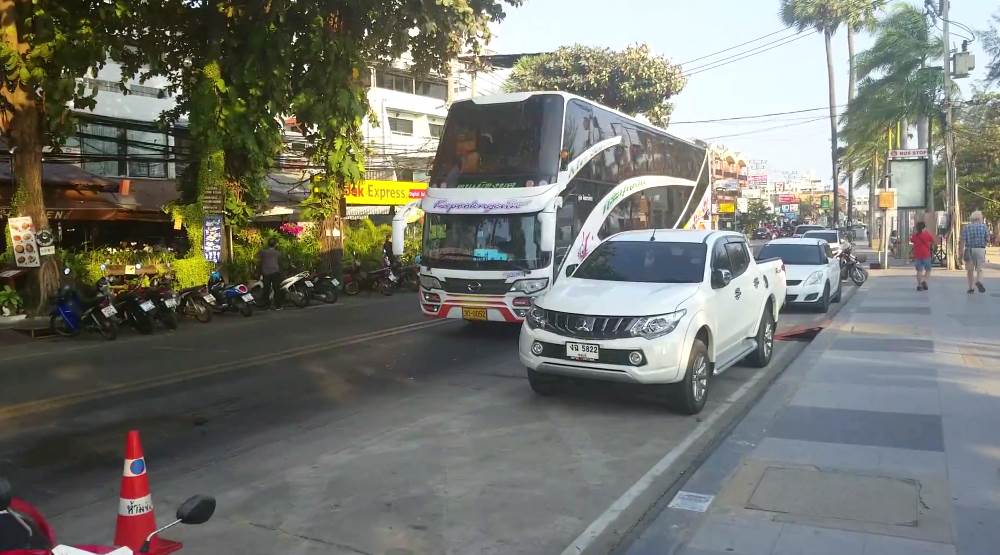 Then you should take a bus from the airport to the Foodmart terminus. There, take a tuk-tuk, whose driver will take you to Jomtien Beach in a few minutes. We do not recommend the use of cab services – unreasonably expensive.
Another option. From the North Bus Station to the center of Pattaya you can get by tuk-tuk, in the city this is the most convenient and cheapest mode of transport. He will be moving along South Street in this case. In the center, take a tuk-tuk to the beach.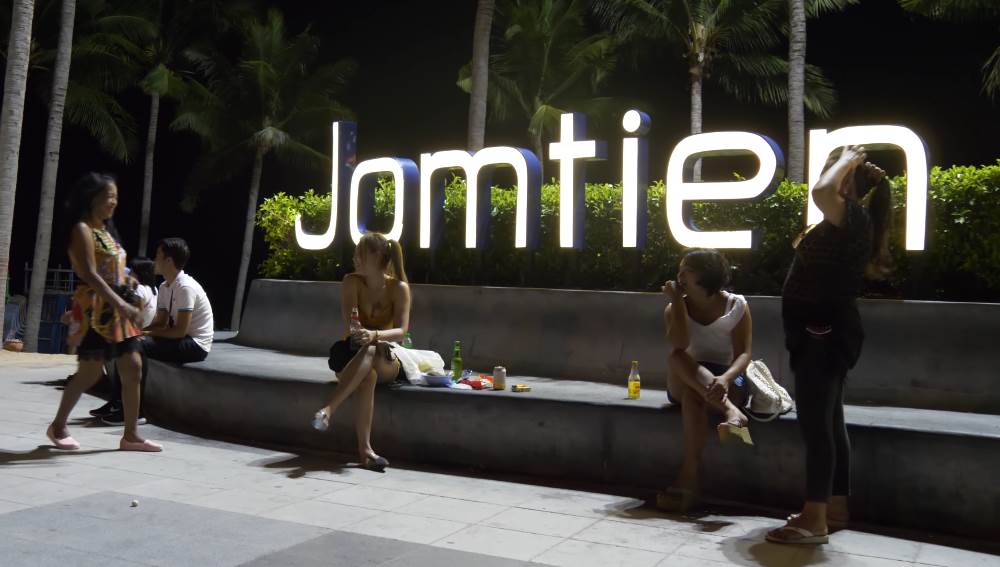 From the center of Pattaya to the beach you can also take another local transport – songteo. These are pickup trucks, which are allowed to carry passengers, they go from the city center to the beach in 20 minutes. It also costs 10 baht. By cab – 300 baht.
Video overview of Jomtien Beach