One of the most enjoyable things about visiting Thailand is that you can choose from a huge number of islands where you could stay. It may be very difficult to decide the first time, but the good news is that you don't have to stop at just one visit. After all, the trip from one island to another in Thailand is quite cheap and sometimes takes only 45 minutes to swim by boat. You can tour them every day or, better yet, stay at each one for a day or two. Don't forget that you will also be particularly impressed by the small uninhabited islands. Do you want an unforgettable experience? Then go for it!
The islands of Thailand are located either in the northwest in the Gulf of Thailand or in the Andaman Sea on the east coast of the country.
Andaman Islands
In the Andaman Sea are the most famous islands of Thailand: Phuket, Phi Phi and Lanta. From Phuket you can easily reach the popular resort of Krabi by boat or car. This city is located on the south coast of the mainland, and from here it is convenient to get to many islands. Krabi is also one of the most picturesque places in Thailand.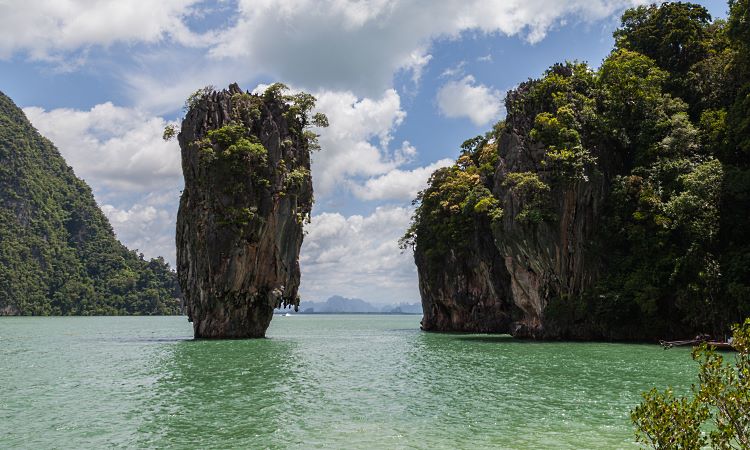 If you have decided to start your trip to Thailand from the Andaman Islands, we suggest you start your vacation in Phuket, since it has an international airport. Phuket will easily take you a few days to explore the temples, elephant rides, Phuket's own Fantasy Disneyland, diving excursions, water activities such as water skiing and sailing, horseback riding, market shopping, and a buzzing nightlife.
From Phuket, it takes 1.5 hours by boat to reach the island of Phi Phi. Be sure to visit Maya Bay, the location where the movie "The Beach" starring Leonardo DiCaprio was filmed. You probably won't see such crystal clear water anywhere else. This beach is located on nearby uninhabited islands, and you can not stay overnight there. Without procrastinating, stop by Monkey Island and visit the Viking Caves. Among the adrenaline junkies here are popular kayaking, rock climbing and cliff jumping.
Charting a course from Phi Phi Islands to Krabi, you'll see many sights and unique wildlife spots.
Krabi is bordered by the world-famous Pang Nga Bay, which is the center for countless islands and limestone formations protruding from the ocean. The largest of them is Ko Lanta. Due to limited commercial activity and construction in this wildlife sanctuary, you will have a unique opportunity to experience the island in its natural state. From Krabi you can also get to Ko Poda, Ko Kai and the amazing Hong Islands. They are all uninhabited.
Islands in the Gulf of Thailand
There are three main islands in the Gulf of Thailand. The most famous of them is Samui. There is also an airport here, so if you do not want to spend two hours on the crossing from the mainland plane will be at your service. Samui has enough attractions to keep you busy for a few days, but don't forget the nearby island of Phangan. After Samui, it is the most popular resort on the coast. You can reach it from Samui by boat in 45 minutes for only $10.
Phangan still retains many rural and idyllic features, but the island is best known for the amazing parties in honor of the full moon rising each month. Most young travelers will swim to Pangangan every day, party all night at Nadrin Beach, and be back in the morning.
Do not be upset if your vacation does not coincide with the lunar calendar. Now parties are held almost every day under the sign of every quarter moon and even without one.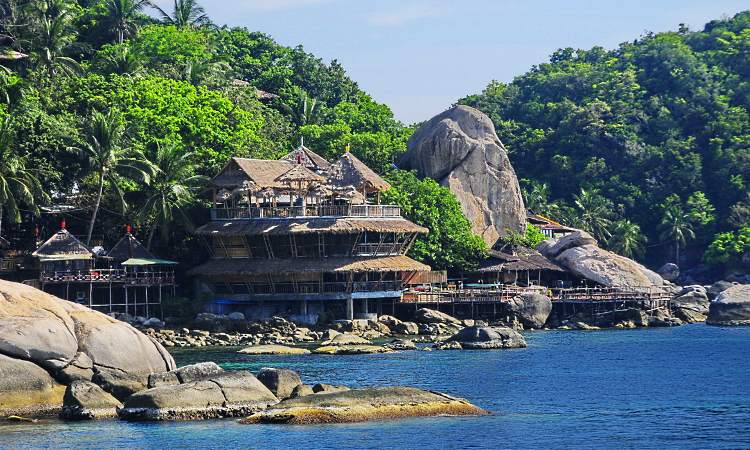 Don't forget to visit Tao, an island about an hour's drive from Samui and Pangan. Boats full of tourists come here for an unusual dive. Here you can see all the splendor of the coral world at a depth of just 4 meters. If you decide to stay in Tao for at least four days, it is quite possible that you will return home as a licensed scuba diver.
Wherever you are in the Gulf of Thailand you should definitely visit Ang Tong National Marine Park. Group tours are offered here daily. This park consists of more than 40 very small islands clustered close together, all uninhabited. The walk can take about an hour. The water between the islands is incredibly soothing with its purity and shallow depth – only 3 – 4 meters. When you travel, be sure to stop at one of the islands on the white, deserted beach. You can swim here or climb to the highest point of Ang Tong to enjoy an unforgettable view.
To the east of the bay is Chang Island, the second largest of the Thai islands, but still in pristine condition, presenting you with unspoiled jungle, amazing waterfalls and beaches. Chang is part of an archipelago of 52 islands. If you really want to explore it, you may have to spend your whole vacation here.
When planning a vacation, of course, it is difficult to choose any one place to rest. Make up your mind and plan your days to visit as many of these amazing places as possible. In Thailand, many tour operators and private entrepreneurs offer transportation services. So make up your mind, take the insurance and bravely go to meet the unknown!