Belarus has several remarkable castles, loved by residents and visitors to the country. One of those that have undergone a thorough restoration is the Mrrsky Castle, located 100 kilometers from the capital.
The geographical location of Mir Castle
Mir Castle is located in the Grodno region, adjacent to the Minsk region. The distance from the capital of Belarus to this tourist attraction is half as much as from Grodno.
The exact address of Mir Castle: Grodno region, Korelichi district, Mir village, Krasnoarmeyskaya street, 2.
To travel to Mir from Minsk tourists use:
electric train;
bus (regular or sightseeing bus);
car (cab, transfer, personal).
Choice of transport going to Mir from Minsk
If you booked a tour to the Mir Castle – how to get from Minsk, tourists do not need to find out. Such a question arises to people who travel independently in Belarus.
Train
Experienced tourists recommend to take a train from Minsk to Gorodeya station. Many people find this way comfortable. The ticket price is about 2 Bel. rubles. The site minsk.elektrichki.net is very practical: you can immediately see the schedule of electric trains back and forth. There is a warning on the resource – changes of departure and arrival should be clarified at the station and station.
The train going from Minsk to Baranovichi will be in Gorodei in two hours. And then – 17 km by cab. It's not easy to take the bus from Gorodei to Mira (and back). Once a day there are transit flights from Slonim or Grodno. The Slonim-Nesvizh route via Mir and Gorodeja is of some interest, but this transport runs rarely.
Bus
Pay attention to the site ticketbus.by. Here you can easily find the schedule for trips from Minsk to Mir (type MIR AK) from the Central Bus Station.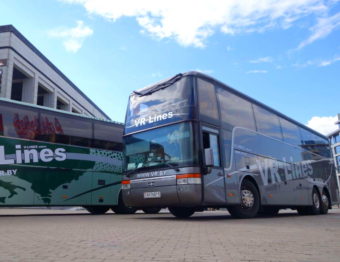 At intervals of about two hours (e.g., 6:30, 8:40, 11:50, etc.) you can pick up a flight on a soft coach and book in advance. Passengers will be in the village in an hour and a half. Then the bus goes to Novogrudok, Lida and other cities. The cost of a one-way trip is about 6-7 Belarusian rubles.
From the bus station (located on the 17th of September Square) to Mirsky Castle is easy to walk. The experience of independent travelers suggests that it is better to learn the schedule of buses from Mir to Minsk and buy a ticket to avoid disappointing misunderstandings.
Car
If travelers do not have a car, it is not difficult to order a cab or rent a car.
In particular, the website minsktransfertours.com (in English) offers to order a transfer from the National Airport or from Minsk itself to Mir Castle.
You will have to drive 98 km, taking into account the road conditions – 1.5 hours. The roads in Belarus are good. Passengers will enjoy the trip – the country is known for its picturesque surroundings. On the M1 highway leading to Brest, the driver reaches the turn to R64. Index – Columns, World.
Selecting a travel time
It would be a shame if sanitation hours, box office closures, or special events prevented a visit to the Mir Castle Museum. Excursions inside the palace buildings are in great demand: a qualified guide will tell you a lot of interesting things.
It is necessary to check the website of the museum complex.
From 10 a.m. to 6 p.m., the administration gives inquiries by phone (8 01596) 28 2 70.
Hours of Mir Castle – from 10 to 18, the ticket office closes at 17.20. The parks and the castle courtyard are open for free inspection. For more information, visit mirzamak.by/posetitelyam.
Visiting Mir Castle on the way from Minsk to other cities
Interestingly, Mir Castle is on the way from Minsk not only to Grodno, but also to other famous cities of Belarus. People come here by roads leading to Lida, Baranovichi, and Brest. If the way lies to Gomel or Bobruisk, it is worth developing a route that passes through this historical relic and Nesvizh Castle.
If a guest of Belarus is limited in time, it is more convenient to visit the Mir and Nesvizh castles in one trip. The distance between them is 40 kilometers, and the distance from Minsk is almost the same.
Take note that it is worth seeing not only the palace buildings and the museum, but also other attractions of the multifaith city of Mir. Not far from the bus station are Trinity Church and St. Nicholas Church, there are other historical and architectural monuments. Those who have decided to look around thoroughly and spend more than one day here will have to book a hotel room.