The Taj Mahal is an outstanding creation in world architecture. Every year millions of people come to see this attraction. If you have already decided to visit the mausoleum, in this article you will learn how to get to the Taj Mahal from Delhi, what time you can visit it and how much everything will cost.
Where is the Taj Mahal?
One of the most famous landmarks in the world is located in the city of Agra near the banks of the Yamuna River. The settlement is located in the state of Uttar Pradesh in northern India. From Delhi to Agra, the road goes southeast. The distance between these cities is 200 km. Indian trains cover this distance in three hours.
How to get from Delhi?
You can get from Delhi to the Taj Mahal by train, bus or cab. In the first case, you need to buy tickets in advance. You can order them online at the website of Indian Railways, buy them at the train station or in a travel agency. There are many trains running along this route in a day, so you can get to Agra at any time of day. Tourists traveling by rail arrive at Agra Cantonment station.
Route on the map
The trip by bus will last 5 hours. It will cost about 500 rubles in Russian money. It takes an average of 3 hours and 20 minutes to drive. But it costs a lot: the cheapest way to do it is for 10,000 rubles.
If you are not planning to visit Delhi, you can get to the city where the Taj Mahal is located directly by plane. Kheria Airport is 7 km from the city. Flights to Agra come from Moscow and St. Petersburg.
How do I buy train tickets?
Tickets can be purchased at any Delhi train station. When tourists buy tickets, they indicate on the form the number of the train on which they wish to travel to Agra. You can fill out several forms at once. If there are no seats on the desired train, the passenger can take another one.
You can buy tickets in a special office. It is located on the second floor of the New Delhi Railway Station. Inside, everything is done to make customers feel comfortable. There is air conditioning in the office. The passenger can sit on a padded sofa and fill out the forms. After that, the form should be given to an employee of the company.
Buying tickets online is a convenient way for foreigners. To do this, go to www.cleartrip.com and book your tickets. They will come by email. It is better to order tickets 2-3 days before the trip.
The only problem is that you can only book a ticket if you have an Indian phone number. You will need it to have a code sent to you when you buy your ticket. The tourist will not be able to buy a ticket if he does it in Russia.
You can buy a train ticket in a travel agency, but there the price will be higher than at the station. It is very convenient to buy tickets from Indian travel agencies. But not all of the functions the company performs are available to foreigners. Indian agencies sell tickets for all kinds of transportation. The agency will charge a commission of 30-50 rupees. It is indicated on the ticket. But you can bargain with employees of Indian agencies. There's a good chance they'll lower the price.
Types of cars
Carriages on Indian trains vary by class:
The most budget Second Class sleeper resembles our parlor cars, only instead of two shelves on one wall there are three. The main disadvantage of these cars is that there is no air conditioning and it is very stuffy to ride in them. There is no glass in the cheap cars. Often grids are used instead. Second class sleeper is mostly used by locals. The fare is 75 rupees (67 rubles).
AC 3-Tier Sleeper. They have windows and air conditioning. Just like in Second Class sleeper cars, there are three shelves attached to each wall.
AC 2-Tier Sleeper. Unlike the previous type of wagons there are 2 shelves hanging on one wall. That is the same as in our first-class cars. There are curtains on the windows. Tourists in such wagons are fed. But the food there is not very pleasant for a Russian.
AC 1st Class. There are two couches in each compartment. Reminiscent of the SV class cars in Russian trains.
AC Chair Car (CC). This is a seated carriage. The chairs in them are soft enough. Tourists can use the retractable tables on the front seats. There is air conditioning in the carriage. The fare is 700 rupees (620 rubles).
2nd Sitting – cars with seating. The same as the Russian electric trains. A trip in such a carriage will cost 370 rupees (330 rubles).
How do you get around the city to the Taj Mahal?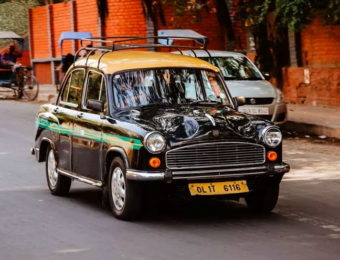 You can reach the Taj Mahal by car or by bicycle rickshaw, minibus or cab through the city of Agra. Uber and Ola operate in this city. By car you can not get closer than 500 m to the mausoleum. It is possible to go by bicycle rickshaw or electric car, but you have to stop 200 m before the monument of architecture. You can park near the Shilpgram Cultural and Artistic Complex.
If you rent a cab for a day, it will cost 1200 rupees (in our currency – 1070 rubles). The original average price in Agra for a cab ride is 60 rupees. Then for each kilometer add 11-12 rupees.
Most cars do not have meters, so you can bargain with local drivers. The original average price in Agra for a cab is 60 rupees. Then for each kilometer add 11-12 rupees. From the main station of Agra to the Taj Mahal the distance is 4.7 km. That is, a cab ride to the attraction will cost the tourist about 110 rupees. In Russian money it is 98 rubles.
Operating hours of the Taj Mahal
Tourists can visit the attraction from 6:00 to 19:00 on any day except Friday. On this day, prayers are held in the mosque. Two days before the full moon and for two days after it people are allowed to enter the mausoleum from 20:30 to 00:00.
Tourists can buy tickets at the ticket office, starting at 1 o'clock before sunrise. Ticket sales close 45 minutes before sunset.
Cost of visiting the Taj Mahal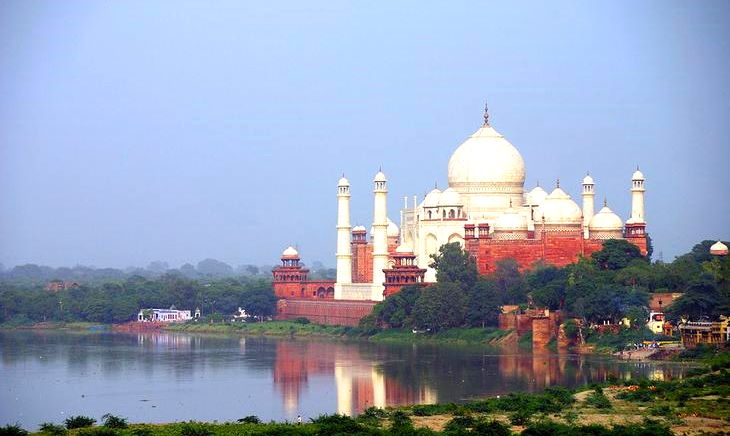 For foreigners, a visit to the mausoleum will cost Rs. 1,100 in 2019. In Russian money it is 980 rubles. For residents of South Asia – 540 rupees, for citizens of India – 50 rupees. Children under 15 years are allowed to visit the attraction for free.