Halong Bay is located in northern Vietnam in the South China Sea and has an area of more than 1,500 square kilometers. There are several thousand islets, caves and cliffs, unique natural attractions.
Brief description of Halong Bay
In Vietnamese, the name Halong means "The Bay where the dragon descends. In the mid-90s of the last century, it was included in the famous UNESCO list and today it is under the protection of the state.
At the beginning of the 21st century Halong Bay was recognized as a natural wonder of the world. It has an extraordinary, one-of-a-kind landscape, which is most interesting to observe while boating between the rocks.
The true beauty of Halong in the brochures you can not discern. So we invite you to Vietnam to enjoy this miracle of nature, you will definitely not forget it.
Almost all of the islands in the bay were formed from rocks. Countless caves have appeared in them over the millennia. Each has stalactites, stalagmites, waterfalls, etc.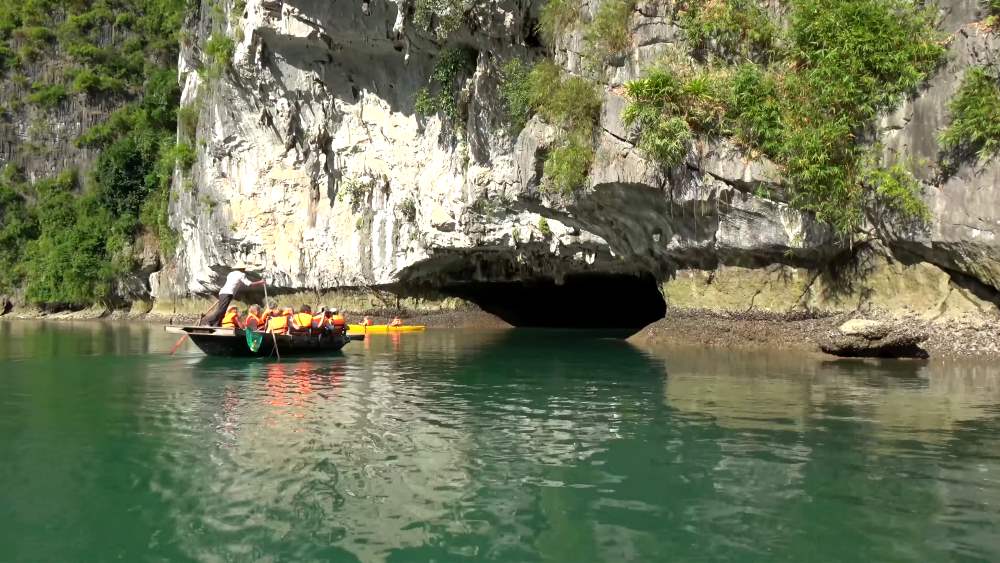 The most interesting and famous caves in Halong Bay are equipped with colored lights, which turned them into a fabulous underground palaces. Such natural artifacts are extremely popular with tourists.
There is no serious tourist infrastructure, so you can have a good rest. The bay is solely an object of inspection and study for one or more days.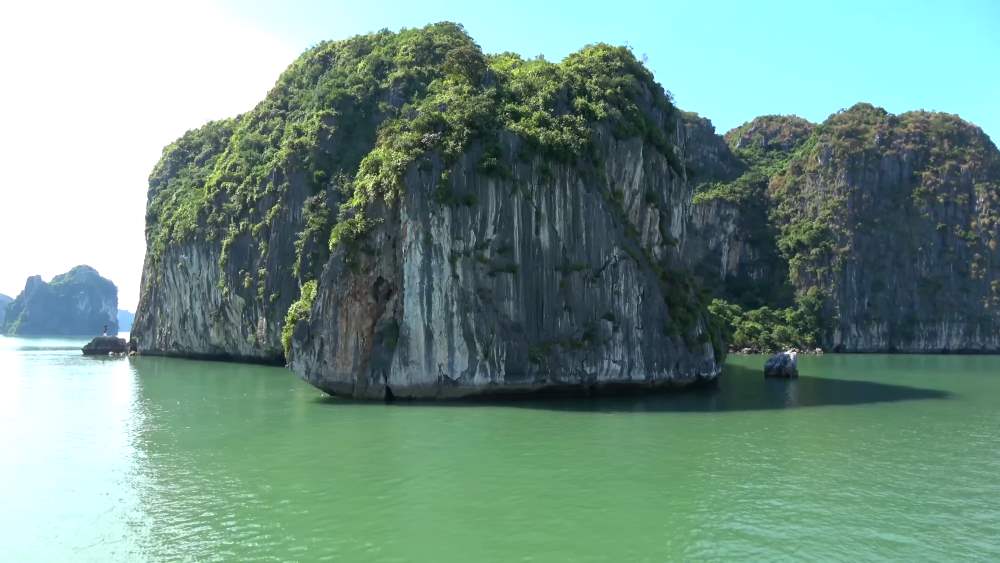 You can stay at a hotel on one of the most interesting local islands Cat Ba and spend a few days near the bay, enjoying the natural surroundings and the mysteries lurking in the caves.
IMPORTANT TO KNOW! Going to Halong Bay, remember that here are quite often accidents with tourists, up to and including death. It has to do with the old collapsed boats that take tourists around the bay.
Halong Bay Sightseeing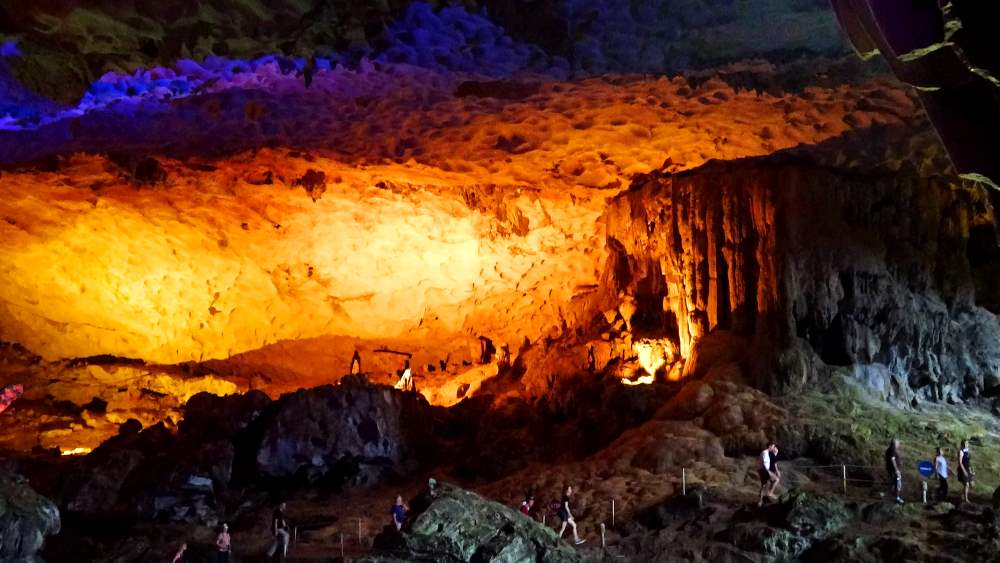 The Cave of Surprises. It's the best cave in the entire Bay Area. Tourists visiting it are completely delighted. As you go deeper in, it becomes larger, more beautiful, and more varied, delighting guests.
The ceiling of the cave is decorated with stalactites, like colored chandeliers. On the floor are rocks of all kinds of shapes. Here you can see different animals, trees, flowers, etc. The deeper into the cave, the more interesting it gets.
Monsters. In Vietnam, many are convinced that a large, mysterious animal lives deep within the Halong Caves. Some have seen a giant snake with large eyes at least 20 meters long, covered with scales.
Early last century, French sailors spotted near Halong Bay a creature with a turtle head more than a meter long and a huge body with a crest. He managed to hide from his pursuers in the depths of the sea.
Halong Bay Weather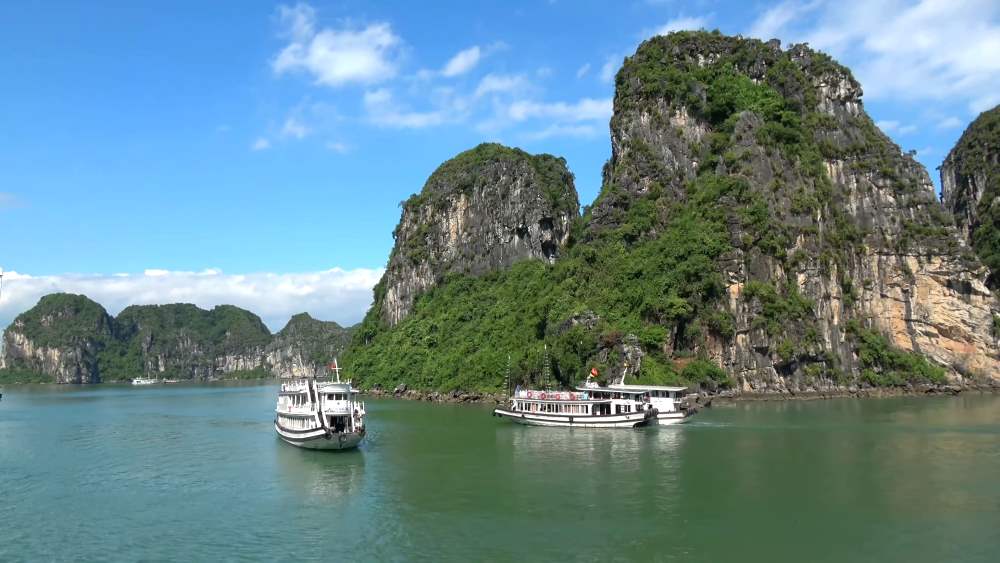 As in all of Vietnam, Halong Bay has a pronounced tropical climate. The whole year is divided into two seasons: hot and very humid, rainy summers, and cold and very dry winters.
It is best to go on a trip to the bay in April or May, or in September or October. In principle, you can come to Halong at any time of year. But a special pilgrimage takes place in the above months: late spring and early fall.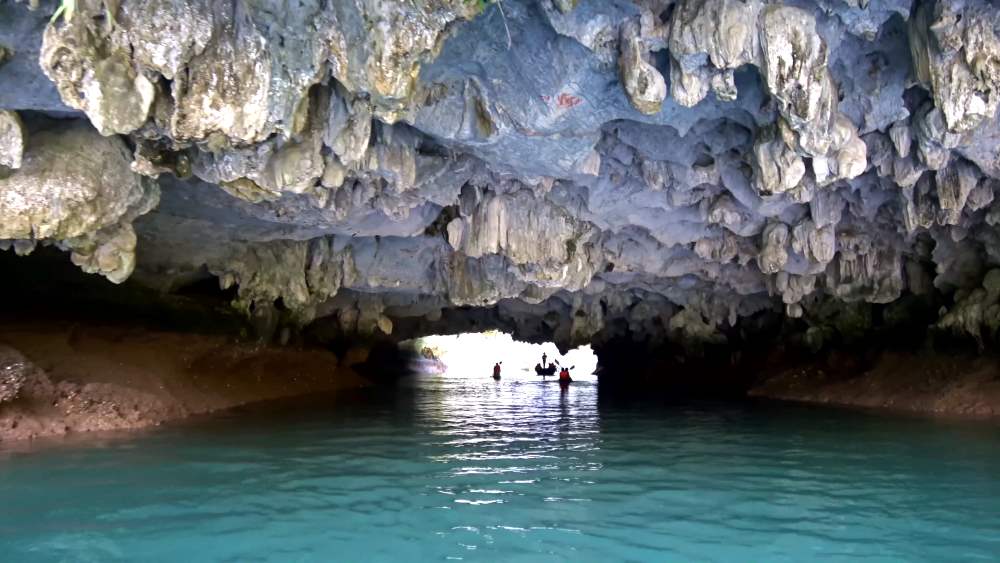 Of course, there are no frosts here in winter, but very cold, piercing winds are possible. And in the summer it often rains, which can get you soaked through in a minute. So prepare in advance for your trip, take warm clothes or an umbrella.
In early March, it gets warm here, the water in the sea warms up, you can start swimming. The favorable season for visiting Halong Bay is approaching. It's been hot all summer, and it rains a lot. In the first half of fall, you can again go to Halong.
How to get to Halong Bay?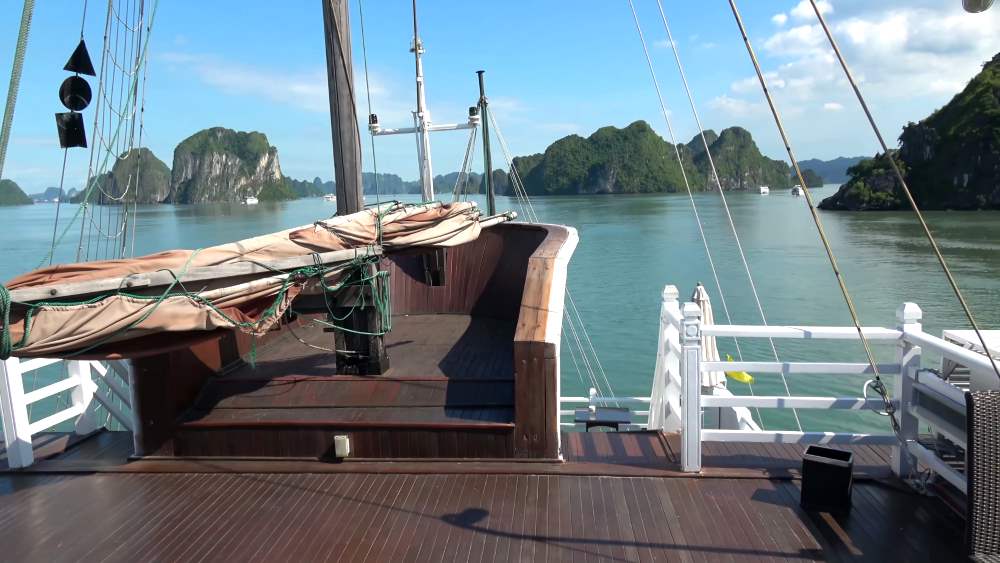 Most tourists go to Halong from Hanoi. The Chinese come here from Nha Trang by bus. To get to the bay from Ho Chi Minh City, you have to fly to Hai Phong. You can also book a cab transfer from Hanoi to the bay.
From Hanoi by bus
The easiest and most convenient way is to get to the bay by bus. From Hanoi to Halong City tourist bus ticket costs about $10, it takes at least 3 hours. The bus ride is cheaper: 50,000 Vietnamese dong or $2.16.
Flight beads move very slowly, often stopping, so it takes 5-6 hours to get from Hanoi to Halong. The final stop along the way is called Bai Chai Bus Station.
If you want to get to the pier where the pleasure boats go to Halong Bay, you have to stop at the pier in Halong. There you should buy a tour of the bay and immediately go on a trip.
By train
There are no trains directly to Halong City. But you can go to Hai Phong, the travel time from Hanoi will be about two hours. There is no need to buy tickets in advance, they are always available at the ticket office.
From Hai Phong to Halong City, you can choose to take a ferry, boat, or bus. There are also direct flights to Cat Ba Island by ferry or boat. The ticket costs 150 thousand Vietnamese dong, or $6.49.
Halong Bay Excursions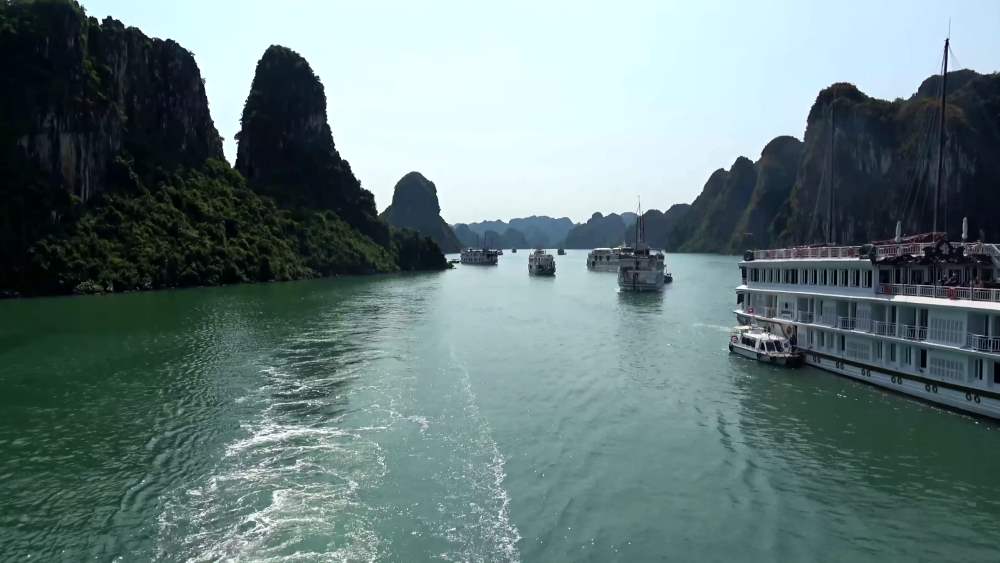 Choosing between an independent travel and a group tour, it is better to opt for the second, it is much easier and more profitable, especially if you go here for the first time.
You can buy a boat tour on Halong. During it tourists explore the local caves and islands, flora and fauna. All these excursions start in the early morning and continue until lunch. Don't be late.
A self-guided tour is good if you prepare for it. First you walk around the bay, the town of Halong, go to the beach, and then to the local national reserve. That way you get the most out of it.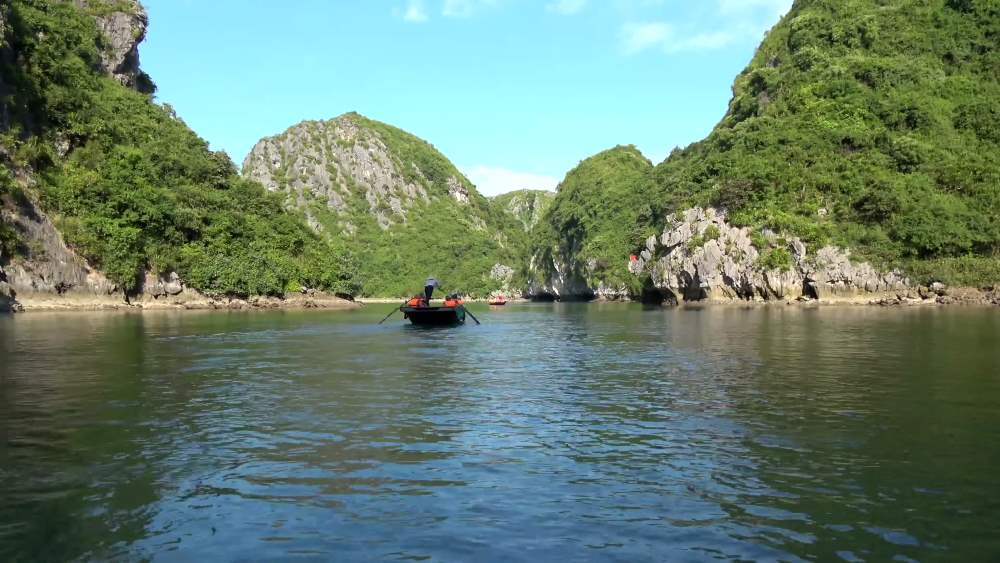 The cost of the tour depends greatly on the class of the chosen boat. The stinginess of a particular seller is also of great importance, as well as the buyer's ability to haggle, which is extremely important in the oriental bazaar.
After buying a tour, you may encounter a tourist who bought the same thing out of hand at twice the price or cheaper. A simple way out of the situation – to buy tours in travel agencies, not from the hands.
How much does the tour cost?
The cost of the Halong tour includes:
walks between the rocks;
visiting the floating village;
canoeing through the caves;
walks in the caves on the islands;
eating, etc.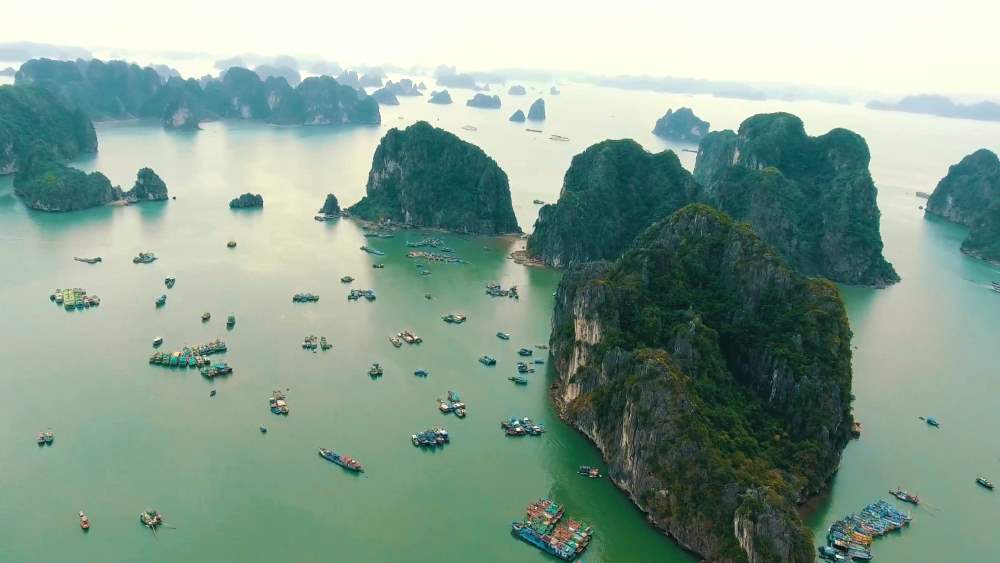 In multi-day tours even more varied program, with it you can learn in the process of buying. For beginners, the optimal duration of the tour is two days, a day here is simply impossible to see everything.
A self-guided one-day boat trip without a guide can be purchased in Halong or Cat Ba Island. It includes a visit and tour of several major caves and a hearty lunch. It all costs 80,000 Vietnamese dong, or $3.46.
The two-day trip is usually for two people and includes a romantic night in a boat or hotel on the islands. It costs about 800,000 Vietnamese dong or $34.6 to go to Halong Bay.
How to choose a hotel?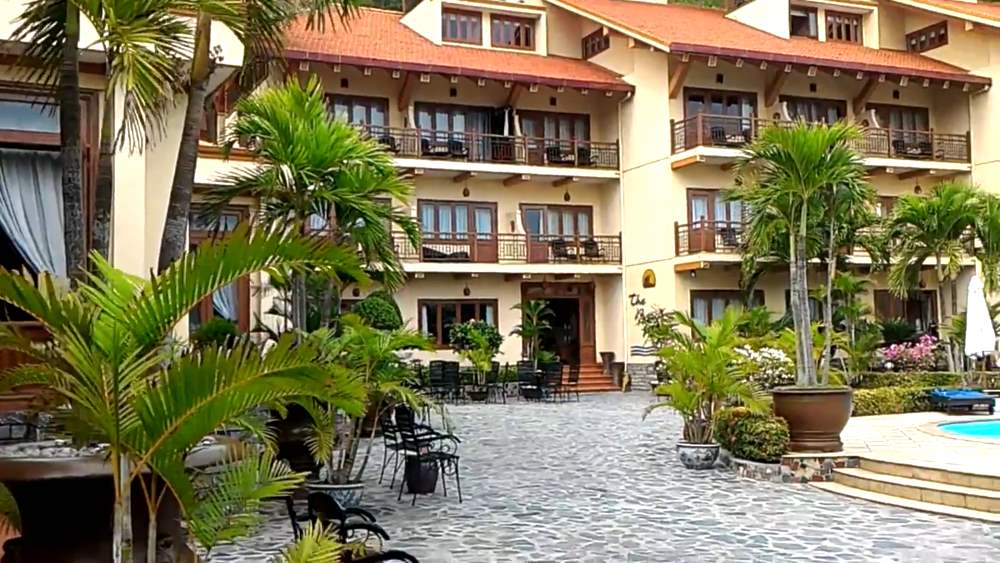 If you plan to stay for a long vacation, it is better to choose a hotel room on the island of Cat Ba. There is also a magnificent national park with unique flora and fauna, and for beach lovers – several excellent beaches with white sand.
On the island of Cat Ba is the best place to stay near the beach Bai Chai. Another favorite place of experienced tourists is the island of Tuan Chau. It is connected to mainland Vietnam by a bridge. There are chic beaches and exorbitantly expensive hotels.
In the city of Halong do not recommend stopping, because. The city is quite gray, there are no interesting sights and entertainment. Tourists simply spend the night here to go on a trip around the bay in the morning.
Map of Halong Bay with beaches and hotels
Useful Tips for Visiting Halong Bay
If you purchased alcohol on the ship during your cruise, you will be charged an additional VND10,000 or 43 cents for each bottle. So buy liquor in advance, on land.
Halong Bay is a truly mystical place of extraordinary beauty. We recommend photographing or videotaping these places during sunrise or sunset, they turn out fantastic. Remember that sunrise and sunset in the tropics are extremely fast because. The sun is moving at practically right angles. So prepare in advance and hurry up with the shooting.
Diving is common in Halong Bay. Amateurs are engaged in it under the supervision of instructors right from the boards of pleasure boats. For this purpose, special excursions for diving enthusiasts are organized and conducted.
There are many crooks in the tourism business in Vietnam. At any moment they can cheat you of your money. For example, offer a ride to the caves for 1-2 dollars, and after boarding the seats will ask for twice the amount. Be careful!
Halong Bay on the map