Going to the island of Phu Quoc in Vietnam, you must remember that you will find not only great beaches, comfortable hotels and inexpensive seafood, but also quite a few problems not solved by this rising tourist power.
Here we will talk not only about the pros and cons of this wonderful tropical island, share the unique experience of those tourists who have already vacationed on it, fully explored and loved it forever.
Useful information about Phu Quoc Island
Phu Quoc is located in the Gulf of Thailand in the Pacific Ocean, next to the southwest coast of Vietnam, to which it belongs, and Cambodia. Thanks to the climate and location, it is just made for tourism.
Phu Quoc Island is the largest Vietnamese island among many smaller islands. The Vietnamese also call it Pearl Island, Sunset Island, or 99 Mountain Island.
Geography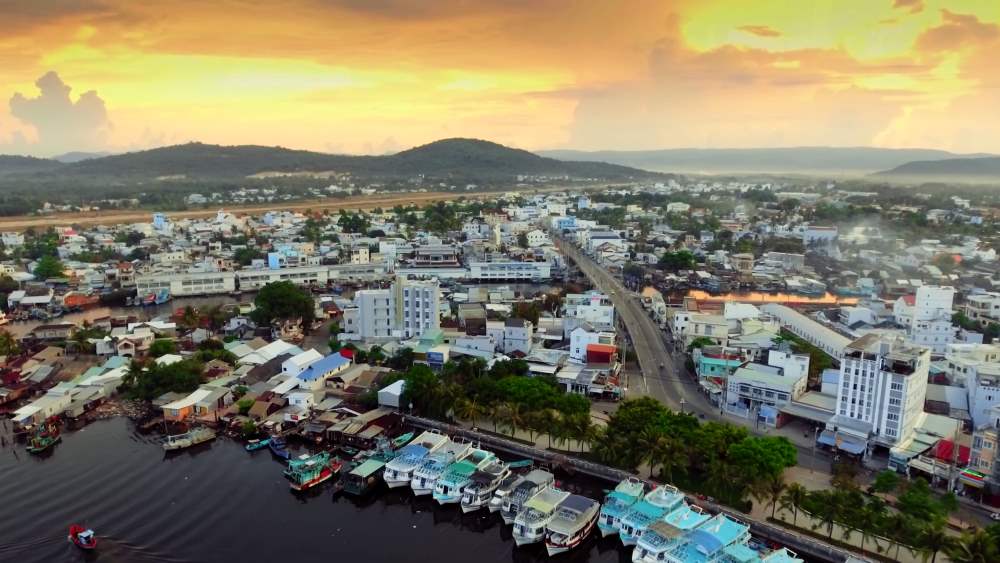 The island of Phu Quoc, which belongs to Vietnam, has an area of more than 500 square kilometers, on which about 100 thousand local residents live. Almost all of it is mountainous terrain, the highest local mountain is called Tyua.
At the same time, there is no seismic activity on the island, it is completely safe from this point of view, and the highest mountains barely exceed 500 meters. Volcanoes, incl. extinct, was not found here.
Time
The sun on the island rises four hours earlier than in Moscow. If in Moscow it's 12:00 p.m., here it's already 4:00 p.m. Going on vacation, you should consider the time in Fukuoka, so we recommend that you begin the process of adapting to a change of time zones in advance.
The language of communication
Today on Fukuok Island you can meet guides, chauffeurs, salesmen or hotel owners, with whom you can easily talk in Russian, but there is no universal Russification.
With tourists on the island, they speak mostly in English, and to communicate will be enough Russian school curriculum. Total Russification takes place in the Vietnamese resorts of Nha Trang and Mui Ne.
Currency
One U.S. dollar today is worth 22,770 Vietnamese dong. For simplicity and convenience we offer you the price of accommodation in Fukuoka hotels and tourist services in U.S. currency.
How to get there
The only direct way to get here from Russia is by plane. It is best to search on the Internet in advance, even a few months before your tourist trip to the popular services Aviasails, Skyscanner, etc. and book tickets at a cheaper price.
What is Phu Quoc Island today?

Fukuok is turning into a real seaside resort with excellent beaches and hotels. It is increasingly popular with tourists from all over the world. While there is no tourist pilgrimage here, it is time to visit the island.
Scuba diving is booming on Fukuoka, it is one of the cheapest in the world. Here you can go hiking in the rainforest, climb mountains, down rivers and waterfalls, to get acquainted with the local flora and fauna.
When is the best time to go to Phu Quoc?
On the island of Phu Quoc if you want you can vacation all year round, even when other Vietnamese resorts are cool and rainy. Thanks to the island's maritime climate, the transition from one season to another is milder here.
The high or dry season in Fukuoka lasts from November to May, and from May to October is the heat and rainy season. Due to its location, the coast of the island never sees storms, typhoons or tsunamis.
Consider the seasonality of Fukuoka by month in more detail. After all, the season will determine your choice of when to come here. Also depends on the season directly and prices set by the local tourism business.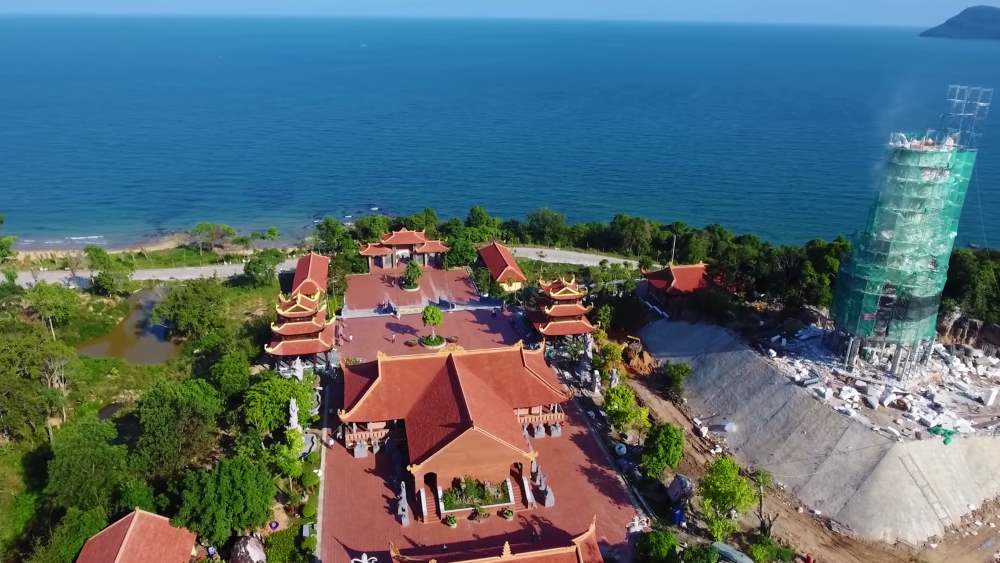 High Season
High season in Fukuoka, when it is best to rest for most tourists, lasts here from November to April. At this time, the air temperature is +28 – +31 C, and the water temperature in the sea a couple of degrees lower – +26 – +28 C.
In winter, the best way to go to the island – it is dry and warm, but not hot, there are exclusively sunny days, almost no precipitation. You can sunbathe all day on the local beaches and swim in the sea, enjoying your vacation.
But as in all tourist countries, in Vietnam in the high season prices spike significantly for tourist services. However, Russians, especially those living in the Far East, are not particularly deterred by this.
Today it is fashionable to celebrate the New Year in such an exotic place like Phu Quoc. Therefore, in winter on the island, and in all of Vietnam, you can meet millions of tourists from Russia, wishing to see Santa Claus and Snegurochka on the beach.
Hot Season
After the High Season comes the Hot Season, which lasts from April to June. During these months, the temperature of the air and sea water gradually increases, tourists are not so comfortable. Many jellyfish appear in the sea.
At this time in Fukuoka, Russians, as residents of northern latitudes, will be too hot. The sea warms up so much that its temperature becomes higher than human body temperature, it does not cool or refresh, as if in a hot bath.
The rainy season

In July begins the rainy season, which lasts until early October. And in September, the water pours down from the sky on the island like a bucket, by late October, the volume of precipitation slowly but surely decreases, and in November – it comes to naught.
At this time in Fukuoka, you can sit in the hotel and enjoy the romance of the situation while watching the downpour outside the window. During the rainy season there are almost no tourists on the island, the prices of tourist services are reduced to a minimum.
Infrastructure
Today on the island of Phu Quoc built a lot of five-star hotels and budget hotels for all tastes and wallets, has a modern amusement park, a lot of diving centers, developed a restaurant business.
The island continues to retain its own authenticity, which is what sophisticated tourists like. It is worth a little off the tourist route, and in front of you will open the real Vietnam, as hundreds of years ago.
Fukuok Island has not yet turned into a regular seaside resort, where the rich spend their time. Here you can see the wild beaches, unique flora and fauna, and enjoy a purely Vietnamese flavor.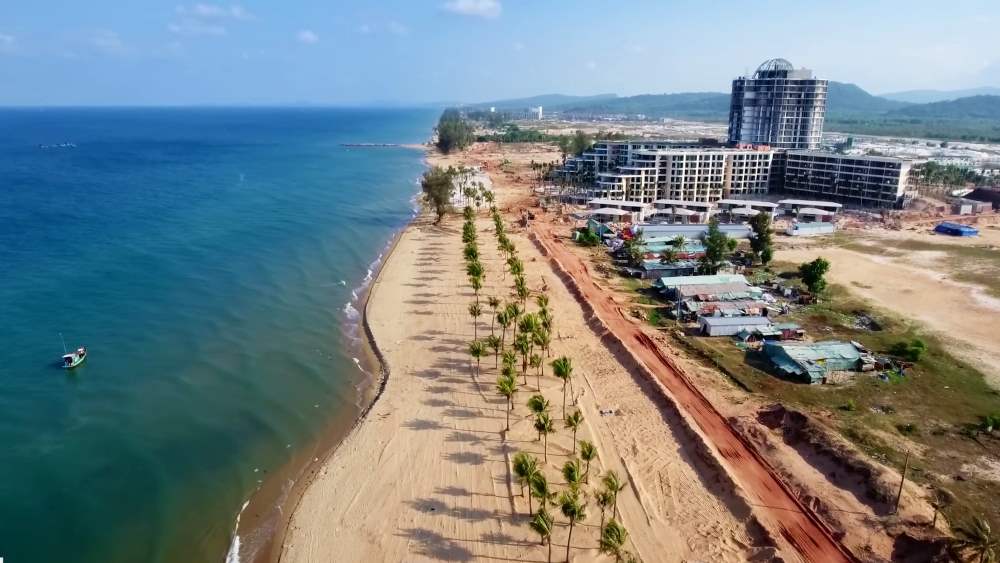 We recommend that you hurry, because. In 5-10 years all this will disappear irretrievably: the wild jungle will be cut down, Vietnamese villages will become tourist villages, and the island will be brought to the standards of a seaside resort.
Today, according to reviews of tourists island – for the fans: there is almost no modern roads. There are few historical and cultural monuments and attractions. It is quiet here, there are no discos, bars and rough nightlife for young people.
Transportation
In Vietnam, on the island of Phu Quoc built and actively operates an international airport, which annually receives hundreds of thousands of tourists. And every year the number of guests doubles.
Around the island move on motorcycles, rented from local rental shops. Outside the tourist areas roads are almost free, there is no one, you can safely ride at your pleasure.
Phu Quoc has a small port, through which communication with the mainland Vietnam and Cambodia is maintained. You can take a ferry, a boat, or an ordinary rowboat from the island to the mainland and back.
There is no public transportation in Fukuoka. There is only a free bus to the island amusement park and a shuttle bus that goes to the port. But a lot of private cab drivers (bombs), they charge very little money for their services.
Shopping
The disadvantage of Fukuoka in Vietnam is the lack of stores and fashion boutiques from the world's brands where you can indulge in shopping. This is explained by the fact that today the island is just developing, it is at the beginning of its way and has not yet acquired world fame.
Here you can find small local stores and night market, where tourists are offered inexpensive clothes, pearls, coffee, local spices and various souvenirs. Everything else can be bought in Ho Chi Minh City.
Beaches
The most beautiful thing about Phu Quoc Island in Vietnam are the beaches. Around them is built the rest of the tourist infrastructure, bringing the main income to the local tourism business. The beaches here do not have strong tides.
Long Beach
It is the largest and longest beach on the island. On Long Beach are hotels, cafes, restaurants, places of entertainment, diving centers, etc. And on the first line of the beach are five-star hotels, through them to get to the sea is very difficult.
The best parts of Long Beach are privately owned by the hotels, where only guests can sunbathe and swim in the sea. All other parts of this Fukuoka beach are wild and undeveloped. There is no beach infrastructure: sun loungers, umbrellas, paths, etc.
Bai Sao
The beach can be called the best on the island. It has a fine and soft white sand, there are cafes, toilets, souvenir slots. There aren't many hotels on Bai Sao, so it's not blocked off. You can sunbathe and swim in the splashing sea of Fukuoka.
Wild Beaches
In the north of the island of Phu Quoc stretched wild beaches, where there are few tourists, but there is a gentle bottom, clean sea, white sand and the usual restaurants that serve seafood. Here you can find the starfish beach.
You can get to these beaches by bike or cab, they are on the spur of the moment, far from civilization and today only mastered by tourist services. Prefer them for those who like to rest alone.
Attractions
The main attraction of Fukuoka is the sea and beaches. There is also a small national park, where you can go in between bathing to see the local flora and fauna in its pristine state.
You can see several local Buddhist temples and pagodas, visit a pearl plantation and amusement park, visit waterfalls, the starfish beach and the port, where the boats and ferries get to and from mainland Vietnam.
The cost of holidays in Fukuoka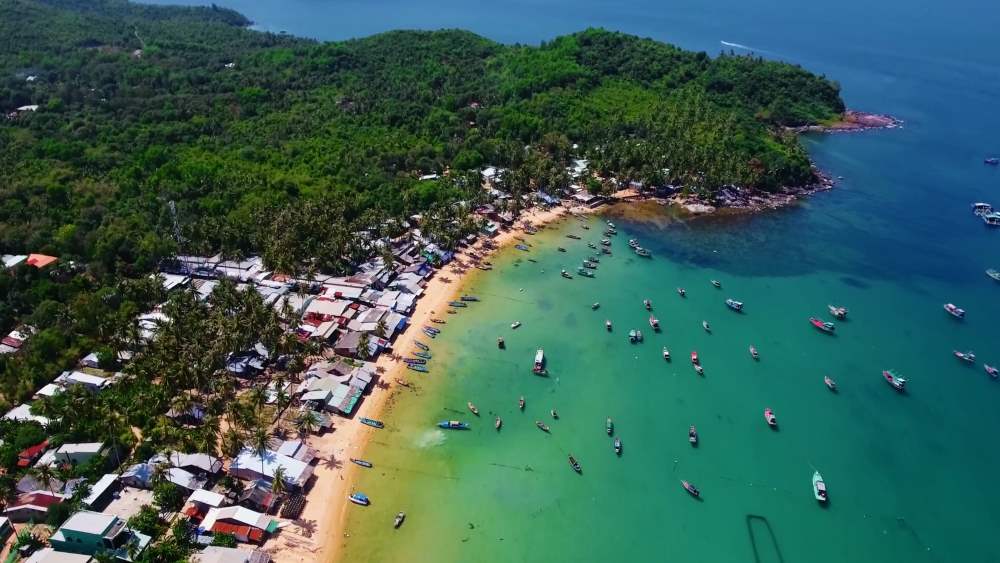 The island of Phu Quoc, first of all, is famous for its inexpensive seafood. There are extremely many of them here. Many tourists come here for these delicacies. Although other Vietnamese resorts have even lower prices for seafood.
In general, holidays in Phu Quoc in Vietnam are characterized by low prices for all tourist services. For Russians living in the European part of our country, only the cost of airfare will be expensive.
Entertainment
Safari – $22.
Fishing with dinner – $17.
Overnight squid fishing is $30.
Fukuoka Amusement Park – $22.
Diving – $70.Tour in Cambodia for 2 days – $200-250.
The wedding ceremony is $1,000.
Food
According to many Russian tourists, the food on Phu Quoc Island in Vietnam is disgusting. The quality of food prepared here loses out considerably to other Vietnamese resorts.
Food prices are also relatively high, much higher than on the mainland. We advise you not to dine in restaurants, cafes and eateries, designed for tourists, and look for places where they eat the islanders themselves: it's tastier and cheaper.
The island grocery stores are awful; it's almost impossible to buy European food there. But it offers a lot of delicious tropical fruits at affordable prices.
Hotels

Rooms at local hotels is better to book in advance, especially if you are going to Fukuoka for the New Year. Otherwise, a very modest choice of housing will be offered. Many Fukuoka hotels offer free airport transfers.
The choice of hotels here is for all tastes: from penthouse to gesthouse. And suites are quite in line with international requirements of the hotel industry, although the prices are much lower than in other tourist countries:
Standard room – from $25;
Guesthouse – from $9;
Resort with pool and breakfast – from $40;
Apartments – from $150, etc.
You can find and book in advance the best accommodation for your holiday in Fukuoka online at Booking.com, Agoda, Roomguru.ru, etc. This will save you a lot of money and be sure that the accommodation on the island for you already have.
Negative reviews of Fukuoka
Modern Fukuok is designed for honeymooners and quiet couples with children. Young people who want round-the-clock entertainment will hardly like it here: it's boring.
In the tourist area of the island thoroughly cleaned up, and outside the area a lot of garbage. The island requires major cleaning, dumpster cleanup and modern trash recycling.
On the island of Phu Quoc in Vietnam, mapping is not good. This means that in Google or Yandex you can not find and download a map that corresponds to reality: the location of hotels, restaurants, cafes, stores on them indicated incorrectly.
One of the biggest problems for the island is mosquitoes. They're all over the place. Therefore, you should stock up on fumigators or repellents, otherwise you will simply be eaten.
Video overview of Phu Quoc Island