Fort Aguada, an old Portuguese fort, is one of the main historical landmarks of Candolim Beach, located in North Goa, India. Today, both the beach and the fort are very popular and extremely popular among tourists.
In South Goa you can also see Redi Fort, located on the border with the state of Maharashtra. Fort Marmagoa is near the famous port of the same name. And at Fort Tirakol in northern Goa, a hotel is in operation today.
History of Fort Aguada
This fort was built in the 17th century by the Portuguese, who had colonized Goa a century earlier. In those days it played an important defensive, fortification role, protecting the coast from attack by other invaders, pirates, etc.
Fort Aguada is a huge, well-preserved fortress that is still a significant military force today, although it has long been a museum visited by locals and tourists from all over the world.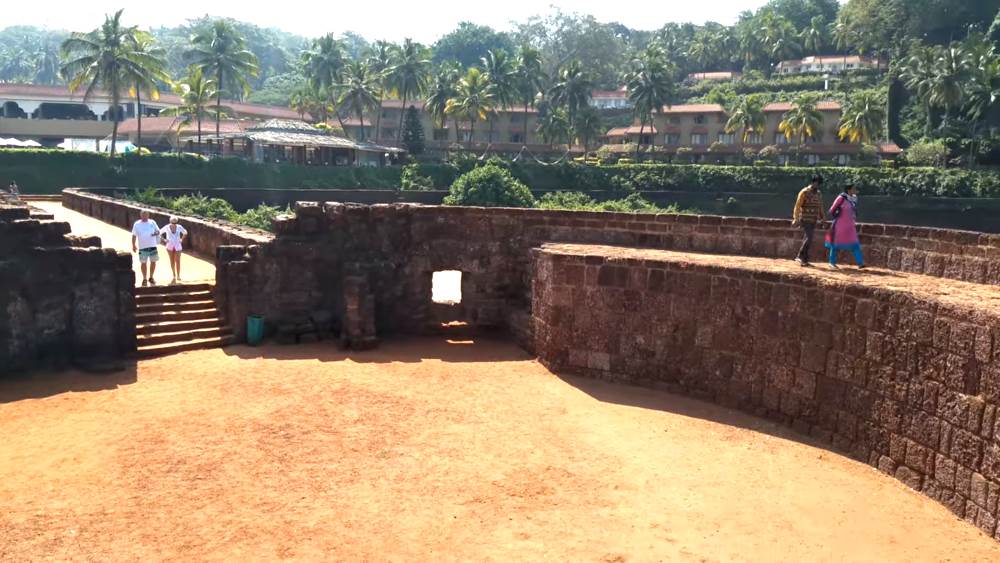 Near the fort stands an ancient lighthouse, one of the largest in Asia. Several decades ago the lighthouse was shut down for lack of need for its operation, today it is another outdoor exhibit.
Fort Aguada is built of red stone quarried on the west coast of India, at Mangalore, well south of Goa. Most of the Portuguese and Hindu buildings in Goa, including housing and temples, were and still are built of this stone.
How do I get to Fort Aguada?
This fort stands in a famous Indian resort village in North Goa called Candolim. It can be reached from the state capital of Panaji or from the local Dabolim International Airport by cab, bus or bike.
Cabs cost $1-2 per kilometer, and bikes can be rented at any local rental for $2-3 per day. The bus is the cheapest mode of transport in Goa, but it is too slow and stops far from the fort.
Fort Aguada on the map of North Goa
Map of Goa Forts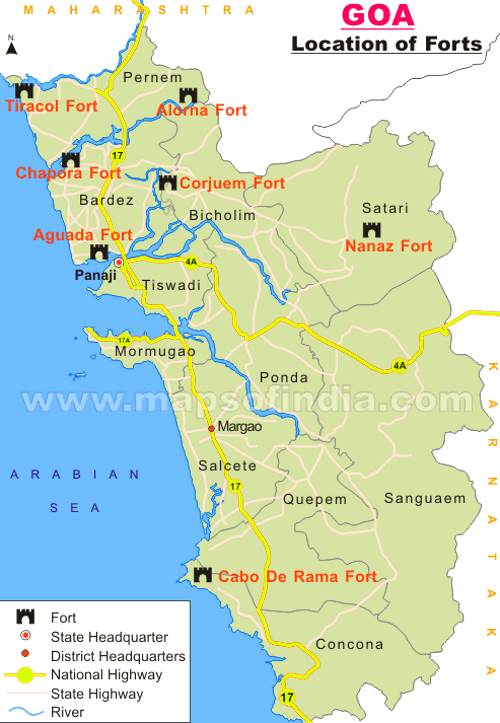 Some tourists dare to walk to the fort after the bus trip, but this requires special physical preparation: it is too hot and far to walk. Therefore, it makes no sense to use public transportation.
The most interesting trip to Fort Aguada is by bike. In this way you will get to know more about the flora and fauna of Goa and its wonderful inhabitants. You can also use the services of a rickshaw, for beginners it will be very exotic.
What to see in Fort Aguada?
It is interesting to walk around this fort for hours, looking at the powerful walls, admiring the magnificent panoramas opening from its walls. From Aguada Fort you can see Panaji, the capital of Goa.
This architectural and historical monument opens its doors to visitors every day, at 08:30, admission is completely free, no need to buy tickets. The fort closes for visitors at 17:30.
We recommend that you arrive at Fort Aguada early to see all the architectural delights and enjoy the true beauty and power. Indians tend to be late, and by evening there is a real fight with the guards. No one wants to leave.
Prison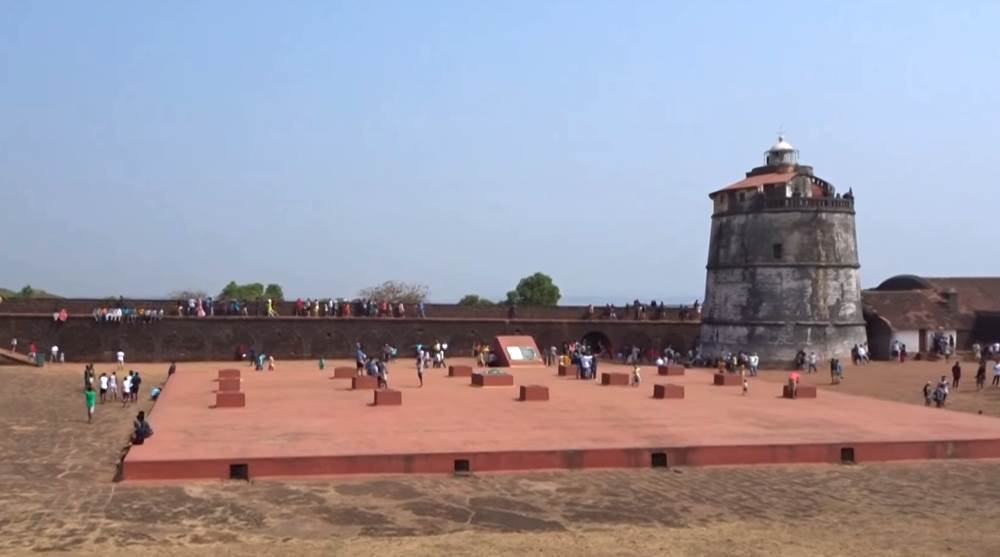 Tourists should know that this is an active prison. Today it houses criminals convicted of drug trafficking and visa violations. Previously, it was predominantly "incarcerated" for the crimes of the colonial regime.
Any tourist runs the risk of being imprisoned in this jail for violating visa procedures. We strongly recommend that you do not try to do this: the food here is disgusting, there is no air conditioning, there is no criminal romance, too.
The prison looks rather exotic: a shabby appearance, a guard with only a club in his hand, and great tourist panoramas all around. The prison gates look like ruins; it is strange that the prisoners have not yet scattered to the beaches and necks.
Souvenir Shops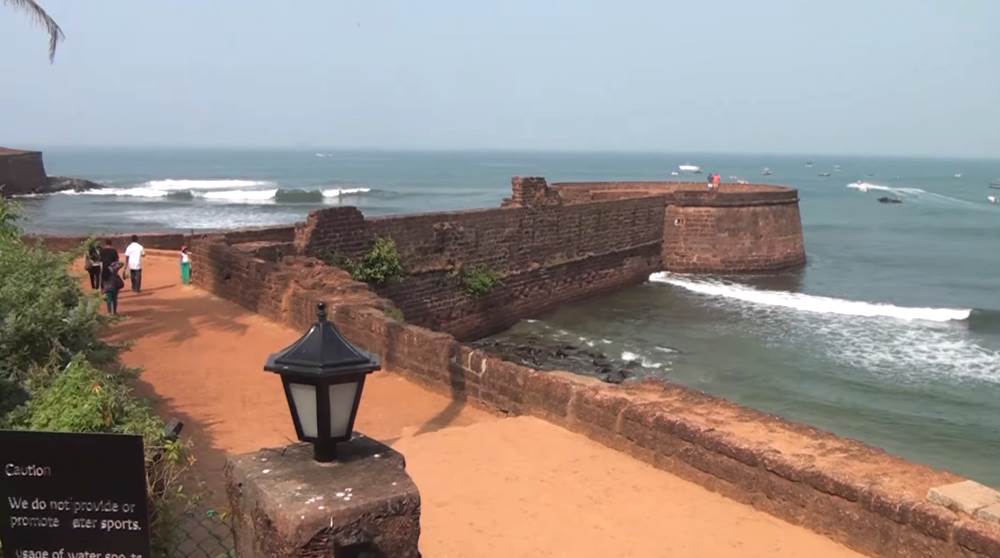 After touring the fort, be sure to visit the local souvenir shops located near the parking lot. Here you can find excellent souvenirs, handmade by Goan artisans.
Indian clothes and shoes, ceramics, fabrics, carpets, gold jewelry are widely represented. India is also known for its modern pharmacology, medicines from Ayurveda, cosmetics, etc.
Do you need a sightseeing tour?
It is not necessary to buy an excursion with a Russian-speaking guide. A lot of useful information about this monument can be found on the Internet. It is not difficult to get to it. The main thing is to touch the New Age period of our history.
If you decide to buy a tour, it costs about $30 per tourist. Excursions are sold on beaches, in resort villages, travel agencies and just on the streets. Russian-speaking guides in Goa are extremely numerous.
Where can I eat?
Near Fort Aguada in North Goa you can find mobile shacks where you can relax and enjoy authentic Indian cuisine, fish and seafood dishes, refreshments, etc. at somewhat inflated prices.
Parking near the fort and entering the fort is completely free. It should be noted that many local Ostap Benders still try to charge newcomers, and they are not embarrassed by the proximity of the police.
Be sure to put a bottle of cool water, dark glasses, and headgear in your bag when you go on the tour, so you don't fall victim to the Indian midday heat. Don't forget your camera and video camera.
Reviews of a visit to Fort Aguada
Natalia Ilyinskaya, 43, Irkutsk, Russia:
Went to Aguada, read about this fort and thought it was overly hyped for tourists. But it really reeks of real antiquity, of the amazing times of the Great Discoveries. So be sure to visit this monument to really get a feel for the history of this little piece of India.
Valery Semchenko, 57, Krivoy Rog, Ukraine:
I doubt you will like this fort. India, in general, and Goa, in particular, have many beautiful Hindu monuments in need of restoration and maintenance. And Fort Aguada has no special historical and architectural value to make it almost the main monument of all times and peoples.
Olesya Medvedeva, 27, Krasnodar, Russia:
We visited here with friends and we were satisfied. Dreams of sea voyages, pirate ships, chests of jewels, bottles of rum, etc. engulfed us. Fort Aguada is a wonderful place that will take you back to your childhood. Even prison did not spoil our rapturous impressions.