In Thailand, food forms the centerpiece of any social event and vice versa. That is, food often becomes a cause for celebration in itself. This is partly due to the children, the social nature of the Thai people, and the culture of food itself.
Typical Thai food includes four main types of condiments. Salty, sweet, sour and spicy. Indeed, most Thai dishes must necessarily combine the four flavors. Meals outside the home are full of variety. At every turn you will find eateries, stalls, and trays offering a variety of meat and fish dishes, as well as vegetables, noodles, and even soups. Dessert can consist of fresh fruit, such as pineapples, or something more exotic, such as colorful rice cakes. It all depends on the region. Prices for food in Thailand are very democratic: a full meal for two will cost $10.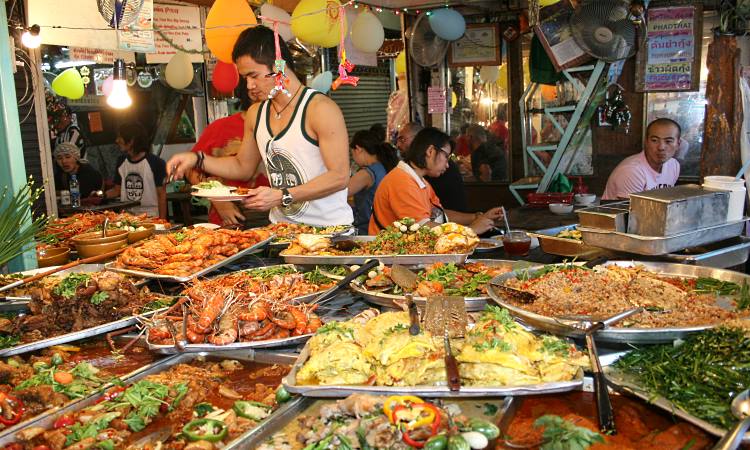 Besides food, Thais are famous for Snackers. It's a quick but tasty snack for mere pennies on the side of the road or in markets in Thailand. Popular appetizers consist of pancakes filled with chicken or meat, raw vegetables with spices, soups, salads and sweets.
Food decoration is another important aspect of Thai culture. This craft originally came to the country's main palace, to please the King of Siam. And nowadays the presentation of Thai food is one of the most exquisite in the world. The dishes created are decorated with all sorts of cut vegetables and fruits in the form of flowers, birds and other pictures. For such jobs, Thai chefs use a simple knife to peel vegetables and ice water (ice water prevents vegetables from changing color during cooking).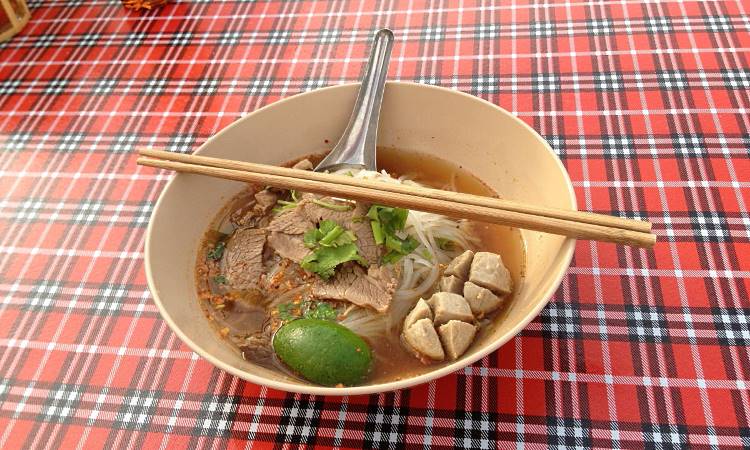 Needless to say, flavored rice is a basic ingredient in the Thai diet. A typical Thai dinner consists of several dishes placed on the table, which are lined up on a plate with rice at the head.
Thai cutlery and eating styles
As a rule, Thai restaurants will offer you cutlery consisting of a spoon and fork for the main meal, and a small spoon to a bowl for soup. Knives are not provided because the food already usually consists of small pieces or can be easily cut with a spoon. You will eat with your right hand holding the spoon. The fork is taken in the left to push the food onto the spoon.
Chopsticks are served when ordering noodle dishes. You will be served with a knife and fork when you order a steak or similar Western dish.
Thais do not put several dishes on the same plate at the same time. Everything is consumed separately. No meal is without rice. It is present at breakfast, lunch and dinner, not excluding snacks.
In the West, a meal consisting of an appetizer, main course and dessert is considered normal. There is no such division in Thailand. The number of dishes in the catering facilities can equal or even exceed the number of visitors. All portions are huge and for this reason, it is better to have many guests at the table rather than one or two. In fact, many Thais believe that eating alone is a real misery.
Thais do not limit themselves in food. Buddhism does not provide any restrictions on this. The excellent climate allows agriculture to flourish and provides the natives with crops several times a year.
History of Thai cuisine
The flavors of modern Thailand boast an ancient history. As early as the thirteenth century, the Thai people created what can be considered the heart of Siamese cuisine as we know it today: various types of meat and seafood combined with local vegetables, herbs and spices such as garlic and pepper, and of course, rice. Later, the Chinese brought noodles to Thailand and also introduced the most important tool of Thai cooking: the steel cauldron, the wok.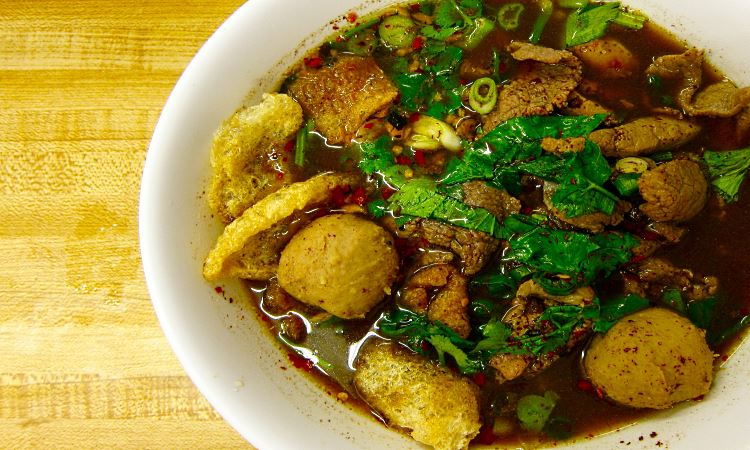 Thai cuisine is heavily influenced by imported Indian spices and aromatics, which is evident in its famous green, yellow and red curries. Nevertheless, Indian curry is almost impossible to confuse with Thai curry. Although Thai curry incorporates many Indian spices in, it still manages to retain its unique flavor, with the addition of local spices and ingredients such as Thai basil, lemongrass, marrow and Thai ginger.
Other influences on Thai cuisine can be found in surrounding territories such as Vietnam, Cambodia, Indonesia, Laos, Burma, and Malaysia. This wonderful juxtaposition of nationalities has given Thailand everything to create the complex flavor of modern Thai cuisine, one of the fastest growing and most popular cuisines in the world today.