A trip to an exotic country includes not only visiting local attractions and beach activities. The list of attractions must include tasting dishes of national cuisine. And for those who travel on their own, it is interesting to know where to eat with taste and without much damage to the purse. Most cafes in Fukuoka offer full meals for a reasonable price. And lovers of original recipes are invited to restaurants with a wide variety of dishes.
Food on Fukuok Island
The set of dishes in each café and restaurant on Phu Quoc Island is slightly different from the neighboring ones. Most recipes are based on rice and seafood. Vietnamese cuisine is quite unusual for Europeans. But local caterers long ago adapted to the demands of visitors and put the entire set of condiments and sauces on the tables on special trays. The main dish is served, and the flavors are created on their own.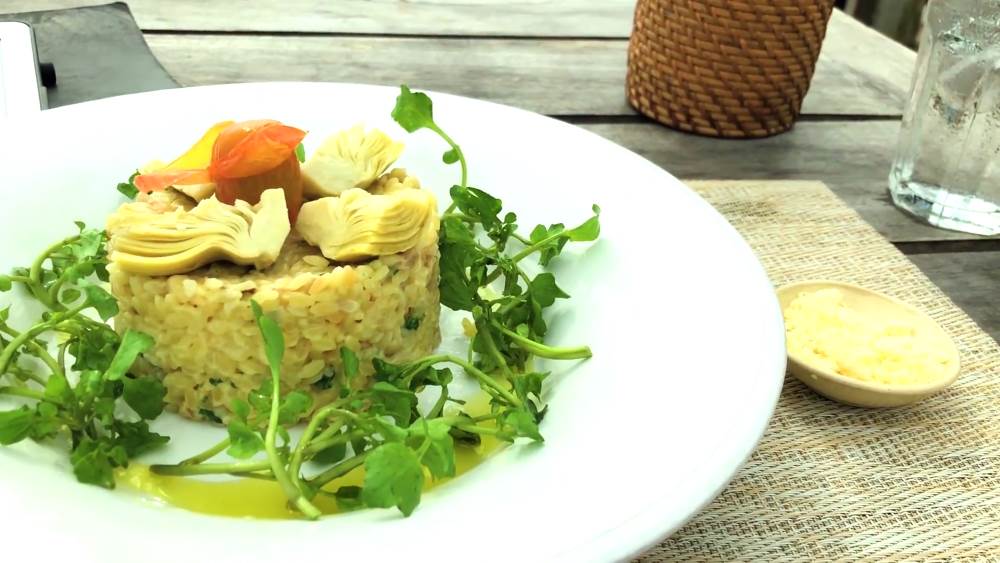 Some sauces are so specific that they can ruin a meal, so it is advisable to check the contents of the bottles and sauces for smell and taste before eating.
There are several local cafes on the island, they are cheap and the food is monotonous. For gastronomic delights should go to Fukuoka in the usual cafes, the best of them will delight you with interesting dishes and relatively low cost per order.
Map of the most popular eating spots in Fukuoka
Restaurants, dishes and prices
One of the best restaurants in Phu Quoc in Vietnam, according to tourist reviews, is considered the Crab House. A distinctive feature is the predominance of seafood in all combinations, large portions and a pleasant atmosphere. If you do not understand, it can be classified as a cafe, but when you look at the price tags it becomes clear – it's still a restaurant.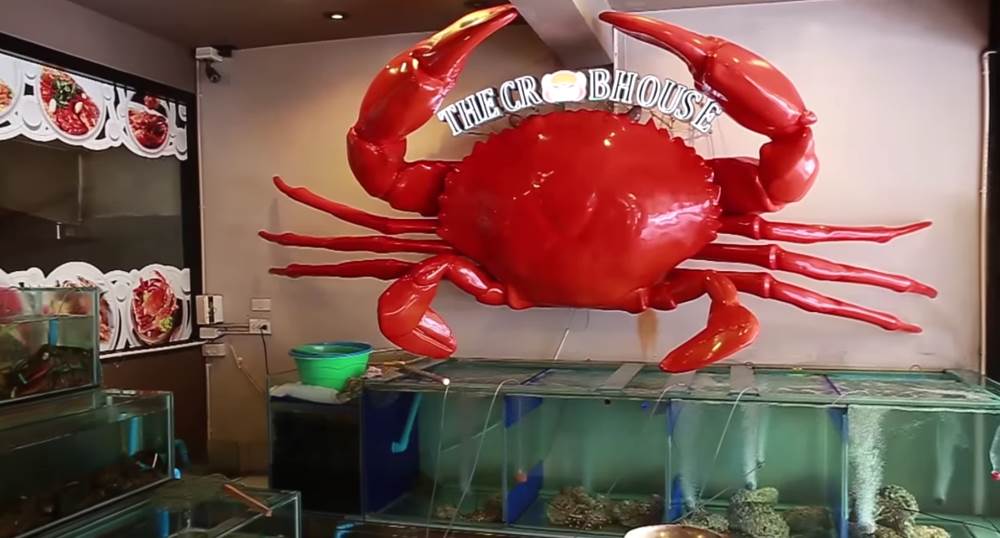 The menu includes side dishes, drinks and 7 lunch combo options. They differ in price and composition of the dishes. Do not be frightened by the large number of zeros in the price tags. In ruble terms, dinners are quite affordable, given the size of portions and the level of freshness of seafood, delivered literally from the sea.
The cheapest lunch will cost 1,600 rubles, the price limit will be 7,500, and it is impossible to cope with the whole set alone, you will have to start tasting it with the whole company. Among the gifts of the sea on the plates there are expertly prepared calamari, shrimp, lobsters, crabs.
Worth considering! 10,000 dong is equal to about 27 rubles.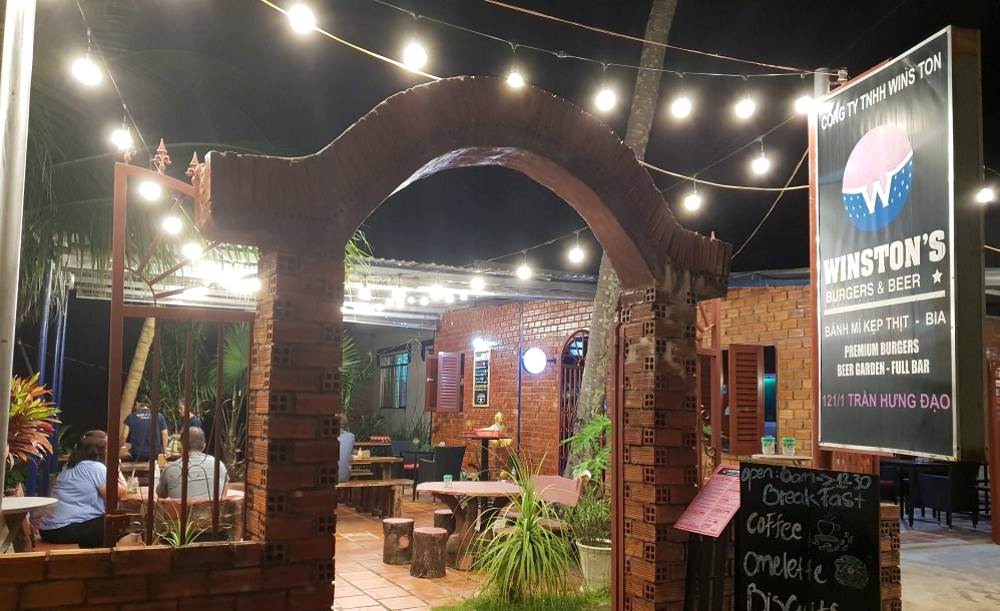 Winston Burger & Bear can be called a small island of Europe, where you will be fed a delicious burger with beef patty and the usual tomato sauce. Lunch for 2 with a side of fried potatoes and drinks is about 500,000 dong.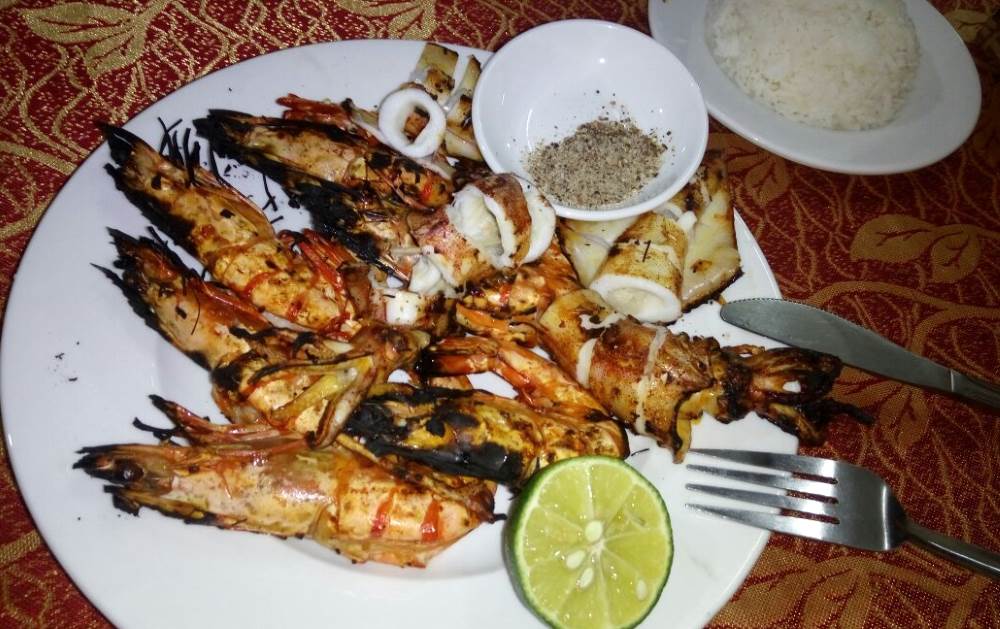 At Bao Quy restaurant, the emphasis is on seafood. The restaurant is located near the beach, the prices are affordable, the dishes are cooked only to order.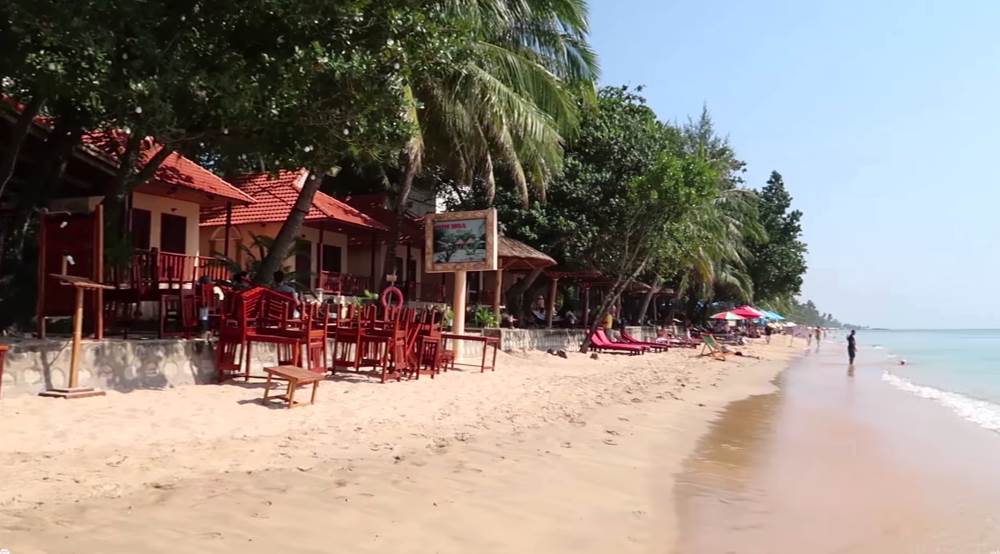 Ai Xiem is a beach restaurant, with tables right on the sand and waiters serving customers barefoot.
Popular Cafes
Places to eat in Phu Quoc in Vietnam can be recognized by the large crowds of visitors and aquariums with marine life. Do not look at the entourage and worry about the unpresentable tables and low chairs. But at Quan Oc Ot Ngot, the food is definitely fresh, fished right in front of the customer and cooked right there in front of the customers.
Usually seafood and other foods are not peppered and barely salted, leaving customers to create their own level of spice. A variety of sauces are served separately or on the tables. Many of them are very sharp, which is something to consider. There is a different sauce for each dish, but experimentation is not forbidden.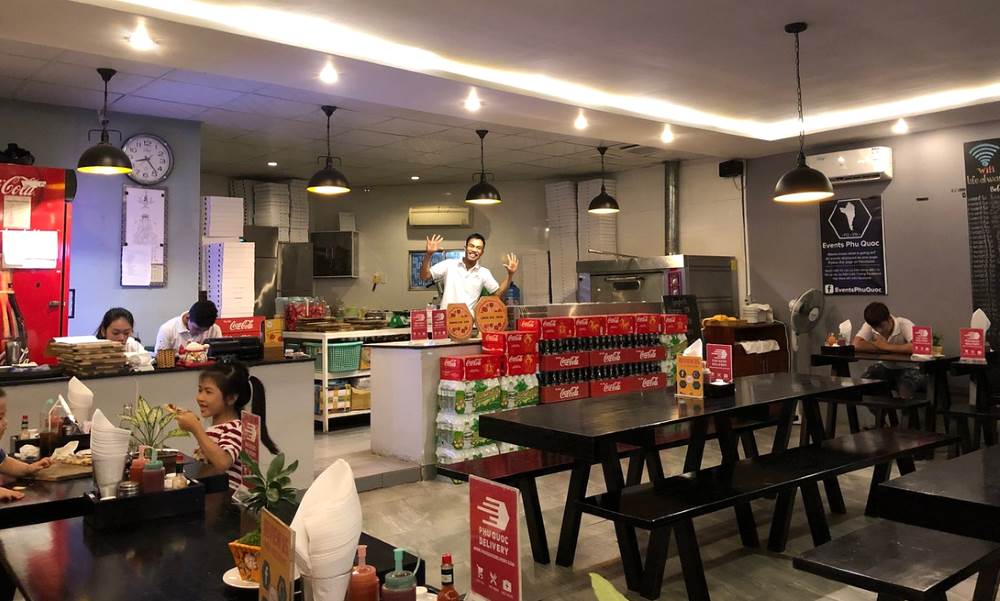 Several other restaurants have a good reputation among tourists.
The best pizza is served at Taxi Pizza, the menu includes 3 main types, pasta, salads.
The owners of Com Yen Ba are a friendly family, ready to work until the last customer.
Kim's BBQ seafood is an example of a chamber restaurant. Just a few tables and a host as a cook. The place is perfect for a leisurely wait for a change of dishes and an unhurried conversation in a pleasant company.
Tam has good prices and a wide variety of dishes: calamari in tamarind sauce, rice in garlic gravy, shiitake mushrooms, seafood cocktail with spicy soy sauce, coffee and other delights of Vietnamese and European cuisine.
Pineapple has a list of delicious and hearty meat-free dishes for vegetarian fans.
Ostrovok Russian restaurant in Fukuok is popular for its varied menu and homely atmosphere.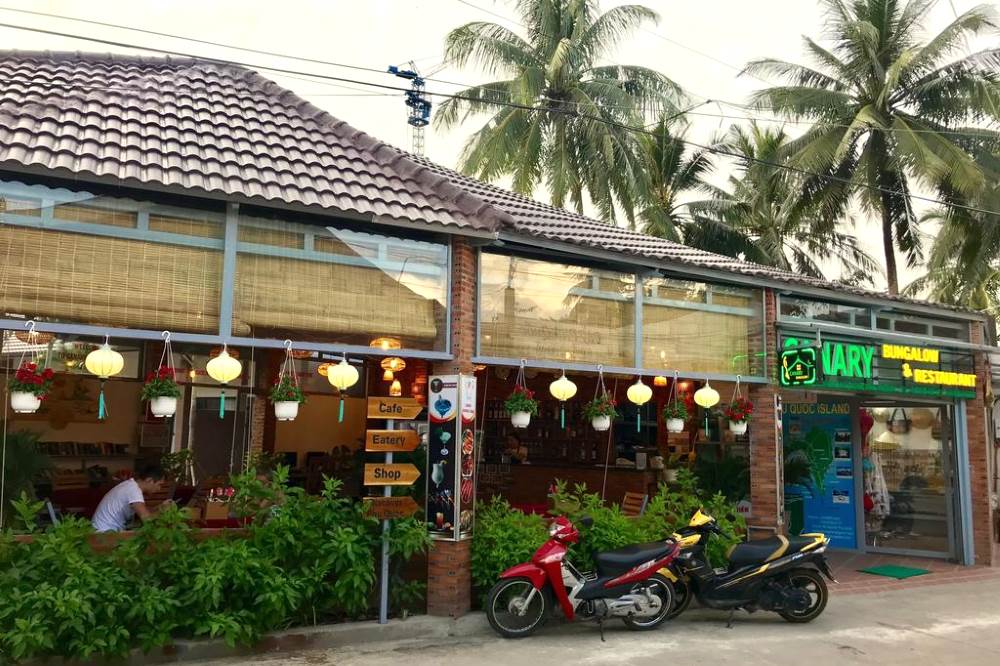 Food prices at the local cafe
If the goal is to eat quickly, nourishingly and inexpensively, then you have to go there. The menu is a bit monotonous, but if you eat at different establishments, you can diversify the taste experience. Visitors are offered soup and a second course, with rice, rice noodles, seafood, and sometimes meat or chicken. The cost of lunch is 90 – 210 rubles. Locals prefer to eat here because the price-quality ratio is quite decent.
Among tourists seeking to immerse themselves in an authentic atmosphere, these places are the most popular. In them you can additionally order green iced tea, juice and other drinks. Some cafes offer frogs and snake meat.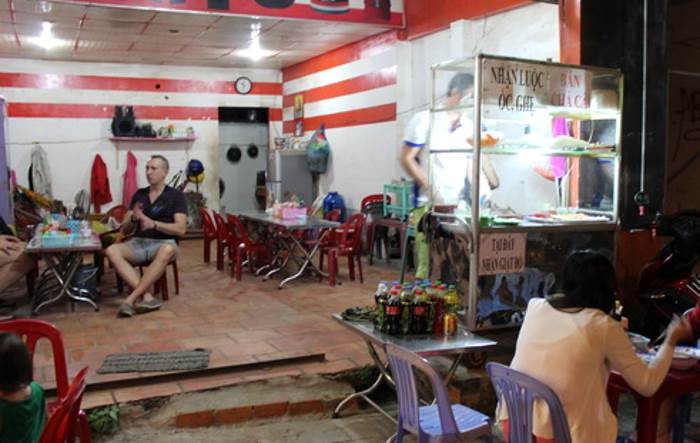 On the menu are found:
soup with seafood – 60 rubles
Rice with meat and fried egg – 80 rubles
Rice noodles with seafood and broth – 100 rubles
Scallops portion – 90 rubles;
fish in gravy, chicken legs, tea with jasmine – 90 rubles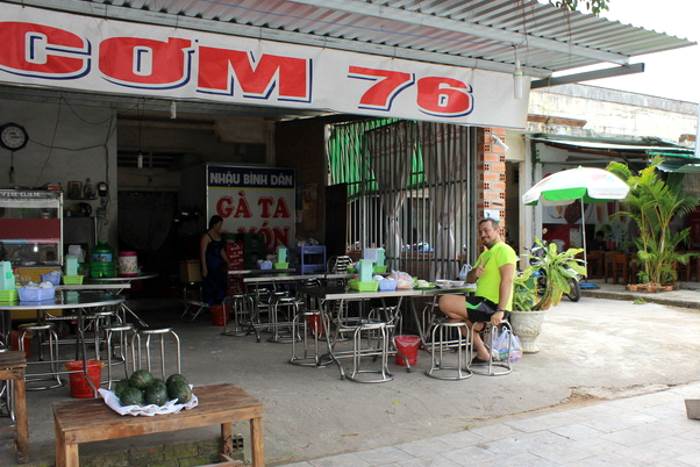 The peculiarities of local cafes are sometimes surprising. The small size of the tables and chairs is not designed for the comfort of Europeans. Prices are listed on the menu, it is not difficult to calculate in advance how much it costs to eat in a particular cafe in Fukuoka. If you are not satisfied with the cost of lunch, you can leave right away and it is considered normal. You can bring your own fish and ask them to cook it, which they will do for free or for a nominal price if you order rum or beer.
Vegetarian Cafe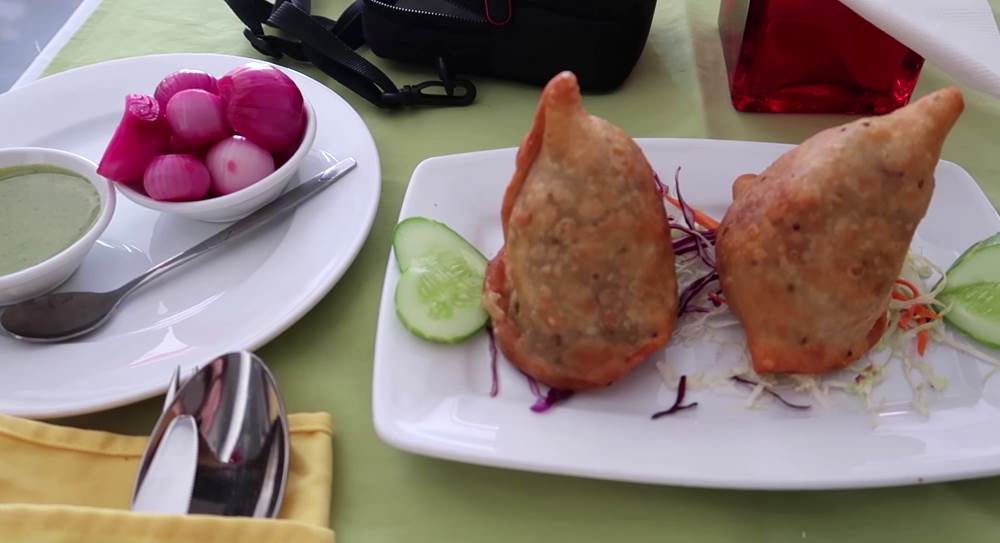 It is also in demand, the original dishes look very appetizing, especially since in a hot climate you do not want to eat meat. The buffet principle is practiced, the cost of lunch ranges from 20,000 to 60,000 VND and depends on the amount of food on the visitor's plate.
Fukuoka Night Market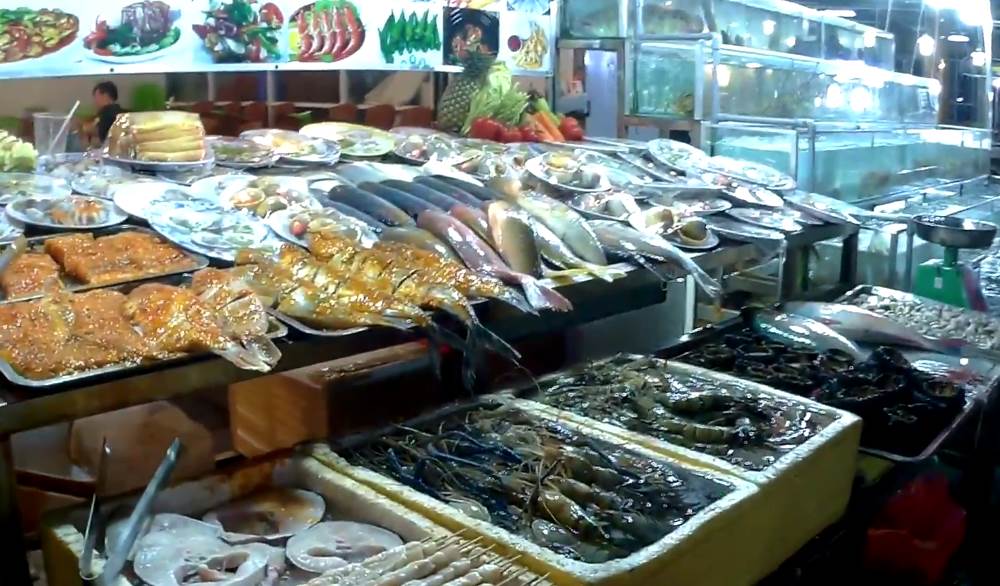 It begins its work when the sun goes down. On the shelves there are a lot of interesting things, ranging from spices, pearls, souvenirs and exotic fruits. Dinner at the market can be very tasty and quite inexpensive. For shoppers on the streets are placed lightweight plastic tables, vendors offer to try the freshest shrimp, snails, scallops, fish. Beef soup with seafood and chicken wings in fish sauce have an unusual taste. Prices are one and a half times lower than in cafes, and the freshness of the food is beyond question.
The Vietnamese hot dog, omelets, seafood scrambled eggs, and coconut dessert are definitely worth trying.
What to try in Fukuoka
The choice of a cafe or restaurant depends on the budget and personal preferences of holidaymakers. Nevertheless, coming to the hospitable island, it is worth a try:
Rice noodles with shrimp, small octopus and squid;
baked shells;
balut egg;
fish on skewers;
grilled shrimp;
frog legs;
Mango salad with shrimp and lime;
Hot Pot;
stew with vegetables;
herring salad;
snails in hot sauce;
crabs;
lobster;
seafood soup.
The tourism business on the island generates a significant part of the income, so the wishes of guests are treated with attention. In most cafes and restaurants, the staff speaks English with confidence. Prices vary greatly from place to place, so experienced travelers are advised to review the menu in advance and calculate the possible costs. The main emphasis in cafes and restaurants is on the gifts of the sea, but if you want you can find institutions with European cuisine.
Eating in Fukuoka is more profitable in cafes, where at low prices delicious food and give a sincere smile.