"Side" in Turkish means "day at the sea." It is one of the best Turkish resorts, designed for family holidays, it is located on the southern coast of the country by the Aegean Sea. Around this seaside resort there are many ancient Greek and Roman ruins, museums, fortresses, temples, mosques and other cultural and historical sites and attractions. In this article we will understand the distance from Side to Pamukale, what transport to get to and how much to drive.
Excursion from Side to Pamukkale
One of the most famous local attractions is a tour of Pamukkale. In Turkish, Pamukkale means Cotton or White Castle and is located in the province of Denizli, inland from Side to mainland Turkey.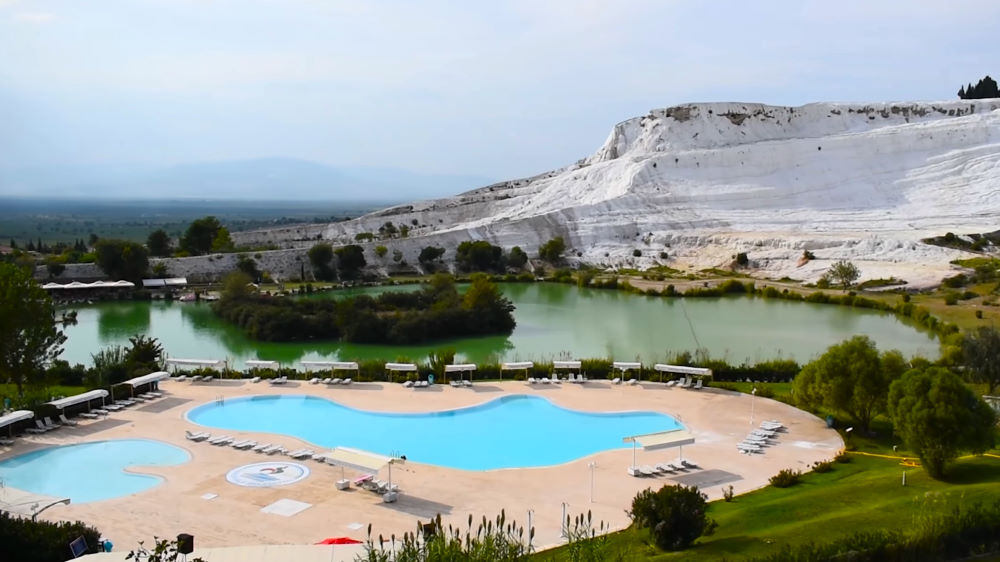 Pamukkale is famous because of the whitest travertines formed around it, filled with lime mineral water, giving the impression that a glacier was formed here.
Pamukkale was inscribed on the UNESCO World Heritage List many years ago. Many tourists dream of reaching it to swim in its wonderful mineral water pools.
Side-Pamukkale route on the map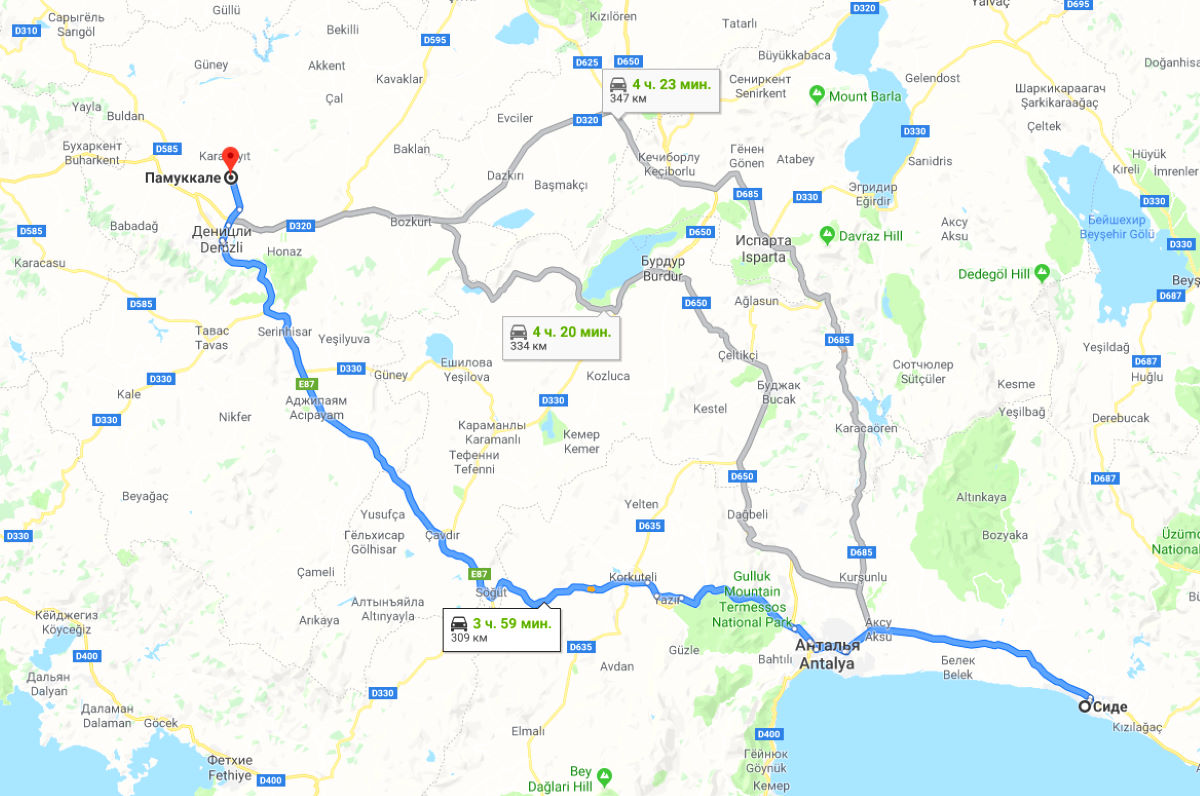 When is the best time to go to Pamukkale?
The best time to visit this natural landmark is spring and fall, when the air temperature is comfortable. Pamukkale tour prices drop in winter and soar in summer. It's very hot in the summer, but there are extremely many tourists.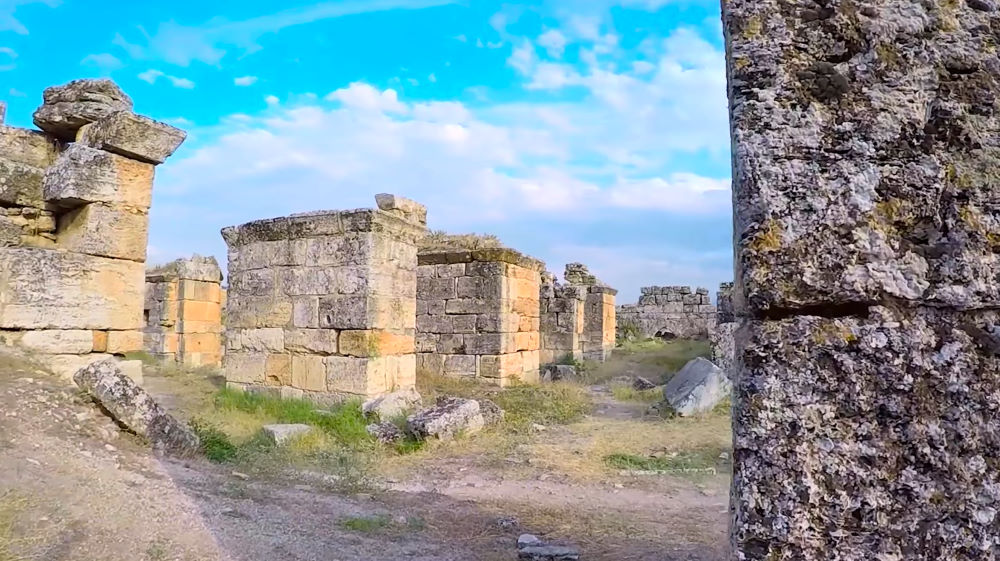 The road in Pamukkale is modern and of good quality: several lanes, markings, bumpers, etc. First from Side you go to Antalya, then take highway E87, drive to Denizli, then follow the signs to Pamukkale.
Distance from Pamukkale to Side
Tourists are often offered one or two day tours to Pamukkale. The distance between these geographic points is 238 kilometers in a straight line if you fly, and 313 kilometers by road. Travel time by car – 4 hours.
On a rental car
This is the best way to get from Side to Pamukkale. The travel time is about 3 hours and 50 minutes, the cost of the road for gasoline costs, excluding rent – about 2,300 rubles. Thanks to the car, then you can drive from Pamukkale to Istanbul, Bursa, Ephesus, etc.
You should look in advance at the proposals for car rental in Turkey on the relevant services on the Internet or in the offices of rental companies in the real world. and choose the appropriate options.
You can plan your own routes, if you drive your own or rented car, to calculate the fast, short or economical way to Pamukkale. And on the way you can visit more interesting places in the area.
By bus.
There is no direct route by bus from Side to Pamukkale, the only way to get there is to change routes: Side – Manavgat – Denizli – Pamukkale. Get on the first bus at the bus station in Side. Next is a fascinating journey.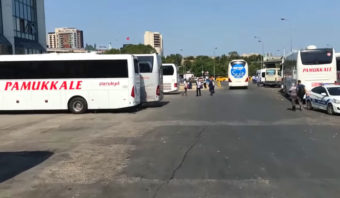 Buses from Pamukkale make 8 trips a day on this route, Guney akdeniz has 2 trips a day, KamilKoc has 5 trips. From Denizli, buses and shuttles go to Pamukkale every half hour.
A bus ride from Side to Manavgat costs about a dollar, from Manavgat to Denizli will cost about $15. It takes $1.50 to drive from Denizli to Pamukkale. The travel time is about 5 hours.
By plane
It is possible to fly from Antalya Airport to Denizli Airport and then take a shuttle bus to Pamukkale, but the plane tickets are too high, so we immediately reject this option.
Is it worth the trip to Pamukkale – video