Cleopatra Pool in Pamukkale is one of the most famous mineral springs in Turkey. This natural bathtub looks big in size. The pool is constantly filled with running mineral water flowing from underground.
This water flows down the slopes of Pamukkale and creates amazingly beautiful travertine of exquisite white color. The fact is that this mineral water contains a lot of lime, which gradually accumulates and dries out on the slopes.
History of the Pamukkale Basin
Cleopatra Basin was formed like all the other basins of Pamukkale. But it is characterized by rather large volumes. According to legend, Cleopatra, the famous Egyptian queen of the 1st century BC, bathed here.
The fact that this pool in Pamukkale has medicinal properties was known in the 3rd century BC, when the ancient Greek kingdom of Pergamon existed in Asia Minor. In the 2nd century B.C. the spa buildings appeared there.
Here for treatment and rest began to arrive citizens of ancient Rome, they took mineral waters and treated for serious illnesses. Cleopatra's pool was then surrounded by an antique portico.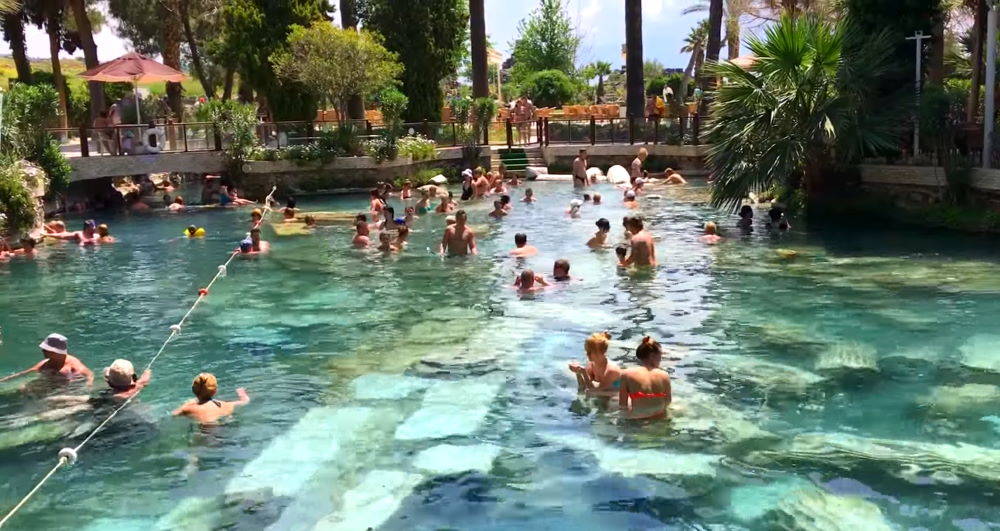 A few centuries later, in the 7th century AD, there was a terrible earthquake that destroyed the town of Hierapolis and the entire resort infrastructure of those early days, the resort fell into disrepair.
In Turkey, they believe that the columns of the ancient portico during the earthquake broke and collapsed to the bottom of the pool, they are still there to this day, perhaps touched by the great queen herself. Or is this a fiction by the Turks for tourists?
Restoration of the pool and the entire resort began in the 1960s, it became known as the Roman pool, and the legend of Cleopatra, who bathed in its mineral waters, appeared only in the 90s, then arose the name – Cleopatra Pool.
Description of the Cleopatra Pool
It is completely free to enter here, the ticket is purchased only for visiting all of Pamukkale. You can go around the whole area by the pool, take photos and videos for a long memory. Everything is in a well-groomed condition.
There are several cafes and souvenir stores near the pool. You can visit and relax in the cafes, taste the local delicacies, wander the stores and choose a souvenir for yourself and friends. And you can take a great mineral bath in the Cleopatra pool.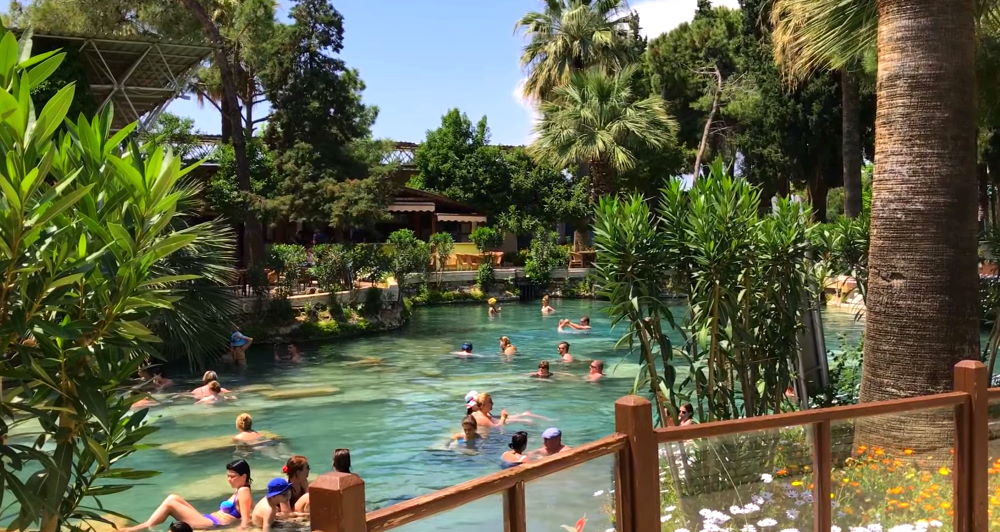 You can swim, walk along the bottom and come across those very Cleopatra columns. It's nice to be here alone, alone with the great Antiquity, before a myriad of tourists arrive.
The Cleopatra Pool in Pamukkale is divided into three sectors: the entrance to the water, the bathing area and the depths. At a depth of about three meters from the ground throws a powerful fountain of mineral water. Mineral bubbles come out of the water, it's like it's boiling.
You should take a bath near this Cleopatra spring, the clearest water comes out here. Those who can't swim should stay away from the depths. No diver has yet been able to get to the bottom, the water key keeps everyone on the surface.
Infrastructure
The Cleopatra pool can simultaneously take mineral baths for up to 250 people. There are lockers, showers, toilets, changing rooms, medical center.
When you go here, be sure to bring a towel, they sell towels here, but they are expensive. Around the pool externally laid water pipes for hydromassage. There is also a water pump, you can use it to fill the local mineral water bottle.
Indications and contraindications for bathing
Do not listen to fairy tales that by visiting Cleopatra's Pool in Pamukkale you will find eternal youth. But you can improve your health if you take a few procedures as directed by your doctor. But do not self-medicate!
Even half an hour in this mineral water can be harmful to your health, because. your heart and blood vessels are under serious strain, don't overdo it.
From official sources we know that the balneological properties of the mineral water in Cleopatra Basin have a therapeutic effect on diseases of the heart and blood vessels, organs of motion, respiratory system, digestion, etc.
Taking baths in the Cleopatra Pool can have negative effects on those who suffer from hypertension, diabetes, epilepsy, oncology, infections, etc. It is not recommended for pregnant women to take a bath here.
Water temperature and mineral composition
The water here is 34-36 degrees Celsius. The temperature of underground water at the surface is 40 degrees Celsius and gradually cools down. It dissolves gases, trace elements, a lot of Cu, Mg, K, etc. Interestingly, it is radon water.
Where to go and how to get to Cleopatra Pool
The pool is located next to the travertines, not far from the local museum of archaeology. If you came on an excursion to Pamukkale or Hierapolis, you can't miss the Cleopatra Pool.
Pool on the map of Turkey
You can get here by yourself or as part of a tourist excursion, come by car or bus. The nearest town is called Denizli, which can be reached by shuttle bus, and the nearby village is Deiu.
Working time
Cleopatra Pool is open during High Season from 08-00 to 19-45 daily, without holidays or weekends. During the low season works from 08-00 to 17-00. The best time to go here in mid-spring or fall: the weather is fine, and the tourists are much less than in summer.
In summer it is extremely hot here, so go to the Cleopatra pool before 12-00 do not recommend, it is better to do it after the afternoon siesta, about 16-00. At this time the tourists are leaving and you can enjoy your solitude.
Cost of attendance
If you just want to explore Pamukkale, entry to this World Heritage Site is completely free. A swim in the Cleopatra pool costs: 50 lira or $8.86 for adults and 20 lira or $3.54 for children under 12. Up to 6 years old – free of charge.
For those who go to this pool for treatment of their illnesses and are going to visit it several times, a special pass for multiple visits is offered. Tourists can stay at a local hotel with a thermal spring.
Excursions to Cleopatra's Pool
There is no separate excursion only to the pool, there are too many interesting and memorable things to stop at Cleopatra. You can visit and see this pool as part of a big tour of Pamukkale.
Most Russian travel agencies include this tour in the tour package. Plus excursions from locals, including. street, tour operators: they will solve all local problems, minus: it costs too much.
You can buy a tour in Pamukkale on the Internet, there such a purchase is quite reliable and less expensive than on the street. Interesting and inexpensive tours in Turkey can be found on the website of any popular Russian tour operator.
We recommend collecting your own tour for friends and family, determine the route, book a hotel, decide on the time, find other interesting attractions on the way to Pamukkale and back.
A tour purchased from an agency involves sightseeing in Pamukkale and Hierapolis in 2-3 hours. This may not be enough to see even Cleopatra's pool and mineral water baths.
Reviews about Cleopatra Pool in Pamukkale
Denis, Nizhnevartovsk:
It was wildly hot, and the water in the pool was disgustingly warm. I recommend coming here, but around April, not later, in cooler weather. The good news: it's like being on another planet. I wonder what it's like in Hollywood.
Regina, Voronezh:
I heard a lot about this pool and now I'm addicted. I talked to my gastroenterologist about it and he strongly recommended it. Every year I visit Turkey, Pamukkale and by all means Cleopatra Pool.