Cape Byron on the map represents the easternmost tip of the Australian continent. Travelers are attracted by the mild climate, spectacular scenery and diverse natural landscapes. It is washed by the Pacific Ocean, and has gained recognition among fans of beach and outdoor activities. Although many still do not know where Cape Byron is, and why it attracts vacationers from different countries.
History and Geography of Cape Byron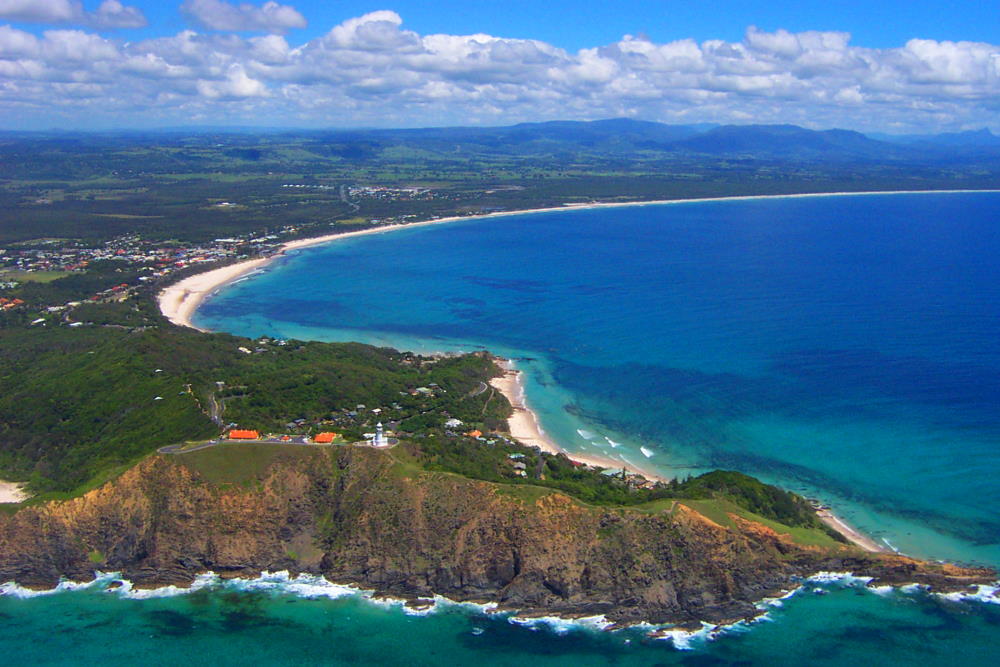 Cape Byron in Australia – a picturesque place, which was popular with young people with informal views on life and lovers of outdoor activities. In the mornings on the beach you can find people doing exercises, meditating or doing yoga. You can come to rest all year round. The average temperature is 25-27 in summer and 22-23 in winter. There is no extreme heat or cold, and the water in the sea does not cool below 20-22. Despite its popularity, the local nature is practically untouched by civilization, and has maintained its pristine appearance, for which the cape was called the "beginning of paradise.
The main attraction of Cape Byron is the Victorian-style lighthouse, built in the early 20th century. It remains active, and in addition to its main function, it is used as an observation deck with mesmerizing views of the Pacific Ocean, snow-white beaches, and tropical forests.
Many tourists wonder who discovered Cape Byron. It was first discovered by James Cook, who sailed through these parts back in 1770. Some people ask after whom Cape Byron is named. James Cook named it after the British admiral and navigator John Byron, who a few years earlier had sailed through these parts on the ship Dolphin.
What is Cape Byron interesting for tourists?
Cape Byron is a modern resort with all the tourist infrastructure. Both residents of the Australian continent and foreign tourists come here. There are hotels for every taste and purse, spa, water activities, cafes and restaurants with excellent cuisine.
The beaches of Cape Byron offer plenty of opportunities for outdoor activities. Here you can hang-glide, swim with dolphins or watch whales, nurse sharks and turtles. Those who wish can walk along the Cape Byron Track hiking trail. It is recommended to do it early in the morning to meet the sunrise. Local guides offer excursions to the crater of a dormant volcano and to Knightkep National Park, whose main asset is the Minyan waterfall.
On the beaches of Vategos Beach and Main Beach, surfers love to catch waves. The rich underwater world attracts divers. Divers especially like to dive at Julian's Rock, which is near the central beach. Transparent water provides excellent visibility at 30-50 meters. Sports equipment can be purchased at local stores or rent it from a rental shop. Many hotels have qualified instructors for diving and surfing.
Location and coordinates of Cape Byron
The cape refers to the city of Byron Bay. Where is Cape Byron on the world map? It is the easternmost point of the Australian continent.
Cape Byron on the map of Australia
You can get here by train or bus from Brisbane and Sydney. In the town itself, locals move around on bicycles or on foot. You can rent a car to explore the coast around Byron Bay. Cape Byron on the map of Australia is shown as a small piece of land going into the sea. It is located in the Australian state of New South Wales. The exact coordinates of Cape Byron on the world map are 28 38 yu. ш. and 153 39 E.