Candolim is one of the best beaches in North Goa. It is located on the shore of the Arabian Sea, near the village of the same name. The beach has long been beloved by fans of holidays in this Indian state.
Benefits of Candolim Beach in Goa
It is well known that the beaches of Northern Goa prefers young people, and in the south of the Indian state vacationing middle-aged people with children, with a solid bank account. Therefore, the place of rest in Goa is often chosen by age and outlook.
Cleanliness of the beach
Candolim Beach is located in the southern part of North Goa near Fort Aguada, close to the equally popular beaches of Calangute and Sinkuerim. According to reviews vacationers there Kandolim – the cleanest and well-groomed of all.
This coast of Goa is famous for very white, soft, fine and clean sand. There are virtually no stray dogs or cows sacred to Indians, who happily share the beaches with tourists almost all over India.
Quality and cost of services
Kandolim – the most expensive beach, so it's mostly resting Germans, Brits and wealthy Indians. Expensive beach Kandolim associated with quality tourist infrastructure, high level of service, stellar hotels, etc.
It is estimated that Candolim beach is not less than a third more expensive than all other beaches in North Goa, so here likes to vacation not young people, and the middle class European and American.
The mass of sunbathing tourists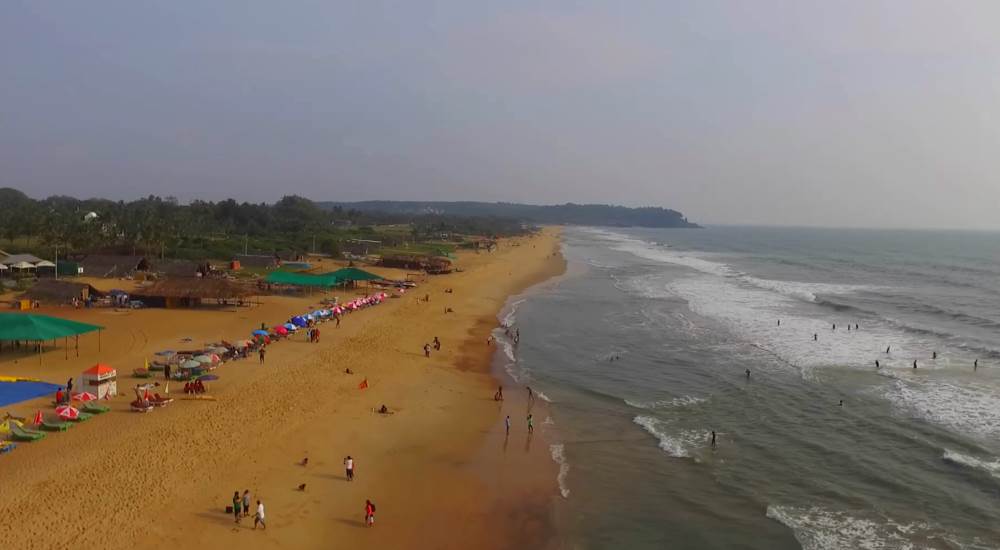 Due to the high cost of services, there are never too many vacationers on Candolim, which means less noise, running and crowding. Here, even in high season, you can find a free sun lounger and umbrella.
No on the beach and intrusive local vendors, endlessly offering rich tourists or buy something, or take pictures with a monkey, preventing to relax and just relax.
Large selection of hotels
You can always find a room to stay on the shoreline. This is quite rare in North Goa, where on the beaches hotels are usually quite far from the shore.
It is important to note that the level of service is equally high, both in 1-2 and 3-4 star hotels. It is simply impossible to hear boorish language from the staff, most Indians have a good-natured character.
Good food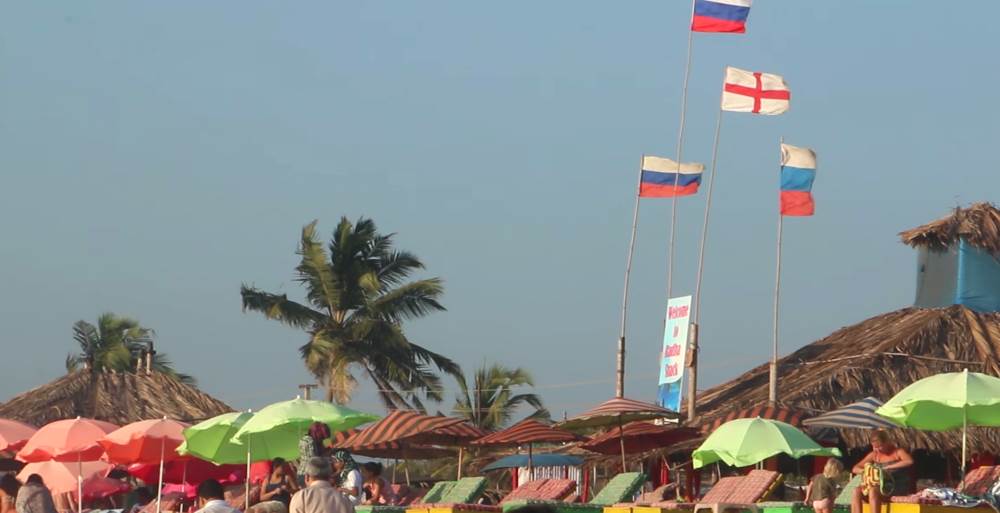 Anyone who has traveled all over India will know that Candolim Beach offers the public excellent cuisine. Here you can always get quality dishes with fresh seafood and freshly squeezed juices from tropical fruits.
Family vacations
Due to the features of this beach, it is equally suitable for those who came to Goa with children, and for those who prefer an active, sporty holiday. These categories of tourists in Candolim do not interfere with each other.
Hotels in Candolim
The choice of temporary accommodation on vacation most tourists are extremely demanding, because. There is a well-known axiom: without comfortable sleep there simply can not be quality rest.
Candolim Hotel Map (interactive)
1-2 star hotels
Often, when choosing a hotel travelers are guided by reviews of tourists who have already rented rooms in them. Advertising has long been bored with the consumer, the decisive importance when choosing a service are real reviews.
Coqueiral Resort
This is one of the most economical options to stay at Candolim Beach in North Goa. This one-star hotel has only 16 rooms, but is famous for its staff's excellent breakfasts and quality housekeeping.
Resort Coqueiral does not have its own pool, but has a small garden with beautiful flower beds and tropical fruit trees, where you can relax after sunbathing and beach activities.
Sodder's Libton Manor
This two-star hotel will appeal to those who love to eat. There are many shakes, cafes, restaurants around it, you can walk through all these places in the evening, the food everywhere is decent, in some places – high quality.
This hotel has 14 rooms and is especially in demand among couples vacationing in Candolim with children. For Russians with a budget income this option is absolutely acceptable. An economy room costs from 900 to 1,800 Indian rupees.
3-5 star hotels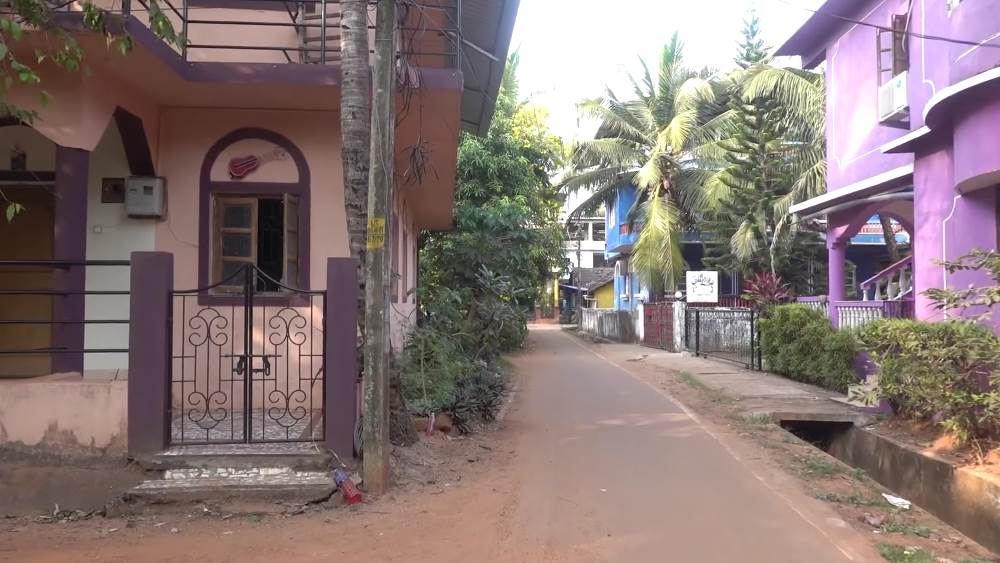 Santana Beach Resort
This hotel has three stars and many good reviews. It has two pools: for adults and children, and a quality kitchen. The hotel is located on the first line. The sea is practically next door.
It's a two-story bungalow with a beautiful garden, next to it is a hotel-owned shake with good food and great chefs. Sun loungers and umbrellas are free for guests.
Bougainvillea Guesthouse
This four-star hotel has a garden for relaxation and a terrace where guests can sunbathe. Tourists speak positively about the large and clean rooms in the hostel, the excellent food in the restaurant, etc.
Vivanta by Taj
This hotel has five stars because. It owns a swimming pool, a large spa and a golf course. The only thing that scares away tourists who are used to saving money is the high price for a hotel room.
In total there are about 250 hotels, bungalows, guesthouses, etc. on Candolim Beach in North Goa. You will always have a great choice in price and quality, but the service staff is sure to please you.
Meals at Candolim Beach
Indian cafes or pubs are called sheikis. The beaches of Goa are full of them. In Candolim, each such shake has its own menu, which includes the well-known European food and drinks, and local delights.
North of Candolim in Goa across several beaches is the famous Vagator beach. On it stands the famous tavern "Thalassa", the owner of which offers tourists excellent Greek cuisine. Here you can have lunch by appointment.
In Candolim, the Kalamari Shake is a great success. Here you will be offered wonderful dishes of seafood, freshly caught in the sea. Indian cuisine predominates in the shake, although Japanese and European dishes can be found.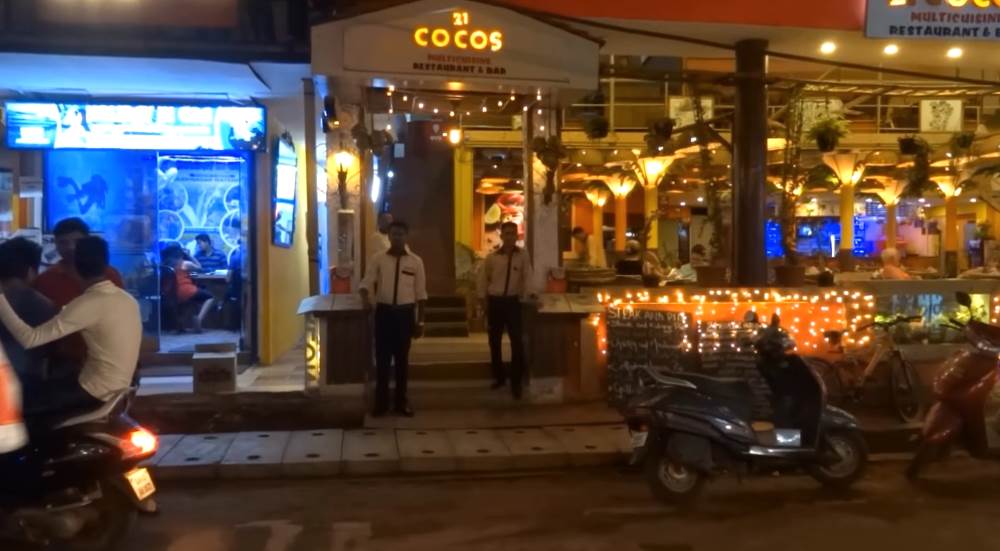 Here are a few more famous restaurants in Candolim that are definitely worth a visit:
Republic of Noodles;
Bending Bamboo;
Red Lobster;
Monicos Beach Shack;
Bobs Inn.
Sightseeing in Candolim
As you know, in North Goa from the 60s of the last century, resting hippies, Rastamans and other subcultures, they brought here a special atmosphere, their own views of the world, a philosophy of life. They were followed by the usual tourists. Today, North Goa, with its beaches, shakes, nightclubs and discos to Goa Trance music has become one of the most fashionable youth resorts in the world.
Fort Aguada
Fort Aguada was built by the Portuguese in the 17th century to protect their colony from pirates and other potential aggressors. It is quite large in size, and its architecture is a mixture of Portuguese and Indian styles.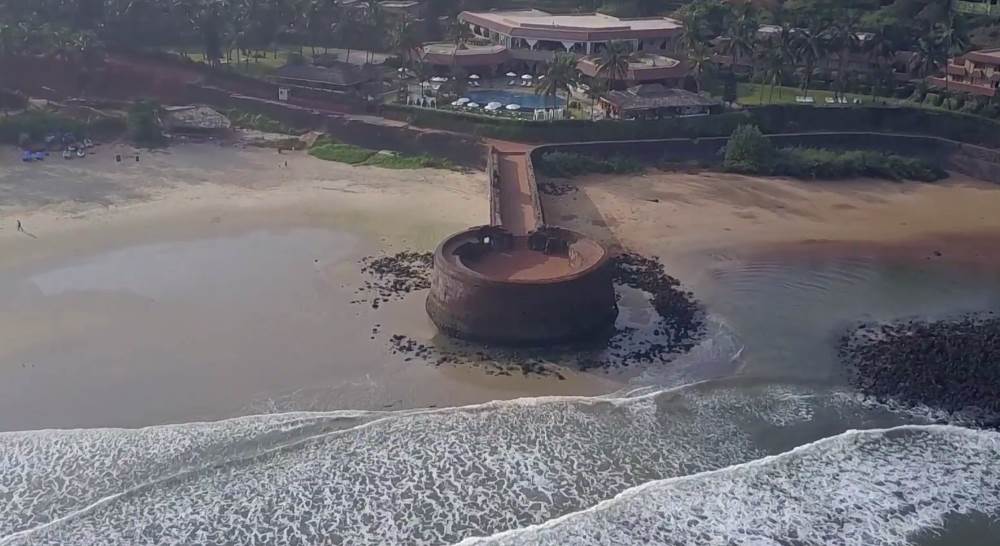 Today this fortification has been restored and is in decent condition and is considered one of the most hyped sights in North Goa.
The fort was built of local red stone, which is still widely used in construction in Goa today. Not far from the fort stands a lighthouse from the early 17th century, one of the largest in Asia. It was turned off decades ago and became a monument.
Costa Frias Palace
This attraction is located in the village of Candolim. The house was built in the Portuguese Renaissance style, but when this was done is not established. In any case, it is the colonial past of Indian Goa.
Chapel of Sts. Antonia
This Catholic chapel is one of the oldest structures in the village of Candolim. The Portuguese had brutally imposed their religious views on the local population, so their parting with each other passed without sorrow.
Barge "Moscow"
Just a hundred meters from the beach in Kandolim in the sea you can see grounded 10 years ago barge "Moscow". It has long been planned to cut it up for scrap, but for now tourists are happy to take selfies against the barge.
Entertainment and Shopping at Candolim Beach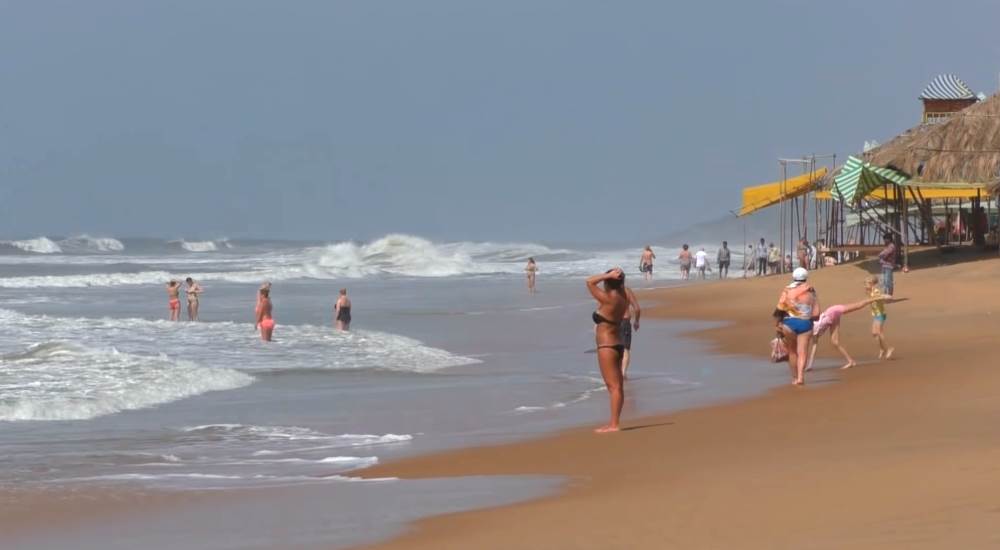 For lovers of outdoor activities are offered here:
diving;
surfing;
water skiing and parasailing.
On the beach you can rent all the necessary sports equipment and equipment for water sports. And for shopping lovers there are several supermarkets with low prices, shops with antiques, souvenir shops, etc.
Candolim on the map of North Goa