Benaulim is a small village in South Goa with wonderful beaches all around. This part of Goa is known for the fact that here rests wealthy couples and seniors. But not on Benaulim.
Benaulim Beach is known for its great white sand, crisp as snow, clear sea water and great youth hangout. But there is not the pandemonium of tourists like in Anjuna or Baga. It is more designed for those who like a quiet holiday without the extreme, but no stranger to entertainment, does not want to get bored on the beach. Be sure to come here for a few days to get a taste of this kind of vacation.
How do I get to Benaulim Beach?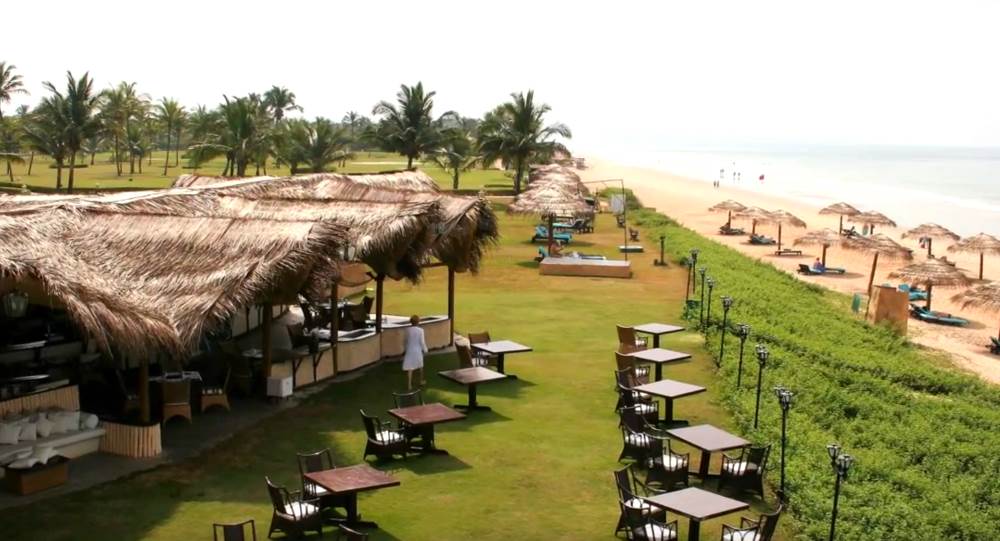 The beach is located in South Goa, here you can fly from Russia to the local international airport Dabolim. Regular flights and charters from Russia fly here. From Dabolim to Benaulim beach can be reached by bus or cab.
In the Low Season, you can fly into India on a regular flight via Delhi or Mumbai, and from there advance to Goa by train, bus, or cab. It will take much longer, but you will have time to see half of India.
Benaulim on the map of Goa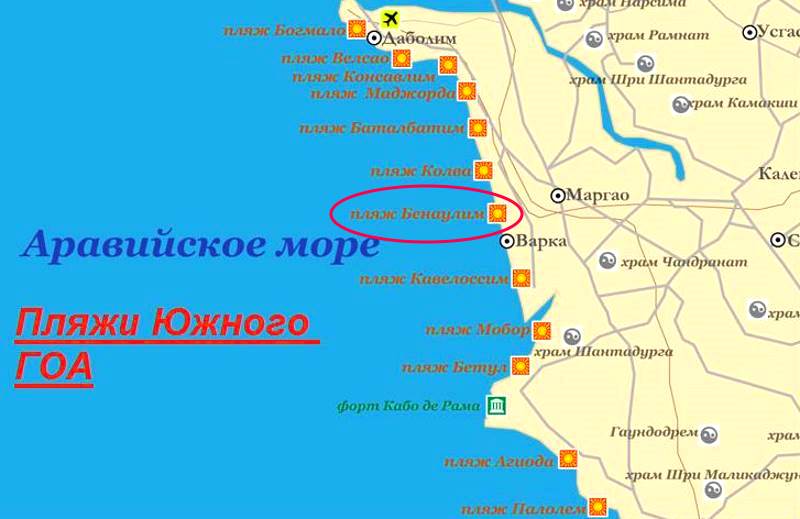 Map of Benaulim (interactive)

Holidays in Benaulim
The village of Benaulim is small and full of hotels, guesthouses, hostels, and other tourist accommodation. There are hotels of all levels: from 1 to 5 stars, cheap with a minimum of amenities room and the most expensive apartments and villas.
Housing
Tourists prefer to live on the beach, preferably at the water's edge, so that when you wake up, immediately plunge into the warm sea. In the center of Benaulim Beach in South Goa and on its outskirts are now built many hotels and gesthouses.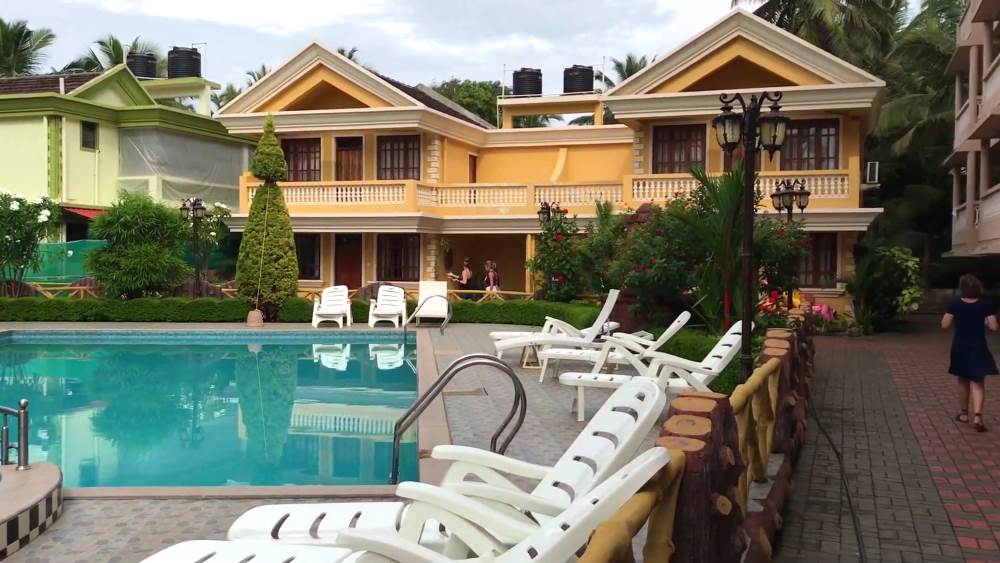 But especially a lot of bungalows, small houses, where you can live alone, family or group of friends. The vast majority of vacationers enough to have a bungalow air conditioner or fan, as well as Internet access.
All lodging on the beach is no further than two kilometers from the shoreline. The choice is great, everyone will find a temporary home on vacation to their liking and pockets. However, we recommend that you book it in advance in Russia, so that you do not lose time looking for it later.
The main street of the residential area of the beach is called Benaulim Beach Road, where most of the hotels and hostels are located. There are several small streets off the Road that also have all sorts of tourist accommodations.
South of Benaulim Beach is the most expensive hotel, Taj Exotica, with five stars. Rooms there start at $230 or 16,350 Indian rupees a night. Even more expensive villas and cottages with pools, also standing on the beach.
You can study the offer of accommodation and its price on Booking.com and other similar resources. Keep in mind that the beaches of South Goa have higher prices on average, because. It's where respectable people with money prefer to rest, i.e. Europe's middle class.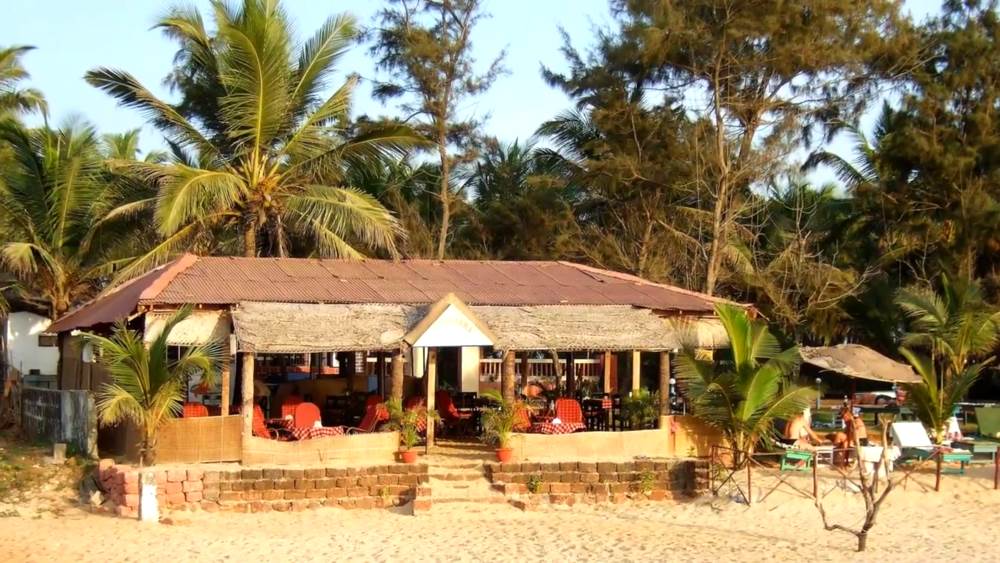 The average price of lodging per day:
A room in a hostel starts at 100 Indian rupees or $1.41;
Hotel room from 1,500 rupees or $21.1;
One-bedroom apartments from 2,000 rupees or $28.13;
villa – from 20,000 rupees or $281.31.
According to reviews from domestic tourists, accommodation in Benaulim is very decent. The stated price corresponds to the comfort and level of service offered. Here are much more serious about cleanliness and order in the rooms than in North Goa.
In the village of Benaulim similar housing is 10-15% cheaper. If you want to save money, rent a room or a hotel room in the village and rent a bike to go to Benaulim Beach (250 rupees per day).
Nutrition
There are many cafes and restaurants in the village and on Benaulim Beach in South Goa, and the most popular eateries in India are the local shakes. Food here is inexpensive, especially seafood and fruit, even compared to Vietnam.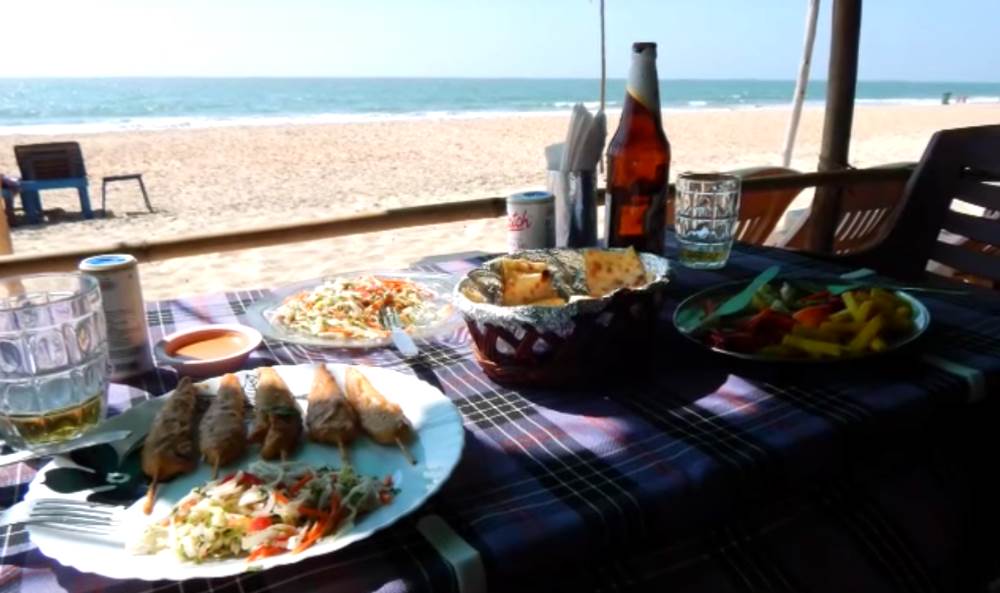 They are already used to European and Russian tourists, so they cook delicious Indian dishes without abusing the hot Indian pepper. European and Russian cuisine is well represented, there are many dishes for vegetarians.
Russian tourists who decide to vacation in Goa for more than a month, cook their own food, buying products at local markets. This way of eating is 2-3 times cheaper than going to shakes, cafes or restaurants.
Beaches of Benaulim
Benaulim is one solid beach, it has fine, soft and light sand, which on the beaches of South Goa is much whiter than in North Goa. During the high season, the Arabian Sea has virtually no waves.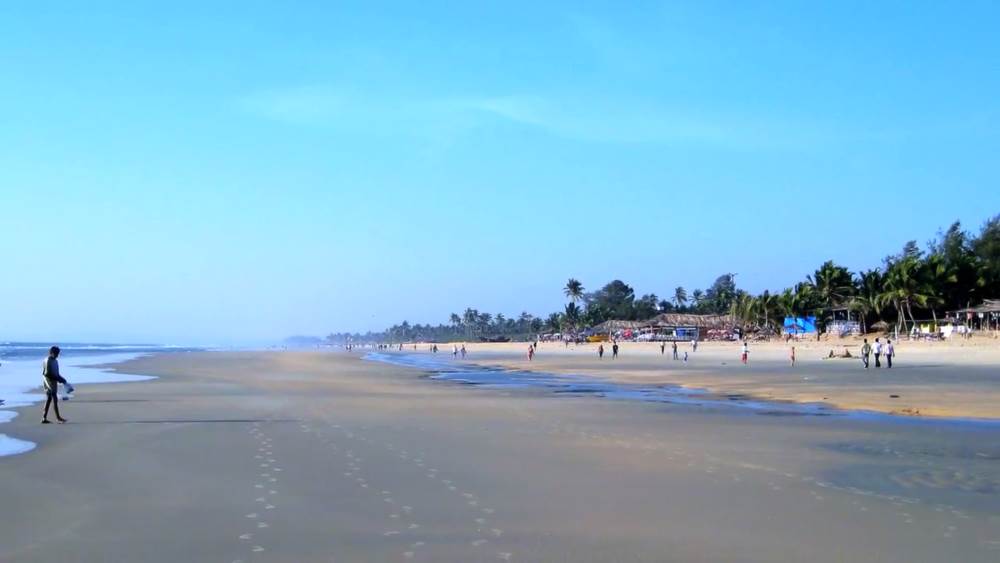 Benaulim Beach is ideal for a family vacation for a young couple with kids. It has a gentle sandy bottom without stones. To get to a serious depth, you have to walk at least a hundred meters. It is very comfortable to swim in the clean sea water.
There are the usual water activities for adults and children, you can go surfing, renting a board. And kayaking enthusiasts can rent a boat exclusively at Palolem Beach. Morning jogs by the sea are in vogue here.
Benaulim Beach Road
Around this road concentrated all the life of the beach. In addition to housing, you can find exchange offices, supermarkets, stores, grocery and clothing markets, bike rentals, and even a small freshwater lake nearby.
Benaulim Beach Road also has a pharmacy where you can buy Ayurveda medicines, there are massage parlors, internet cafes, a yoga school, a bus stop, an ATM machine and other joys of life. Best vacation times at Benaulim Beach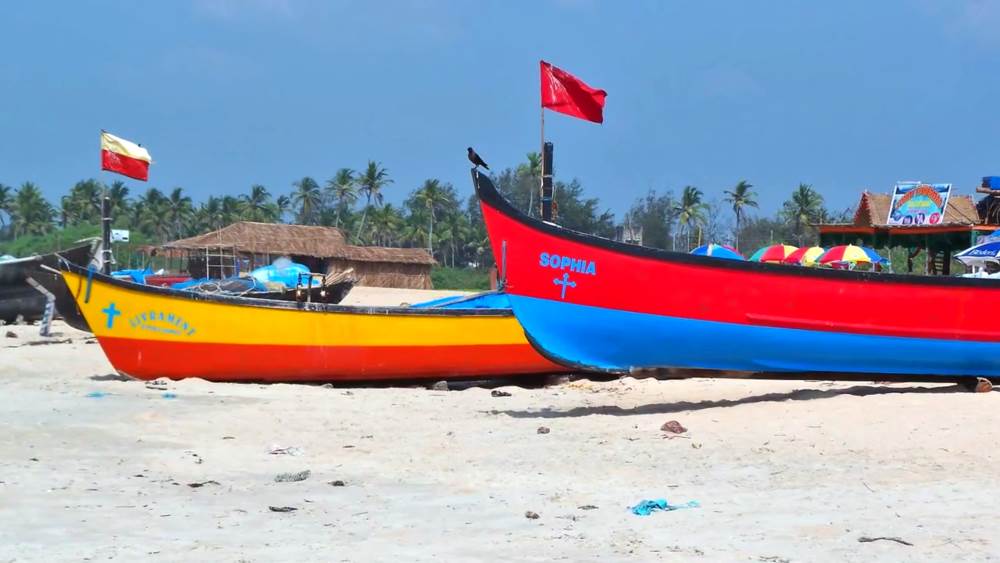 High season, as in the entire Indian state of Goa, Benaulim lasts from November to March, and the best time to relax is December and January. Many Russian tourists have long been accustomed to celebrating New Year and Christmas in Goa.
At this time, the average air temperature during the day is +30C – +32C, and the temperature of the water in the sea is about +30C, there is almost no rain. The beaches are full of holidaymakers, and prices in hotels, restaurants, and stores are breaking all records.
And from May to September in Goa – Low season. It's starting to pour like a bucket of rain all day long. The air temperature can reach +40C – +42C, hot as in a Russian bath. At sea – about storms, water – dirty, to bathe is extremely dangerous.
April and October are the off-season. In these months, the weather for recreation is still or already acceptable, and prices for tourist services are not yet too high. Lovers of such holidays can have a great vacation in Goa and still save a lot of money.
Attractions around Benaulim
There are no cultural and historical monuments directly in the village or on Benaulim beach. And the state of Goa has an extremely large number of them. Here you can see Hindu and Buddhist temples, as well as Portuguese colonial architecture.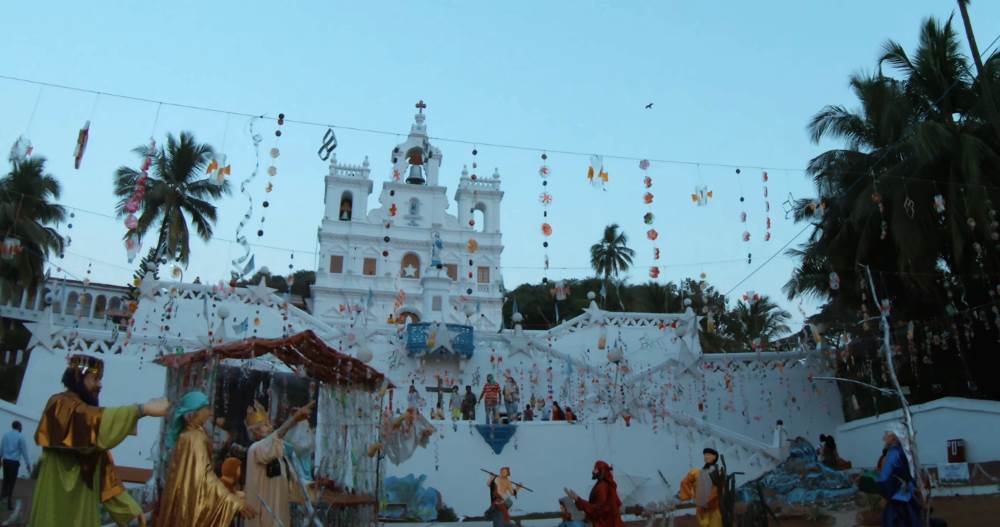 The best architectural and historical sites are in the state capital of Panaji and Old Goa. Here you can see the beautiful temples, residential and administrative buildings built by the Portuguese, beginning in the 16th century.
Panaji will greet you with old cozy colorful houses, museums, galleries, parks and waterfront. A half-hour drive from the capital in Old Goa, you can visit ancient Catholic churches in operation for free.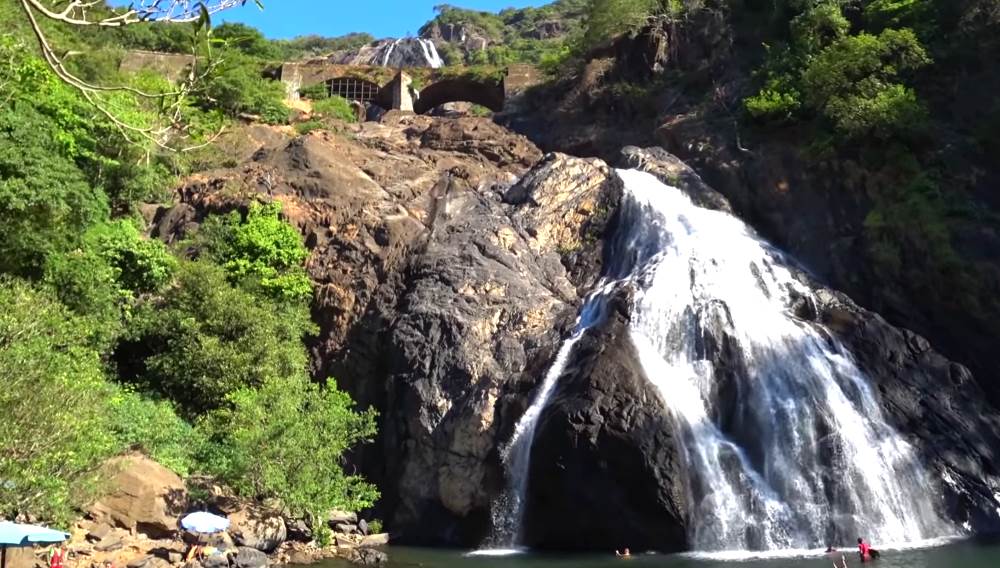 To enjoy the natural beauty of the Indian state of Goa, hike through the local national parks, swim in waterfalls, go hunting in the mangrove forests in the south of Goa, etc.
The most interesting local natural attraction is the Dudhsagar waterfall, below which there is a lake with cool water. Our tourists swim in it with pleasure. You can buy an excursion to the waterfall at the travel agency at Benaulim Beach.
Benaulim Beach Holidays
New Year and Christmas is celebrated here by all tourists, not forgetting either Catholic or Orthodox Christmas. Russians additionally necessarily celebrate the Old New Year and Epiphany. The festivities are accompanied by seafood dishes and fireworks.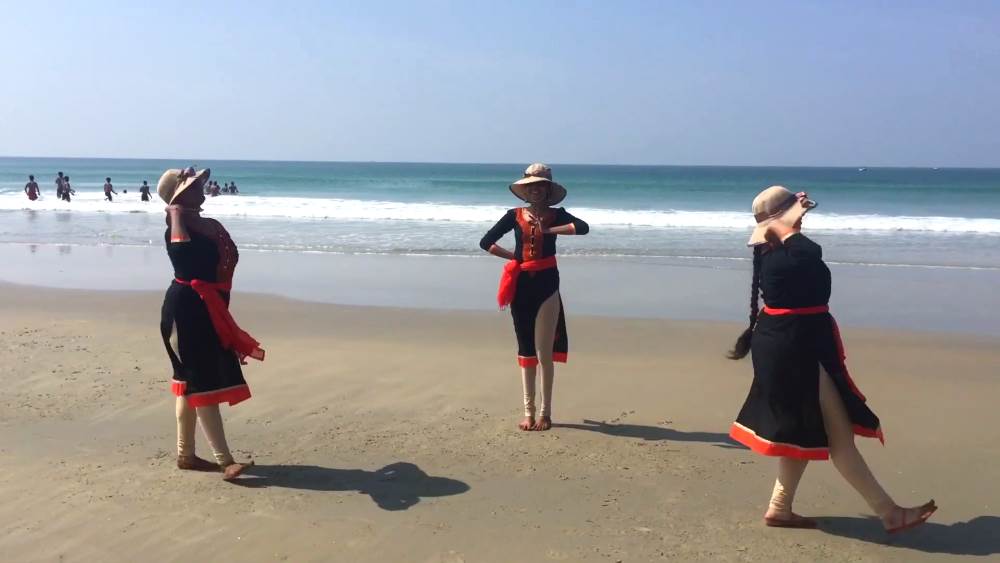 Diwali is a Hindu holiday that comes at the end of fall and is celebrated by Indians at home. Many tourists also celebrate Diwali in their own circle at local restaurants and shakes, treating themselves to authentic Indian sweets.
Hodi is one of the most fun festivals in Benaulim and is celebrated in March. During Holi celebrations, people throw colored paints at each other and then go to a cafe or restaurant. Get dressed up and go to the party.
Shopping in Benaulim
Local supermarkets, stores and stalls offer everything you need. There are no expensive and exclusive goods here, but there is an abundance of beach goods, clothes, shoes, souvenirs, Indian saris, etc. For expensive brands it is better to go to Panaji.
Like the rest of Goa, Benaulim has an excellent representation of jewelry stores. Here you can buy high-quality gold and silver jewelry with precious stones, costing an order of magnitude cheaper than in Russia. Don't forget to bargain!
Video overview of Benaulim