Baga Beach in Goa is located in the northern part of this Indian state, 15 km from its capital, Panaji. It is best visited in winter, during the high season in Goa, which lasts here from November to April.
Baga Beach in North Goa has a large number of clubs, restaurants, bars, it is clean enough water and a gentle sandy shore. There are no five-star hotels, but the service in the apartments and rooms are very decent, and their cost is quite affordable.
It's also a great place for shopaholics. There are many souvenir shops and stores, where you can find the most unique things to keep the memory of this beach for a long time.
Location of Baga district on the map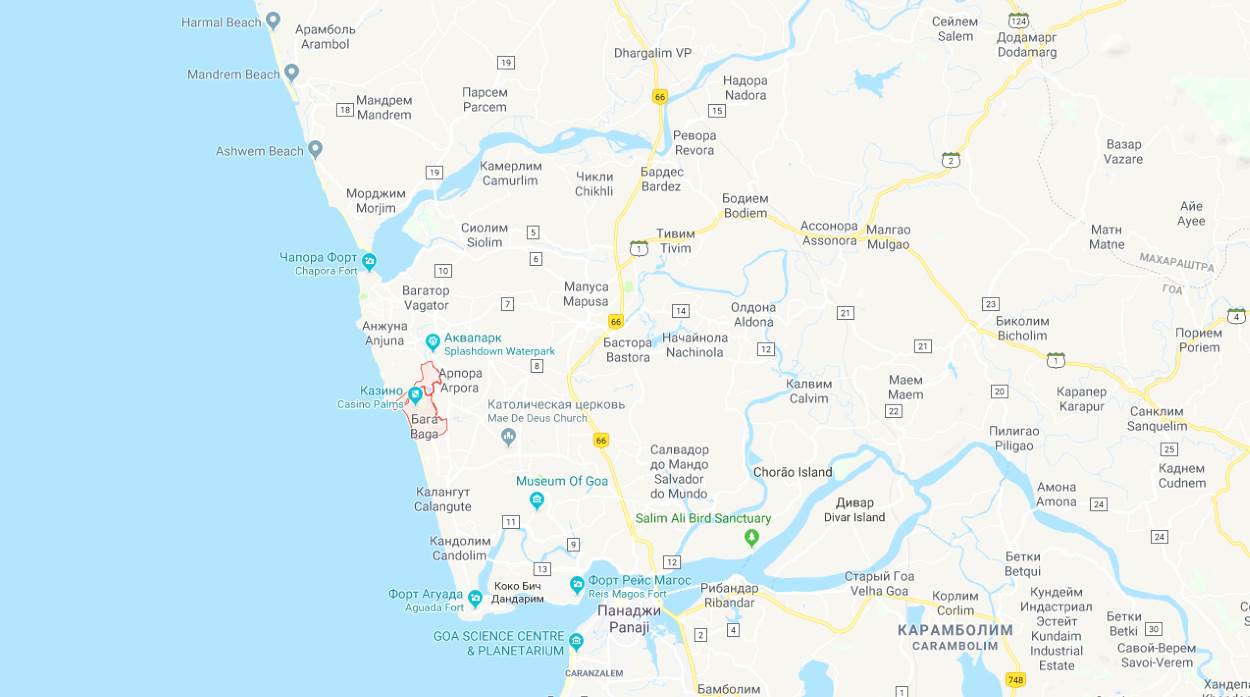 Climate at Baga Beach
During the High Season (from November to April) during the day in North Goa, in general, and at Baga Beach, in particular, the temperature ranges from about +30 Celsius, and at night – about +20.
At the same time, tourists waiting for the most comfortable beach season. The weather is exceptionally dry and warm. Beginning in May, it begins to rain, which gradually turns into a round-the-clock downpour. The air temperature rises to +40-45C.
Benefits of Baga Beach
This beach is divided into several parts. It is considered one of the cleanest in Goa. It has a smooth entrance to the water, while the bottom is clean, without stones and algae, so the beach is ideal for those who holiday with children.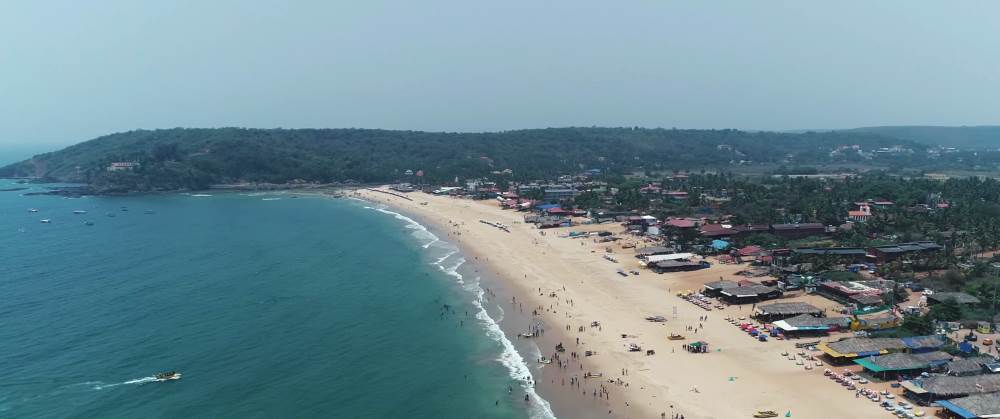 The sand on Baga Beach is fine, soft and light in color. Nearby flows the same river flowing into the sea. Children love to swim in it, too, resting on the beach. Different parts of Baga Beach differ from each other in appearance.
Due to the presence of waves, this is a great place to surf, but snorkeling and scuba diving here will be much more difficult. Near the mouth of the Baga River you can not swim, because. There you can get caught in a strong current, which will carry you into the sea.
Disadvantages of Baga Beach
Even the best beach is bound to have disadvantages, which are closely related to its advantages.
Due to its popularity, there are always a lot of vacationers at Baga Beach. It's hard to find a free place to relax in privacy here, which can make it difficult to take beautiful photos or videos.
It's always noisy here, because. On the beach there are many cafes, discos and nightclubs that practice loud music for their visitors. Music speakers are often installed right on the beach.
The trouble with all Asian resorts – it's intrusive service, intrusive sellers, from which it is difficult to get rid of. It's even harder to ask restaurant and nightclub callers not to shout too loudly.
How do I get to Baga Beach?
The closest beach to Baga is called Kalangut. Nearby is the town of the same name. It can be reached on foot in 20-30 minutes. At the same time it will be interesting to explore the local beauty.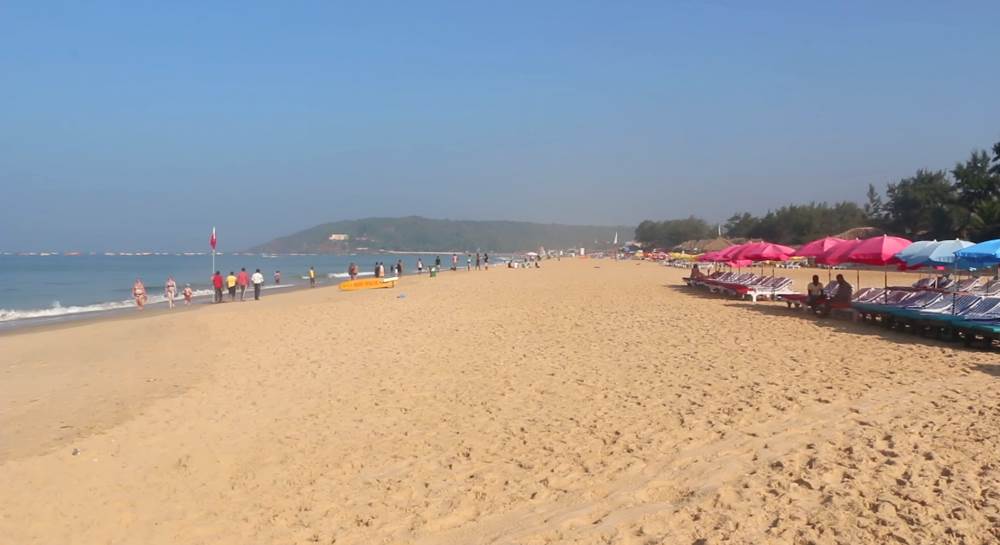 The nearest and only airport in Goa, Dabolim is 45 km from the beach. The state capital of Panaji is 14 km away and the railroad is 25 km away. Transport links in Goa are quite developed.
So, to move around you can use the services of a cab, rent a car, bike or bicycle.
It is cheaper to take public buses, and the most beloved and popular transport in India is the train or train.
Where to stay in Baga Beach?
You can look for a hotel right on the beach or go to the eponymous city of Baga. It has several five-star hotels and upscale apartments for vip-guests. A lot of great hotels and with four stars.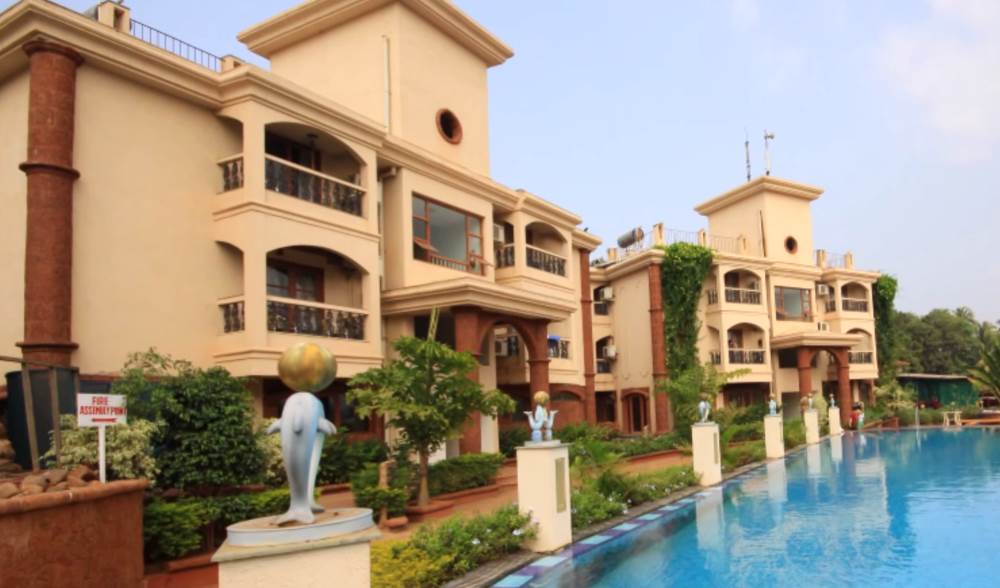 The majority of tourists choose hotels with two and three stars. Don't be afraid of these numbers. They have a lot of positive feedback from their guests, are quite comfortable and have decent service. Here are some of them:
Abalone Resorts (two stars). Clean and comfortable hotel and quality service. There are sun loungers, which you can use for free. But the hotel itself is a bit far from the sea and Baga beach. Daily walks will be required.
Beira Mar (two stars). Here tourists will find good rooms in economy class, which have a bathroom, balcony with a good view, fan and safe. Despite the small stardom, the hotel staff is kind and efficient.
Colonia Santa Maria (three stars). The hotel is close to the airport, there are several nightclubs nearby. Bathtub and toilet – in the rooms, each room – two rooms. Guests are happy with the level of service and quality of food.
Sun City (four stars). It is a relatively new hotel, offering its guests Indian and European cuisine, swimming pool with a bar with free alcohol. Here you can use the services of the spa, tennis court and billiards. The beach is close by.
Attractions near Baga Beach
Baga is one of the centers from which foreign tourists go on excursions around the state of Goa and all of India. So you can not only indulge in a beach holiday with its water activities, but also to get to know this wonderful country. So, first things first.
Mahavir Reserve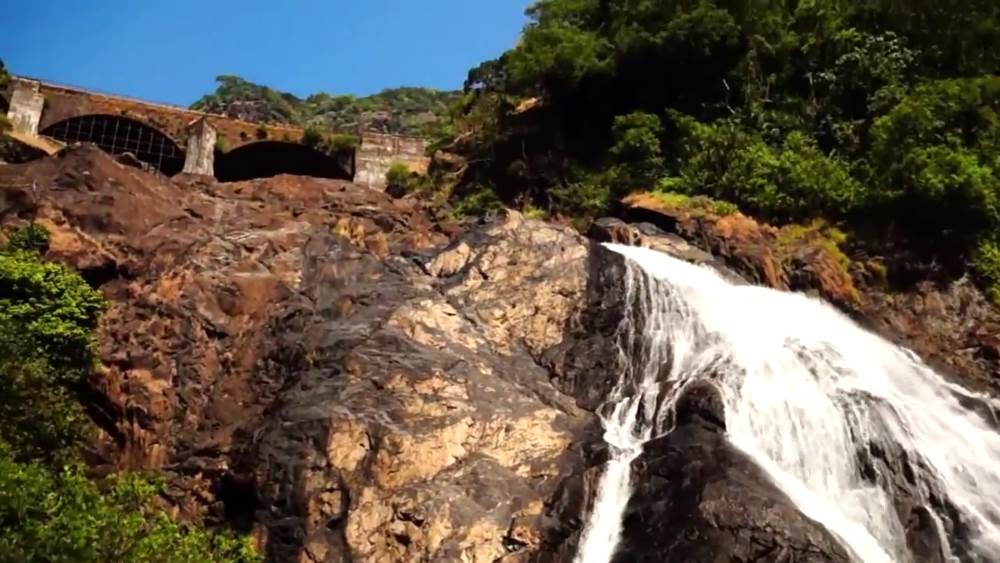 Here you can see wild animals living in their natural environment. They are not afraid of people if they do not behave intrusively. Observe the local fauna, including. behind Indian elephants, you can exclusively from the observation decks.
Old Goa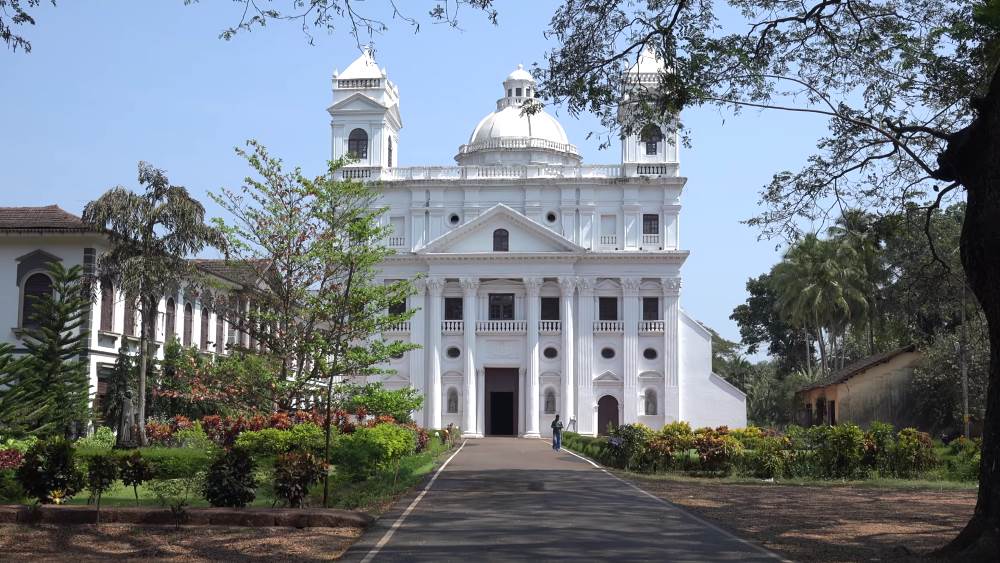 It is not just a landmark, but the former capital of the Portuguese colony. Almost all local architectural masterpieces are included in the famous UNESCO list and are protected by the state. In Old Goa it will be interesting to listen to a Russian-speaking guide.
Jesus Basilica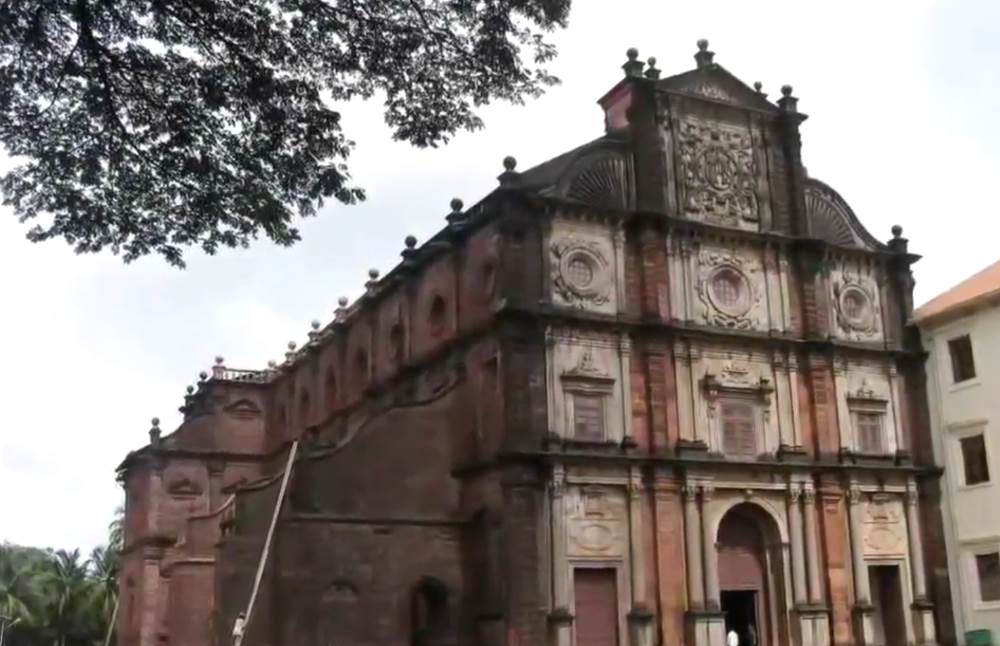 It is a Catholic church, built in the 16th century, where pilgrims can touch the relics of St. Francis Xavier. Believers believe that such a touch helps to cure any disease. There are holy springs near the basilica.
Mumbai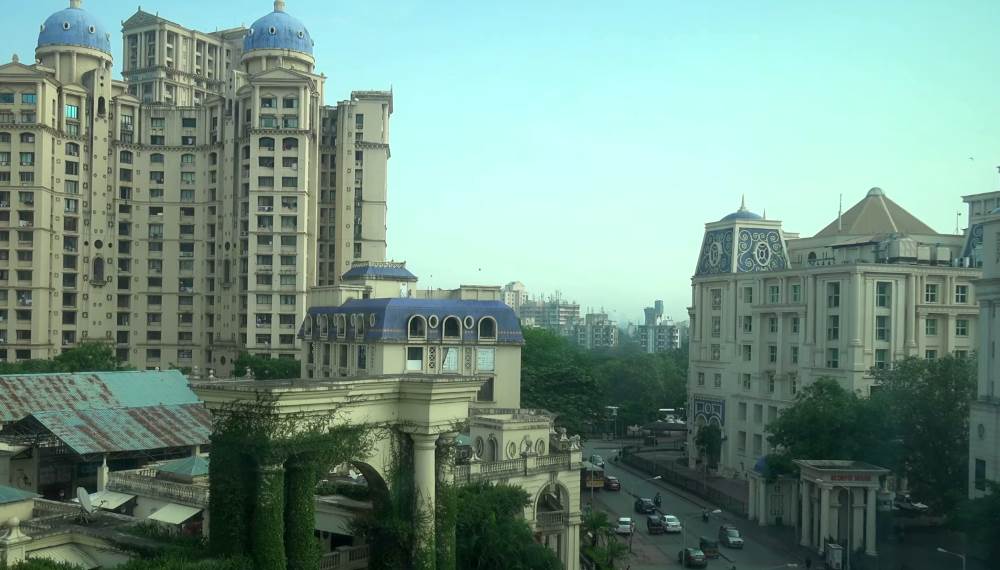 This is the business capital of India. In Mumbai you can see the Gateway of India, visit cave temples built in the 7th century AD. Fans of nightlife will love the local waterfront with restaurants, clubs and stores.
Meals at Baga Beach
The whole beach is just overflowing with small restaurants and eateries. But the food there is more expensive than in the nearby town of Baga. On the beach you can easily be overcharged, add to the bill dishes that you have not ordered, etc.
Everyone who vacationed at sea knows the iron rule: the closer the sea, the more expensive the food. According to the reviews of tourists know that in the city of Baga food is inexpensive, the prices offered by vendors for different dishes – quite affordable.
You can buy food and semi-finished products in chain stores, where they are the cheapest, and then store them in the refrigerators in the hotel rooms. Inexpensive breakfast, lunch or dinner is always guaranteed.
Useful tips for beach vacations
Going to rest and swim at the beach of Baga, be sure to check the calendar and weather forecasts, so as not to get on a period of storms, the probability that occurs in May and ends only in October.
Going to the beach, do not overload your bag, but do not forget to take with you:
comfortable shoes for hiking;
a panama or a hat;
a product for protection against ultraviolet light;
antibacterial wet wipes;
antibacterial patch;
pills for food poisoning.
Tourist reviews of Baga Beach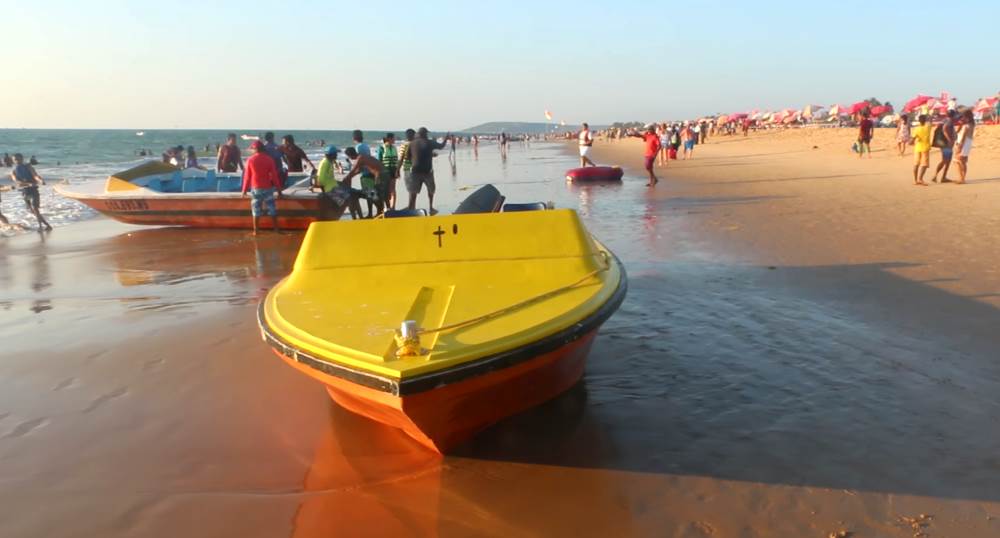 The vast majority of Russian tourists are happy with the fact that they have been to this beach, describing it as a place for relaxation, making holidaymakers there free and peaceful.
Many are happy with the quality of the beach, its soft sand, a good approach to the water, warm and clear sea, rest in the style of "Bounty", a decent beach infrastructure, etc.
But the food on the beach is often subjected to serious criticism: our compatriots are convinced that many local dishes are too spicy, they can not eat. Meat is known to be poorly cooked in India, but vegetable dishes are a good thing.
It is widely believed that the streets of Baga are very dirty and there are many beggars. Irritating obsessive service: the work of traders, prostitutes, masseurs, pestering tourists and simply extorting money from them.