Ashwem Beach is located in India in North Goa and is known among tourists for its quite budget holiday. There are few vacationers, so the situation is always quiet. This is a great place for families with little ones.
And the nearby beaches of Mandrem and Morjim are famous for their raucous parties and all the delights of nightlife. They still have the spirit of hippies with all the implications, there are often discos with music Goa-trance.
Description of Ashwem Beach
Beach coordinates on Google maps: 15.646862,73.716606

GPS coordinates: 15°38'48.70?N, 73°42'59.78?E
Ashwem on the map of North Goa
From Ashvem to Dabolim International Airport, located in Goa, 55 km to the south, and 31 km to Panaji, the capital of Goa. The closest train station is called Pernem.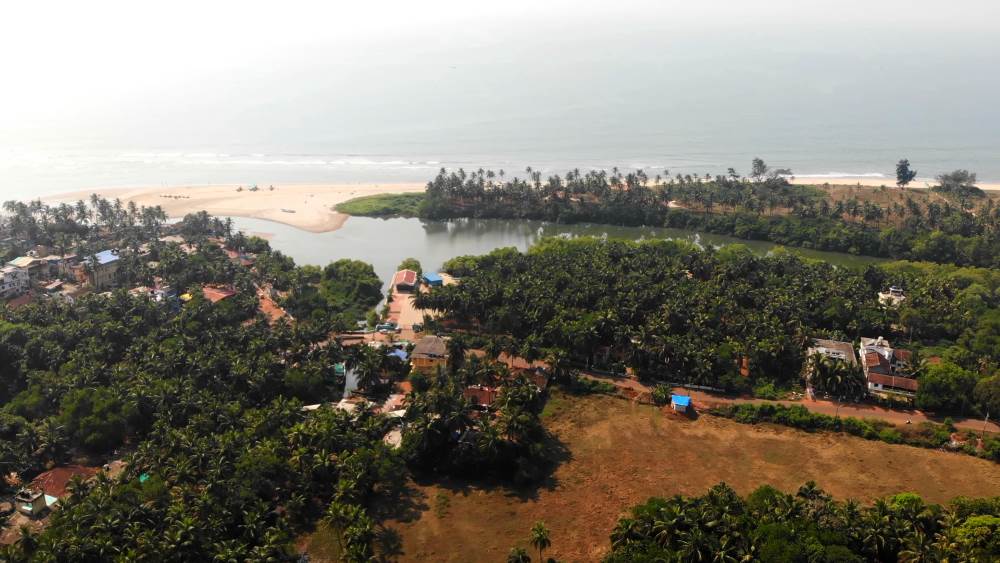 According to reviews from tourists Ashwem beach in North Goa is a great vacation spot for the middle class not only in Europe but also in Russia, couples with children and the elderly. There is only comfort and cleanliness, no stray animals, intrusive vendors, etc.
On the beach Ashvem wide open space for water sports, active marine leisure, there is a well-developed infrastructure. Also, Ashwem is a wonderful place for those who are looking for complete peace without all the extreme.
Benefits
Beach Ashvem has a small size, about two kilometers, a beautiful bright and soft sand, smooth shoreline and quiet secluded atmosphere, which distinguishes it from the crowds of most beaches in North Goa.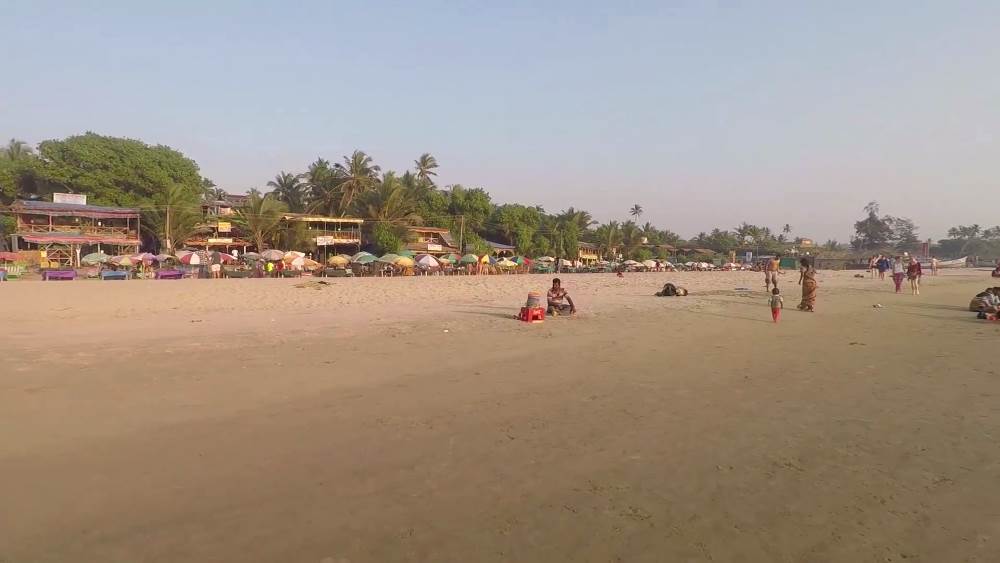 This beach is really beautiful, it is no worse than the popular beach of Arambol. This is a great place for families and recreation for the elderly. The cost of tourist services here is a little more expensive, but the service is noticeably better.
Beach Ashwem in North Goa is characterized by the fact that there are almost no rocks and large stones, the result of volcanic activity in the past in this area. The beach is flat, entering the sea is gradual, which is good for children.
Climate and weather
A subequatorial climate prevails here, which is conventionally divided into two seasons: winter (High Season) and summer (Low Season). In winter, Russian tourists have long welcomed the New Year and Christmas at Ashvem Beach.
The best time to vacation at Ashwem Beach in North Goa is during the dry season, i.e. November through March. At this time, the air temperature during the day warms up to +31C – +33C, and at night – +18C – +20C. Water in the sea in the dry season – about +28C – +30C.
In the High Season in Ashvam is the minimum humidity, there is almost no rain, but in the spring gradually appear and increase and in the summer the real showers begin, and the temperature rises significantly – up to +45C – +50C and above.
During the Low Season, there are storms on the Arabian Sea that preclude swimming. But by October the sea gradually calms down and the air temperature drops to +30C, there is an opportunity for a quality beach holiday.
Housing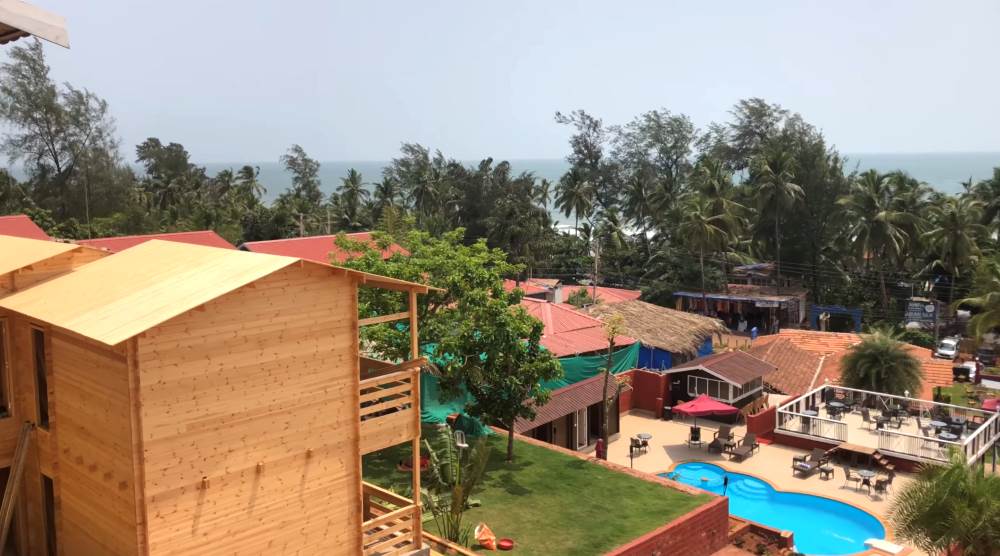 It is important to note that finding rooms in hotels, apartments, hostels, villas or guest houses here is not very difficult. But it is recommended to book the selected accommodation in advance, so that you do not stay on the street on arrival at the place.
You can do it online at the website Bucking or other similar services, engaged in the provision of accommodation on the beach Ashwem in North Goa. This guarantees you a room in a hotel or guesthouse in accordance with the quality and cost.
The most popular lodging in and around Ashwem Beach:
Maison Ocean Retreat;
Treebo Trend Maison Ocean Beach Resort;
Brittos;
Mandrem Beach, Morjim;
Villa with a pool in Ashvem;
Leela Cottages;
Palm Grove Beach Resort;
Mandrem Beach, Mandrem;
Hotel Saiganesh;
MamaGoa Resort;
Shiva Cottages;
L'amore Beach Cottages;
Morjim Queen Beach Resort, etc.
The cost of the above hotels, guest houses, bungalows and huts ranges from 14,000 to 66,000 rubles per week. There is noticeably less housing on Ashwem Beach than on neighboring beaches. So book it in advance.
Nutrition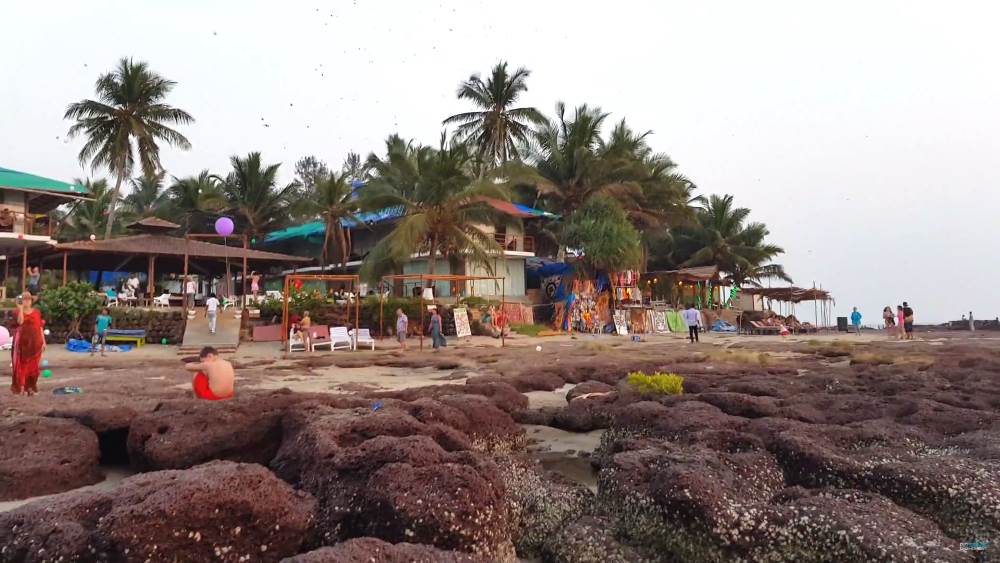 Despite the sparseness and seclusion of this beach, there are a huge number of cafes, restaurants and Indian shakes. And the local cuisine is adapted to European tastes as much as possible: a minimum of spices.
Inexpensive fish and seafood dishes, be sure to try them. Visit cafes and restaurants specializing in Russian cuisine. The popular European and American cuisine is also well represented on Ashwem Beach.
How do I get to Ashwem Beach?
There are two ways to safely reach Ashwem Beach in North Goa, located quite far from Dabolim International Airport in the Indian state of Goa, are cabs and shuttle buses.
Remember that you have to travel a distance of about 50 km. If you choose a shuttle bus, then from Dabolim have to stop at the bus station, then change the next bus to Panaji, and then to the north of Goa.
It is important to know that buses for the most part go to Arambol, Morjim, and other major towns, and rarely go to Ashwam itself. So getting to the last point of your journey will be difficult and time-consuming.
If you plan to take a cab, remember that it is much more convenient, but also more expensive. Transfer from Dabolim to Ashwem beach will cost at least 2 000 Indian rupees, which is the same amount of Russian rubles.
Attractions, excursions and activities near Ashwema Beach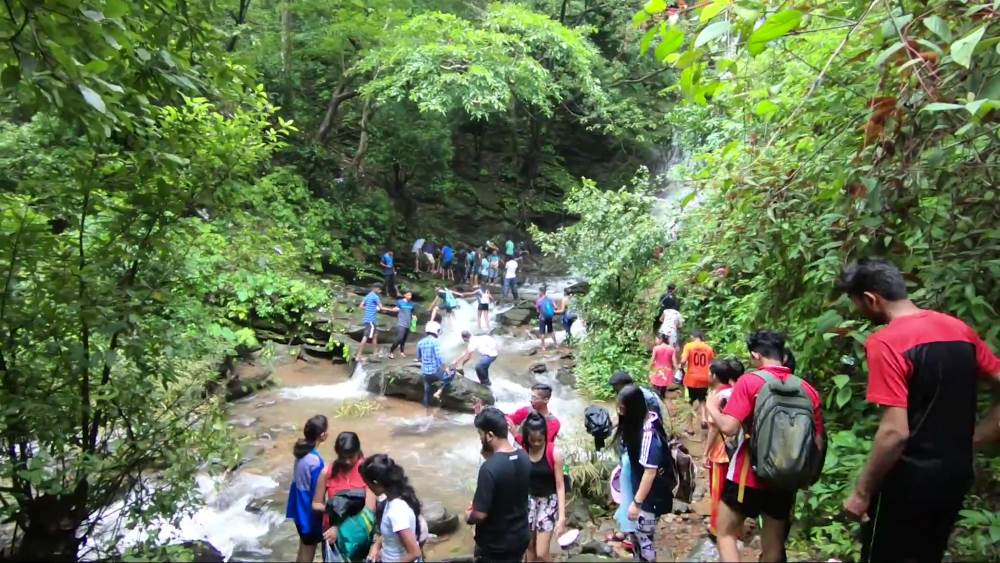 There are no cultural and historical attractions on the beach itself. Near Ashwem is the beach of Arambol, from which tourists are offered interesting excursions throughout Goa. But, according to reviews from vacationers is easier to rent a bike.
The most popular trip among tourists to waterfalls, of which there are many in Goa. During such a tour, you can see the local jungle in detail, ride elephants, make a great photo report and talk to the local sage Baba.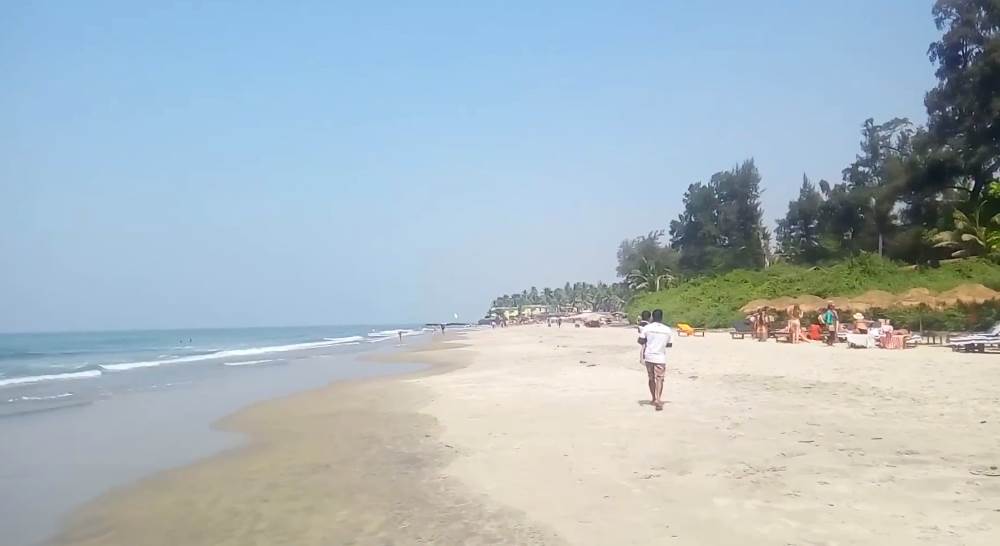 There are many middle class hotels on Ashwem, and this ensures that a vacation here will give peace and quiet to all vacationers. On the beach there are absolutely no youth hangouts from Vagator, Morjim or Baga, they are bored here.
There are never discos on Ashwem, you don't hear Goa trance music, and marijuana is not welcome. I.e. Hippie ideas are almost forgotten here, so young people on Ashwem Beach are obviously not interested. This is where people in their thirties rest.
The cost of a vacation at Ashwem Beach
The closed nature of this beach, a small number of clean holidaymakers, including. The large selection of hotels, bungalows, guesthouses, hostels on the shores of the Arabian Sea near Ashwem make this beach extremely respectable for many tourists, including. from Russia.
The prices of the represented tourist services on Ashwem slightly higher than on the other beaches of North Goa. There are not many budget hotels and shakes here. And in the high season, the cost of services are doubled.
A View View of Ashwem Beach in North Goa