Arambol Beach in Goa, India is one of the northern beaches of the state. Next only Kerim, where even in high season there are few vacationers. Arambol is famous all over the world for its fantastically beautiful sunsets.
Benefits of Arambol Beach
This beach is located on a promontory and surrounded by cliffs. It occupies a picturesque shore of the Arabian Sea, 16 km long. Thanks to its closure from the mainland, the beach looks isolated, cozy, at home.
There is almost no nightlife on Arambol beach, most tourists go to rest no later than 1 am. This means that the beach is perfect for families with small children.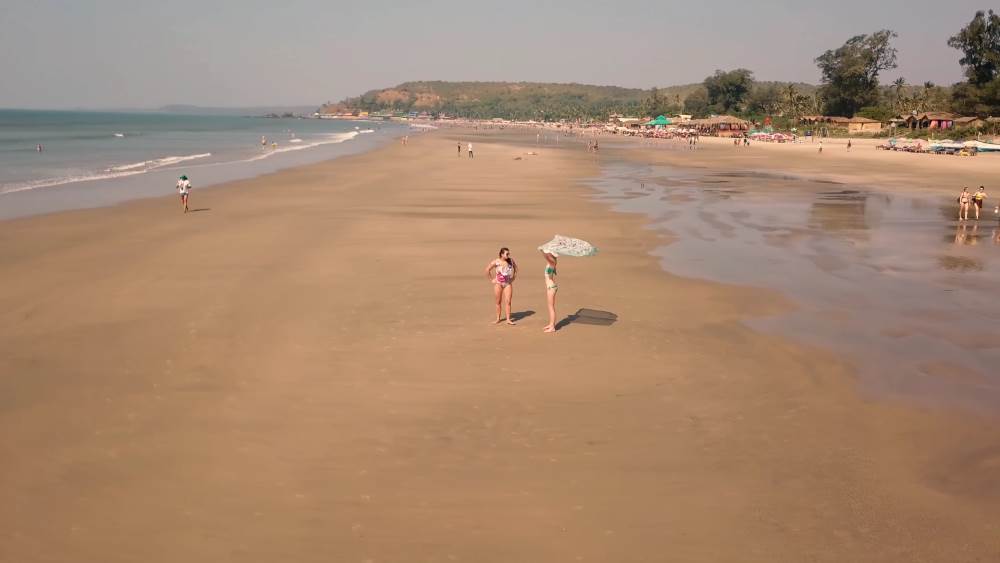 Because of the lack of large crowds of tourists on the beach Arambol all tourist services are markedly cheaper than on the other beaches of North Goa, famous for its excellent youth vacation. The cost of housing and food here is absolutely democratic.
In Arambola there are many stores, souvenir shops, markets, real Oriental bazaars, pharmacies, including those with medicines and cosmetics from Ayurveda. These joys of shopaholics are very close to the beach.
Climate
Arambola, like the rest of North Goa, has a subequatorial climate. This means that there are two distinct seasons throughout the year: dry winter and wet summer. In between there are intermediate seasons, lasting about a month each.
The dry season lasts from November to April, during this time in Arambol in Goa is dry and very sunny, this is the High Season in this resort place. The air temperature during the day is about +33C, the water temperature in the sea is about +30C.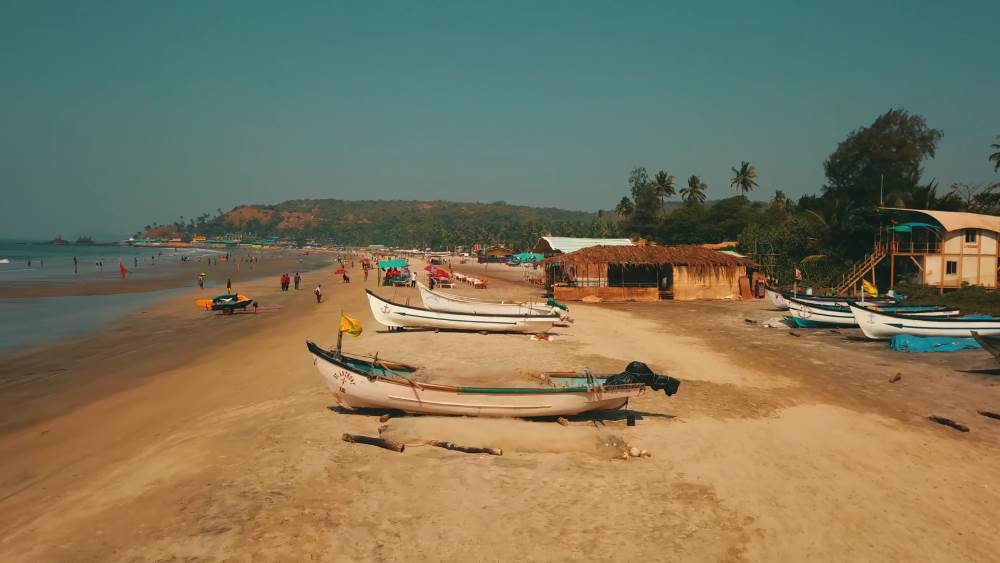 Already in April, the weather begins to change gradually: the humidity and temperature increase significantly. Gradually the weather in Goa begins to resemble a Russian steam bath, later rains that turn into tropical downpours.
The wet season at Arambol beach in North Goa lasts from May to October. There are heavy rains, the air temperature can rise to +40C, the water temperature is about +32C. Already in October, it becomes drier, the rains gradually stop.
The Beaches of Arambol in North Goa
Almost the entire coast of Arambola is flat, the sand on it is soft, fine and has a gray color. The descent into the water is gradual, to get to a good depth, you have to walk dozens of meters. This depth is another plus for a vacation in Arambola with children.
At the bottom of the sea near the shore there are no stones, it is all covered with sand. According to reviews of tourists here and there are no sudden cliffs to a considerable depth. Anyone who knows how to swim a little bit, can be calm, here he is not threatened by anything.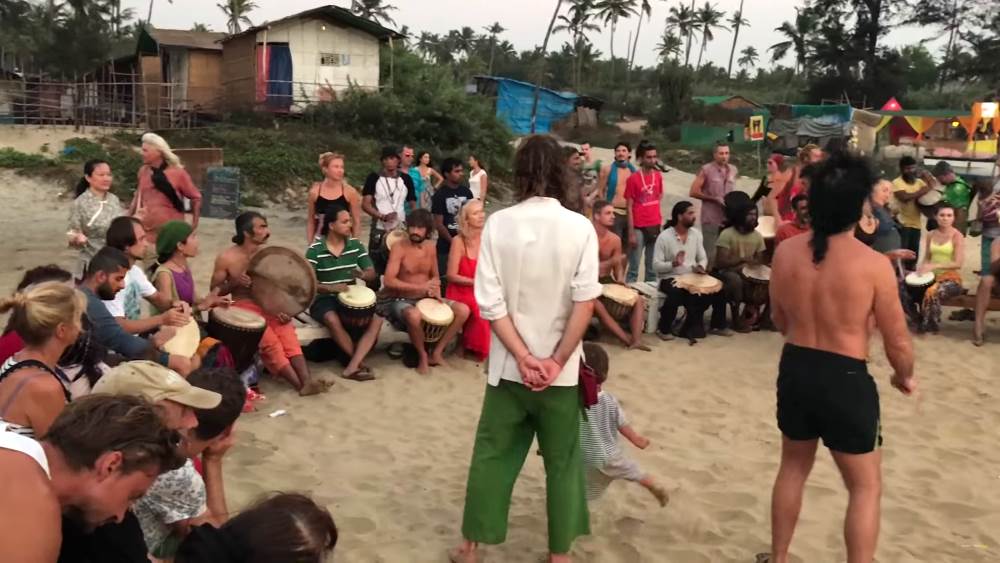 Arambol beach in North Goa has its own ritual called Sunset. For his departure, local vacationers gather on the beach in the evening before sunset and do yoga, meditation, just contemplating the surroundings.
There are musicians gathering here, performing their own and other people's music, next to people dancing to the local Goa Trance music.
Such traditions have been preserved here since the hippie days, i.e. since the 1960s.
How to get to Arambol?
This coast of the Indian state of Goa is quite far from the state capital of Panaji and its airport, Dabolim. Today, there are only two routes to get to Arambol beach:
Cab
This is the fastest transfer, but it is expensive. If you first time in Goa and have not looked yet a suitable cab service, be sure to bargain with cab drivers, you can knock down the initial price by 2-3 times.
In Goa, there are state-owned cabs that operate on fixed fares, but the number is small. If you are lucky, it is better to book a transfer to Arambol beach by public cab.
With a transplant
Such a transfer will be difficult and long, but it will be much cheaper than taking a cab. If you arrive in Goa by air to Dabolim Airport, you must first take a bus to Panaji.
The next day, plan your transfer from Panaji to Arambol beach in North Goa. There are many bus services along this route, but India is indifferent to the observance of travel time.
Lodging in Arambola?
If you want to rest right on the beach, right next to the shore, there are many bungalows and huts standing directly by the water in Arambola. Hostels and guesthouses are built in the village of Arambol, and expensive villas stand in cool palm groves.
The main part of the accommodation has one or two stars, i.e. the minimum of comforts. Rarely do budget accommodations have a separate kitchen, refrigerator, TV, or air conditioning. Although comfortable housing is available here, but not everyone can afford it.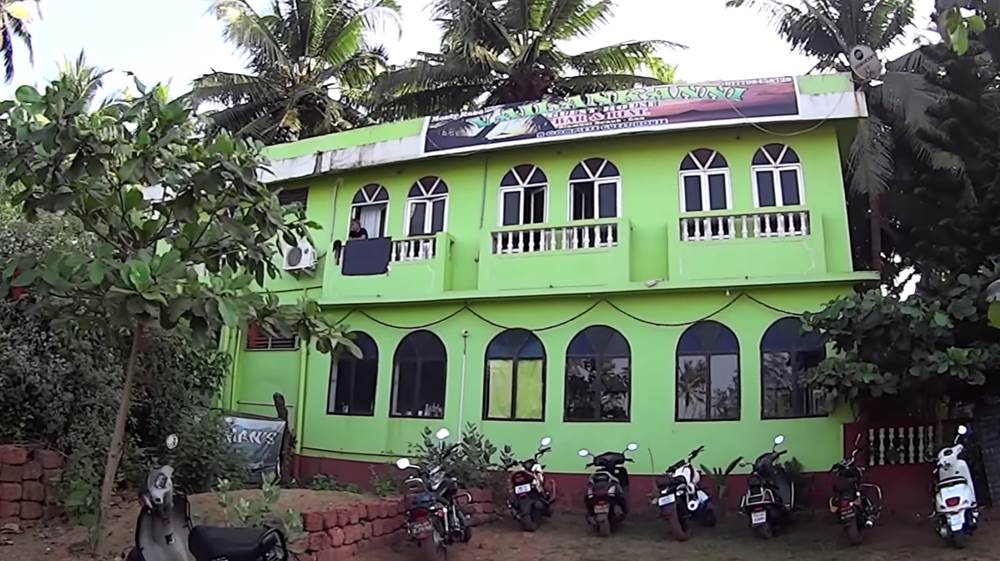 Hotels are not popular with the local public because they are expensive. Although there are great 3,4 and 5 star options here. Here are some of them:
Madrid Home. It's a small hotel, it has a real Chinese garden, every room has air conditioning and a great view of the beach. There is a restaurant, free shuttle to and from Dabolim. The cost of the room is about 1,800 rubles.
Lotus Sutra. These are separate wooden cabins overlooking the garden, and across the garden is a view of the sea. One house is designed for two people, costs 4 100 rubles per day. Has free parking and WiFi, rooms are serviced.
Nanu Resort. This resort has its own pool and restaurant, a double room costs about 4,100 rubles per day. Guests are offered free WiFi and parking. There is a wonderful view of the beach.
Little Indian Village. This hotel is made in the form of separate tents, which is very romantic. A pavilion for two costs 3,700 rubles per day. The beach is a 5-minute walk away. It offers guests an ayurvedic massage, as well as free Wi-Fi and parking.
Swati Hotel. This guest house is located near the sea, the rooms are relatively cheap – 2,000 rubles per day. To the sea – close, around a lot of cafes and shakes. Suites with sea views, have a separate kitchen. Wi-Fi and parking are free for everyone.
Sightseeing, entertainment, tours in Arambola
There are no cultural and historical attractions near Arambol beach. You can rent a bike and go all around North Goa. And then go to South Goa so you don't miss anything.
As you already know, here you can see the ancient Hindu temples of worship, as well as Catholic temples and palaces built from the 16th to the 20th century Portuguese, who were the colonizers of Goa in those early days.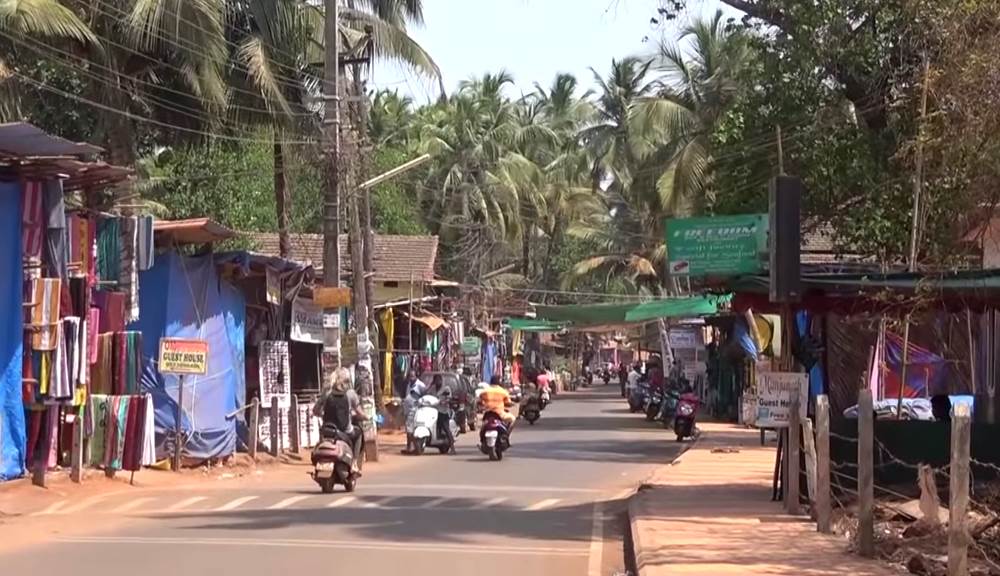 Active or sporty beach activities on Arambola are not too practiced, only yoga and meditation. Tourists here are mostly swimming in the sea and sunbathing on the sand. Sometimes you can meet fans of surfing.
The nightlife here comes to an end at 01:00 am, but during the evening you can see many musicians playing live music in the restaurants. Sometimes world-famous musicians come here.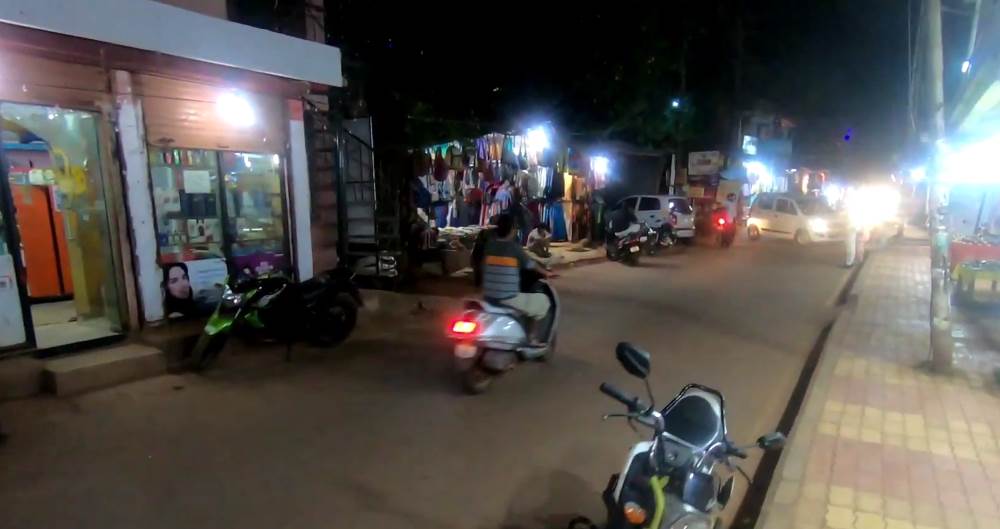 Talk to the locals more. For a small fee, they will offer you to visit the wildlife of this state, for example, to participate in a real Indian subequatorial fishing.
Be sure to visit the local enlightened Babe. You will get to know and understand India much better by listening to Baba's advice and predictions. He is truly a wise man who has learned much and expanded the boundaries of his consciousness.
Food
The finest food served to every table in Goa is fish and seafood. And for dessert, great tropical fruits. All this costs considerably less than in Vietnam or Thailand.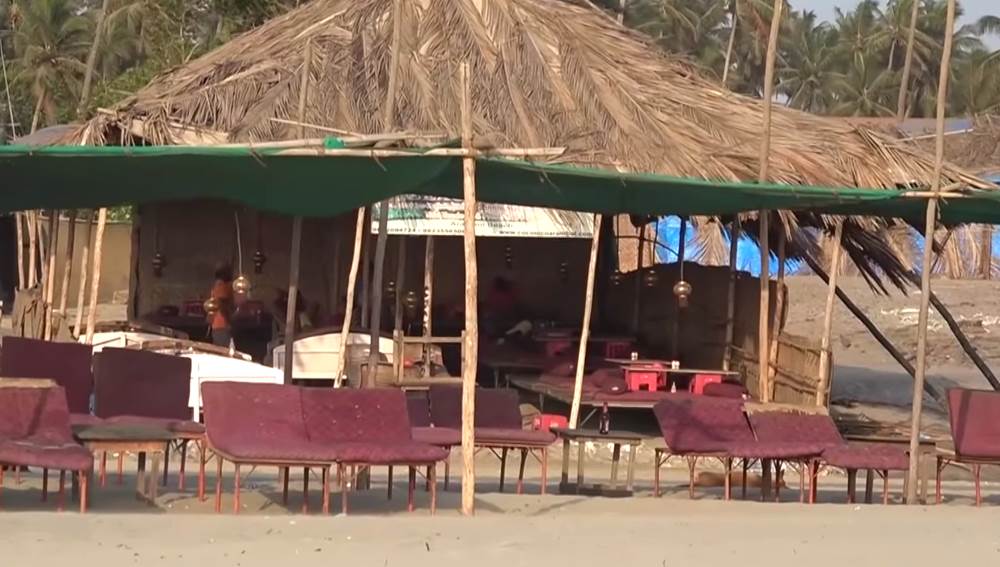 Tourists who have lived in Arambola for a long time go to the local fish and grocery markets themselves and have learned to cook according to old Indian recipes, so their food is 2-3 times cheaper.
You can find Indian, Jewish and Russian dishes in the shakes. At the same time, Indian cuisine is Europeanized, removing excessive spices and preserving the local flavor. They also have great fresh fruit juices.
Shopping
For the shopper, there's plenty to do here. In Arambola, there are often bright oriental fairs for the holidays, where you can just wander around, admiring the local craftsmen and the actors of the traders.
In Arambol beach tourists are offered: handmade souvenirs and jewelry, as well as various beachfront products, shoes and wonderful clothes. They will remain in your home as a lasting memory of Arambola, Goa and India.
Prices in Arambola
South Goa is much more respectable beaches of North Goa, the tourism infrastructure there is more developed. Therefore, the prices in the south of Goa are an order of magnitude higher than in Arambola. And the northern beaches are a third more expensive than Arambol.
Video overview of Arambol
Maps of Arambol
To find this beach on Google Map, just put in the "search" box the coordinates: 15.686386,73.702916 These maps are famous for their high degree of resolution. For GPS coordinates: 1541'10.99′′N, 7342'10.50′′E
From Goa's main and only airport to Arambol beach is only 55 km, and from the beach to the state capital Panaji is about 38 km. The nearest train station is called Pernem, and the settlement is Mapusa.
Arambol on the map of North Goa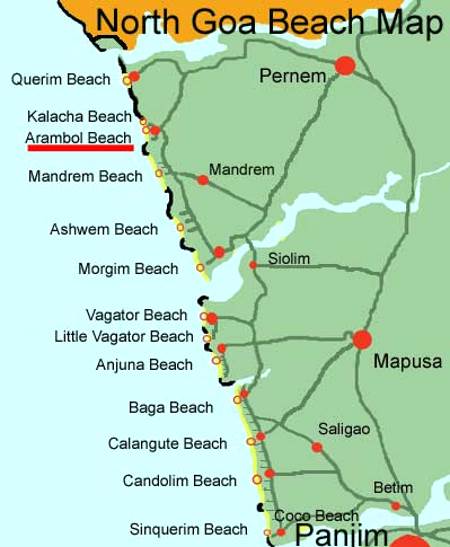 Map of Arambol Beach